The 11 Best Kitchen Trash Cans Under $150
The significant commonality in arguably every kitchen is the struggle to contain trash. You may be among those that always seem to have trash cans that are too large, too small, too complicated to open, or otherwise lacking some convenience. We found 11 modern trash cans to suit almost anyone seeking to take the hassle out of kitchen trash disposal. As always, the prices listed may fluctuate over time.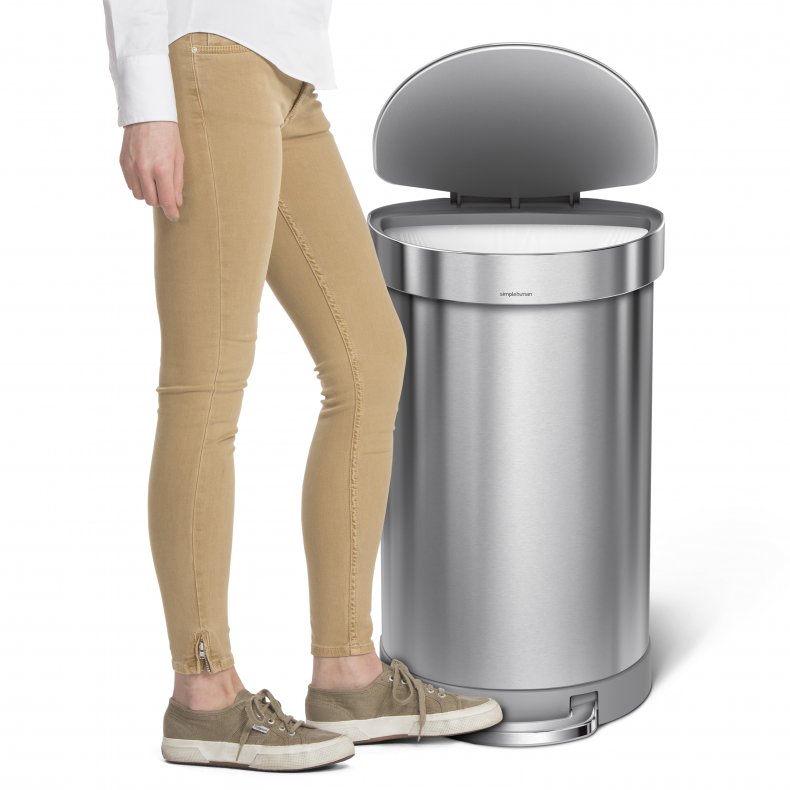 This Semi-Round Step-On Trash Can by Simple Human has plenty of plusses, especially for large households. First, it has a 45-liter capacity, so it can handle just about anything you put in it. Second, it's fingerprint-proof, so it looks good even when you constantly use it. Finally, it measures a hefty 15 3/4 inches by 14 1/4 inches by 26 1/2 inches and 37 1/2 inches high with the lid open, but its semi-round shape makes it easy to push it right against a wall and out of the way.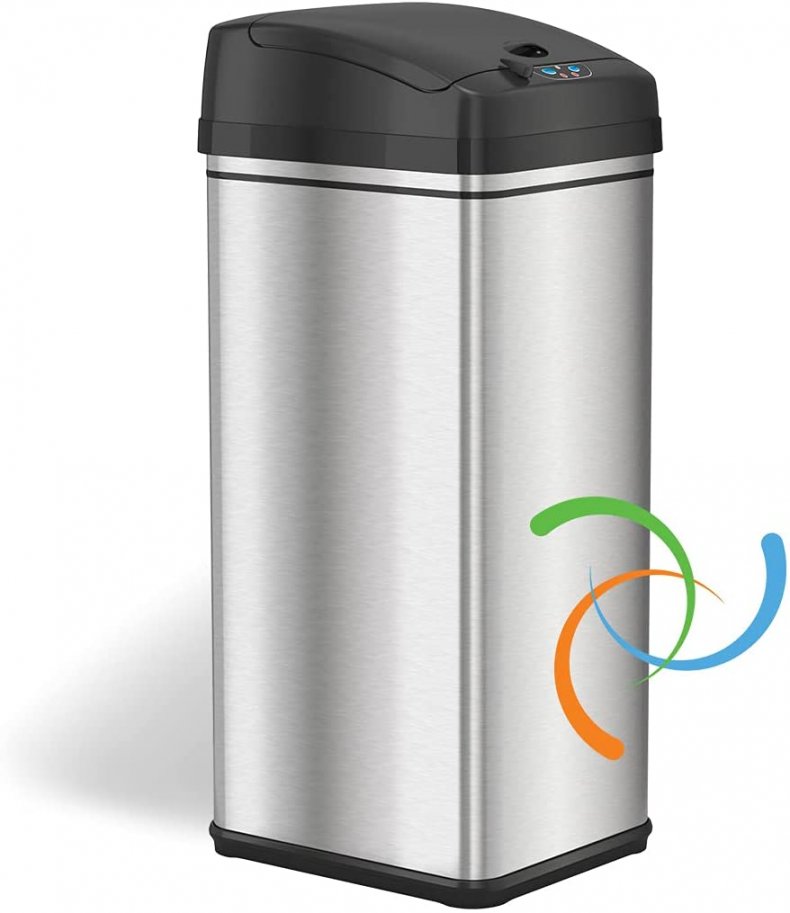 It's such a hassle to smell odors from your kitchen trash can. This 13-gallon iTouchless Automatic Trash Can with Odor Absorber Filter ensures trash odors stay locked away. The stainless steel exterior is fingerprint-proof. You can power this can, which measures 12 3/4 inches by 10 3/4 inches by 27 7/8 inches, with four D-size batteries or an iTouchless AC adapter you buy separately.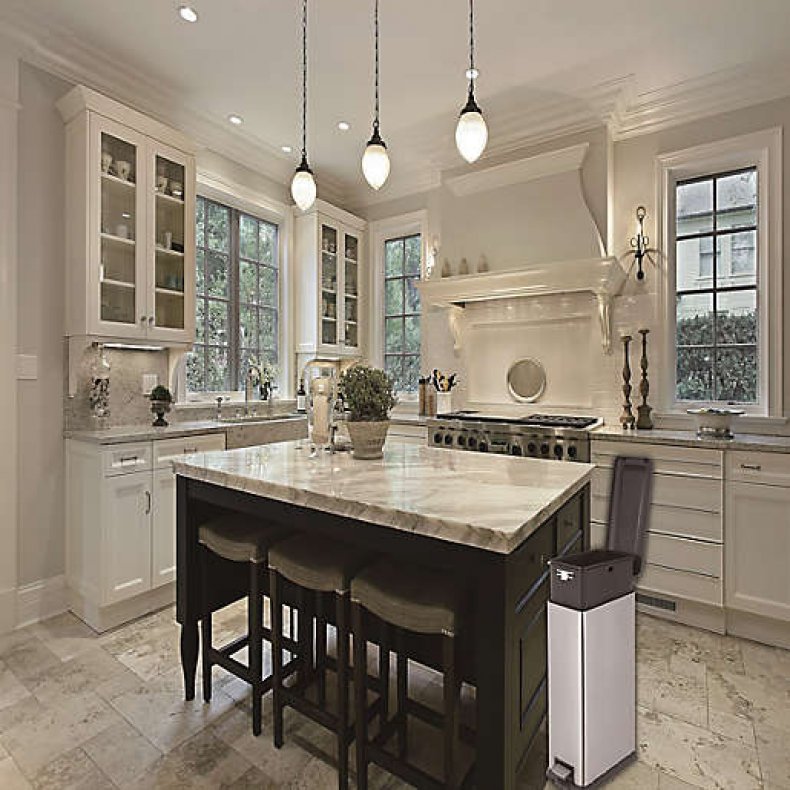 The Squared Away Step On Trash Can proves you don't have to pay top dollar for modern styling and convenient features. This handsome stainless-steel-and-plastic bin measures just 9 1/2 inches by 10 3/4 inches by 25 1/2 inches so it's designed to save space. The 12-gallon capacity trash can boasts many extras including a removable inner bucket for easy bag changes, a non-skid base and a quiet closing lid.
Buy it at Bed, Bath & Beyond for $80.00.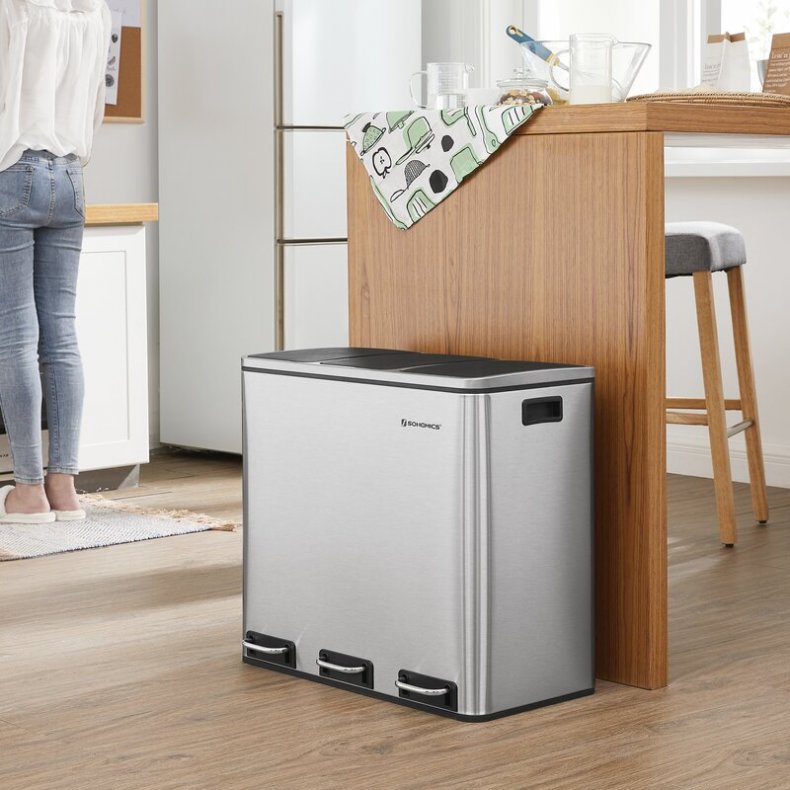 One downside to some multi-compartment trash cans is the varying size of the different bins. In those cases, sometimes one bin is overflowing while the others are nearly empty. Songmics 3-Compartment Step On Trash Can solves that issue. The three bins each have a 4.8-gallon capacity, so you have plenty of room for recyclables, trash and compost. The three bins on this each measure 33 1/2 inches by 24 1/4 inches by 12 1/2 inches and each has an individual step-on pedal, so you don't mix up the bins' contents. The lids close quietly, too, so you don't need to listen to extra noise.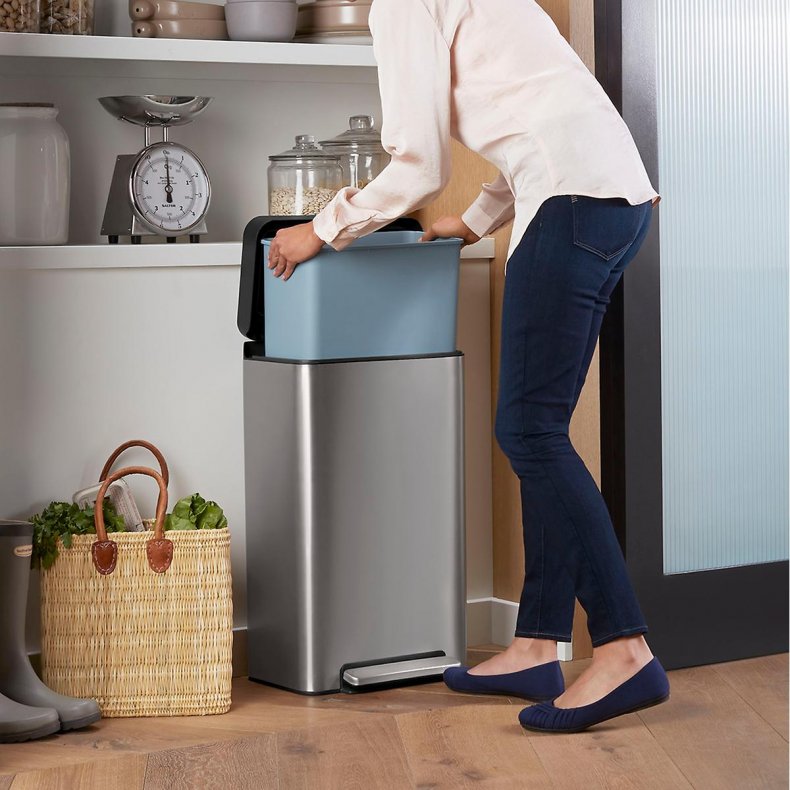 Just because you have a small kitchen or household doesn't mean you have to make do with a low-quality kitchen trash can. This Kohler 8-Gallon Step Trash Can is sleekly designed with a loft step, slow-close lid, and non-slip rubber feet. It measures just 14 inches by 11 1/4 inches by 25 1/2 inches to fit into small kitchens and other small spaces.
Buy at The Container Store for $109.99.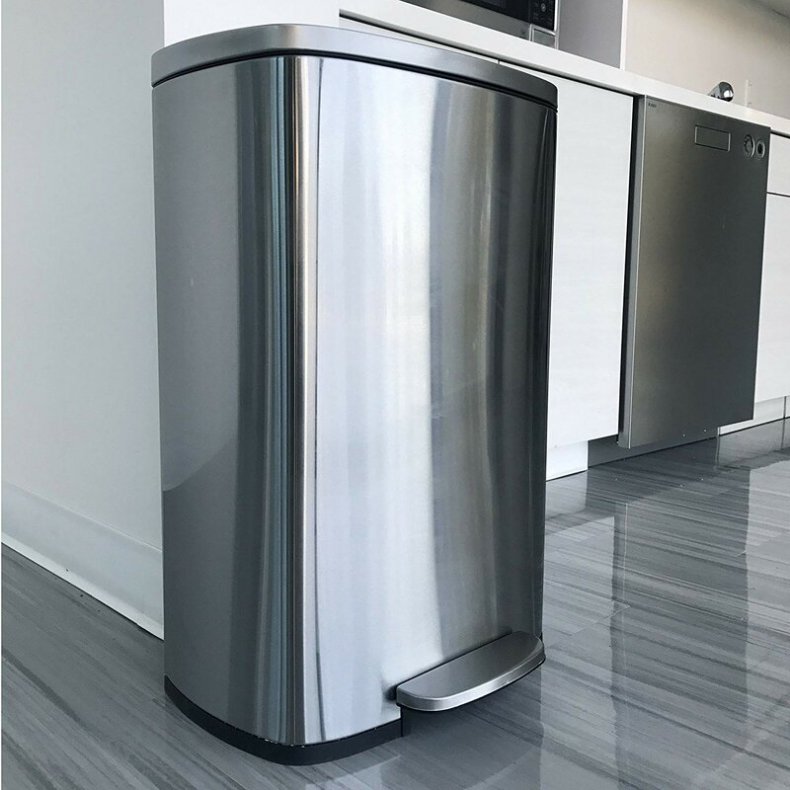 You won't have to worry about combating odors in your kitchen when using this Deodorizer Step-On Trash Can by iTouchless. The 13-gallon capacity can is equipped with a non-toxic, all-natural carbon filter designed to absorb and neutralize odors. Plus, it has a removable inner bucket that ensures you can remove the waste with ease. This trash can measures 26 inches by 16 3/4 inches by 12 1/2 inches. It's available in silver, rose gold and ivory.
Buy at Wayfair starting at $99.99.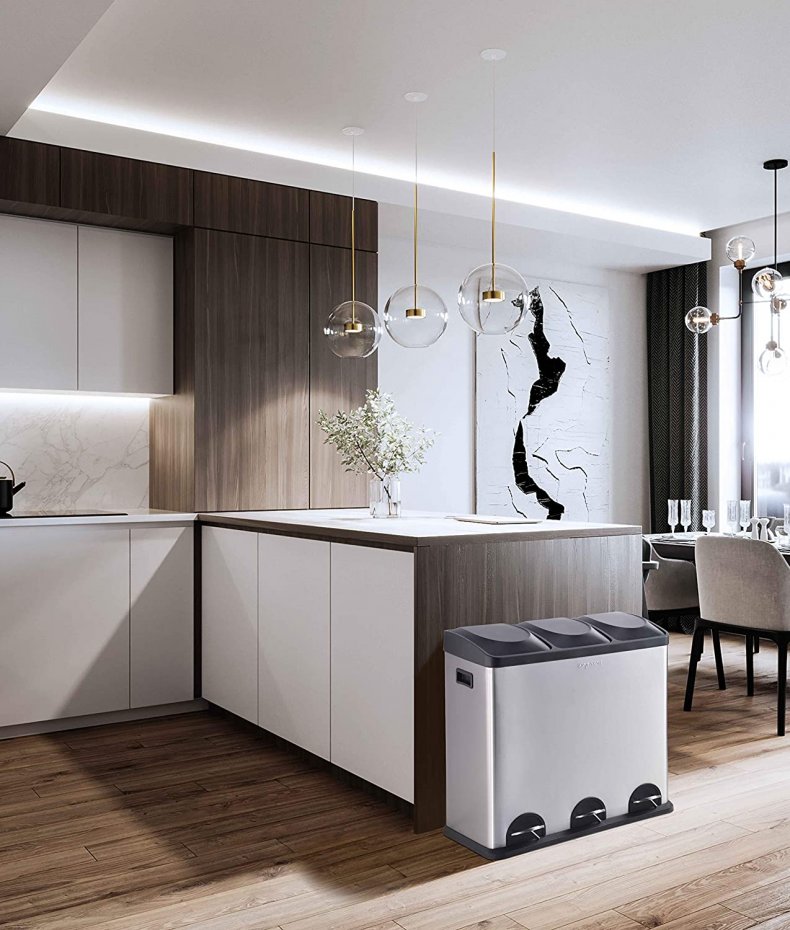 Step N' Sort Trash and Recycling Bin is designed with separate compartments so you can easily divide trash, recycling and compost waste. Each inner compartment is removable, holds 5.33 gallons of waste and has a separate foot pedal. Those compartments are made with recycled plastic, so they are earth-friendly. The entire unit measures 24 inches by 13 inches by 24 inches, so you can easily fit it into just about any kitchen.
Buy it at Amazon starting at $79.98.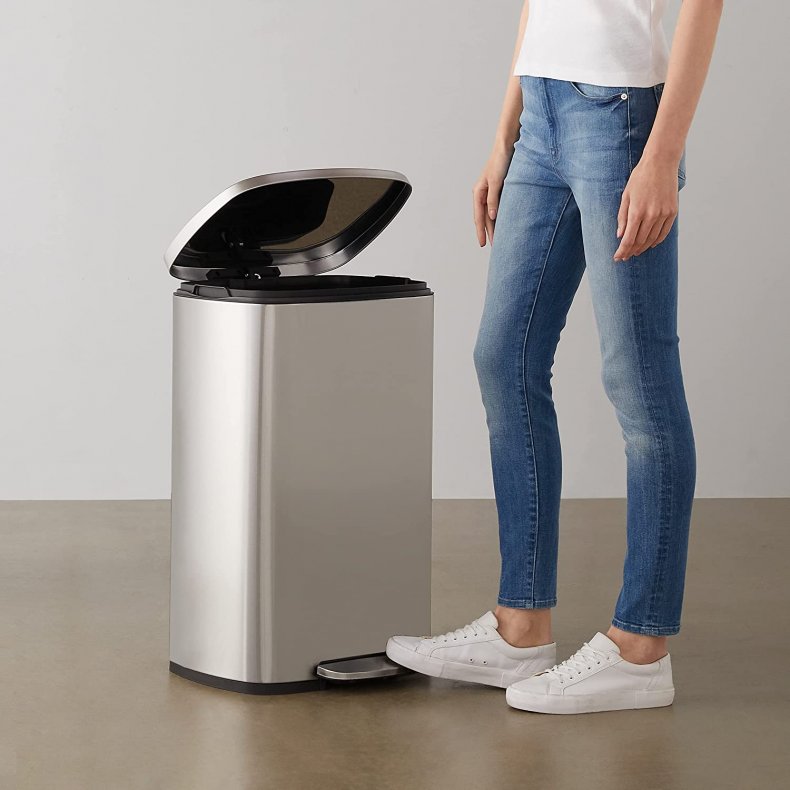 Amazon Basics' 13.2 Gallon Soft-Close Trash Can has all the basics you need. Its stainless steel exterior is fingerprint-proof. It has an easy-to-operate foot pedal. The lid is soft-close. It comes with a heavy-duty plastic interior bucket so you can easily remove trash without fear of leakage. The lid even stays open when you remove and replace garbage bags. This can is available in several sizes, including the kitchen-friendly 13.2-gallon option that measures 26 inches by 14 3/4 inches by 16 3/4 inches.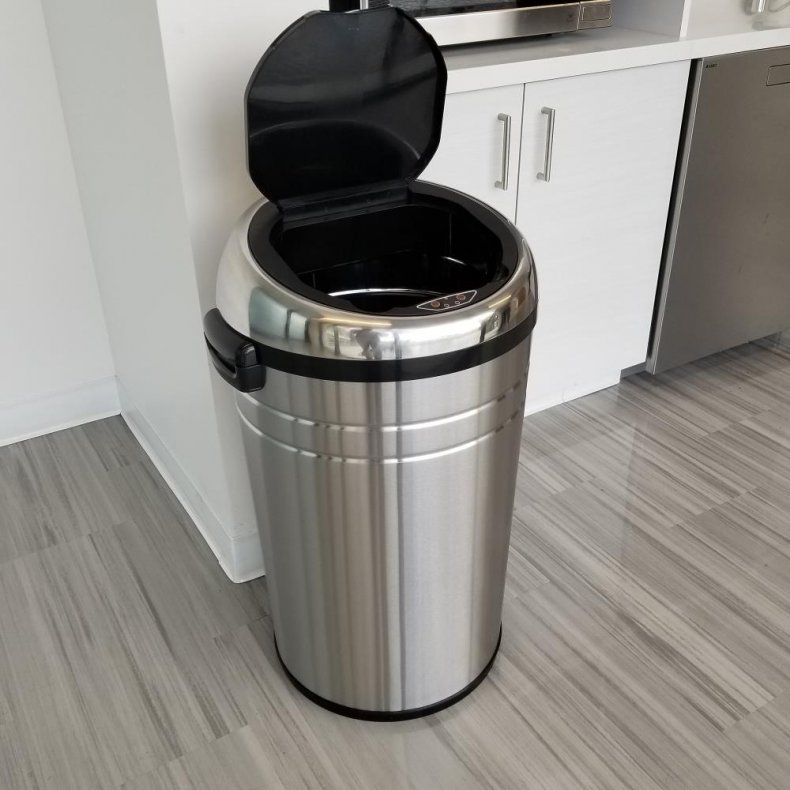 This iTouchless Metal Automatic Trash Can has a small, 8-gallon capacity, but it's mighty. Sensors make it 100 percent automatic. That means you won't struggle to open the lid, which is especially important when your hands are full. Just use four D-size batteries or an AC power adapter and the proximity sensor will open it when you're close; close it when you're not. It measures 22 1/4 inches by 12 1/4 inches by 12 3/4 inches.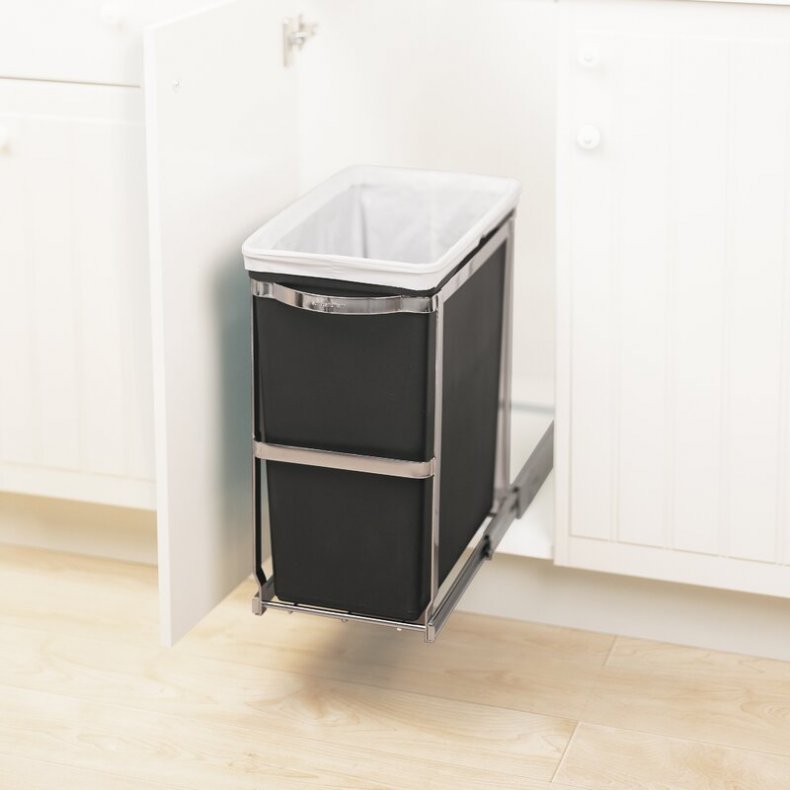 Sometimes you just want a traditional kitchen trash can that slips out of the way. This Simple Human Pull-Out Trash Can has a 7.92-gallon capacity. It glides out on commercial-grade ball-bearing tracks. The 19 inches by 10 inches by 17 3/4 inches measurements make it space-saving as well as handy.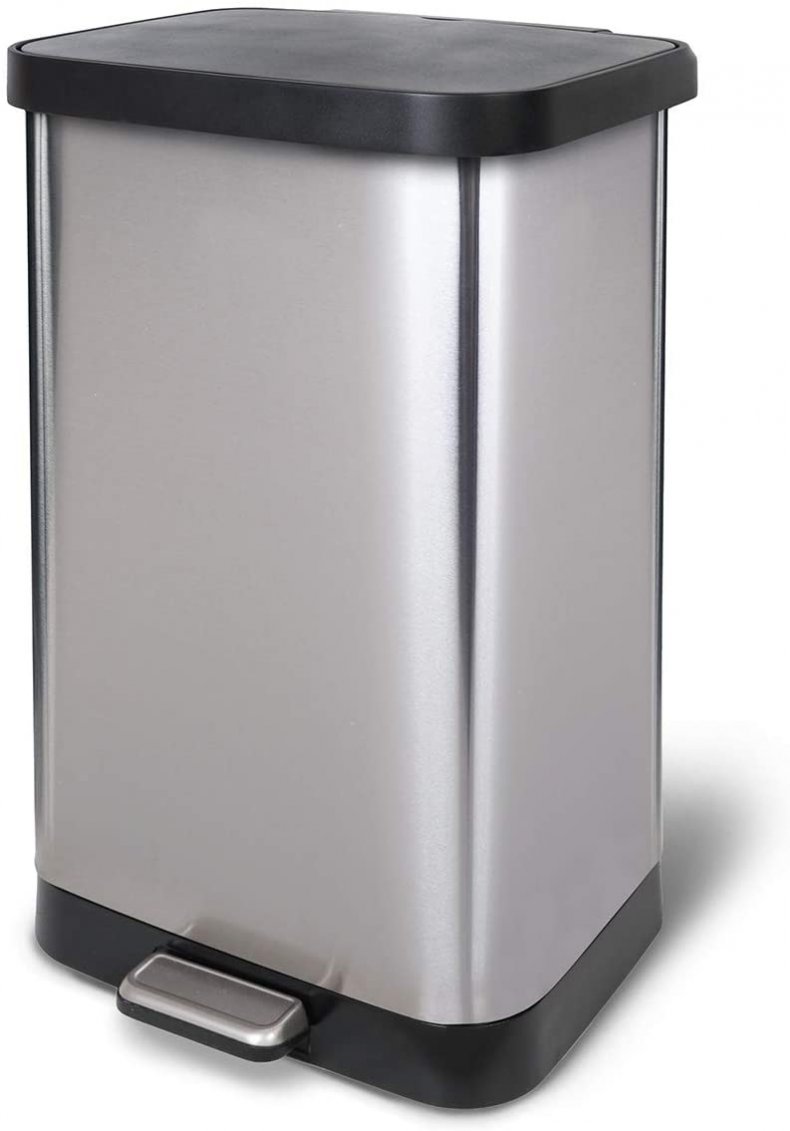 This Glad Step Trash Can with Clorox Odor Protection is designed to stop the growth of odor-causing bacteria inside the can. That means you won't have to battle those smelly odors that can waft throughout the kitchen. This can also has plenty more easy-to-love features, including a rear compartment to store extra bags and a soft-close lid. It's even fingerprint-resistant. It's available in two sizes. The 20-gallon size measures 16 inches by 16 1/4 inches by 29 inches. The 13-gallon size measures 16 inches by 16 1/4 inches by 23 inches.
Buy at Amazon starting at $86.81.
Newsweek may earn a commission from links on this page, but we only recommend products we back. We participate in various affiliate marketing programs, which means we get paid commissions on editorially chosen products purchased through our links to retailer sites.