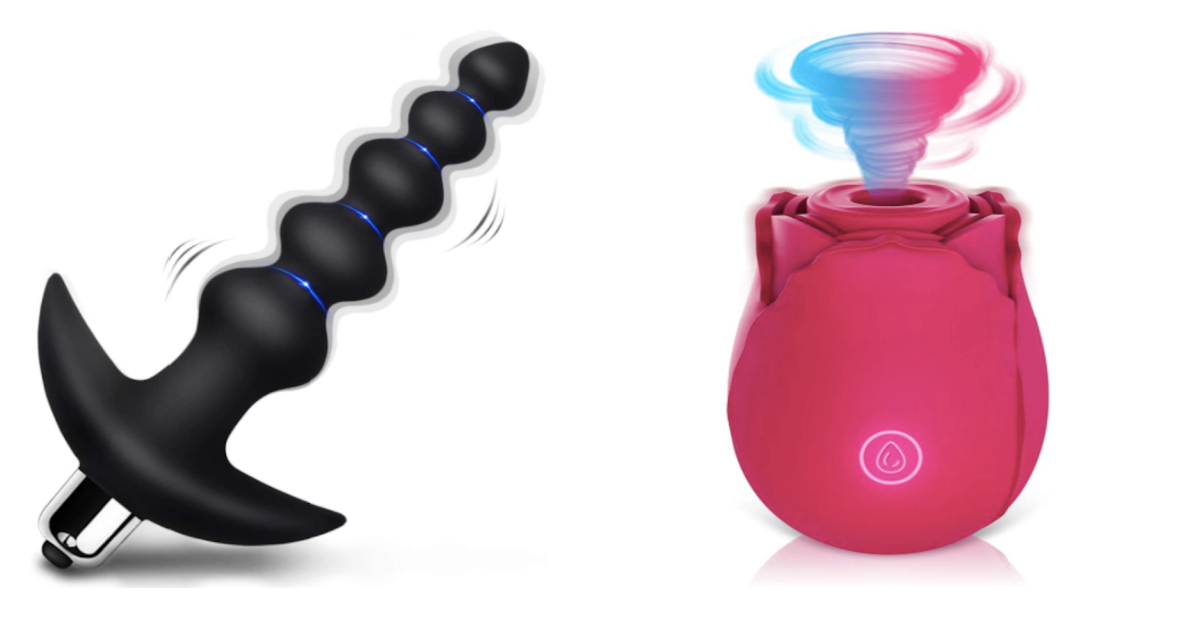 You've heard of "spicing things up" before. It's nothing new, but now and again, every person's sex life—yes, even yours—can benefit from some reinvigoration. And thanks to the help of sex toys, jump-starting intimacy—whether that's solo, with a partner or with multiple partners—has never been easier.
One of the best online destinations for pleasure-inducing sex toys is Amazon.com. From vibrators and kegel balls to butt plugs and cock rings, you can find just about any sex toy.
And the great part is, there are plenty of reviews to sort through before making the choice that's right for you. Keep reading for the 11 best sex toys on Amazon. As always, the prices listed may fluctuate over time.
11 Best Sex Toys on Amazon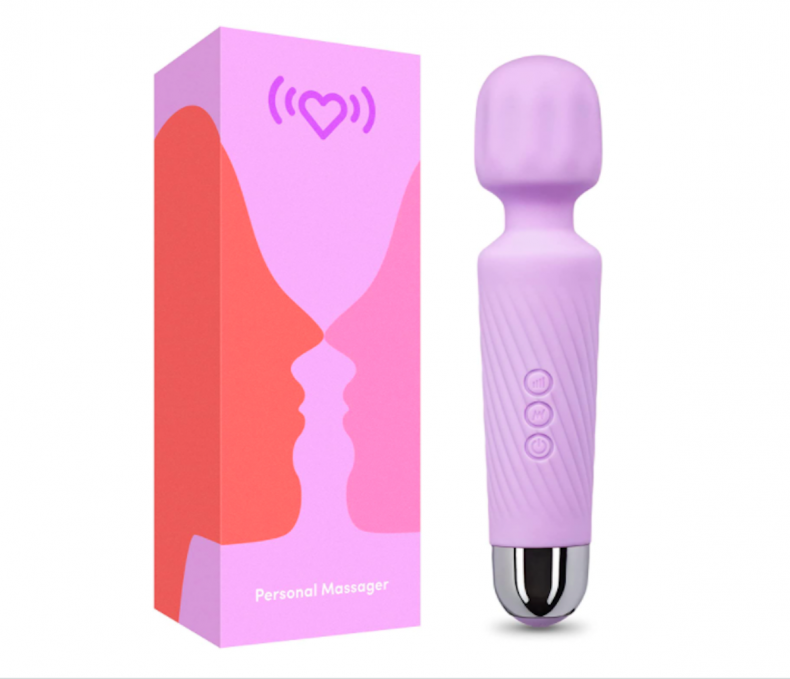 Get it, girl (or guy!). One of the bestselling vibrators on Amazon.com, the Luna Rechargeable Personal Wand Massager, has an impressive 35,600 reviews and a 4.4-star rating. Reviewers love its personalization—after all, it has 20 different vibrating patterns and eight different speeds. It's also super quiet, waterproof and features a two-hour-long battery life once fully charged with the USB.
One Amazon.com reviewer wrote, "Girl. Let me tell you something. My toes was curling I was biting my lip. This is worth that little [money], honey. Buy you one. You won't regret it."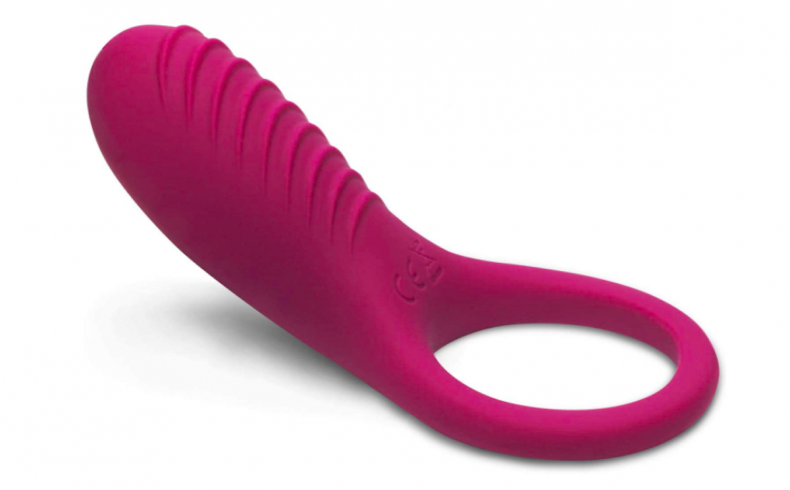 Perhaps unsurprisingly, most cock rings don't have a lot of reviews or ratings online, but of the rings on Amazon, the IMO Full Silicone Vibrating Cock Ring is the clear winner—its more than 3,000 reviews prove it.
Here's what people love: it's straightforward, not intimidating at all and you can use it as both a vibrating penis ring and a mini G-spot massager. With seven adjustable speed modes, it's made of body-safe silicone, and for the best comfort for both partners, it's super stretchy, too.
One Amazon.com reviewer wrote, "If you are on the fence about getting this, just do yourself a favor and GET IT. I am still thinking about how wonderful this thing is days after I tried it out for the first time. This thing will turn your man's member into a full blown vibrator. I loved it, he loved it, completely happy with this purchase. If you are looking to spice up your sex life, get this. If you already have an amazing sex life, this will be next level."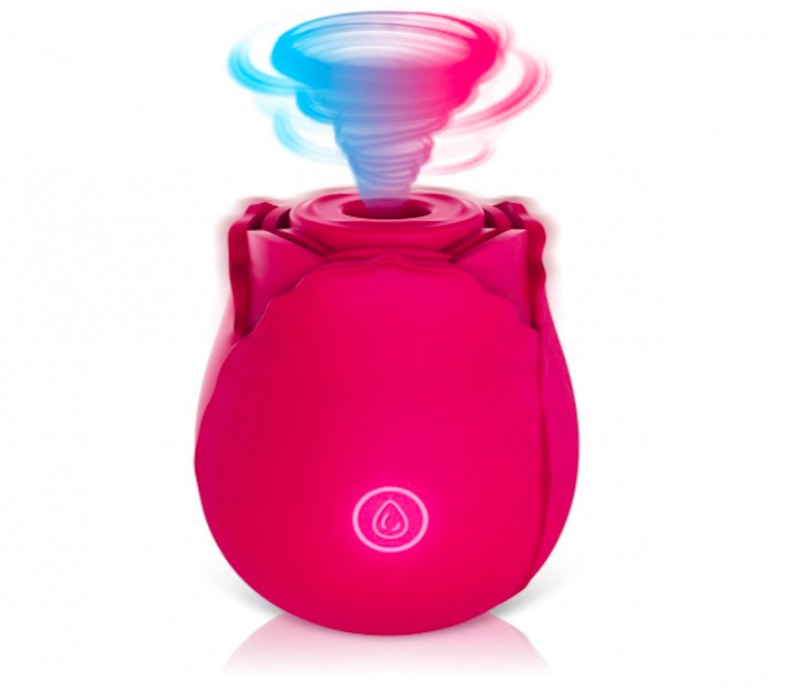 Holy 4.6 stars and more than 16,000 reviews!
The Adorime Rose Sucking Vibrator is aptly shaped like a rose and features seven intense suction options and internal vibration that authentically simulates oral sex. This toy—which you can also use on the nipples—is made of safe, silky-smooth medical-grade silicone that's hygienic and odorless and fast-charges with the included USB charger base.
One Amazon.com reviewer wrote, "I can honestly say this Rose has made me contemplate life, look at things differently. Let me start off by saying, I've already order a second one just in case something happens with this one. I've never been more in love than I am now! How can one little thing like this make all your problems fade away? She's going in my safe with all of my most important things. STOP READING! And order you two RIGHT NOW! Thank me later."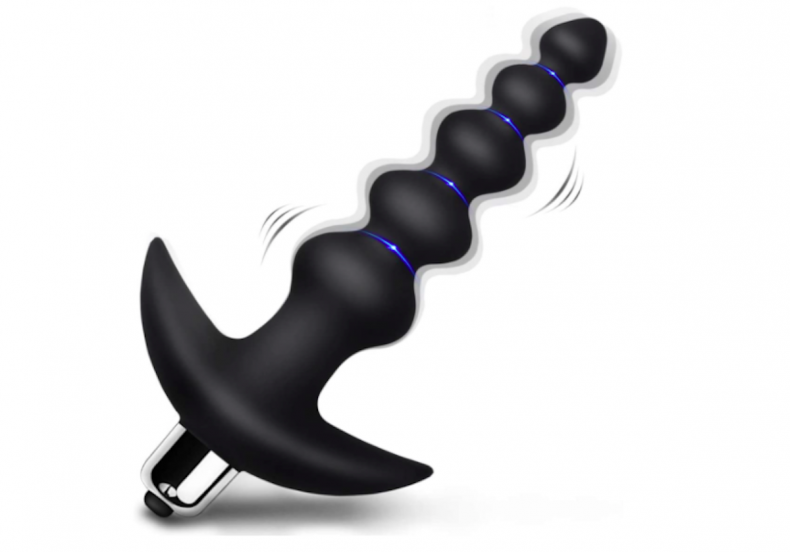 The #1 bestseller in the butt plug category is the Vibrating Anal Beads Butt Plug, which has amassed an impressive fandom on Amazon.com with 4.2 stars and more than 2,500 reviews.
It's got a tapered design so that you can start slow (with a 0.7-inch tip) and work your way up to the 1.4-inch base. Made of phthalate-free medical-grade silicone that's hypoallergenic, non-toxic, flexible and odorless, this butt plug with a flared T-bar base is waterproof. It stimulates the perineum with the help of three intense vibration levels and 13 different power pulsing patterns for the removable bullet vibe that lives inside the graduated beads.
One Amazon.com reviewer wrote, "The material is soft and very much flesh-like and absorbs heat from your body, so that's a definite plus. It's easy to clean and store. The company is generous enough to offer a small velvet-like pouch to store the toy in for later usage."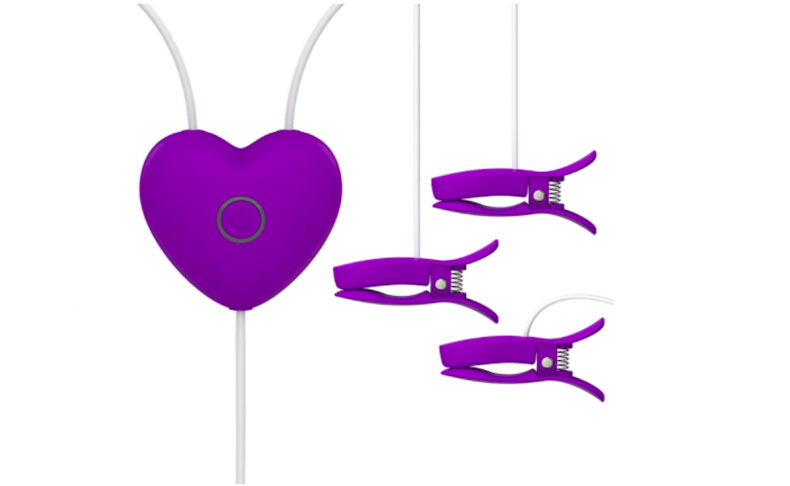 Lots of toys focus on stimulating the nether regions, but for some well-rounded foreplay, you can't underestimate the nipples.
The UTIMI Vibrating Breast Clips clamp onto the nipples and feature three vibrations and seven adjustable intensity modes. But that's not all—this vibrating duo is actually a trio, and the third clamp attaches to the clitoris for all-around stimulation.
One Amazon.com reviewer wrote, "Five out of five stars... a must-have for any collection. The perfect size to take and enjoy anywhere. Need another one to keep in the glove box in the car. Strong vibration and whisper quiet... My wife loved it."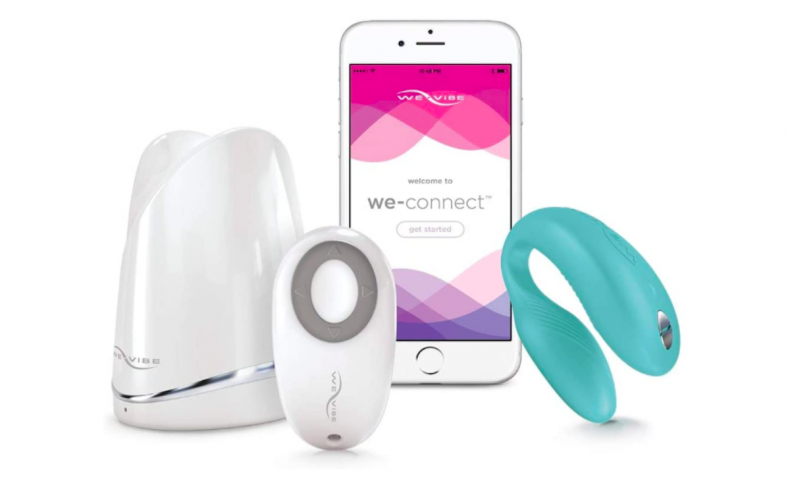 Specifically designed to give couples ultimate pleasure, the We-Vibe Couples Vibrator stimulates both the G-spot and the clit a la the remote or the We-Connect app.
And yes, you guessed it. That means you can use this Amazon sex toy long-distance, too, thanks to good ole Bluetooth.
This dual vibrator features ten different vibration modes that have driven hundreds of reviewers to sing its praise. Conveniently, it is waterproof and rechargeable and even comes with a carrying case that also charges.
One Amazon.com reviewer raved, "Fastest orgasm ever. I don't usually enjoy putting toys inside but this directly stimulates the G spot so there's space for more. You control everything from intensity to pattern. Connecting to someone else is easy (took us about 20 minutes to figure out before we got started the first time though), and it stays connected even from different states! It's not too loud (though I don't go past 75 percent intensity so that may be a factor). 10/10 recommend."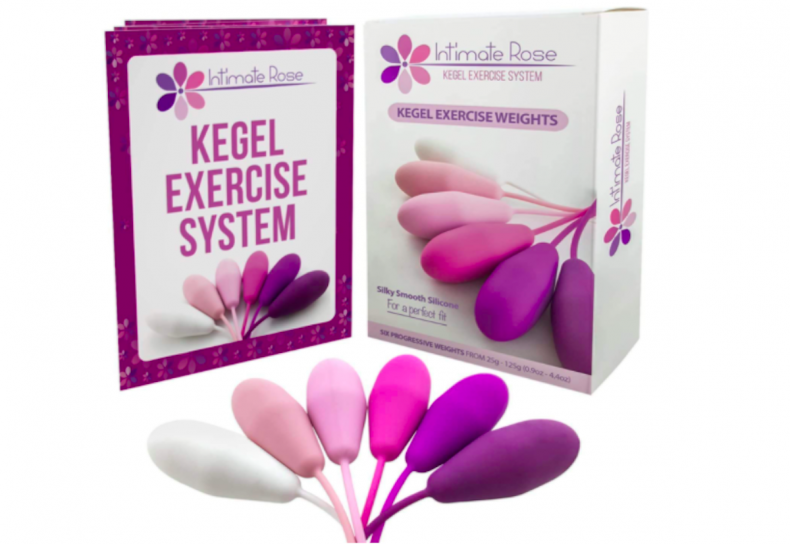 The Intimate Rose Kegel Exercise Weights are one of the more versatile sex toys on this list. You can use them to develop a tighter, stronger pelvic floor for getting jiggy with it. You can also use them therapeutically to improve the pelvic floor after having a baby and helping with female incontinence issues.
For best results, use for 15 minutes a day, and in two to three weeks, you should see a difference in the strength of your pelvic muscles. These body-safe, BPA-free silicone kegel balls—which have a 4.4-star rating and more than 4,600 reviews on Amazon.com—are even used by the Americal Physical Therapy Association.
One Amazon.com reviewer wrote, "It is very well made, smooth and easy to use. Let's face it, these little babies are going somewhere rather delicate and spending the extra pennies on this product is the way to go. No sharp edges to catch you or hold nasty bacteria. The color code system is easy to follow and I found myself moving up the colors quicker than I thought."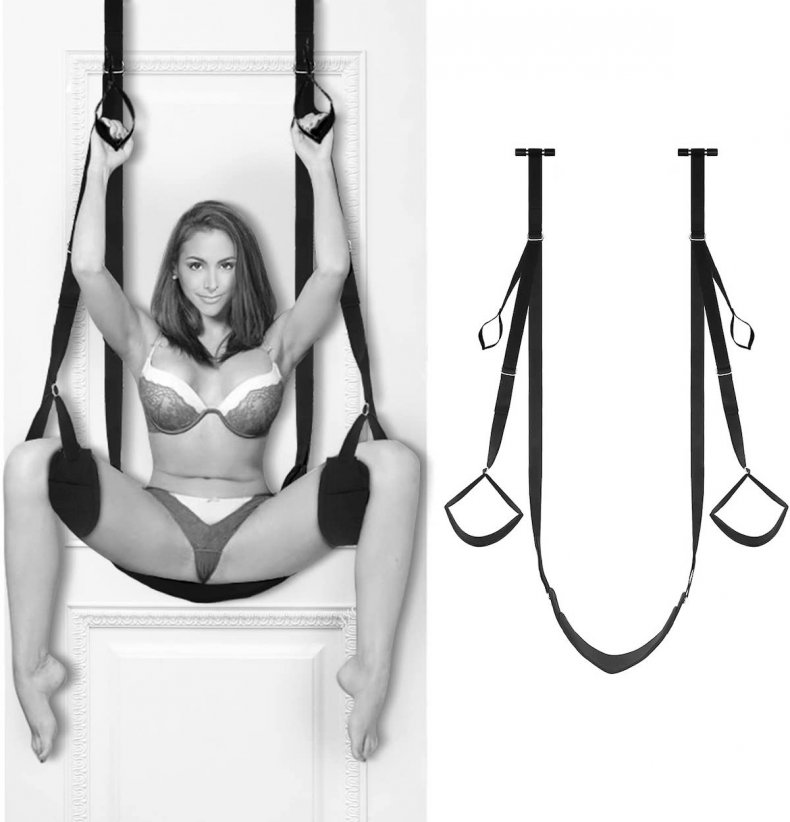 Sex swings are pretty controversial among the sex toy community; some say they're great, while others think they're pretty lame. But no one's here to judge—if you're in the market for a sex swing with a seat, this one has the highest rating (4.2 stars) and the most reviews (1,193).
This swing fits right in the doorway and features an 8-inch seat—perfect for trying something new. It can hold up to 300 pounds, provides couples more support when banging against the wall and is even travel-friendly as it folds up nicely.
Bring it on your honeymoon or next adults-only vacation!
One Amazon.com reviewer wrote, "I've always wanted a sex swing and I received this item very quickly after purchasing which was very exciting. There is no assembly required. The only thing you have to do is adjust the slings to whatever height you want your legs at. I only weigh 100 lbs, but my boyfriend who weighs 140 lbs was comfortably supported. It's comfortable and feels very sturdy."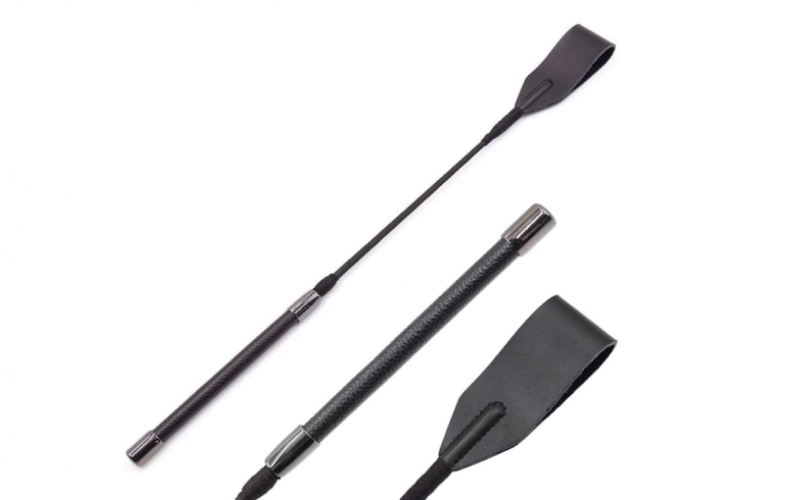 This one's as effective as it is hilarious! The best-selling sex whip on Amazon isn't even a sex whip. Instead, the 18-inch Real Riding Crop English Whip is actually for riding (and controlling) horses. Still, we bet the company couldn't have predicted that the Amazon.com reviews would be full of horny customers letting other shoppers know that they "don't use it for equestrian purposes."
All that aside, this 4.6-star product with 4,629 reviews—although we can't tell you what percentage of those reviews are written by horse-riders or people getting down and dirty—is beloved by Amazon.com reviewers for its high-quality materials and how lightweight it is.
One Amazon.com reviewer wrote, "My wife and I don't own a horse nor do we ride so I'm just saying this is a quality product it works as expected."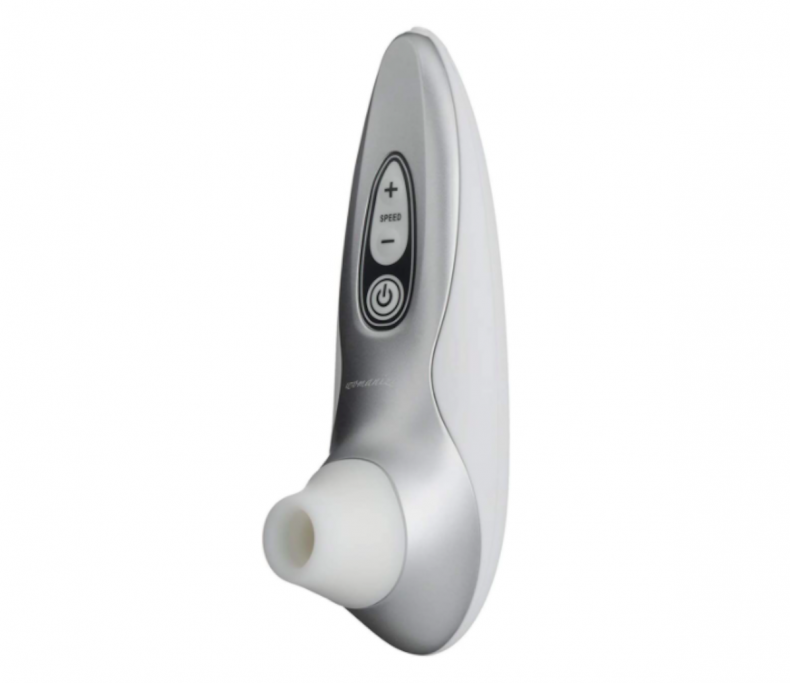 Don't forget about the clitoris! The Womanizer Pro 40 Clitoral Vibrator makes sure that never happens, that she's never ignored either during sexy time with a partner or solo play.
With a 4.4-star rating and nearly 4,000 reviews, the Womanizer Pro 40 Clitoral Vibrator uses pleasure air technology that stimulates her most sensitive areas without direct contact. Yep, you read that right—no direct contact. That's some powerful sex toy! This contactless toy features six different intensity levels, is USB rechargeable and waterproof so that you can use it in the shower or bath and on a full charge. This baby runs for two hours total.
One Amazon.com reviewer wrote, "Her words after the first time: 'That one's a keeper...' We have used this three times so far and each time she climaxed within 60 seconds of getting the head positioned over 'the spot.' Even she was surprised by how quickly this thing works. She's says the orgasms are different in that they are deeper, more intense and seem to go on for quite a while."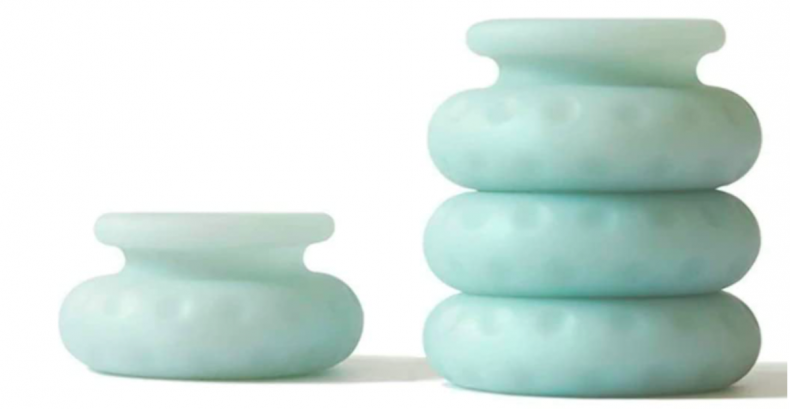 Less of a "sex toy" and more of a "sex accessory" per se, the Ohnut Ring—which comes in a set of four—is an intimate wearable buffer known to reduce pelvic pain and, generally, pain during intercourse. The four interlocking rings allow the user to customize their desired penetration depth during sex. Because it's soft and stretchy, it makes the intimate experience comfortable and never means sacrificing sensation.
Ohnut—which has a 4.4-star rating—is perfect for postpartum moms, pregnant women or anyone who suffers from pain during sex.
One Amazon.com reviewer, who rated the product five stars, wrote, "Not everyone needs this product, but for some of us it's the difference between your partner being a little scared of sex with you and them eagerly looking forward to it. A little lubrication helps get it on easier and once it's in place you barely know it's there. Works fine in conjunction with a condom as well (obviously, just put the condom on first!)."
Buy a set of four at Amazon for $65.
Newsweek may earn a commission from links on this page, but we only recommend products we back. We participate in various affiliate marketing programs, which means we may get paid commissions on editorially chosen products purchased through our links to retailer sites.