11 Things You Need to Know About the Emmys if You Didn't Actually Tune In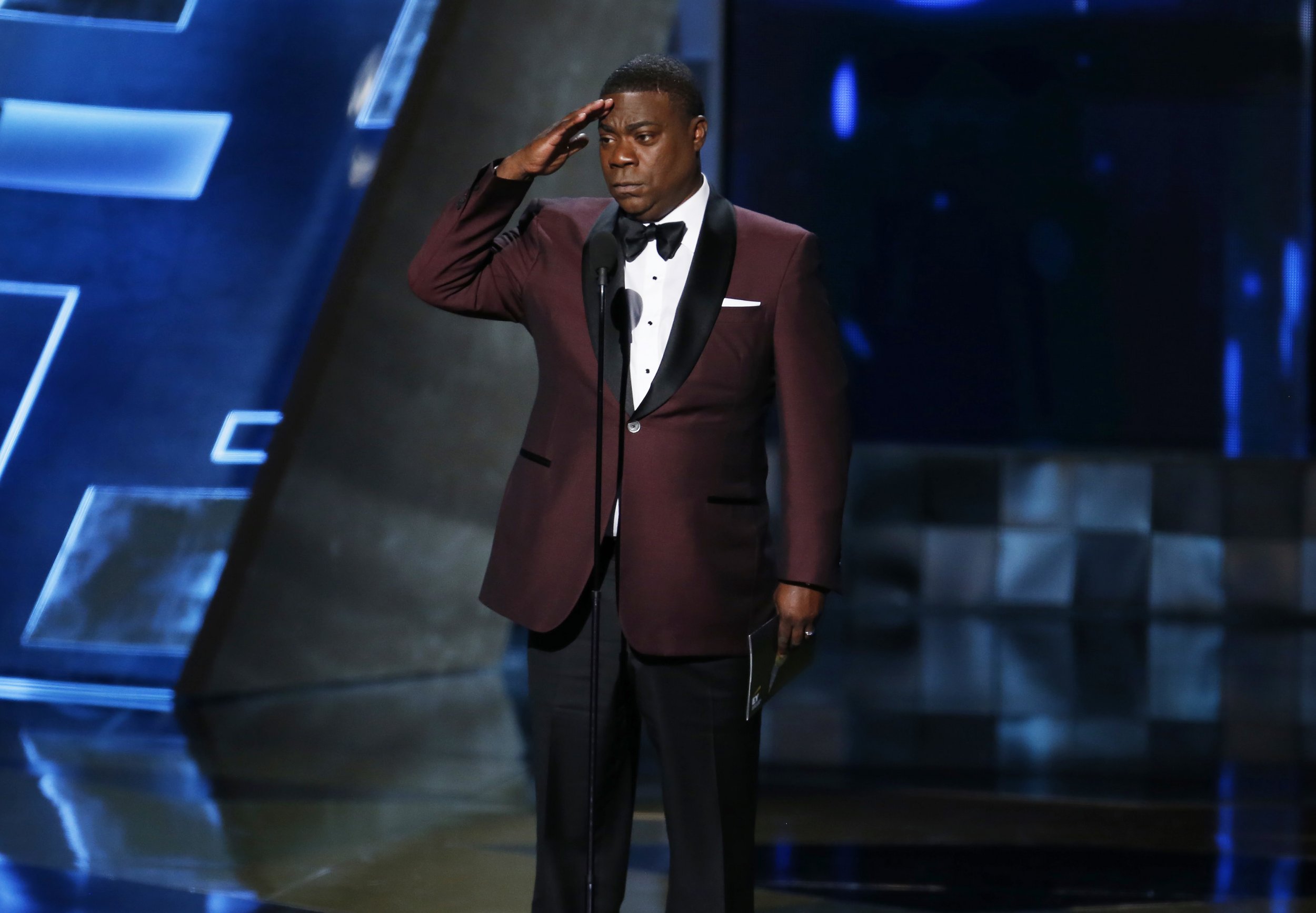 Of all the drama that tends to swarm around awards season, there was perhaps no bigger shock during Sunday night's Emmys than the broadcast itself: on time, sweet, powerful, genuinely funny and without much of the manufactured shock of years' past, it was one of the most enjoyable Emmys in recent (and even less-than-recent) memory. Everyone knows that awards, at best, act as a litmus test for greater societal trends and, at worst, justify a celebrity circle jerk of overwrought pomp and circumstance. Sunday night's Emmys didn't seem to take themselves too seriously until it was absolutely necessary for them to do so (Uzo Aduba's teary acceptance speech, Viola Davis becoming the first African-American actress to receive outstanding actress in a drama). Striking the right tone almost never happens, and it's exciting to have been able to witness an awards show get it right for once.
But you're not here because you already know all that. You're here because you didn't watch and now you feel left out from water-cooler conversations. Fortunately, Newsweek has assembled a short list of the biggest, strangest, funniest, sweetest and most cringe-y moments from the broadcast to help you can fake your way through conversations until…well, next year's Emmy Awards.
Andy Samberg Struck Exactly the Right Note as Host.
Actor, comedian and former SNL-er Andy Samberg performed admirably in his first big-time hosting role. To cite just a few stand-out moments: The host tackled a plethora of sensitive subjects in his opening monologue, opened with a musical number satirizing "peak TV," teased us all with a Bruce Springsteen fakeout (oops, it was another Bruce) and dropped an off-color joke about that rimjob scene on Girls.
It was an excellent job in an era when any host's entire performance is going to get picked apart. Samberg even gave out his HBO password—and it apparently actually worked.
Jimmy Kimmel Ate Part of an Envelope.
Jimmy Kimmel had a power trip while announcing the lead actor in a comedy series award, joking that he could just give it to whomever he wanted. To demonstrate, he pulled out a pair of scissors to cut out just the name on the envelope and put it in his mouth, even announcing the nominees while chewing. The winner was Jeffrey Tambor, receiving the award after his beautiful turn as Maura in Transparent. Later, as Will Forte came out to present a separate award, he joked that he had "just made-out with Jimmy Kimmel backstage" and had the actual name in his mouth, so we could finally find out who really won. It was still Jeffrey Tambor, thank God.
John Oliver Went on a Necessary Jeopardy Rant.
The host of Last Week Tonight presented the award for directing in a special movie or a limited series and noticed that one show had been repeatedly snubbed when it came to Emmys season. "Pretty much every series is a limited series," he said. "Every show on television will go off the air eventually, with the exception of Jeopardy, and I'll tell you why: The sun could burn out, humanity could fade to another galaxy, time as we know it could cease to exist but Alex Trebek will still be there, scolding librarians from Ames, Iowa, to answer in the form of a question and passive-aggressively insulting their hobbies." He also called the award "an elaborate way to exclude Jeopardy from winning yet another Emmy." Since the Emmys are on such a "give 'em what's rightfully theirs" kick, our money is on Jeopardy finally getting a nod next year. (Please?)
Tatiana Maslany and Tony Hale Participated in a Particularly Surreal Bit.
In one of the stranger gags of the evening, host Samberg livened things up during a lull in the action by having the camera cut back to the red carpet. "All right, looks pretty desolate, not much going on," he observed, but then appeared a mysterious figure wearing black and wielding a…metal detector? It was Orphan Black actress Tatiana Maslany, scouring the abandoned carpet for jewels and finding only a can of beans. After she started ravenously eating them, Emmy-winning Veep actor Tony Hale also appeared with a metal detector and tried to steal Maslany's can of beans. "They're fighting over the beans! Here comes security... aaaand they're all going to jail," Samberg narrated. Feed the stars at the Emmys, because this could have gotten ugly. GIF via TV Guide.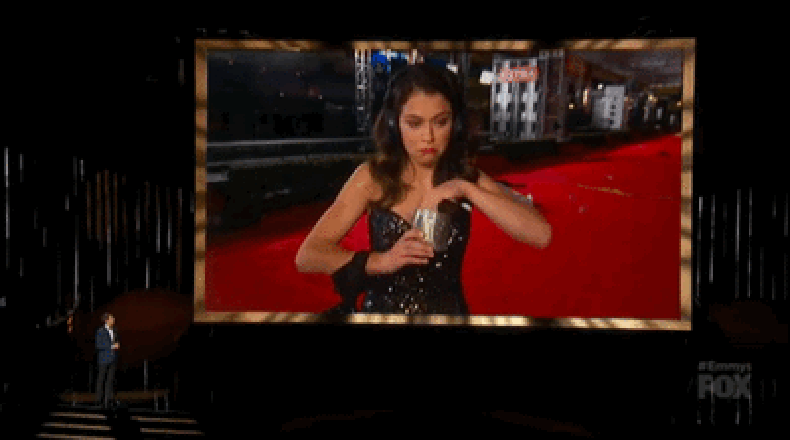 There Was a Controversial, Somewhat Baffling Spoiler Montage.
You're lucky you weren't there to see this one. At one point during the broadcast, somebody who is likely now fired thought it would be a good idea to say farewell to the dozens of shows that ended in the past year by creating a veritable spoiler montage, which included the last few moments of everything from The Late Show With David Letterman and The Daily Show With Jon Stewart to shows that people might actually have wanted to still watch at some point, like Sons of Anarchy, Boardwalk Empire, Mad Men, Nurse Jackie and Two and a Half Men. At first, Twitter was noticeably outraged:
Then, it seemed that Not Being Mad About Spoilers had become the new Being Mad About Spoilers:
Interesting to watch the life cycle of our national feelings in real time, though Samberg seemed decidedly in the former camp: "Welcome back to the spoiler awards," he joked after the next break. No matter how you felt about it, it's interesting to note that Rachel Berry apparently won a damn Tony at the end of Glee.
Jon Stewart Kept Us on the Fence About Whether We'd Hear Him Talk.
We all hoped the newly retired (and newly bearded) Jon Stewart would make a speech when his Daily Show won the Emmy for outstanding writing for a variety series. No such luck. But Stewart returned to the spotlight when The Daily Show won again, for outstanding variety talk series, and this time he gave a speech—a strange and funny lament on the pitfalls of life off television. "I have been off of television for six weeks, seven weeks, whatever is is," Stewart ranted. "This is the first applause I've heard. It is a barren wasteland out there." Then he grumbled about the lack of free food in the real world. Come find us, Jon. There's plenty of free food in our office.
Stars Sported Some Mysterious Green Ribbons.
A number of actors including Jeffrey Tambor, Julia Louis-Dreyfus and Gaby Hoffmann made the puzzling fashion choice of wearing visible green ribbons on their outfits. Viewers were understandably confused, but the accessories turned out to be symbols in support of climate action, distributed by the National Resources Defense Council. If you happened to be hanging out with the stars up close during or after the show, you'd see that the ribbons read, "#DemandClimateAction."
The Ceremony Itself Went Pleasantly Quickly.
It's not so much an Emmys moment as it is a collection of moments, but the clip at which they were tearing through this award show deserves to be celebrated. The broadcast ended exactly at 11 p.m. and didn't move at the torturous pace of...well, basically every other awards show, including last year's Emmys. We would like to thank the academy for letting us go to bed at a reasonable hour and making sure everyone kept their speeches economical.
Viola Davis Gave the Most Impassioned Speech of the Night.
The most powerful acceptance speech of the evening—without question—came from the actress Viola Davis, who nabbed the award for best lead actress on a drama series for her performance on How to Get Away With Murder, becoming the first African-American woman to win the award. On learning of her win, Davis gave presenter Adrien Brody a surprise kiss, as Brody famously did to Halle Berry at the 2003 Oscars. The actress then quoted Harriet Tubman and spoke movingly of the challenge to give women of color more representation in TV and movies:
As cheers swelled, Davis thanked black actresses she views as contemporaries—Carrie Washington, Taraji Henson, Meagan Good and Gabrielle Union—for "bringing us over that line."
Tracy Morgan Surprised Everyone by Presenting the Outstanding Drama Series Award.
Tracy Morgan presented the final award of the night, returning to the stage (accompanied by a standing ovation) for the first time since he was involved in a deadly car accident in June 2014. "Last year, Jimmy Kimmel stood on this stage and said, 'We'll see you back on this stage next year, Tracy Morgan," the 30 Rock comedian said, before thanking doctors, his family and the people who helped him recover. He was solemn, serious and deeply humble. But was the goofy, irreverent Tracy Morgan we've all come to know and love a thing of the past? "I had a traumatic brain injury that put me in a coma for eight days, and when I finally regained consciousness I was ecstatic to learn that I wasn't the one who messed up," he cracked (he also made his classic "someone here is getting pregnant" joke, but let's just ignore that one).
Morgan's presence nearly overshadowed the fact that Game of Thrones won the award for outstanding drama series, shattering an Emmy record of most awards taken home during a single show (they scored 12, including eight at the creative arts ceremony).