11 Clever Products That Will Make You More Productive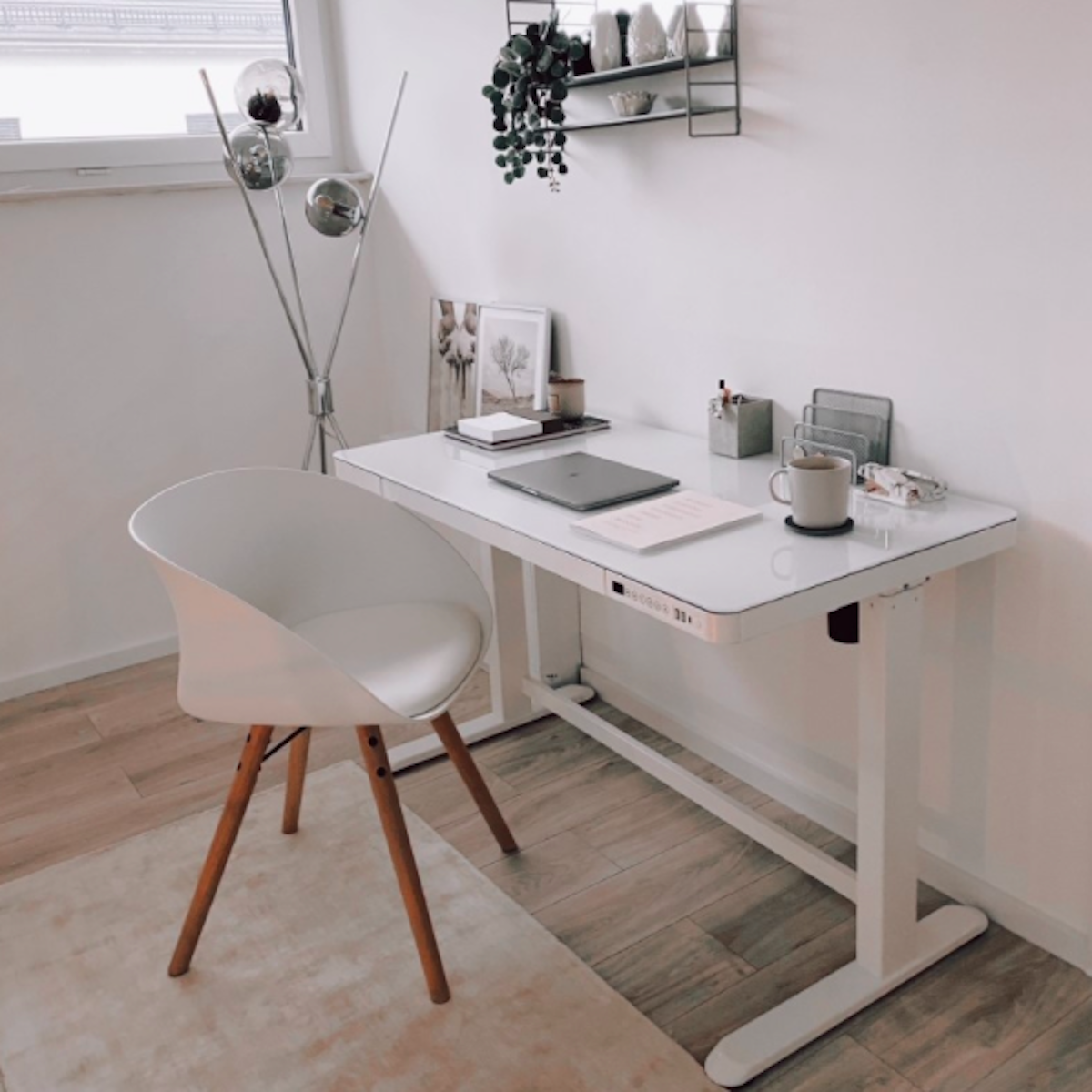 Productivity is a problem for a lot of us. In fact, 1 in 10 Americans—according to a study by MoneyPenny.com—admit to reaching for five or more cups of caffeine a day. And that's just to stay focused enough to get some work done!
Weirdly, we also seem to be able to focus best during a specific time and day of the week. MoneyPenny.com reports that Monday at 10:54 a.m. is America's most productive time, and it's *probably* safe to say that it has a lot to do with coffee.
11 Products To Make You More Productive
Anyway, whether it's a caffeine-related success or not, it's still a success. And while we can't hook you up with a permanent flow of coffee into your veins, we do know of some pretty great products that help maximize your time and productivity levels. Keep reading for 11 products that make you more productive at work, at home and everywhere else. As always, the prices listed may fluctuate over time.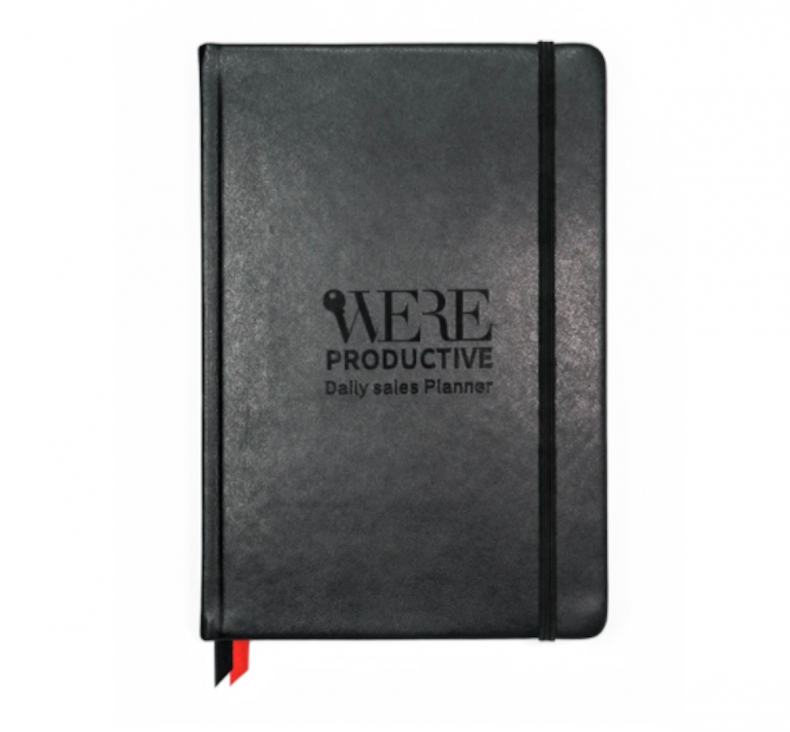 Whether you're in sales or the real estate industry, the Daily Sales Planner from Were Productive is specifically designed to keep you organized and help you succeed. It's more than just a journal full of blank paper for jotting things down; the Daily Sales Planner is outfitted with step-by-step, day-by-day instructions and recommendations for clinching sales and achieving your long-term goals. This quarterly planner helps you more conveniently keep track of everything as you chug along and includes everything from prompts for a business plan, how many calls to make per day, affirmations and more.
Buy at WereProductive.com for $9.99.
Even if you buy the world's most productive planner, there's no success or productivity without the right tools. That's where Paper Mate Gel Pens come in! These smooth-to-write-with gel pens make it easy to color-coordinate your schedule, goals and whatever else you need to write down in your planner. With every color of the rainbow—and those not included, i.e., brown and black—this 14 pack of Ink Joy gels dry three times faster than your average pen, which means less smearing and more productivity for you.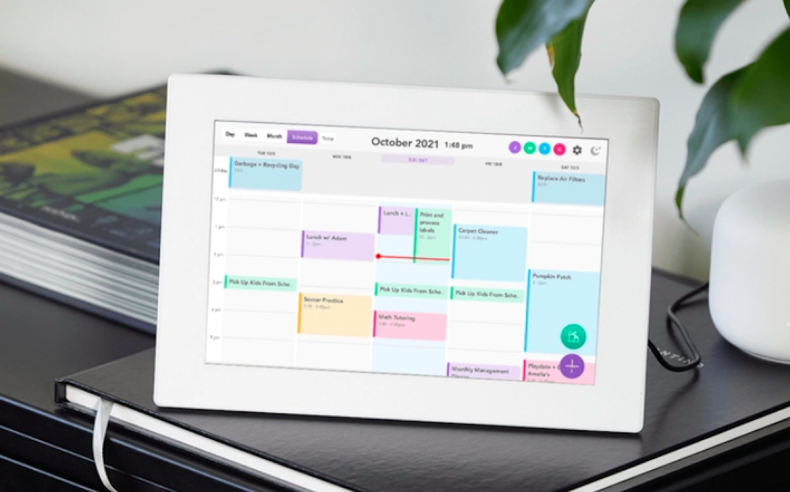 Do you and your family share a Google calendar? It's the only way to keep track of what everybody's up to at all times—right?! Whether you're juggling multiple peoples' calendars or you just need a better visual representation of your own G-cal (or Outlook, Apple, Cozi or Yahoo calendar), the Skylight Calendar from Skylight Frame makes it simple. About as big as an iPad or tablet, the Skylight Calendar sits on your desk, kitchen counter or table and displays a larger version of the day's (or week's) events via its 10-inch touchscreen screen. It's also super easy to sync with just about any calendar app so long as you connect it to the WiFi.
Buy at SkylightFrame.com for $149.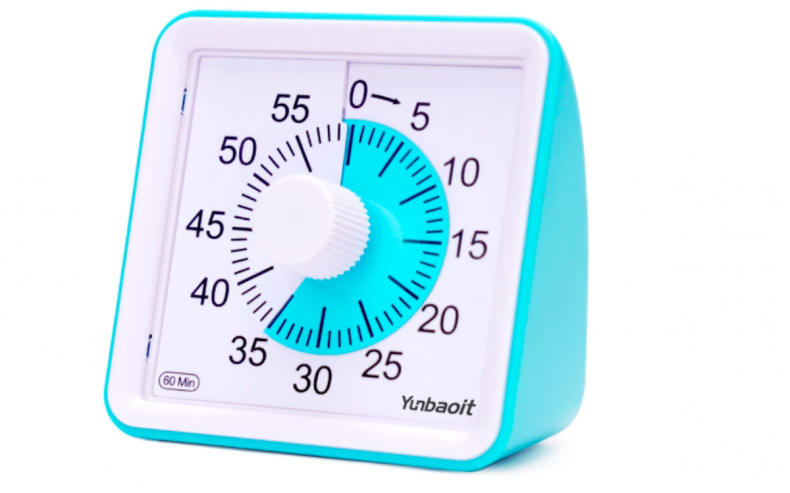 If you've ever heard of (or tried!) the Pomodoro Technique, then the Yunbaoit Visual Analog Timer might just be for you. Traditionally, Pomodoro is a productivity method in which you use a timer to break down work into smaller intervals. For example, work for 25 minutes completely without distractions, then take a 15-minute break. Set the timer a second time for another 25-minute burst of productivity, then break again. Perfect for using this time management technique (or any other that uses a timer), the Yunbaoit Visual Analog Timer is a fan-favorite Amazon product (with more than 6,000 reviews). It comes in nine different colors and is made without any loud ticking, so it's also shhh!-sensitive.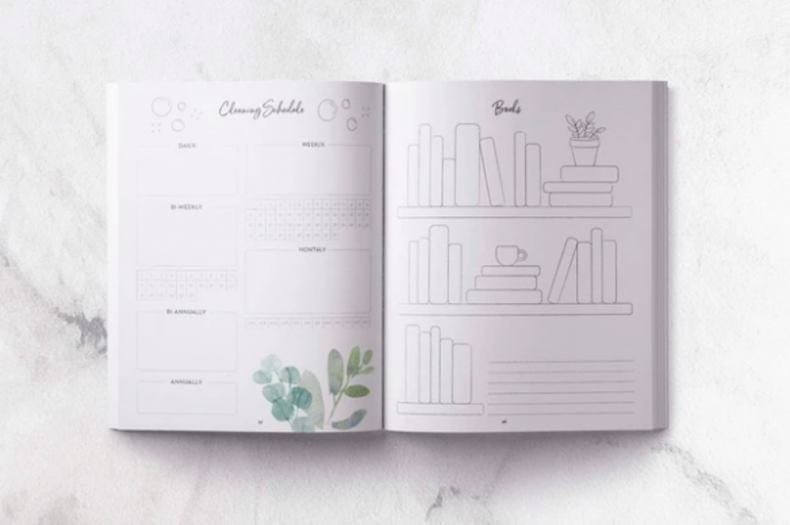 Sometimes what's keeping us from being truly effective at work is our own mental health or, more broadly, a lack of self-care. If you're not in a good headspace, how can you expect to be prolific at work? After all, "busy" does not equal "productive." The Silk and Sonder Annual Supplement is a meaningful cure-all for such mental roadblocks. This fun, year-long journal is designed to help you take care of yourself. Its pages span everything from the day's cleaning schedule to intention-setting and a monthly breakdown of what brought you joy the previous 30 days. Take care of yourself first, and then it'll be much easier to take care of everything else you need to handle.
Buy at Silk and Sonder for $34.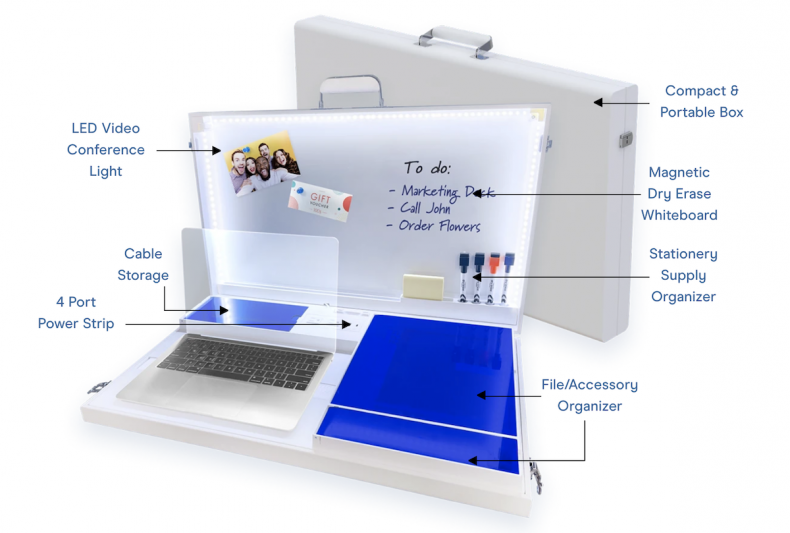 Have you ever seen something so compact and all-encompassing in your life? You never need to leave The Home Office from WorkyLife because, well, it has everything you could ever need in a workday! Great for working from home or working on the go, the whole setup comes in a portable box (not unlike a briefcase). WorkyLife features a file/accessory organizer, a four-port power strip, a stationery supply organizer, a magnetic dry erase board, cable storage and an LED video conference light. What more could you want?!
Buy at WorkyLife.com for $149.99.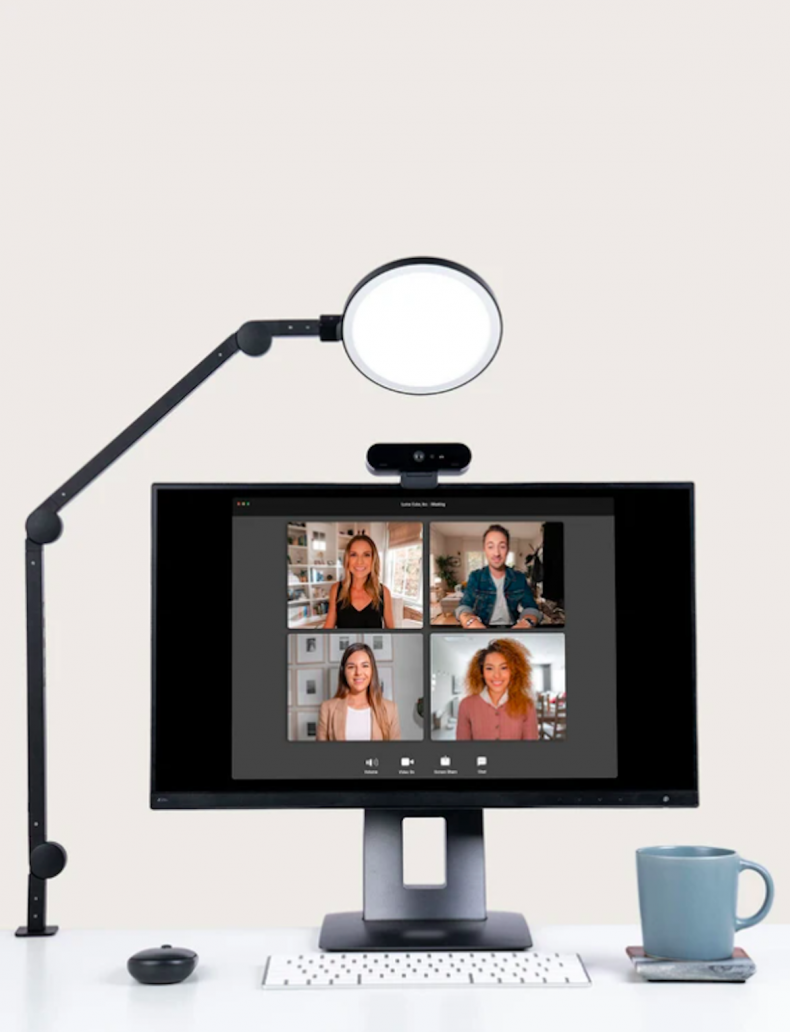 Does your work-life consist of Zoom after Zoom after Zoom? The Lume Cube can help with that. We all know what a drag it can be to appear on camera all day for work. (Listen, we're not complaining—it's a privilege, after all—but we're not all camera-ready 24/7.) The Lume Cube takes your Zooming capabilities up a notch by providing you with the bomb lighting you deserve. This USB desk light enhances your video call experience by enhancing your appearance and simply installs onto the edge of your desk.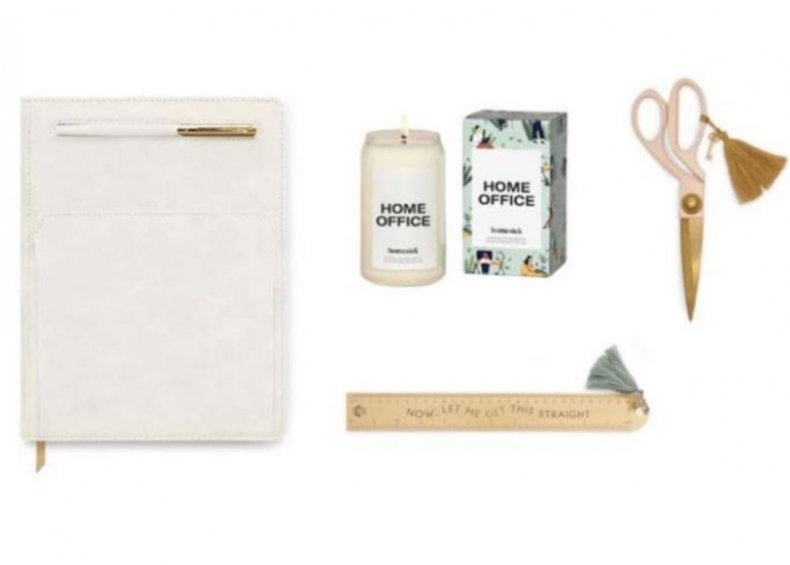 Home sweet home? Nahhh—home sweet office. Now whether that's an in-home office or your corner office in your company's building, it doesn't matter. The #1 key (in our humble opinion) to a productive work environment is a welcoming workspace. You can't expect to accomplish much if you're drowning in random papers, your desk is cluttered and you can never locate a pen. Spruce up your workspace (after you organize it, of course) with the Home Sweet Office set from Patet. Featuring four organizational (and cute) items—the Office Candle by Homesick, the Vegan Leather Undated Planner by Designworks, a Let Me Get This Straight Metal Ruler by Designworks and scissors—this adorable set helps you get the job done—in style.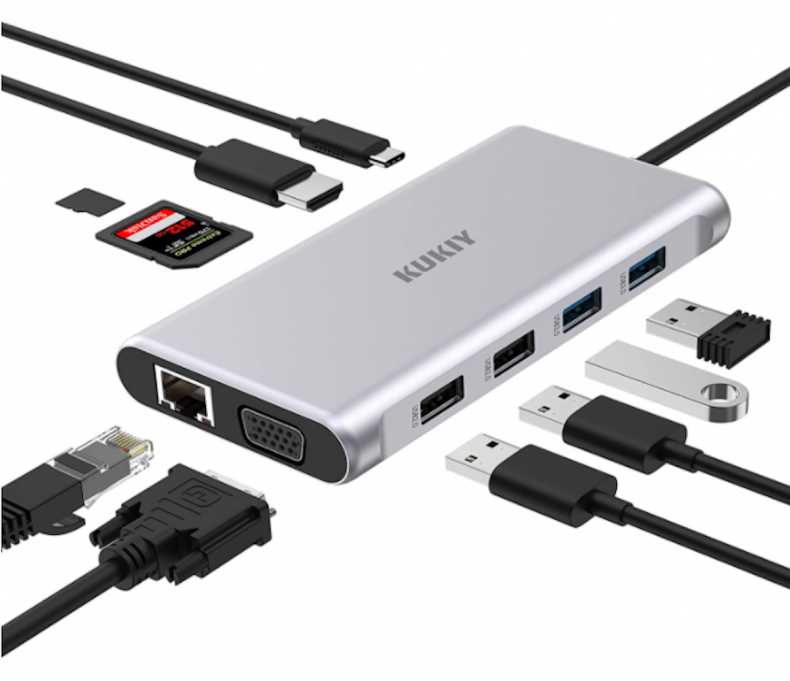 How productive can you be expected to be if your devices keep dying?! Say goodbye to dead batteries (and phones and laptops and tablets) because the Kukiy USB C Hub 10-in-1 Type C Multiport Adapter with Ethernet has enough charging bandwidth for all your devices. This all-inclusive dock features a gigabit ethernet, a type C charging port, a 4K HDMI port, two USB 3.0 ports, two USB 2.0 ports, an SD/TF card reader and a 1080P VGA port. Don't know what we're talking about? TL;DR: This baby can fit just about everything and keep you charged—it can even charge your MacBook Pro! And that means you can be your most productive at all times!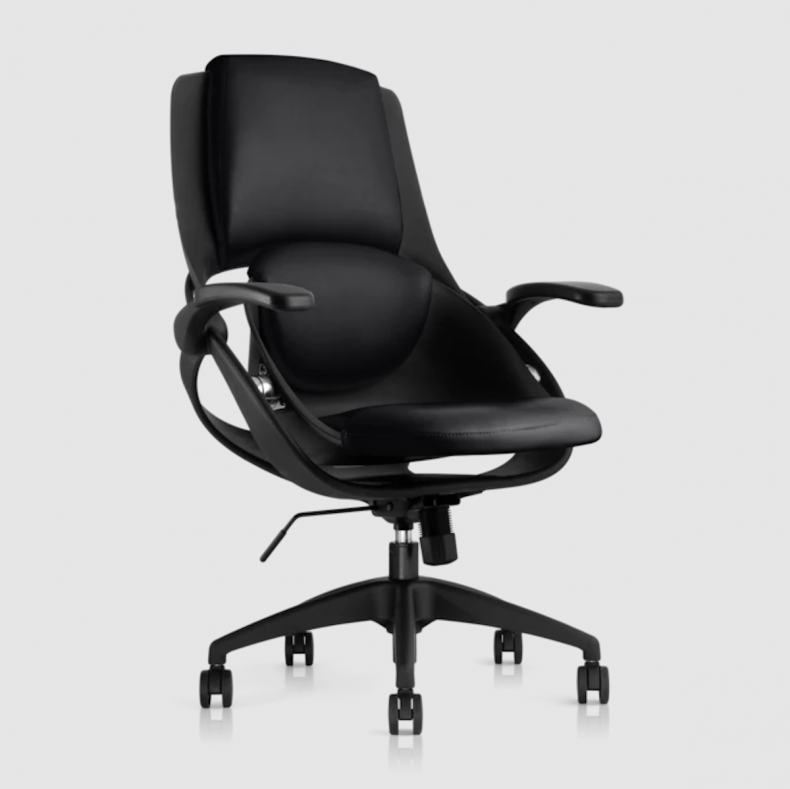 Let us introduce you to the coolest—perhaps even the healthiest—office chair of all time. It's the office chair to put to shame all other office chairs and it's called the BackStrong C1 Vegan Leather Office Chair from All33.com. Named for its ingenious design that perfectly aligns all 33 vertebrae in the spine, the BackStrong C1 is even a favorite amongst celebs—Justin Bieber, Cindy Crawford and Tom Hanks to name a few. Targeting your back's natural shape, this office chair isn't just comfortable; it also can provide pain relief from back- and neck-related strain. It promotes better posture, can increase your spine's flexibility and can even increase blood flow. And since we all know how difficult it is to be prolific while you're in pain, we think it's safe to say the BackStrong C1 is the ultimate office chair for increasing your productivity.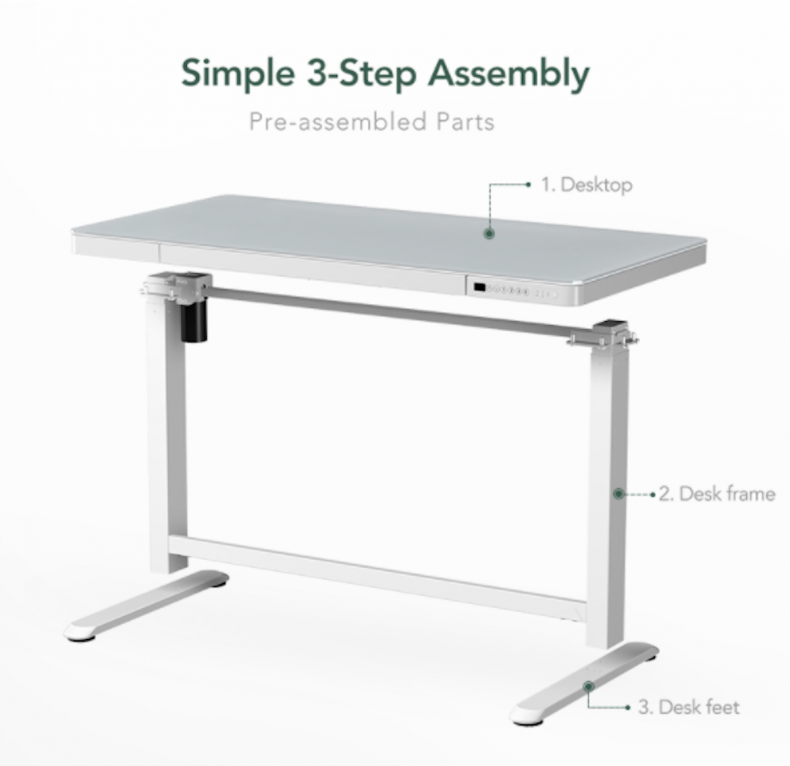 Last but not least, we would be remiss not to include the Comhar All-in-One Standing Desk Glass Top because standing desks have become the must-have item for every office in the past few years. The premier spot for standing desks is Flexispot, and their latest model, the Comhar features an expensive-feeling and looking glass top that's easy to clean and feels polished and professional. What makes this desk stand out is the fact that it features four customizable, programmable height settings (perfect for if you're sharing a desk with a partner who's not quite the same size as you). Switching things up by standing up can help stimulate your productivity and even alleviate neck and back pain, too! You'll also love the convenient embedded drawer for storage and the three USB charging ports on the side.
Newsweek may earn a commission from links on this page, but we only recommend products we back. We participate in various affiliate marketing programs, which means we may get paid commissions on editorially chosen products purchased through our links to retailer sites.