11 Dead, 100 Infected As Coronavirus Sweeps Through Ohio Nursing Home
Licking County Health Department (LCHD) has reported high volumes of coronavirus cases at one Ohio nursing home, the Newark Care and Rehabilitation Center. Eleven people have died from the disease at the facility and some 59 residents and 32 members of staff are currently battling COVID-19.
The localized outbreak began on July 1. Authorities have provided the nursing home on McMillen Drive in Newark with personal protection equipment (PPE) and COVID-19 testing supplies to help in its fight against active cases of the virus.
"Long term care populations like assisted living facilities and nursing homes are one of the most vulnerable to the virus, and unfortunately, outbreaks do occur frequently in these environments," wrote LCHD in a statement.
"We will continue to work with the facility staff to provide the guidance or supplies they need to respond," said LCHD Commissioner Chad Brown.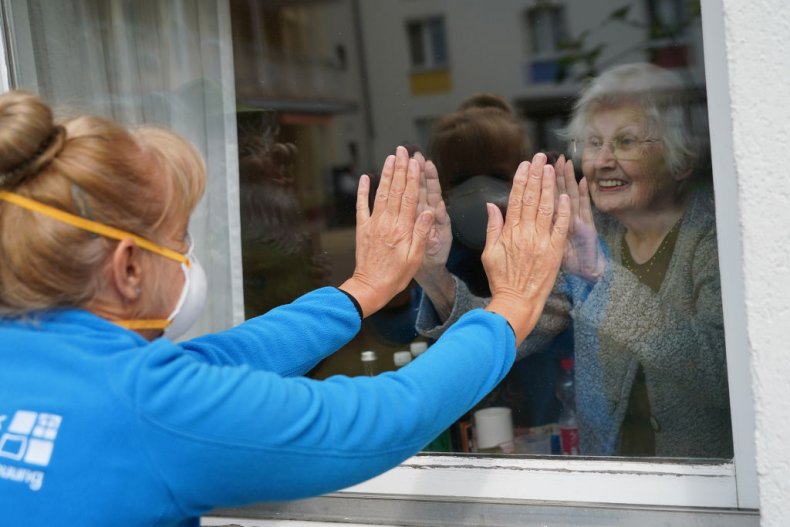 "Our continued collaboration with both the LCHD and Ohio Department of Health [ODH] has been instrumental in our response to this outbreak. We're encouraged by the progress we have made and the support we have received from our local community," continued Brown. "We have been—and will continue—to follow the recommendations from LCHD, ODH, and the Centers for Disease Control and Prevention. I'm also thankful for our dedicated Newark Care and Rehabilitation team who have worked tirelessly for the betterment of our residents during this most difficult time."
Arlington Care Center in Newark has also reported cases of the virus, with 11 residents contracting COVID-19, plus four employee cases. Meanwhile, Middleton Senior Living in Granville currently has five cases.
Governor DeWine announced that, as of July 23, a statewide mask mandate will be enforced for senior citizens living in Ohio counties.
As of July 23, more than 40 percent of all coronavirus deaths in the U.S. are linked to long-term care facilities. Eight percent of the country's COVID-19 cases have been contracted at nursing homes, with more than 335,000 people at some 15,000 nursing homes infected with COVID-19.
To date, New Jersey has had more deaths in long-term care facilities than any other state, with 6,773 people dying due to COVID-19 in care homes, shortly followed by New York with 6,566 deaths, then 5,361 in Massachusetts and 4,804 in Pennsylvania.