10 Dead After Van Carrying 30 People Flips Over in Texas
A crash in Brooks County, Texas has left 10 people dead and a number of injuries, according to the Brooks Sheriff's Department.
On Wednesday, a van of approximately 30 people lost control and crashed 80 miles north of the Texas-Mexico border, the Department of Homeland Security said, according to KVEO. The driver was allegedly speeding, failed to make the correct turn, and overturned the van. At least 12 people have been injured in the crash, according to KENS.
The people in the van were migrants, Brooks County Sheriff Benny Martinez told KENS.
Reports indicate that the surviving victims will be treated at the Rio Grande Regional Hospital.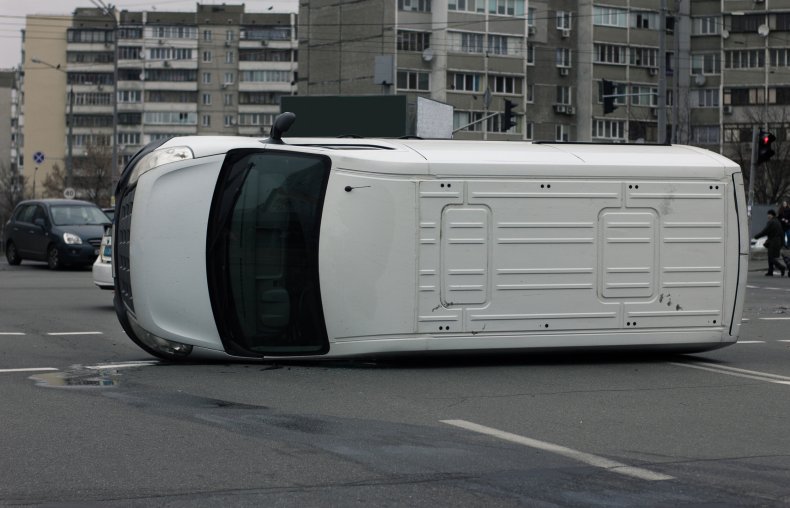 On Tuesday, a federal judge from El Paso, Texas issued a restraining order against Texas Governor Greg Abbott's executive order which prevents non-profit organizations from transferring immigrants. The Department of Justice is also suing Abbott, stating that his order will continue the spread of COVID-19 and disrupt measures to help "asylum-seekers whose cases are pending," according to the lawsuit.
Abbott responded to the restraining order in a press statement on August 3.
"The Court's recent order is temporary and based on limited evidence," stated Abbott. "We look forward to providing the Court with the evidence to support the Governor's Executive Order to protect Texans."
"The Biden Administration has knowingly—and willfully—released COVID-19 positive migrants into Texas communities, risking the potential exposure and infection of Texas residents. The Governor's Executive Order attempts to prevent the Biden Administration from spreading COVID-19 into Texas and protect the health and safety of Texans."
On Wednesday, it's been reported that nearly 7,000 COVID-positive migrants have been released into the city of McAllen, Texas since February, and more than 1,500 in the past week.
In a Wednesday statement, the city of McAllen said that they've put up temporary shelters to combat the surge of immigrants being released into the city.
"Since mid-February of 2021 there have been over 7,000 confirmed COVID-19 positive immigrants released into the city of McAllen by [Customs and Border Protection], including over 1,500 new cases in the past seven days," the statement said.
Senator Ted Cruz called out the Biden Administration on Fox News, citing that the administration is the reason why immigrants are filling up the city in record numbers.
"That is unacceptable and they keep doing it," Cruz said on "America Reports."
"Joe Biden likes to talk about this pandemic, well I'll tell you what, the election of Joe Biden and Kamala Harris was a super spreader event because their open border is endangering not just the people of Texas but people all across the country."
McAllen is considered to be a "border town," meaning that the city sits near the Mexican border.
Newsweek reached out to the Brooks County Sheriff's Department for comment.