11 Facts About the Devastating Wildfires in Australia
Firefighters have been battling wildfires in Australia for months, burning through more than 17 million acres of land, claiming the lives of at least 26 people, and destroying about 2,000 homes.
At least 140 fires still are burning in New South Wales alone, the state that has been impacted the most from the fires. Without multiple heavy rainfalls, it's possible the fires could continue to burn for months, AccuWeather Senior Meteorologist Andy Douty told Newsweek.
"It takes time to recover from something like this ... You don't just get one heavy rain and it's gone," Douty said.
Firefighters got some relief earlier in the week after parts of the country received some light rainfall. However, high temperatures returned days later, and on Thursday, Australian authorities urged nearly a quarter of a million people to evacuate their homes in Victoria, a state located in the southeastern part of the country. Heading into the weekend, firefighters in New South Wales said they expected fires would spread.
As Australia's wildfires continue to capture international attention, here's a few facts people should know about the situation.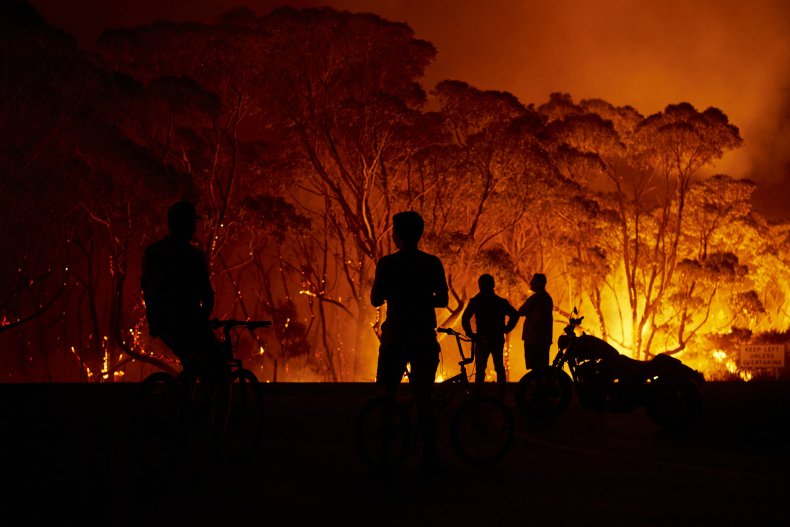 11 Facts About Australia's Wildfires
1. The size of the area burned by Australia's wildfires is the equivalent of more than 21,309 Central Parks put together.
2. At least 150 firefighters from the United States have assisted authorities in Australia with firefighting efforts so far, Carrie Bilbao, public affairs specialist for the National Interagency Fire Center, told Newsweek.
3. Twenty-four people have been charged with deliberately setting brushfires, according to the New South Wales police.
4. The fires have been fueled by a prolonged drought, with December marking the driest month on record, according to Australia's Bureau of Meteorology.
5. At least 26 people have been killed in the fires, including volunteer firefighters Andrew O'Dwyer and Geoffrey Keaton. At their funerals, Rural Fire Service Commissioner Shane Fitzsimmons presented their young children with their service medals.
6. One billion animals could be impacted by the fires and Environment Minister Sussan Ley told AM that 30 percent of the koala population is believed to have been killed.
7. Much of Australia's firefighting force are volunteers, and they have included former Prime Minister Tony Abbott.
8. In December, the smoke was so heavy in Sydney that the air quality measured 11 times higher than the "hazardous" level.
9. Strong winds are contributing to the fires spreading and a firefighter was killed in December after his truck rolled over in high winds.
10. Nature Conservation Council ecologist Mark Graham told Science Magazine that he was concerned about the fate of the potoroo, a hare-size wallaby. The animal is crucial for keeping the forest soil healthy and CNN reported if they're harmed in the fire, some plant species may be unable to regenerate.
11. Volunteer firefighters in New South Wales who work more than 10 days will be paid up to $6,000, according to Prime Minister Scott Morrison.