11 Game-Changing Products That Will Organize Your Closets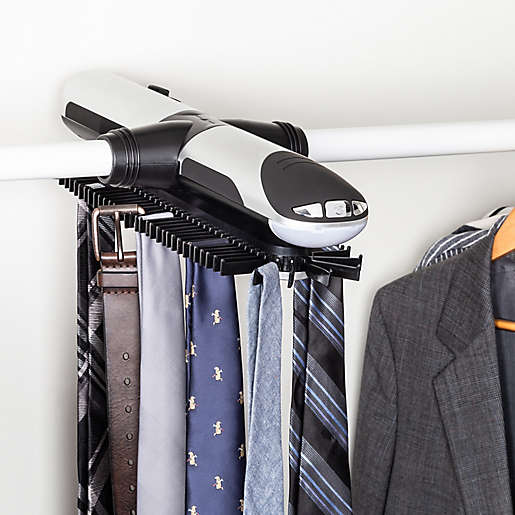 Although closets are designed to help us organize our clothes, shoes and other apparel, they often seem like the most inefficient part of our homes. Clothes, ties, hats, scarves, jeans––those are just a few of the items that are found in closets. No wonder they often feel messy.
One reason might be that many of us spend our time, effort and money on parts of our home others see. But you deserve some attractive, private areas of your house, too. That's why it's crucial to spend a bit of time and effort rethinking and reorganizing your closet.
11 Products That Will Organize Your Closets
Sure, you can spend thousands of dollars redesigning and organizing your closet. There's nothing wrong with doing that, as long as you realize there are cost-effective options that can often get the job done. Take a look at these 11 highly-rated products that will organize your closets and save your cash. As always, the prices listed may fluctuate over time.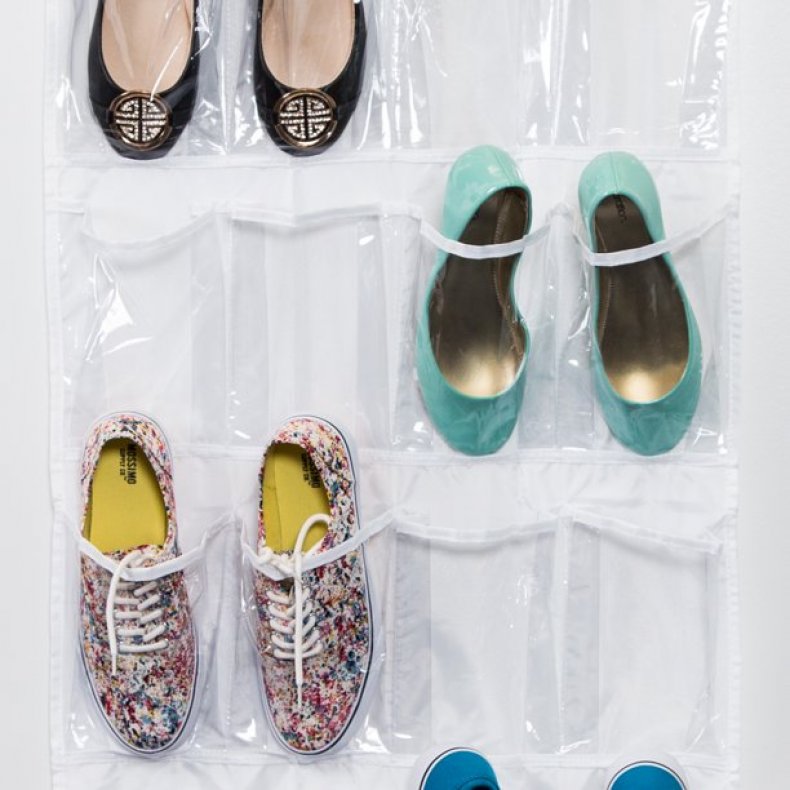 There's something about tripping over piles of shoes that makes even the best of us feel disorganized. Even worse is searching the floor of a closet for a stray shoe. Add Honey Can Do 24-Pocket Over-the-Door Shoe Organizer and save time while you up your efficiency game. This organizer holds 12 pairs of footwear, but you can also buy extras to use for scarves, lingerie and other items that keep you from achieving closet nirvana.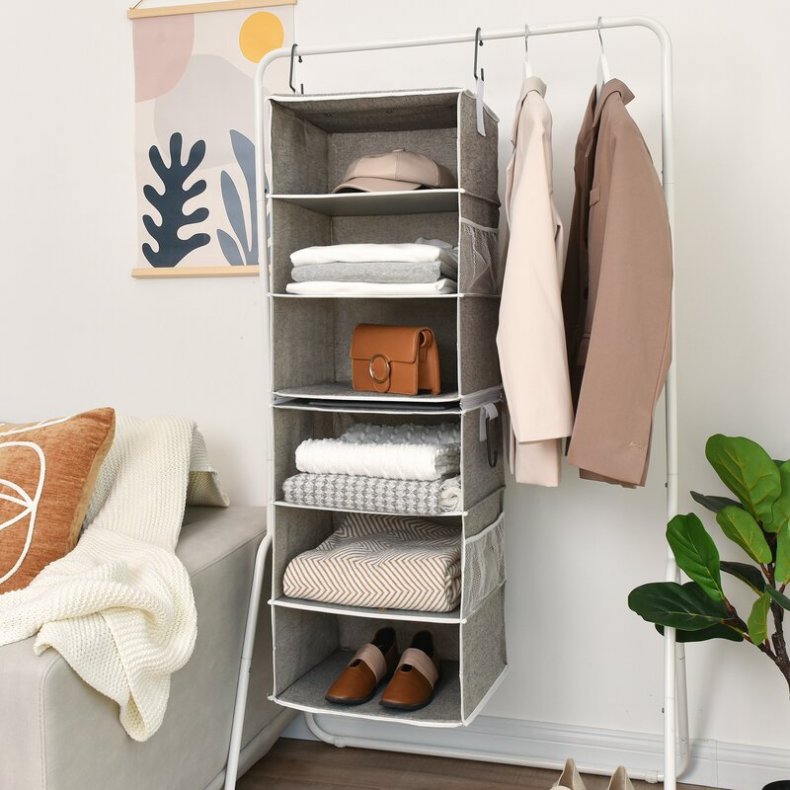 You don't have to pay a fortune for some clutter relief. Instead of installing drawers in a walk-in closet or cramming an extra dresser into your bedroom, consider the Rebrilliant Savion Moth Proof Fabric Hanging Organizer. It measures just 42 inches by 12 inches by 12 inches but can hold up to 40 pounds of shirts, jeans, shorts and other clothes in its six drawers. Use the hooks to hang it from the closet rod, and you're set. Don't miss the side pockets for jewelry and smaller items.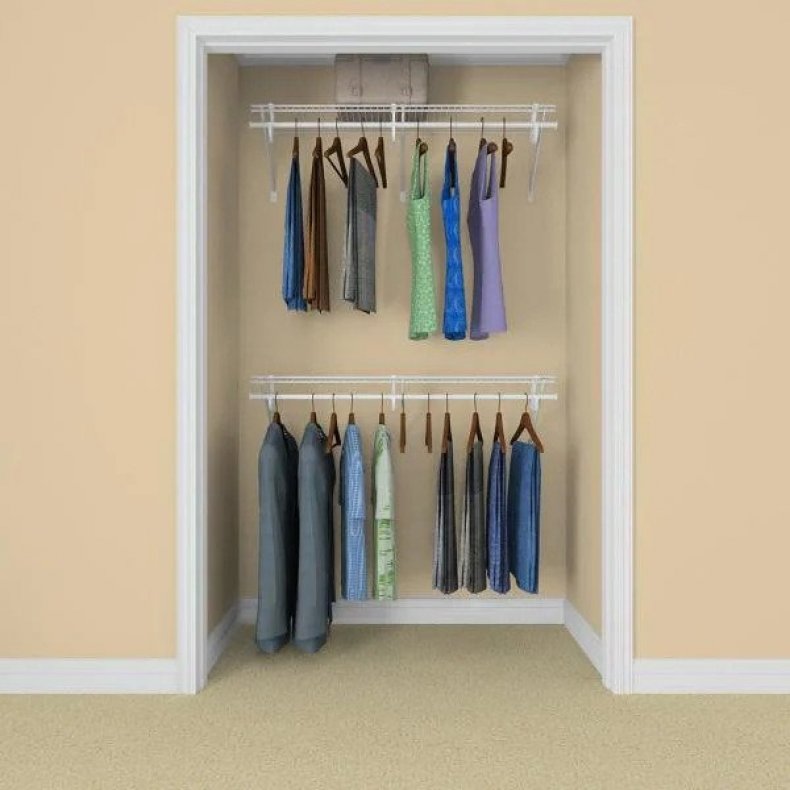 Easily and inexpensively add shelves and rods to your reach-in closet with the Closetmaid Fixed Mount Double Hang Closet System. The 4-foot rod is designed so hangers glide over the surface. The two 4-foot long shelves are perfect for jeans, sweaters and other closes that can be folded. The system can hold up to 40 pounds of weight and is compatible with fixed mount closet systems. The kit size measures 12 inches by 48 inches by 36 inches. It's made of white-colored steel, so it's sturdy and attractive.
Buy it at Home Depot for $39.74.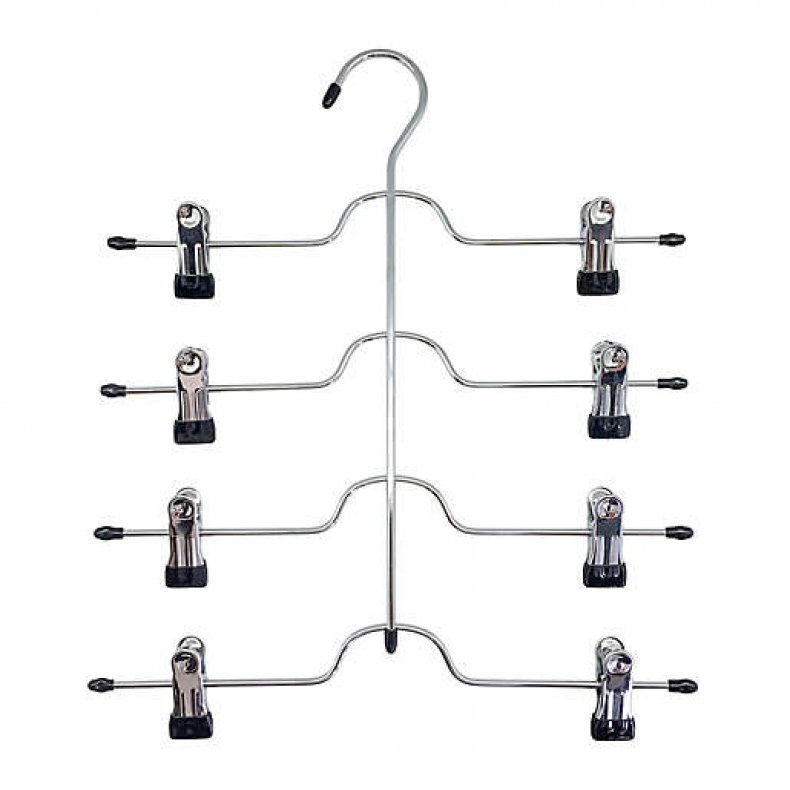 Yes, you can keep your skirts in your closet in such a way that they don't hog all the space. Simply Essential 4-Tier Skirt Hanger uses its configuration and non-slip ribbed grip to keep your skirts wrinkle-free while maximizing your closet space. Each hanger measures .87 inches by 12.99 inches by 15.16 inches. Both you and your clothes will benefit from these hangers.
Buy it at Bed Bath & Beyond for $7.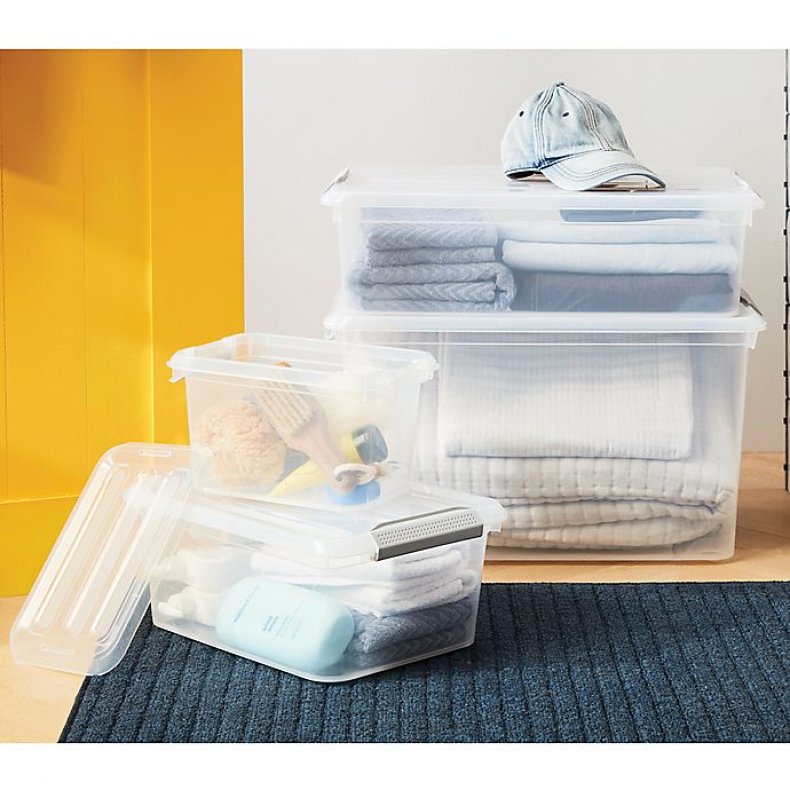 Keep your clothes, linens, purses and other items organized while you maximize closet shelf space by using 100 percent polypropylene Simply Essential Storage Containers. They are sturdy and have clear sides, so you can quickly identify the contents. A lid latch keeps the contents snug. Choose the size that works for you––6.2 quarts, 14.5 quarts, 32 quarts, 61.5 quarts or 100 quarts. Or choose all of them and use them in the bathroom, kid's room, hallway and other closets.
Buy it at Bed Bath & Beyond from $3.50.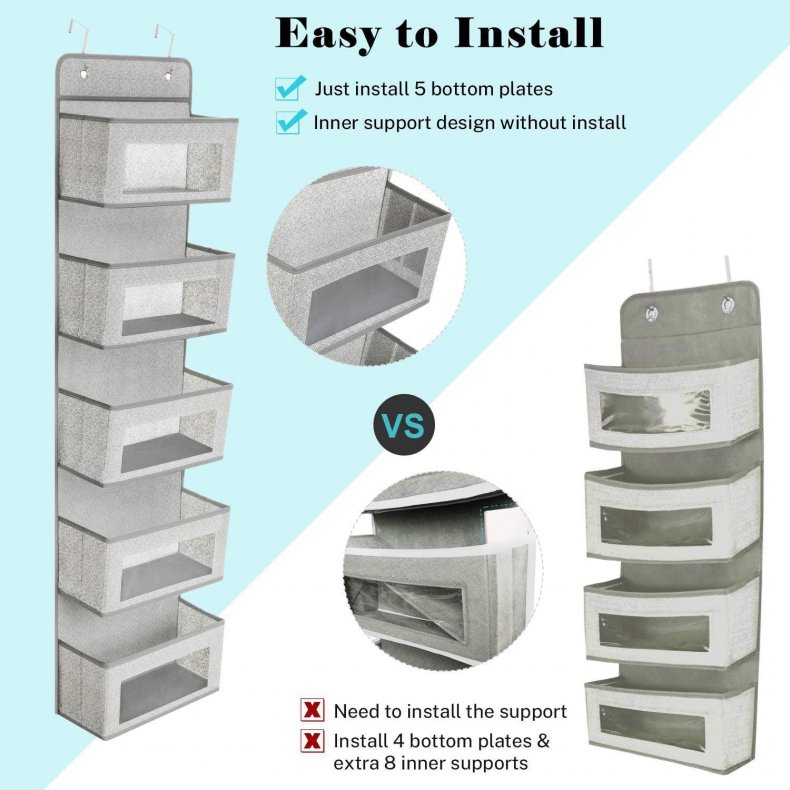 Over-the-door storage doesn't just apply to shoes. Consider Jrehoor Over the Door Organizer that has five large pockets with clear windows. It offers a perfect way to store hats, scarves, towels and other items. Rigid sides keep the pockets in shape. The light gray colored organizer has top hooks and measures 13.19 inches by 12.01 inches by 2.83 inches. Boost that organization game with this find.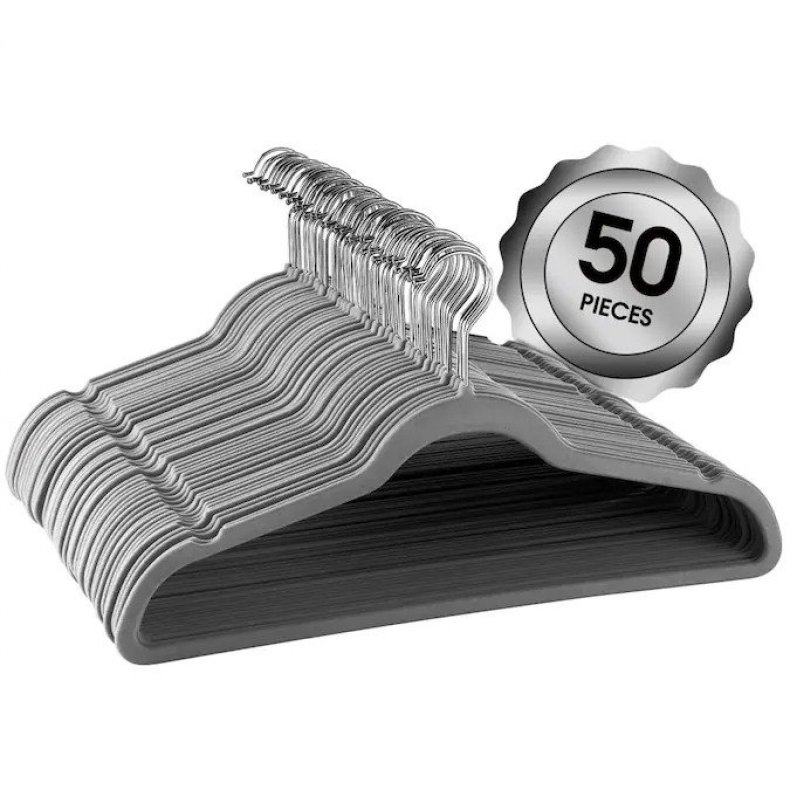 Ok, maybe you can't knock out a wall and enlarge your closet, but you can buy the Elama 50-Pack Velvet Non-Slip Grip Hangers and feel as if you did. These gray velvet hangers are only .2 inches thick but can hold large and heavy clothes without taking up a lot of room. The 360-degree swivel head and non-slip material keep your clothes on the hangers and off the floor.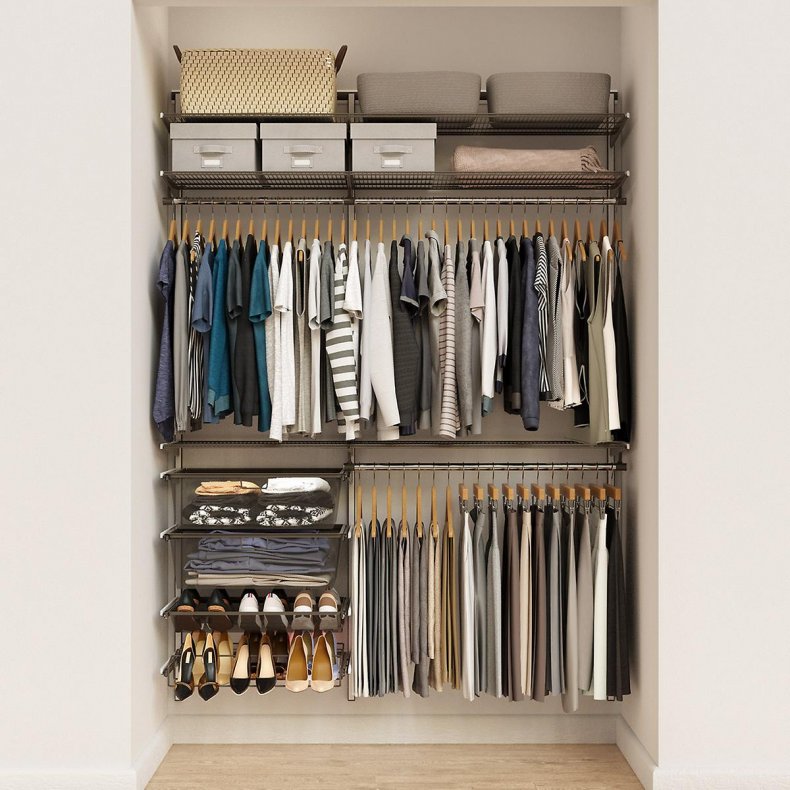 Those that think it's impossible to organize a reach-in closet haven't seen Elfa Classic Graphite Reach-In Closet. Highlights include a middle-of-the-space closet rod, another closet rod nearer the ventilated mesh drawers, a gliding shoe rack that holds four to six pairs of women's flats or three to four pairs of men's shoes. The 63 inches of space is customizable to suit your needs. The unit measures 5 feet by 16 inches by 7 feet, so you have plenty of room to work with.
Buy it at The Container Store for $720.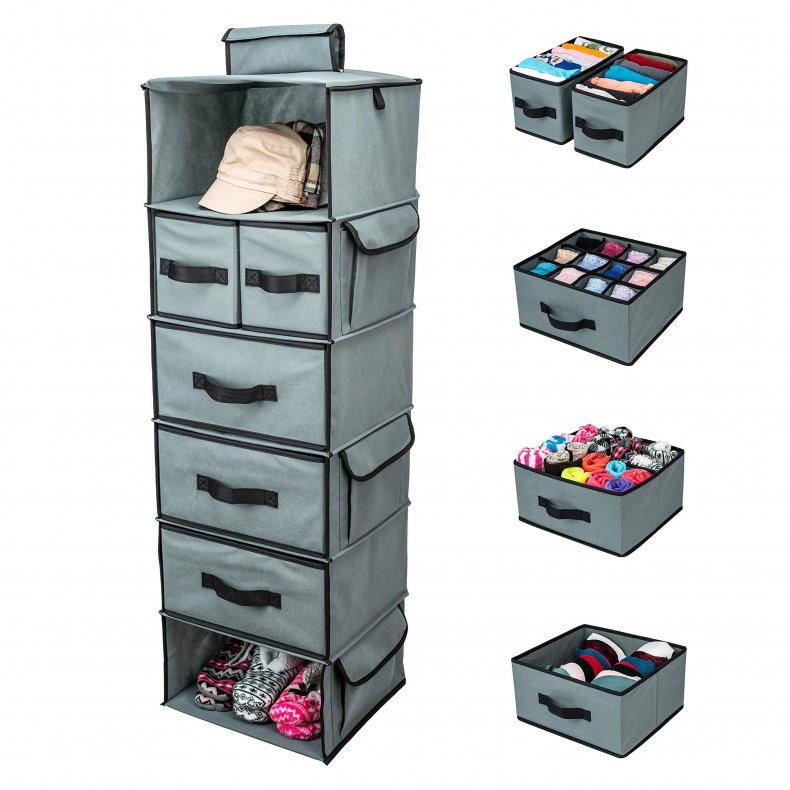 You don't have to commit to one type of clothing––think shoes or scarves––when you use Smirly Hanging Closet Organizer Shelves. You can pack up to 30 pounds of items in this unit that's created with heavy-duty, thick non-woven fabric. It's 42.5 inches by 12.2 inches by 13.6 inches with two shelves and five drawers designed for bras, socks, shirts/shorts and underwear, plus side pockets for the little extras. It has a Velcro fastener at the top to slip over your closet rod.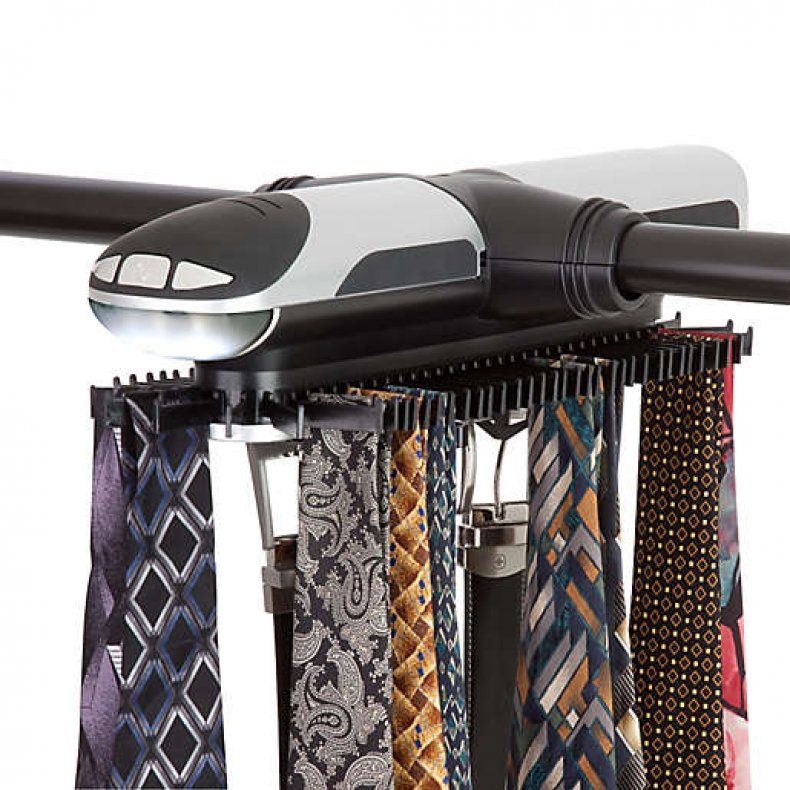 You'll find plenty of room in your closet for an array of ties, belts and scarves when you use the Honey-Can-Do Electronic Tie Rack. Just install four C batteries, clasp it to the closet rod, load up to 72 ties onto the 18-inch by 8-inch by 4-inch rack and push the button to start its revolution. A built-in light allows you to see the items, even in a dark closet.
Buy it at Bed Bath & Beyond for $29.99.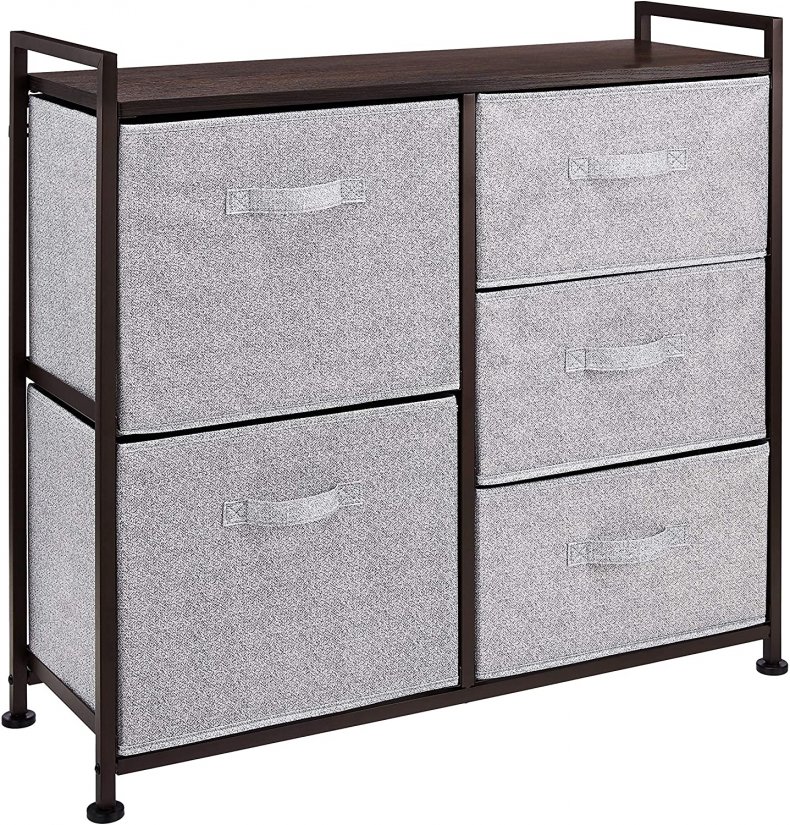 Have you ever noticed that kids' closets always seem to be filled with toys, t-shirts, skates and who-knows-what-else? Add Amazon Basics Fabric 5-Drawer Storage Organizer Unit to the closet, and you'll have a place to shove all the odds-and-ends out of sight. The 5-Drawer fabric storage organizer measures 16.14 inches by 11.22 inches by 8.3 inches and has adjustable feet, so it doesn't wobble. It comes in six different colors.
Newsweek may earn a commission from links on this page, but we only recommend products we back. We participate in various affiliate marketing programs, which means we get paid commissions on editorially chosen products purchased through our links to retailer sites.