11 Highest-Rated Organizational Bins, Baskets and Dividers at The Container Store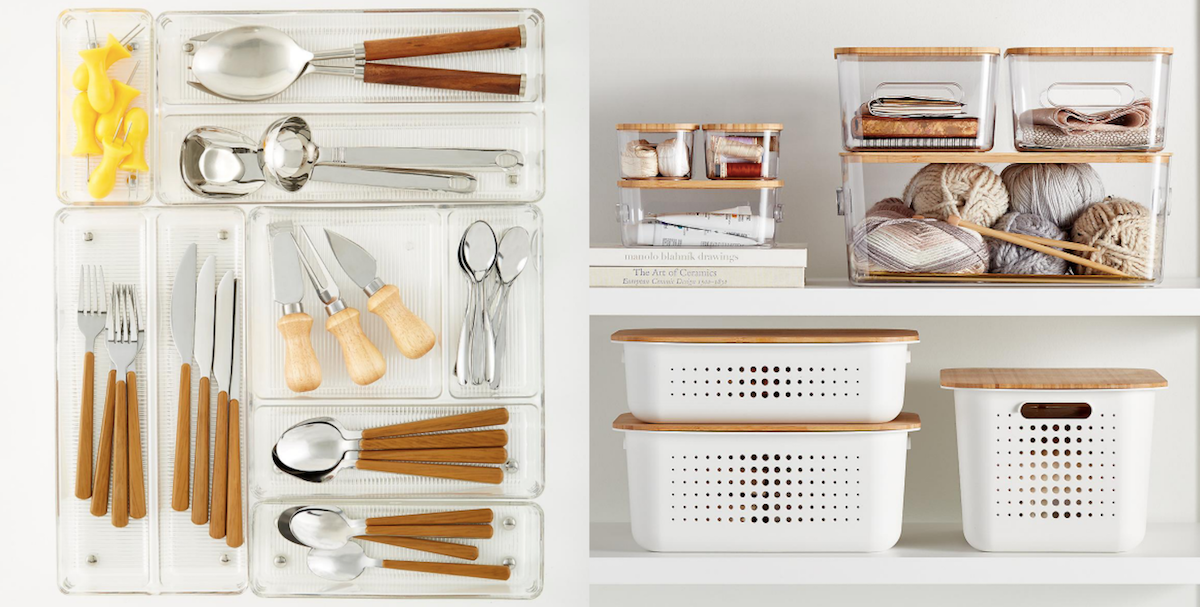 Are you tired of organizational content yet? Yeah, us either. That's because an organized home is a happy home, and as all amateur organizers know, there is always room for improvement. Don't just buy any old items if you need more organizing baskets, bins and dividers. Newsweek rounded up the highest-rated organizational products from the holy grail of neatness—The Container Store.
11 Highest-Rated The Container Store Items
Rave reviews and the highest ratings galore, these 11 items from The Container Store will change the way you run your home. Everything in its place, right? Keep reading for the most beloved, bestselling Container Store items below. As always, the prices listed may fluctuate over time.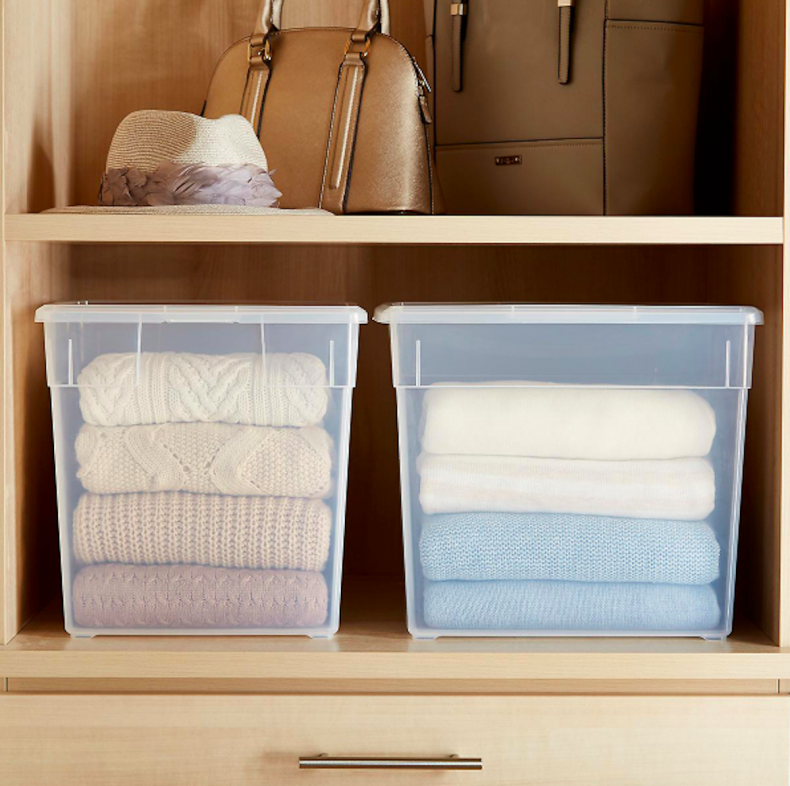 As its name suggests, Our Deep Sweater Box is one of the deepest, clear container boxes that The Container Store offers. As such, fans love it. So much so that this 15 5/8-inch by 13 1/8-inch by 13 1/4-inch plastic box has amassed 2,587 reviews and 4.8 stars on TheContainerStore.com. Ideal for large, puffy sweaters, throw pillows and blankets (one reviewer even shared that they used these as litter boxes for their cat?!), Our Deep Sweater Box is perfect for out-of-sight storage when the seasons change.
One TheContainerStore.com reviewer wrote, "I use the tall shoe box for my Ugg boots. The clear boxes make sense so you can see what's in the box without opening and searching. Makes my closet look neat!"
Buy it at The Container Store for $17.99.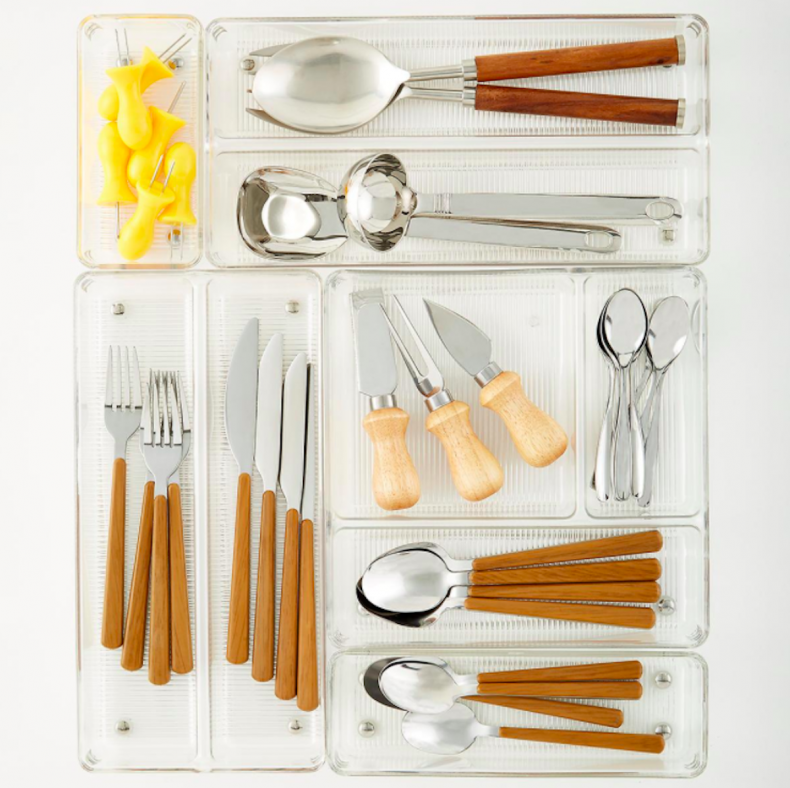 Never have a messy drawer that won't close ever again. The iDesign Linus Shallow Drawer Organizers comes from The Container Store's most beloved line—iDesign—and the fan reaction doesn't disappoint. These plastic drawer dividers, perfect for organizing knives, forks, spoons and more, have a 4.6-star rating and more than 100 reviews. Molded from clear Resipreme plastic, which claims to be "virtually unbreakable," these drawer organizers aren't just for the kitchen. Store toiletries, cosmetics, craft supplies and more in these bad boys. Whatever you can think of!
One TheContainerStore.com reviewer wrote, "I'm a professional organizer and buy these for all of my drawer organizing jobs. They work well for any type of drawer situation; whether it be the office, kitchen or bedroom. I've even used them in medicine cabinets and for jewelry sorting. I love that they come in different sizes and lengths."
Buy it at The Container Store from $4.49.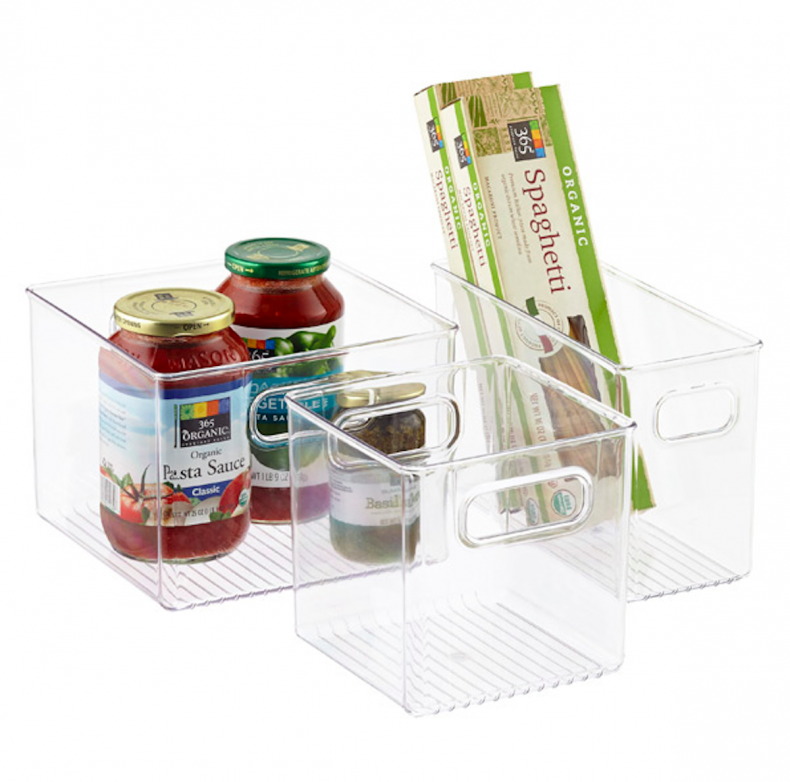 Your pantry is about to look a heck of a lot different. Thanks to the iDesign Linus Pantry Bins, just about everything in your pantry can now have a place with a purpose. Fit everything from jars of sauce and salsa to pasta noodles and canned sodas in these organizing bins. (They can also be used in the fridge or refrigerator, too!) With 402 reviews and 4.3 stars on TheContainerStore.com, fans agree that they're best made for organizing packaged goods and other food items. The best part about them is that they're clear, so you never have to wonder what's inside. Plus, they have handles!
One TheContainerStore.com reviewer wrote, "I keep buying these over and over. I love these bins. I use them to organize my son's toys, Play-Doh, coloring books, etc. as well as pantry items and things I just don't want seen but need access to all the time."
Buy at The Container Store from $14.99.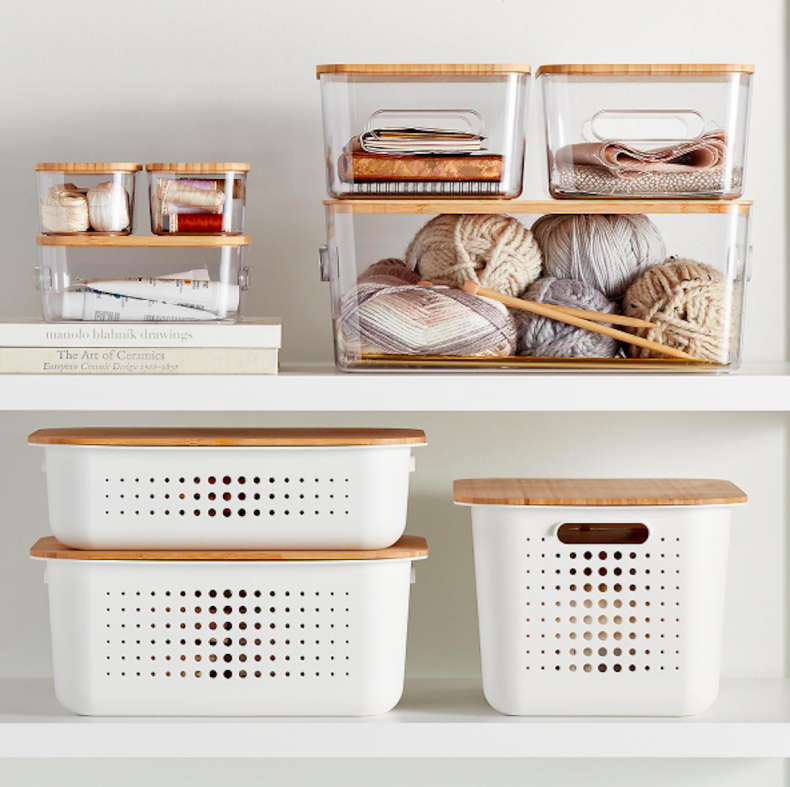 If you peruse TheContainerStore.com or their Instagram, you'll see White Nordic Storage Baskets With Handles in peoples' bathrooms, linen closets, regular closets, laundry rooms and more. These sustainable bins—made of 100 percent post-consumer recycled material—have 402 reviews and a 4.3-star rating and may not be see-through, but that's not stopping organizers from loving them. They're perfect for books, toys, blankets, various storage, craft supplies, laundry room supplies, cleaning supplies and just about anything else you'd stow away in a closet, cabinet or shelf. Plus, no labels are needed—you can write on these bins with a dry erase marker!
One TheContainerStore.com reviewer wrote, "I will buy this product again. I use this in my pantry to organize my baking ingredients. Works perfect for your flavorings, baking powder, morsels, etc."
Buy at The Container Store from $3.99.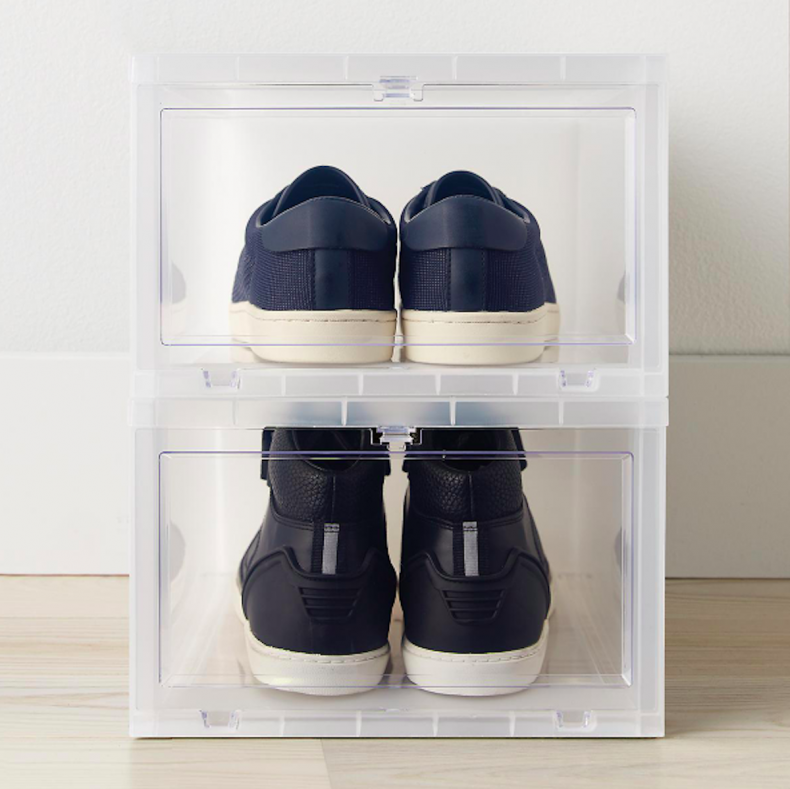 Made in the USA, The Container Store fans can't get enough of the Large Drop-Front Shoe Box. Let's be honest—shoe storage is a real annoying problem for most of us! The Large Drop-Front Shoe Box finally delineates the appropriate amount of space to even the largest of shoe collections. It's got a 4.7-star rating and more than 220 reviews—plus it's available in both black and white (both versions have the translucent drop-front, though!).
One TheContainerStore.com reviewer wrote, "Best shoe invention ever. I have been buying these containers for the past couple of years, and saying these are a lifesaver would be an understatement. First, it allows you to see and have easy access to all your kicks. No more trying to guess which shoes are in which box. Most importantly, no more snatching the box out of the middle of the pack and hoping the whole thing doesn't collapse."
Buy at The Container Store for $11.99.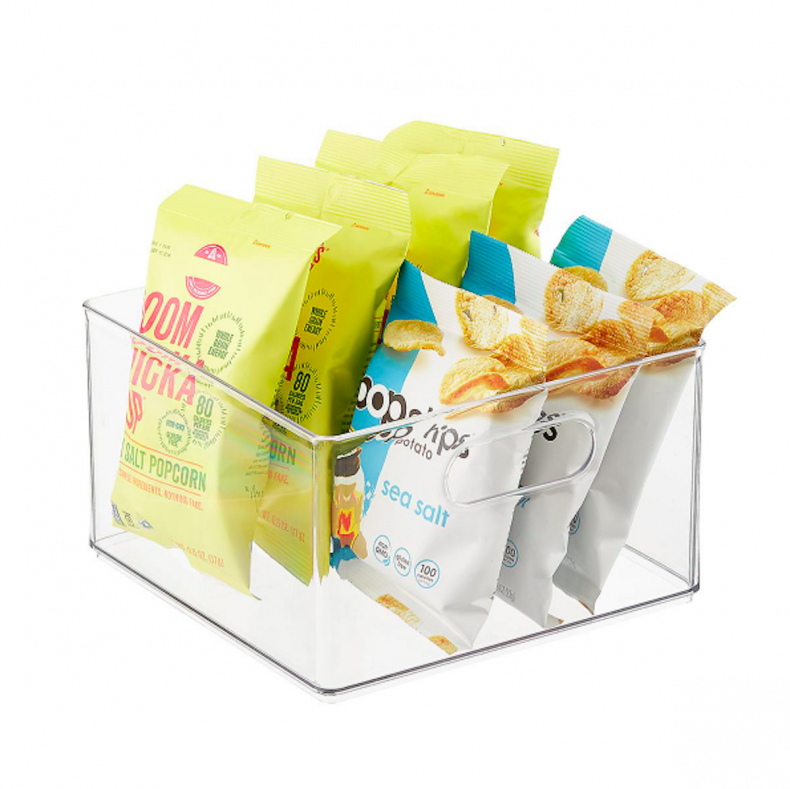 It should come as no surprise that The Home Edit has one of The Container Store's bestselling (and highest-rating) organizational items. We're talking about The Home Edit All-Purpose Bin, of course. Beloved by fans of the show/book/Instagram account led by rainbow fanatics Clea and Joanna love The Home Edit All-Purpose Bin for organizing just about everything. It truly is all-purpose! Use it in your pantry, fridge, closet, laundry room, linen closet, bathroom cabinet, kitchen cabinet and any other place you can think of.
One TheContainerStore.com reviewer wrote, "Purchased a few of these to store toiletries and cleaning supplies in a more organized manner. It's easier to move the whole basket rather than each item one by one when cleaning the bathroom for searching for toiletries. The bottom and part [of] the sides are solid, so that leaks from stored items don't impact what's outside the basket, and vice versa."
Buy at The Container Store from $21.99.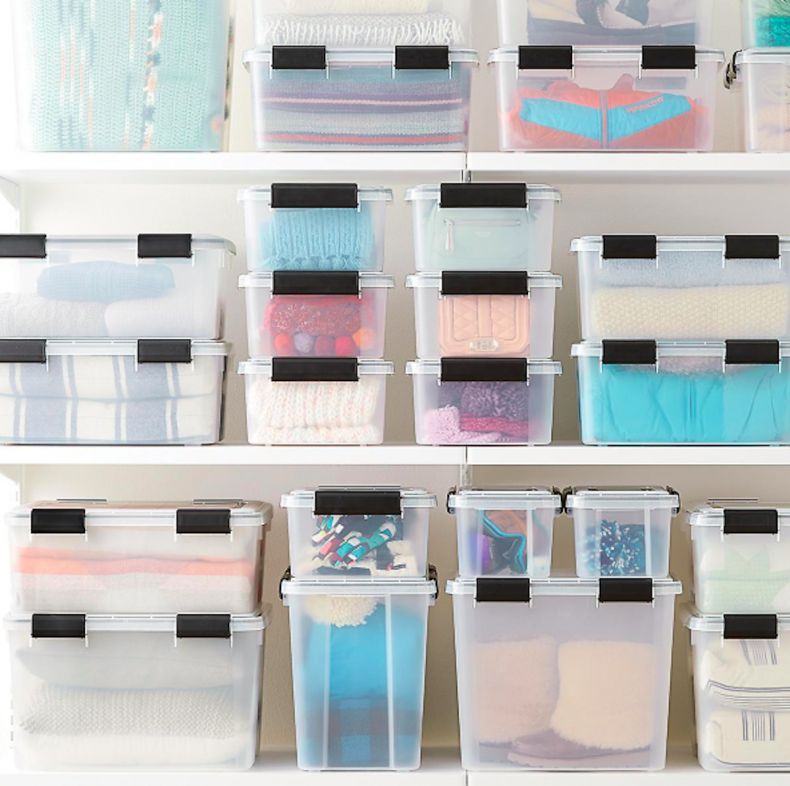 Need to make more room by putting out-of-season items in storage? The Clear Weathertight Totes conveniently protect your stored-away items thanks to the ultra-clear polypropylene's anti-moisture, dirt and pest capabilities. With handled sides, these totes are also stackable and feature an air- and water-tight seal for ultimate protection from unexpected elements.
With a 4.6-star rating and more than 350 reviews, one TheContainerStore.com reviewer wrote, "Not many households are able to put a personal archive in cold storage or in neatly compiled archival-grade museum boxes. As a personal historian, I advise people to reorganize and digitize or photograph their treasured family memories. I tell everyone to store their most valuable family moments in these weathertight boxes."
Buy at The Container Store from $12.99.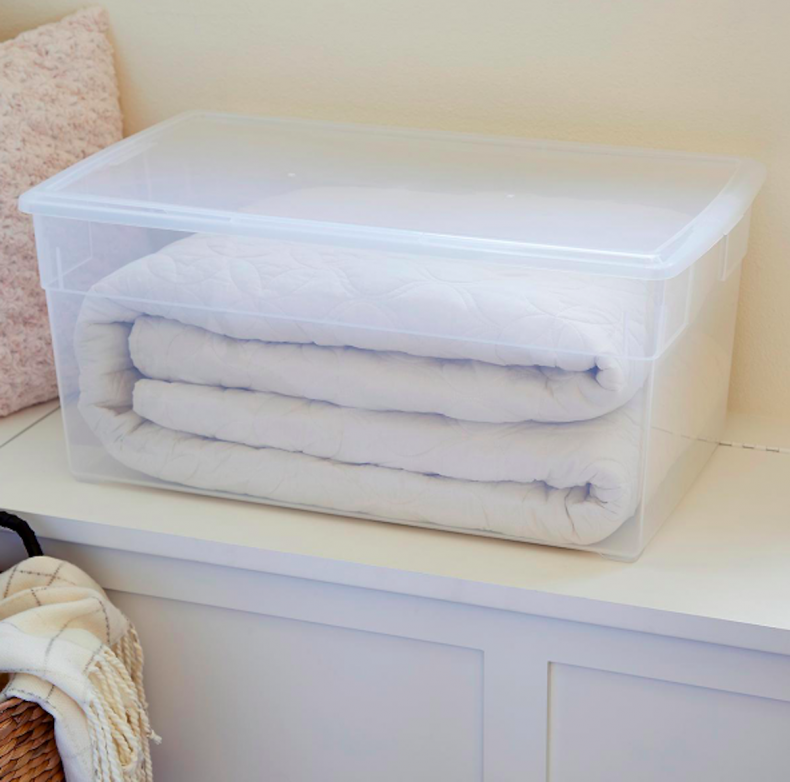 Ah, another fan favorite! (Well, to be fair, all of these organizational items on this list are fan-faves.) It's just that Our Jumbo Box has a rating and amount of reviews to rival even Our Deep Sweater Box. Yup—Our Jumbo Box has 2,587 reviews and a 4.8-star rating on TheContainerStore.com. Clearly, the fans love these two items best! Also made in the USA, Our Jumbo Box runs 27 1/8 inches by 16 inches by 12 3/8 inches and can fit even your bulkiest quilts and towels. That's why they call it jumbo!
One TheContainerStore.com reviewer wrote, "I have used for storing Christmas related items, out of season clothes and even canned goods. There are four under my bed right now."
Buy at The Container Store for $24.99.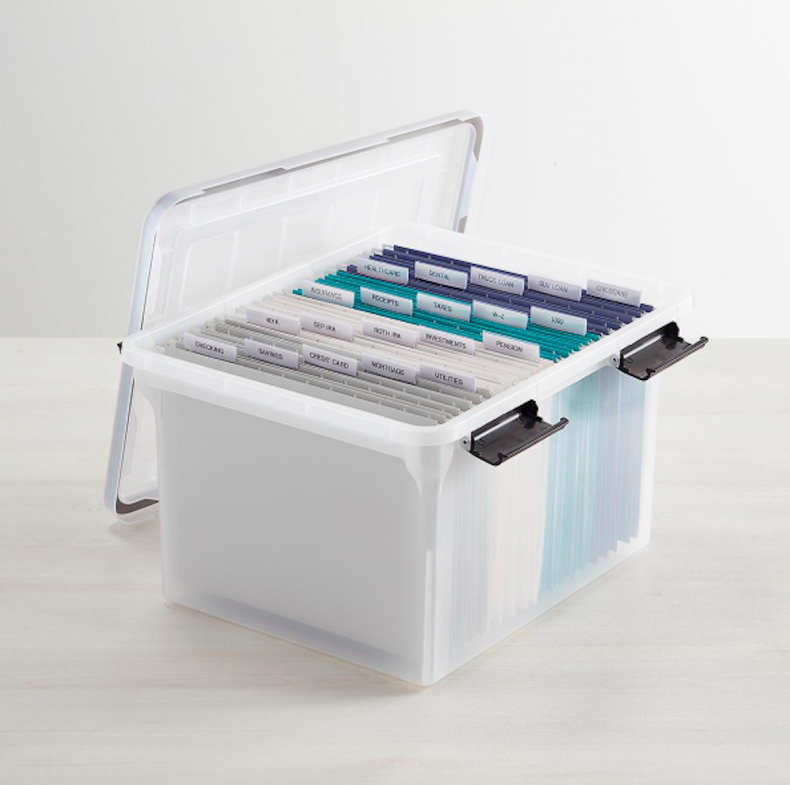 Stop buying those cheap file organizers that never last more than a year anyway. (They always end up cracking at the seams and completely falling apart!) With a 4.9-star rating and 100 reviews on TheContainerStore.com, the Weathertight File Box will change your filing game. You can store it in your home office, but with its translucent sides and easy-to-organize category tabs, everything you need—from bills and birth certificates to business receipts and tax returns—is easily accessible. You'll never wonder if you paid last month's bill ever again!
One TheContainerStore.com reviewer wrote, "I needed safe and secure storage for the contents of my file cabinet during a relocation and subsequent storage and found these boxes - I especially like the fact that they keep out moisture as well as pests. After trying them out at home, I just bought more of them on the last day of the office sale!"
Buy at The Container Store from $22.99.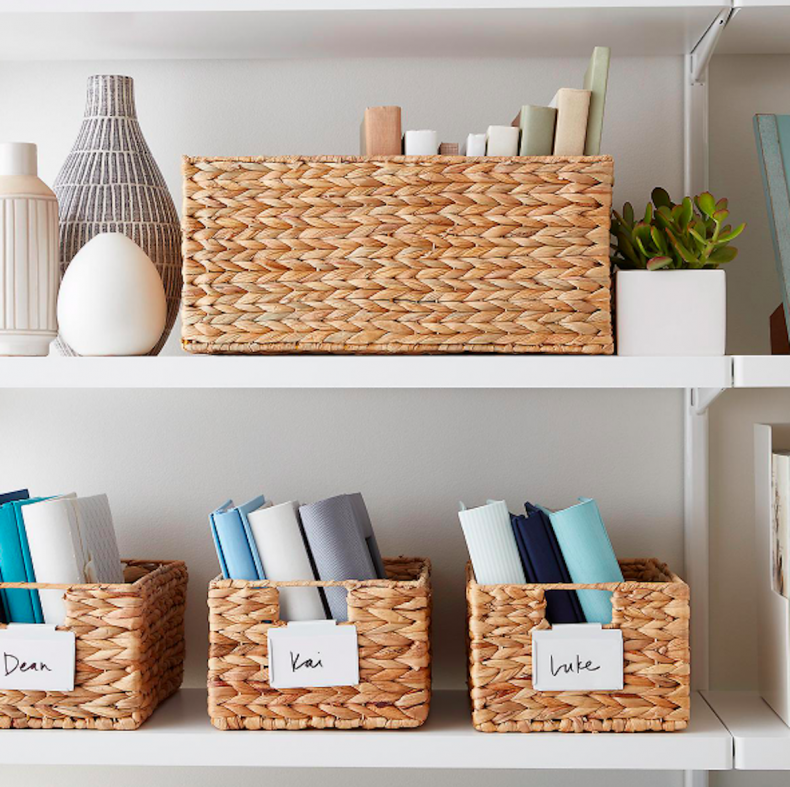 Made with renewable materials, the Water Hyacinth Storage Bins With Handles don't just come in handy—they're low-key beautiful, too! Handwoven natural water hyacinth fibers are woven over a metal frame to create these gorgeous baskets that look like home decor—not like your typical plastic bin! But the best part about these bins—which have a 4.8-star rating and more than 200 reviews—is that they're both aesthetically pleasing and totally functional. Available in several sizes, you can use these bins in just about any room of your home.
One TheContainerStore.com reviewer wrote, "I cannot say enough good things about these bins and the bin clip labels. I used the medium size for my pantry and they work well! Nothing but compliments and a few months in the bins look just as new as when I received them. This makes keeping the pantry organized so much easier... before was a complete nightmare."
Buy at The Container Store from $9.99.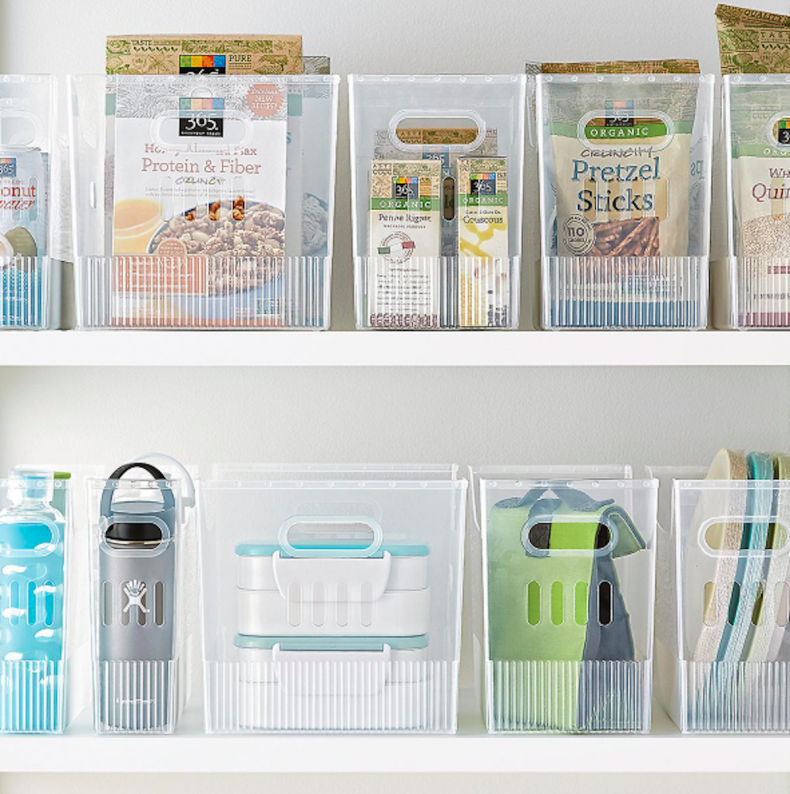 Last but not least, you can never have enough Multi-Purpose Bins. Stick them in the office, use them in a closet or laundry room or place them in the cabinet underneath the sink. Anywhere you use the Multi-Purpose Bins, they get the job done—whatever the job is! With 4.9 stars and 433 reviews, Container Store shoppers love how snugly these bins fit everything from binders and notebooks to water bottles and dry goods.
One TheContainerStore.com reviewer wrote, "We have a side-by-side refrigerator and the freezer was a mess. I purchased the multi-purpose bins in a variety of sizes and am SO HAPPY with how my freezer looks. It's odd, but I seem to have MORE room after using these bins. It's because items are contained in the bins instead of falling over and piling on top of each other."
Buy at The Container Store from $4.99.
Newsweek may earn a commission from links on this page, but we only recommend products we back. We participate in various affiliate marketing programs, which means we may get paid commissions on editorially chosen products purchased through our links to retailer sites.