11 House Republicans Back up Kevin McCarthy's Threat to Telecoms Over 1/6 Committee
A group of 11 House Republicans are threatening telecommunications and social media companies with legal action if they comply with a records request from the House Select Committee to Investigate the January 6 Attack on the U.S. Capitol.
Representative Andy Biggs, an Arizona Republican, announced Friday that he and 10 other GOP House members associated with the January 6 "Stop the Steal" rally boosting former President Donald Trump's false claims of a "stolen" election had sent a threatening letter to 13 companies including AT&T, T-Mobile, Facebook, Verizon, Google and Twitter.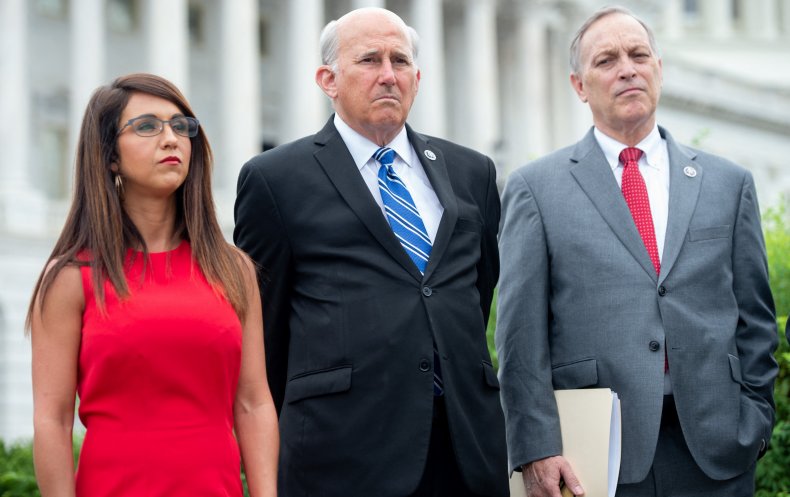 The letter stated that its Republican signatories "do not consent to the release of confidential call records and data" and vows that the lawmakers "will pursue all legal remedies" against the companies if they choose to comply with the committee's request for records.
"The January 6 Select Committee has neither statutory nor constitutional authority to secretly demand phone companies turn over their customers' personal records," Biggs said in a statement. "This power-hungry, smear-campaign of a committee knows this request is a blatant overreach of their congressional authority."
"Yet, they insist these companies make legally compromising decisions," added Biggs. "If these phone companies give into this unconstitutional subpoena, they will forever set a precedent for the violation of all Americans' privacy rights."
The committee asked for records from 35 telecommunications and social media companies on Monday, prompting immediate outrage from Republicans. Friday's letter follows earlier threats from House Minority Leader Kevin McCarthy, of California and Representative Marjorie Taylor Greene, of Georgia, one of the 11 Republicans who signed the letter.
McCarthy issued a statement on Tuesday predicting that Republicans would punish companies that comply with the requests after regaining control of the government, warning that "a Republican majority will not forget and will stand with Americans to hold them fully accountable under the law."
Greene, during an interview on Fox News' Tucker Carlson Tonight on the same day, accused Democrats of using tactics intended to make the U.S. "a Communist country." She predicted that Republicans would control the country by 2022 and told the telecom companies that "if they go along with this, they will be shut down."
A copy of Friday's letter shared by Biggs asserted that Select Committee Chairman Bennie Thompson, a Mississippi Democrat, "made an obvious admission" in making the records request, insisting that Thompson is "aware he lacks the authority to rile through the private data of individuals."
The letter warned the companies that they will not be "shielded from legal repercussions" if they "participate in surreptitious and legally dubious surveillance of Members of Congress."
Newsweek reached out to Thompson's office for comment.
The letter shared by Biggs was addressed to Marissa Mayer, who is described as the "President and Chief Executive Officer" of Yahoo! Inc. Although Mayer did hold those titles for several years, she stepped down and left the company entirely in 2017 after it was acquired by Verizon.
Others who signed the letter include Representatives Jim Jordan, of Ohio, and Jim Banks, of Indiana, both of whom had originally been slated to be Republican members of the select committee before their inclusion was objected to by Speaker of the House Nancy Pelosi. McCarthy withdrew all of his nominations to the committee in protest.
Following the withdrawal of McCarthy's nominations, Republicans have protested that the committee is partisan and biased. Representatives Adam Kinzinger, of Illinois, and Liz Cheney, of Wyoming, both of whom voted to impeach Trump for allegedly inciting the January 6 riot, were drafted into the committee by Democrats to represent the GOP.