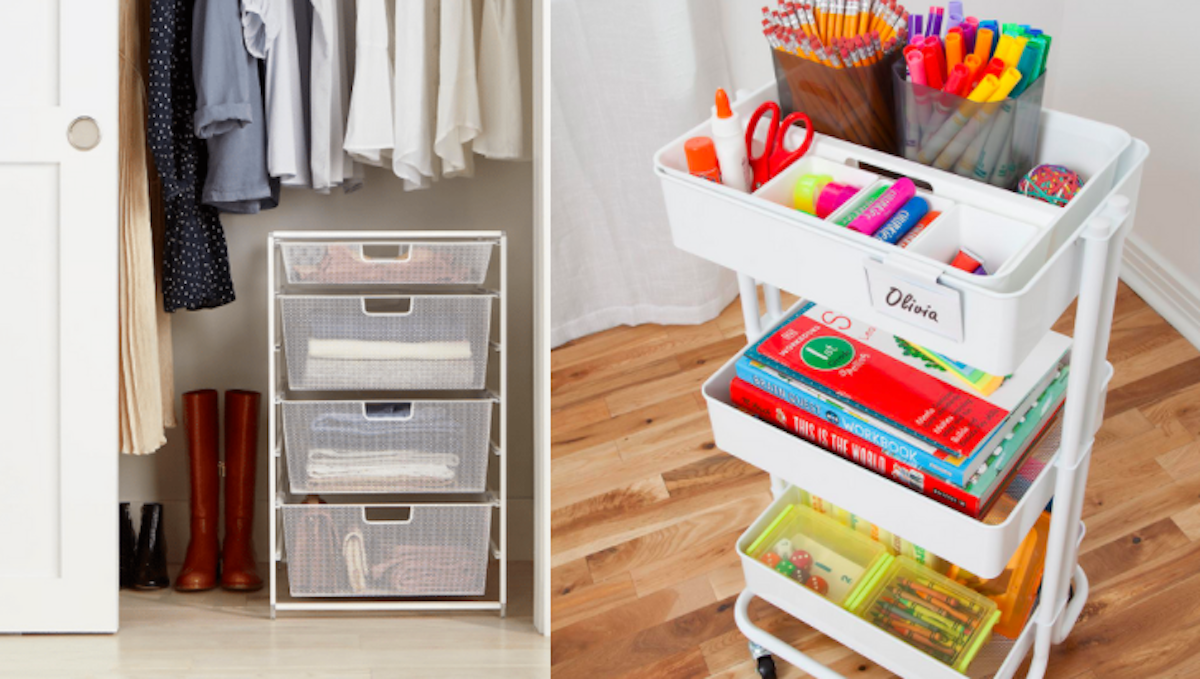 There's nothing like finding the perfect organization and storage solution for you and your lifestyle. When all your jeans fit neatly in one drawer or you just so happen to have enough labels for every one of your cooking spices, it's like a dream, and it's—organizational perfection. But in order to get there, you need some pretty impressive organization and storage products to start with first.
11 Impressive Organization and Storage Products
Keep reading for the best products in the organization space. As always, the prices listed may fluctuate over time.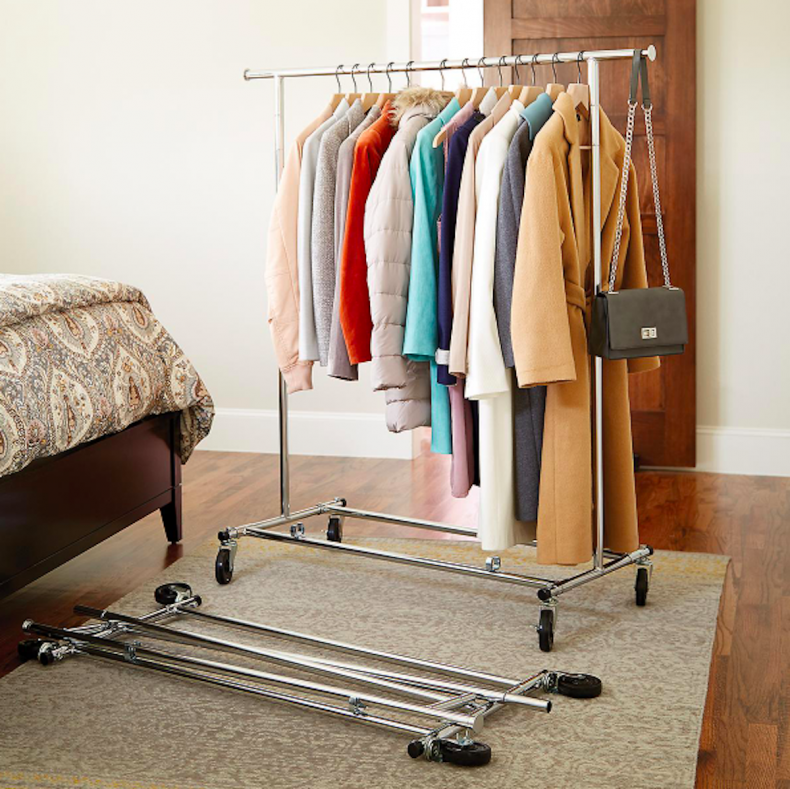 Sometimes the closet you're given isn't the closet you deserve. The Container Store's Chrome Metal Folding Commercial Clothes Rack is the perfect storage solution to an overrun wardrobe. It's ideal for storing your fanciest clothes out in the open. Park it in your bedroom, the living room or even your office and never worry about it folding in the weight thanks to its extra-wide base. Able to hold up to 120 pounds of evenly distributed weight, this portable clothing rack on wheels is durable and compact.
Buy at The Container Store for $79.99.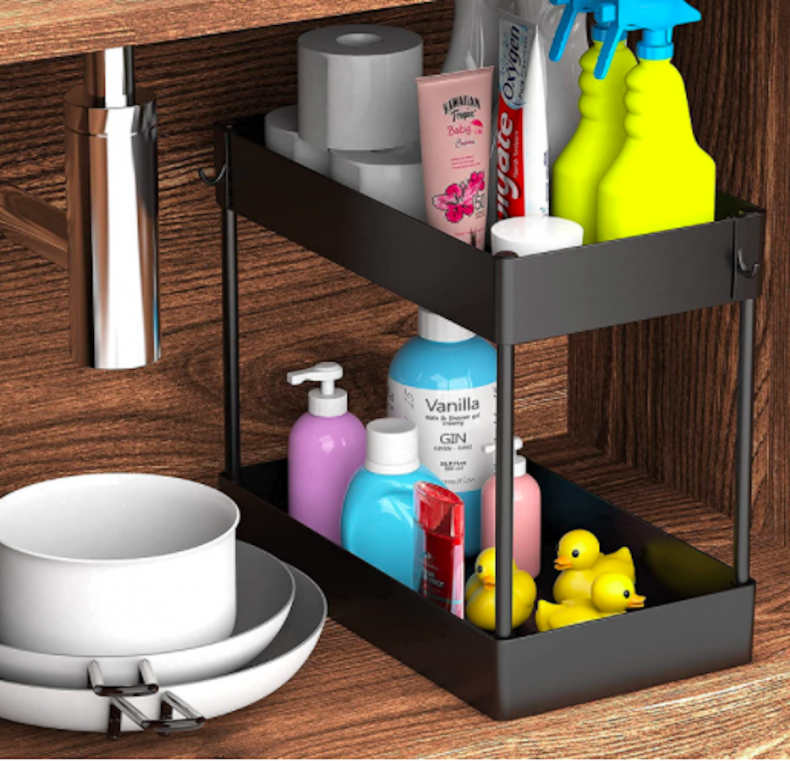 Is under your sink an organizational pain point? Yeah, I'm guilty, too. Keep things as tidy as possible by giving all your under-sink products and cleaning supplies a designated spot. The best way to do that is with the Under Sink Organizer—a highly-rated Amazon.com product with 4.6 stars and more than 3,200 ratings. Easy to clean and great for storing everything from toiletries to cleaning supplies, this two-tier organizer measures 15 5/8 inches by 8 1/2 inches by 12 7/8 inches and features four support tubes and convenient hooks for hanging hand towels or rags. One Amazon.com reviewer wrote, "I love this product. I bought two for our new bathroom vanity—one for my side and one for my husband's side. Oh my goodness, they hold tons of items and they are super easy to put together."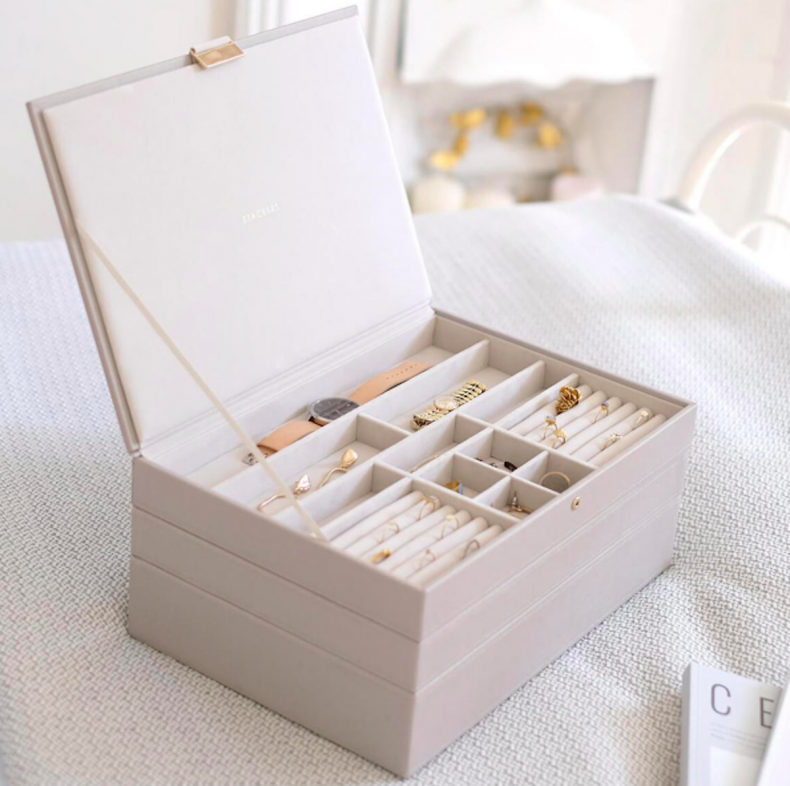 Are you still shoving your jewelry into a random drawer? Or worse yet, do you not even have a designated place for all your jewelry? It's time to grow out of those lousy childhood storage habits and choose Stackers Taupe Supersize Jewelry Box Collection instead. Modular, chic and constructed from the highest quality materials, amateur organizers will love that this jewelry box isn't just easy on the eyes; it's also cruelty-free. That's right. It's made of vegan leather, features a plush velvet interior and is conveniently stackable with other organizational products from the Stackable line at The Container Store.
Buy at The Container Store from $30.39.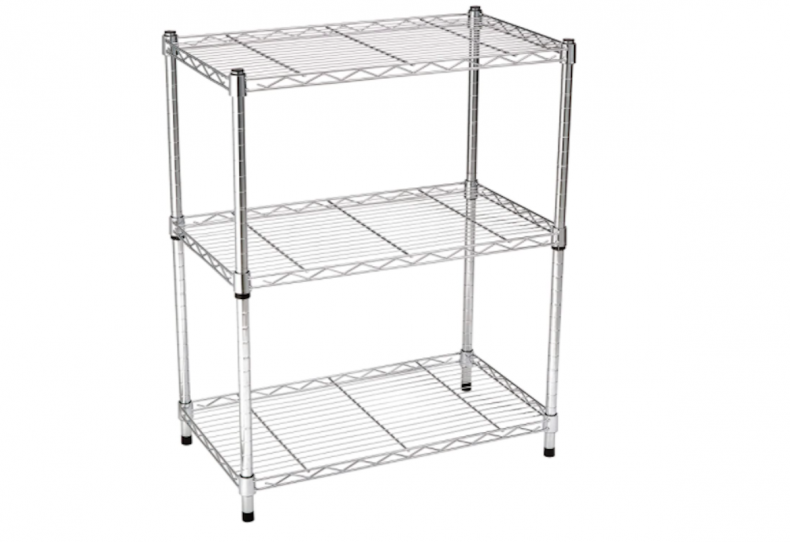 Amazon shoppers are obsessed with the Amazon Basics Heavy-Duty Shelving Unit because of its inherent versatility. Great for a small apartment short on space or to add extra storage in your garage, the Amazon Basics Heavy-Duty Shelving Unit has amassed a 4.7-star rating and more than 95,700 reviews on Amazon.com. With three sturdy shelves for storing just about anything you need to store, this portable shelving unit holds up to 750 pounds and is made from durable steel with a fancy chrome finish. One Amazon.com reviewer wrote, "The shelves are of a very nice quality and look great. They are sturdy and seem to be holding quite heavy items without any issue."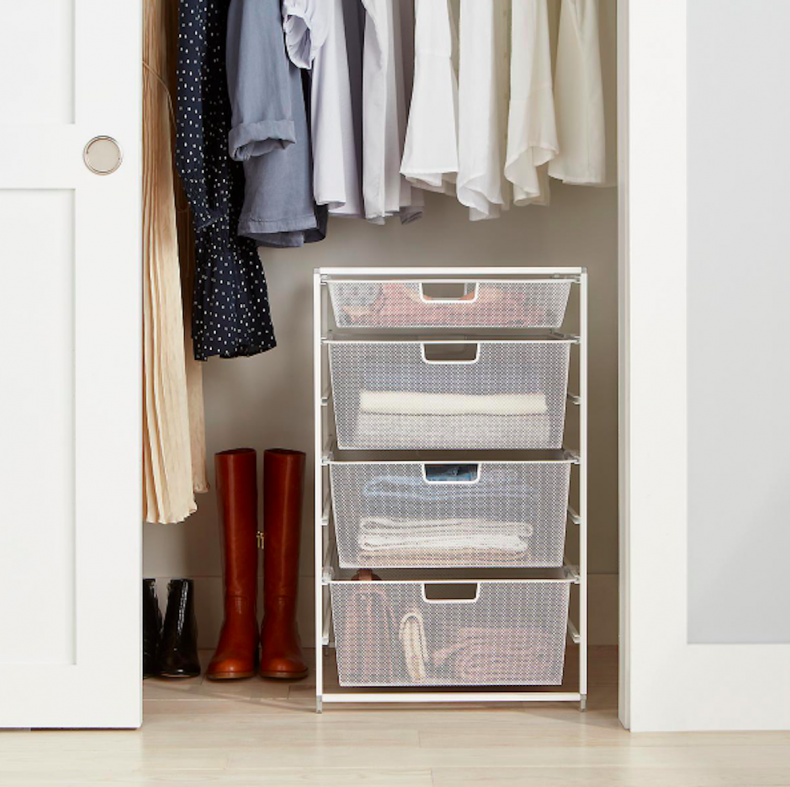 One of the most recommended storage systems by professional organizers, the Elfa White Medium Drawer Solution is a fan-favorite that's easy to implement in any closet. No, you don't have to get the entire Elfa system professionally installed (it's not for every space or budget), but you can bring some of the Elfa elements into your space for a game-changing, make-your-own system. The White Medium Drawer Solution is a The Container Store bestseller that features three medium-sized 2-runner mesh drawers, one medium-sized 1-runner mesh drawer and back stop pins. Well-made with smooth-gliding drawers that don't feel cheap, you'll also love the see-through visibility and accessibility this drawer provides.
Buy at The Container Store for $164.99.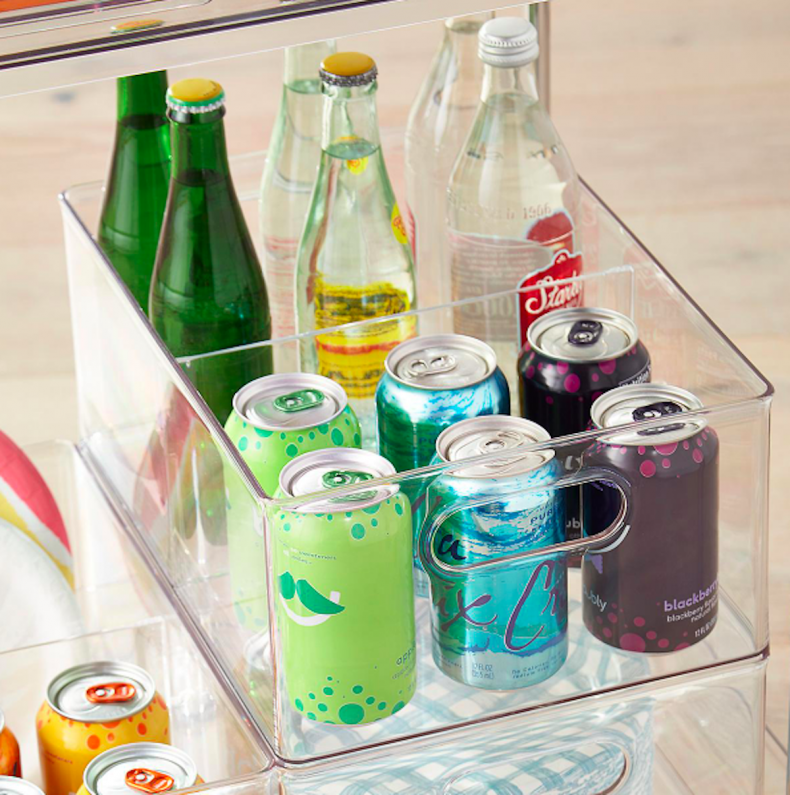 Does your refrigerator need a makeover? Same. The Home Edit by iDesign All-Purpose Bin with Divider will take your fridge to the next level. Great for beverages or even larger packaged goods in pantry space, this transparent bin also features an interior divider to keep things sorted. Made from durable Resipreme plastic and totally stackable with other products in the line, this The Container Store-exclusive bin is your one-stop shop to a clutter-free kitchen.
Buy at The Container Store from $25.99.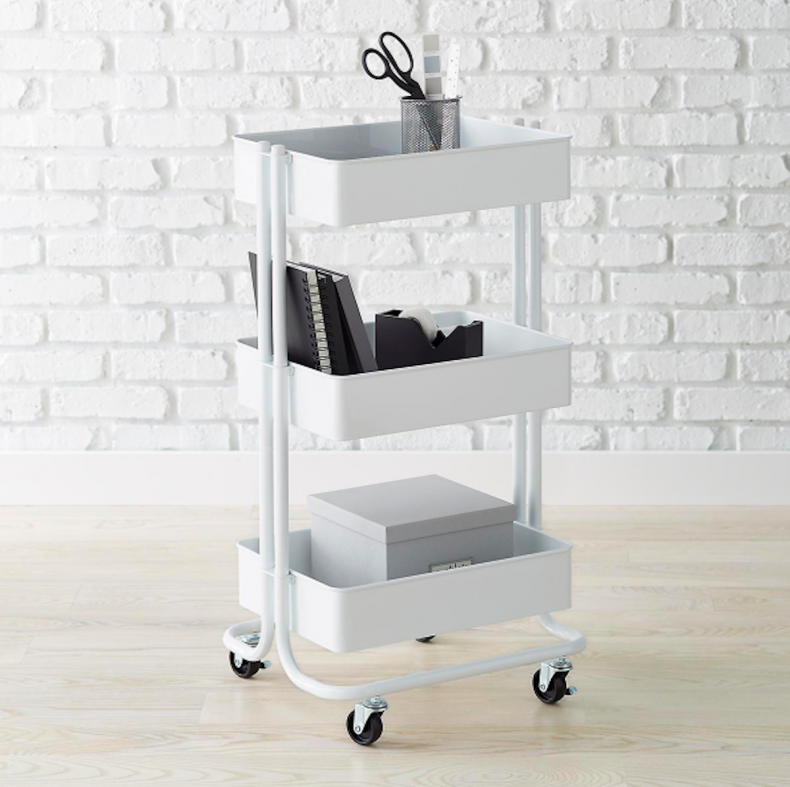 With the White 3-Tier Rolling Cart, the possibilities are endless! Use it in an office, craft room, kitchen, kids' bedroom or anywhere else you may need easily accessible storage on the go. Great for sorting toys, craft supplies, towels, hair accessories, nursery supplies or even cleaning products, this cart-on-wheels will help keep you organized while making the most of tight spaces. One TheContainerStore.com reviewer wrote, "Very easy to assemble, nice and sturdy while remaining mobile!? Whenever I need to clean, I just roll it out of the way, then move it back in place so that all my items are handy!?"
Buy at The Container Store for $29.99.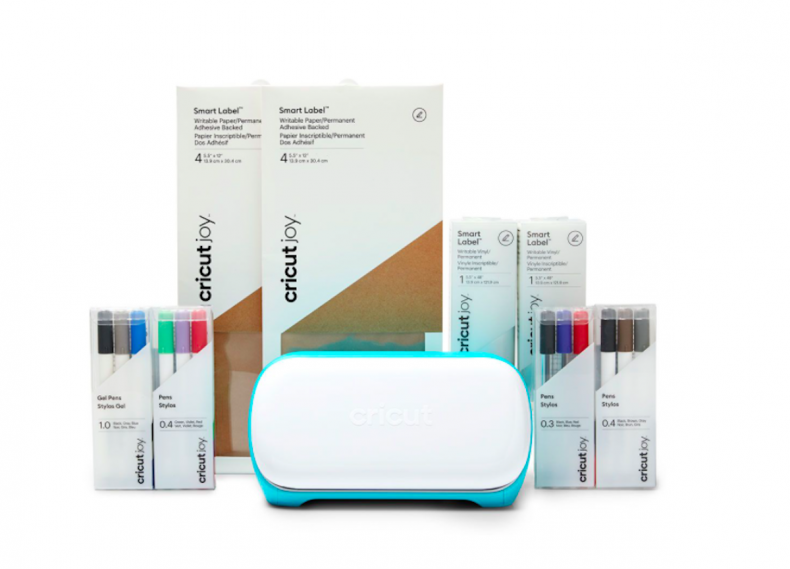 Your organization and storage solutions are only as helpful as the labels you make and use to keep them in check. Right?! Stop wasting money spending on pre-made labels and with the help of the Cricut Joy and Label Making Bundle, learn how to DIY your own. Included in the Label Making Bundle, you'll find Smart Label Writable Paper, Smart Label Writable Vinyl, three Fine Point Pens in 0.4 mm, three Gel Pens in 1.0 mm, three Extra Fine Point Pens in 0.3 mm and the Cricut Joy. You can draw any shape or write in a variety of styles with the Cricut Joy—as well as make lots of other DIY projects other than labels, too!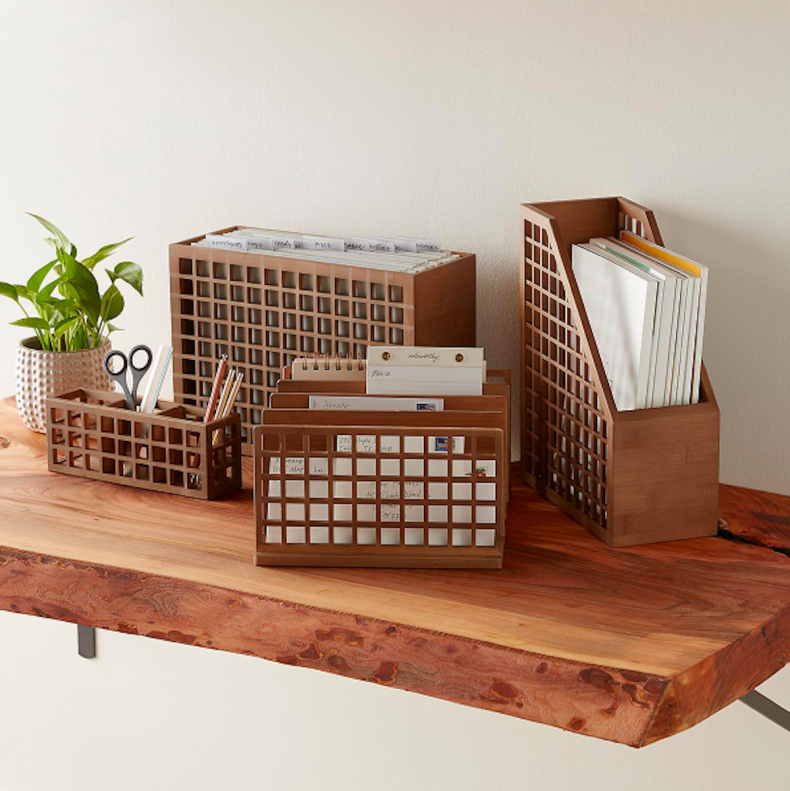 One of the coolest parts of the Marie Kondo Shoji Office Storage Solution is that each visually aesthetic piece is made from renewable resources. Sustainability aside, this office kit is everything you need to kick your home-office desk into organized shape. The Container Store exclusive comes with one Shoji Bamboo Desktop File Kocha Brown, one Shoji Bamboo Magazine File Kocha Brown, one Shoji Bamboo Collator Kocha Brown and one Shoji Bamboo 3-Section Pen Organizer Kocha Brown—all of which are guaranteed to, as Marie Kondo says, "spark joy."
Buy at The Container Store for $137.96.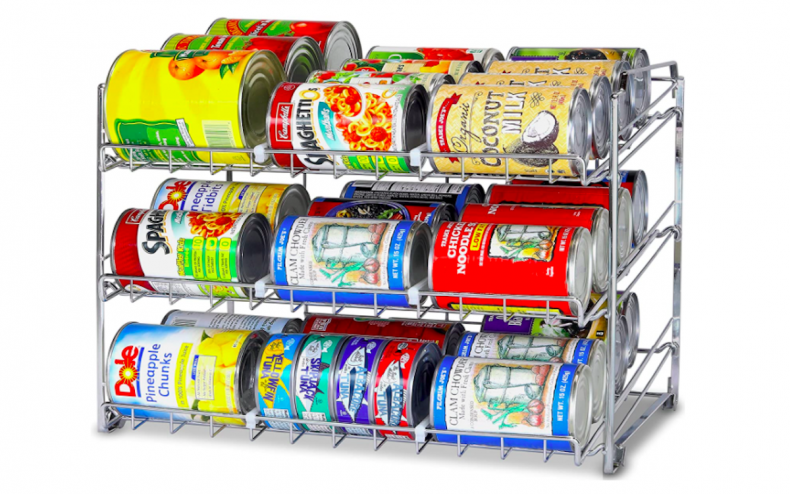 With 4.6-stars and more than 18,400 reviews, the SimpleHouseware Stackable Can Rack Organizer is a beloved organizing solution that whips even the messiest of pantries into tip-top shape. Stackable and adjustable (it comes with handy-dandy plastic dividers that adjust to different-sized cans and jars), this kitchen organizer can store up to 36 cans of a variety of sizes. It's sturdy, easy to use (and put together), and it can take your pantry from a 0 to a 10 in just a matter of minutes. One Amazon.com reviewer wrote, "These racks are easy to put together and sturdy. My pantry is much more organized and looks amazing! These racks have adjustable dividers so almost any size can will fit nicely. Looking forward to buying more!"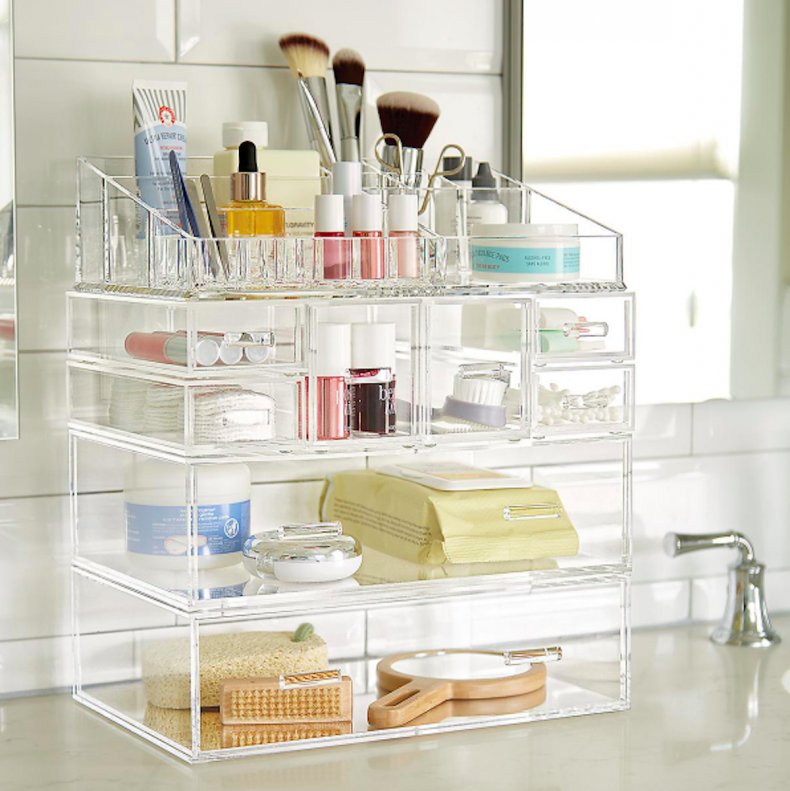 Exclusive to The Container Store, the Luxe Acrylic Modular Makeup System is transparent, hand-crafted and UV-resistant. Instead of taking up precious real estate on your bathroom counter or makeup vanity, this lucite organizer makes use of valuable vertical space with four total tiers. Trays and drawers stack securely, and clear bumpers keep them in place, even when you open a drawer pull. One TheContainerStore.com reviewer wrote, "This unit is pretty awesome! I was contemplating on several different options for my make up storage, and then ran upon these items in The Container Store. I will have to say that I absolutely love it! The pieces are easily stackable—without moving or sliding around."
Buy at The Container Store from $9.99.
Newsweek may earn a commission from links on this page, but we only recommend products we back. We participate in various affiliate marketing programs, which means we may get paid commissions on editorially chosen products purchased through our links to retailer sites.