11 Incredible Home Products You'll Wish You'd Bought Sooner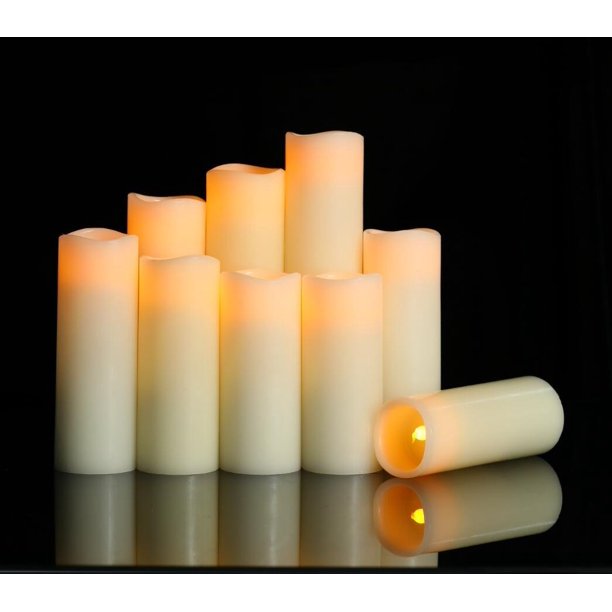 It's no secret that the COVID pandemic has caused many of us to spend more time at home than ever. Now that chilly weather will soon arrive in many parts of the country, home time will likely increase.
Now more than ever, you owe it to yourself to make your home as attractive, safe and convenient as possible. We've compiled a list of 11 top-rated items that will help you do just that.
11 Home Products You'll Wish You'd Bought Sooner
Sure, your living room furniture, bedroom color scheme and overall decor are important. But once you try these 11 home products, we bet you'll find that they quickly become must-haves in your home. As always, the prices listed may fluctuate over time.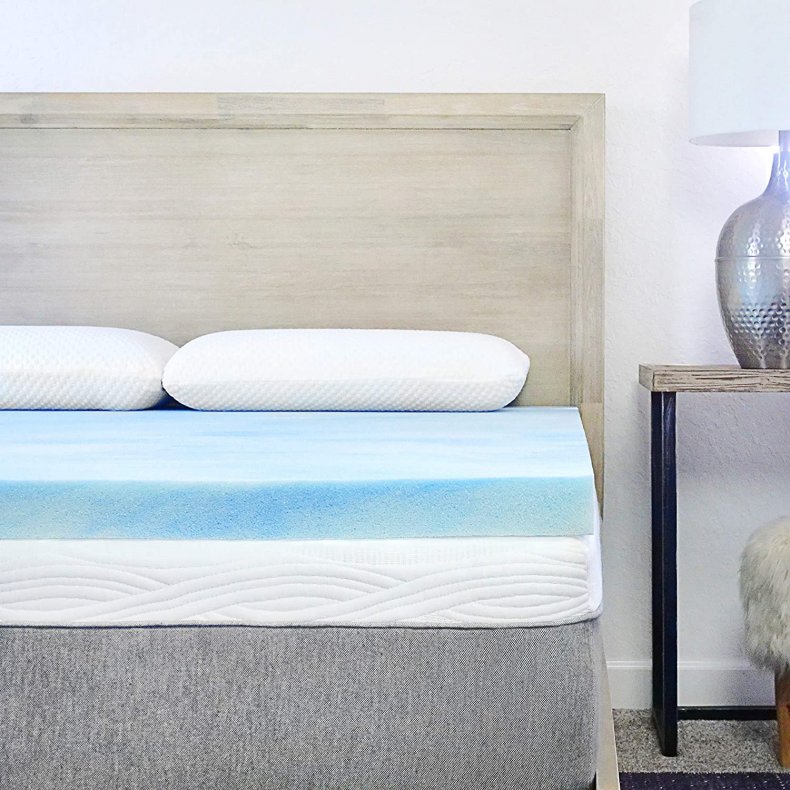 Don't you hate it when you feel like you just bought your mattress, and it seems to sag in some places and feels stiff in others? Don't invest in a whole new setup. Sure2Sleep Cool Gel Swirl Mattress Topper makes your mattress––or, let's face it, that less-than-comfy one in your guest room––feel better than new. It's made with gel-infused memory foam and an open-cell technology, so the bed temperature stays cool and comfy. Choose Twin, Twin XL, Full, Queen or King in 2-inch or 3-inch thickness.
Buy it at Amazon starting at $52.99.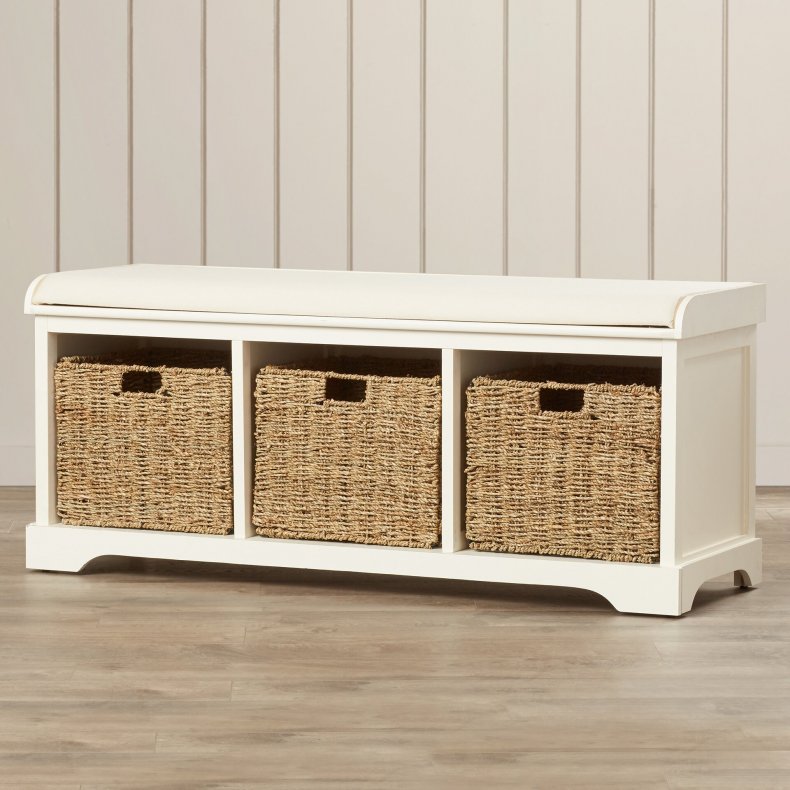 When you have the Santa Cruz Upholstered Cubby Storage Bench, you don't have to look at shoes, books, papers and other stuff we all collect and throw in piles in entryways, staircases, and other convenient areas. This bench measures 13.4 inches by 13.8 inches by 11 inches so that you can store all of those things and much more. The entire bench measures 20 inches by 47 inches by 16 inches, so it's slim enough to fit in the entryway, kids' room, bedrooms, home office, or anywhere else you need storage. The padded top is comfy enough to serve as extra seating when guests arrive. The manufactured-and-solid-wood bench can hold up to 330 pounds safely. Choose white, distressed black, gray, gray wash or medium walnut.
Buy it at Wayfair for $249.99.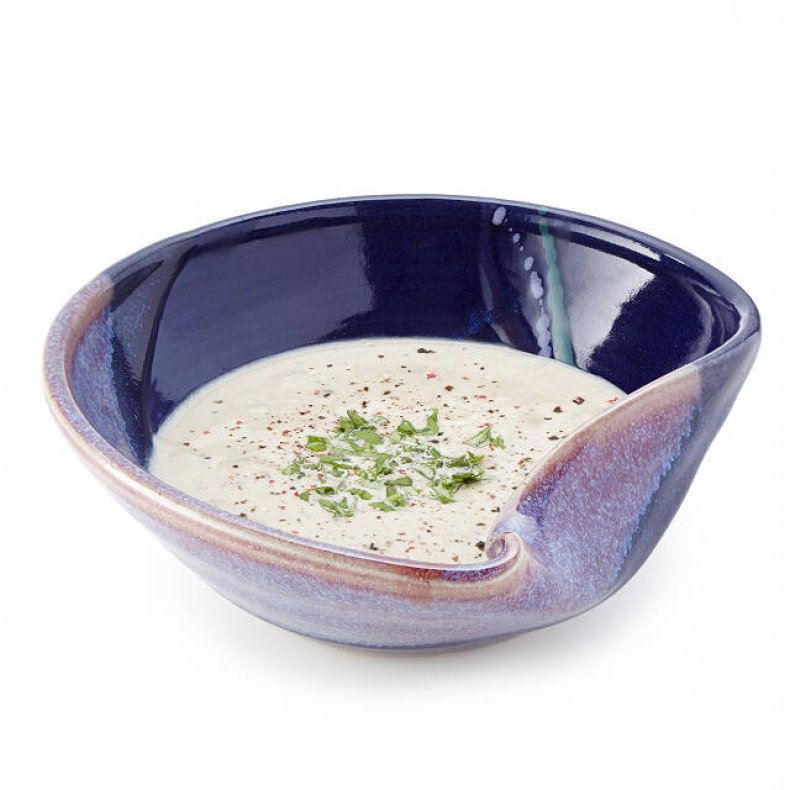 Who among us hasn't rushed to grab a serving bowl only to have it slip from our hand and clatter to the floor, often splattering foods everywhere? Bruce Larrabee Grab Bowl is handcrafted from porcelain with a thumb grip to allow you to hold it securely. That means it's attractive and easy to use. The bowl measures 8 inches by 7 inches by 2.75 inches and has a 20 fluid ounce capacity, so it's ideal for holding dips, sauces, creams and snacks. The bowls are all finished in a blue-tinged glaze and are dishwasher and microwave safe.
Buy it at Uncommon Goods for $24.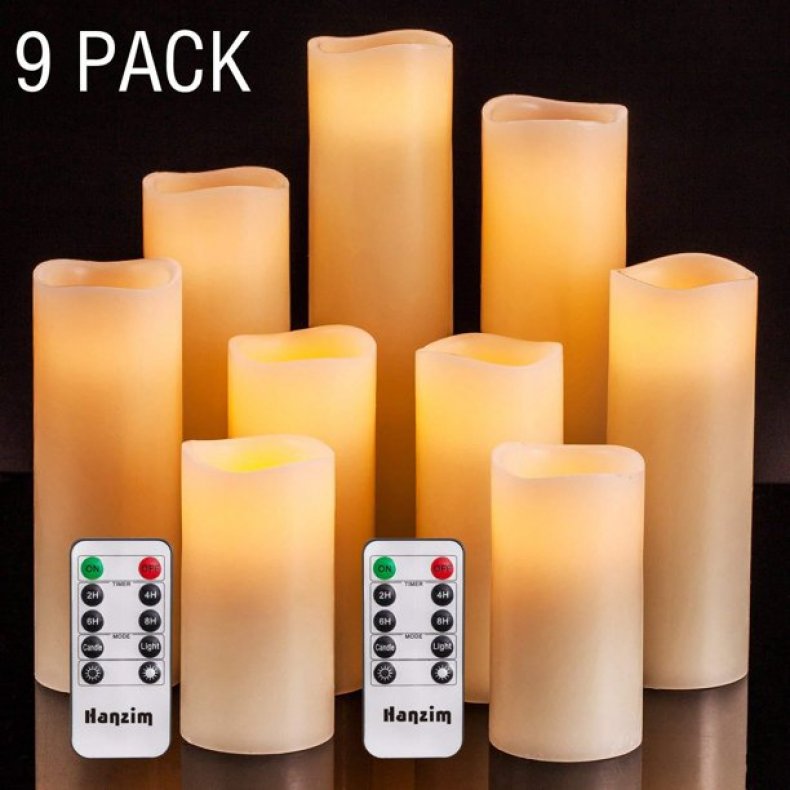 Lit candles look so pretty flickering on side tables, placed on a dining table or even strategically placed throughout your home. The problem is that they can be fire hazards, drip messy wax on your furniture and floors and burn much too quickly. Hanzim Flameless Candles give you a flickering look you want without the hassle.
When you order, you receive a set of nine real wax pillar candles, including two 4-inch pillars, two 5-inch pillars, two six-inch pillars, a 7-inch pillar, an 8-inch pillar, a 9-inch pillar, two remotes and an operating manual. Each candle is ivory and measures 2.2 inches in diameter. Enjoy candlelight without the headaches.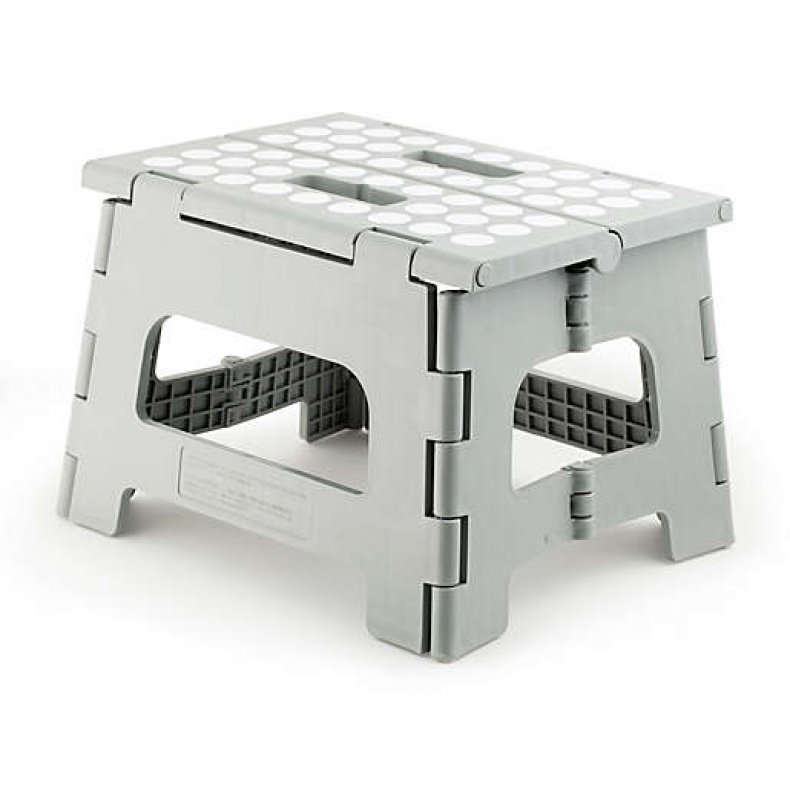 When you first see the Kikkerland Design Rhino II Step Stool, you may think it's a great product to have so kids can boost themselves high enough to brush their teeth at the bathroom sink or otherwise become somewhat independent without an adult's boost. Good news! This plastic stool has an anti-skid bottom, slip-resistant step pads, and built-in carrying handles. It measures 89 inches by 11.5 inches by 8.5 inches unfolded but is less than 2-inches tall when folded, so it fits in the small space by your fridge, bathroom counter or elsewhere. This folding step stool holds up to 400 pounds, though, so adults can use it to reach high shelves, hang artwork in elevated spaces and much more.
Buy it at Buy, Buy Baby for $12.99.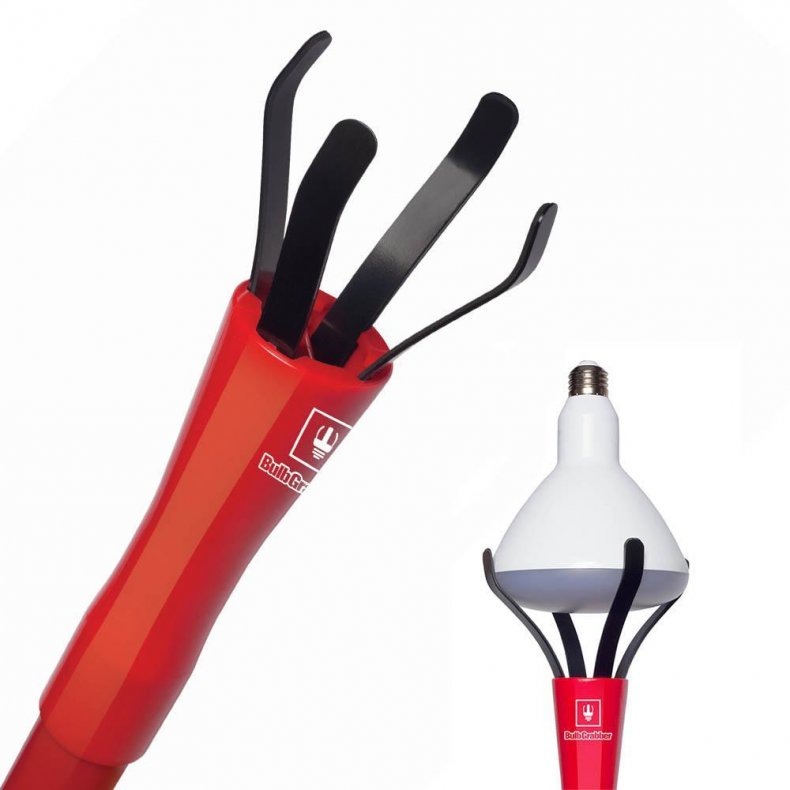 It's not uncommon to hesitate to turn on track or recessed lighting for fear the bulb will go out. Changing one often means hauling out a tall ladder and perching on top as you replace the bulb. Not only does that take time, but it can be unsafe too.
The Bulb Grabber University Light Bulb Changer makes such bulb changing safe and straightforward. Twist the 11-foot adjustable pole to the correct height up to 20 feet, lock it into place, and twist it, so he textured claws unscrew and spent bulb and screw in the new one. A non-marring rubber base ensures the area it touches is unblemished.
Buy it at Home Depot for $39.97.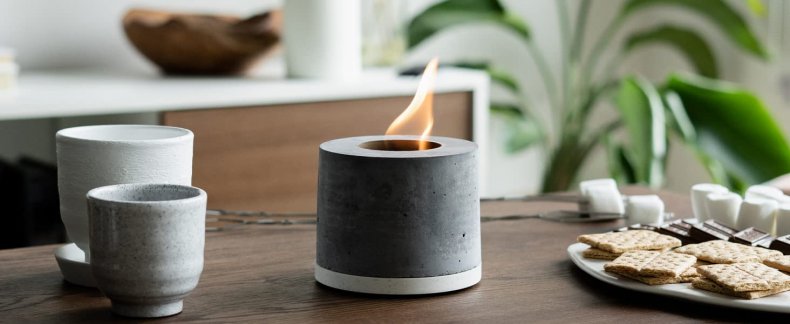 Anyone with fireplace or fire pit envy owes it to themselves to get a FLÎKR Fire, personal fireplace. Its 4.5 inches by 5 inches cement exterior gives it a modern, industrial look. All you need to start it is about 5 ounces of 70 percent isopropyl rubbing alcohol (you can use 91 percent if you prefer) and a match to light it. It doesn't emit carbon monoxide, but you should use it in a ventilated area—the result––twinkling light that looks great inside or outside.
Pop quiz: What's handy, increases safety and helps teach toddlers? The answer is Mack and Millow Bratton Toy Organizer. This 31-inch by 42-inch by 15.5-inch organizer has 16 plastic bins of various sizes so you can teach the little one to store their toys. The standard bins of 11.75 inches by 8.25 inches by 5.25 inches are great for coloring books, crayons, dolls, and other smaller items. Use the double containers that measure 16 inches by 11.75 inches by 5.25 inches for sets of figurines, costumes and heftier things.
The organizer is constructed with engineered wood, and steel rods plus has stabilizing braces to increase safety. Anyone tired of stepping on toys, looking at jumbles of puzzles, books, figures, blocks and wants kids to learn to clean up after themselves needs this organizer.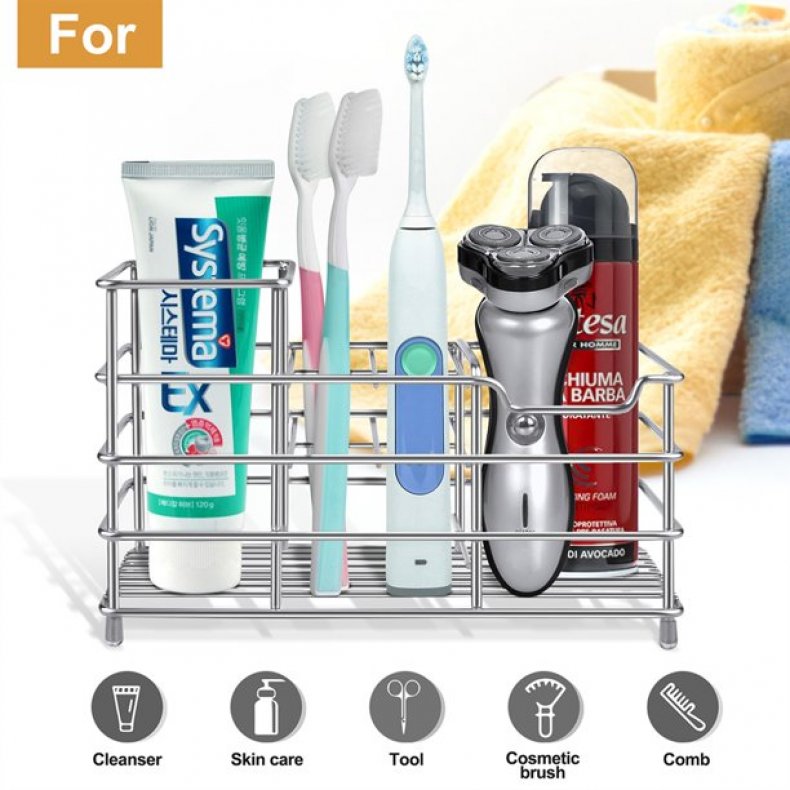 In the mad scramble to get to work or just out the door, it's easy to waste precious minutes searching for toothpaste, floss or other needed items that might be buried in a vanity drawer. Ablegrid Stainless Steel Toothbrush Toothpaste Holder has two large slots and four smaller slots to neatly store and find the items you need, including an electric toothbrush and razor. It measures 7.1 inches by 2.4 inches by 4.8 inches so that it won't hog a lot of counter space, either.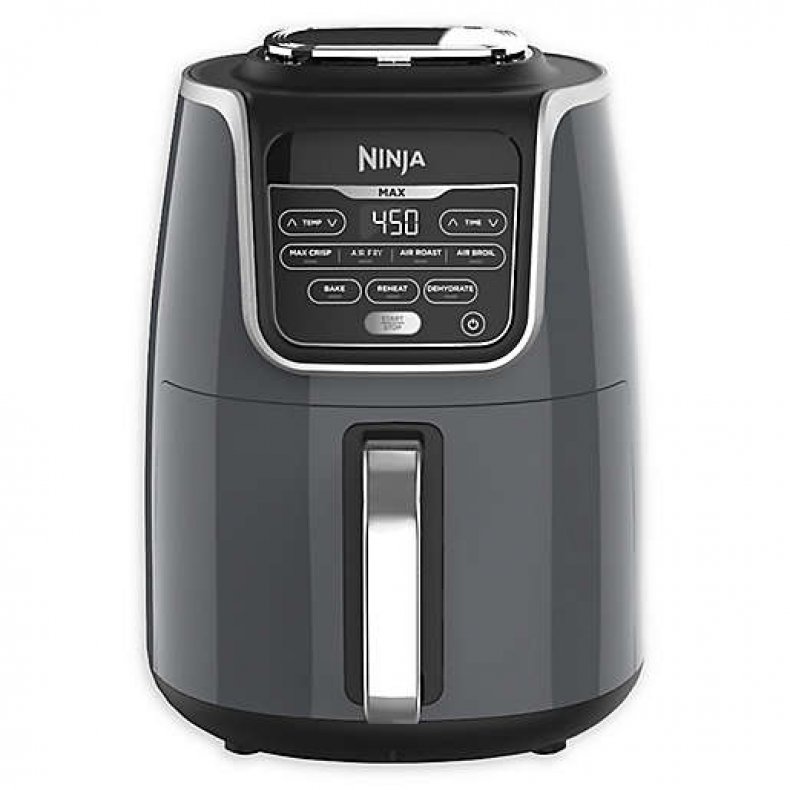 Yes, you want to eat healthily but admit it––you crave fries, wings and other not-so-good-for-you goodies sometimes. That's why you need to get a Ninja Air Fryer Max XL. You can air fry all your favorite foods with no or very little oil, and they arguably taste as good as the deep-fried originals. This air fryer heats from 104 degrees to 450 degrees so that you can cook foods ultra fast. The 5.5-quart ceramic-coated nonstick basket is large enough to handle 3 pounds of wings, fries or other yummy foods. And the basket is dishwasher safe. This fryer has other functions, including air roast, air broil, bake, reheat, and dehydrate. The 30-inch cord allows you to set it where it's handy, but it isn't so long it is a nuisance that needs to be moved constantly.
Buy it at Bed Bath and Beyond for $129.99.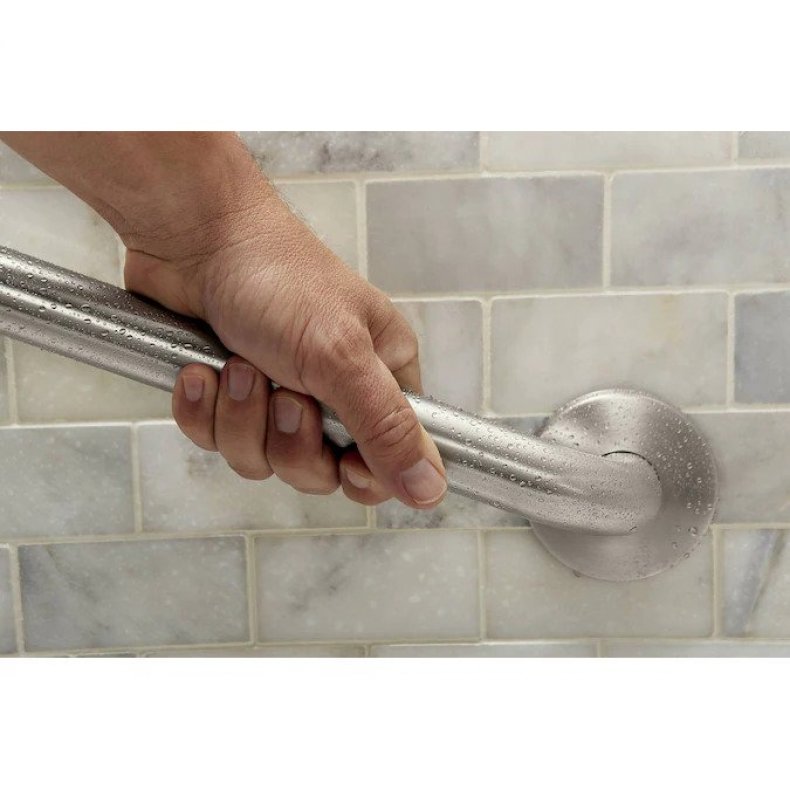 It's the rare person who hasn't felt slightly unsteady getting into or out of a shower or bath. The Moen Stainless Steel Wall Mount Grab Bar is made to steady people up to 500 pounds and reduce the chance of tumbles on slippery surfaces. This easy-to-connect grab bar is 21.5 inches long, 1.25 inches in diameter and juts out 1.5 inches from the wall. It looks good while it keeps people safe.
Newsweek may earn a commission from links on this page, but we only recommend products we back. We participate in various affiliate marketing programs, which means we get paid commissions on editorially chosen products purchased through our links to retailer sites.