11 Indicted, 8 Arrested After Alleged Hazing Death of VCU Freshman Adam Oakes
Eleven people have been indicted including eight who were arrested for the alleged hazing death of Virginia Commonwealth University freshman Adam Oakes, Richmond police said.
Oakes died in February after attending a Delta Chi fraternity party that he was invited to. According to the Office of the Chief Medical Examiner, Oakes died of a type of alcohol poisoning called "ethanol toxicity" and his death was branded as "an accident," ABC's 8 News reported.
The Richmond Police Department told Newsweek in an emailed statement that of the eleven individuals who were arrested, seven were taken into custody by Virginia Commonwealth University (VCU) Police and one person by Virginia State Police with each facing misdemeanor charges.
The VCU police released the names of some of the arrested individuals who were charged with unlawful hazing of the student, including 19-year-old Benjamin Corado, 22-year-old Quinn Kuby, 21-year-old Riley McDaniel, 21-year-old Alessandro Medina-Villanueva, 21-year-old Jason Mulgrew, 22-year-old Christian Rohrbach, 20-year-old Colin Tran, and 22-year-old Enayat Sheikhzad.
Corado, Kuby, and Tran are also facing charges of purchasing and giving alcohol to a minor, according to the police.
In a statement obtained by 8 News, the Oakes family said that these charges and arrests might produce some form of justice and "protection from hazing they may give young, impressionable college students. The past seven months have been agonizing for our family."
"Do not tell us these are just boys. Adam was just a boy. He had his whole life ahead of him. He will never have the same opportunities or future, these young men will. He will never graduate from college, never get married, never have kids and never have the chance to grow into the person HE was meant to be. They stole that from him. They stole that from us," the family statement read.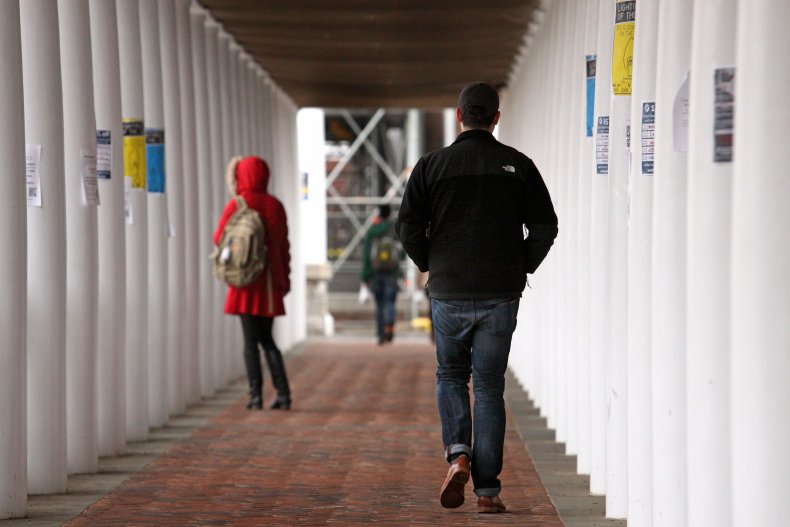 The family previously said that they were pursuing their own investigation of Oakes' death, who they said was found dead in February on a couch at a house outside campus, The Washington Post reported in March. The family at the time was reportedly upset with the way the police and the university were handling the case.
"We need answers. We want to know what happened and why," Courtney White, Oakes's cousin, told The Washington Post at the time. "What was he thinking in that moment? How could we have protected him?"
According to the Post, the family learned from some party attendees that Oakes was blindfolded and led outside the house where he tripped at some point and accidentally hit his head into a tree but somehow made it back to the house. His family told the publication that such an incident could cause a serious injury given his weight.
"VCU continues to mourn the tragic death of Adam Oakes and is grateful to the Richmond Police Department for its investigation," a university spokesperson told Newsweek. "VCU is dedicated to continuing its efforts, announced this summer, to promote a safe and welcoming fraternity and sorority life culture for all."
In June, the university permanently suspended VCU's chapter of Delta Chi.
"This was based on multiple reports and allegations of violations of university policies and directives regarding chapter events, COVID-19 protocols, recruitment activities, alcohol, and hazing on February 26 and 27 in the hours before the death of VCU student Adam Oakes," the university said in a statement.
Additionally, the university recommended the ban of alcohol at fraternity events based on a review of its Greek Life, 8 News reported in August.
Update 9/30/21 at 6:00 p.m. ET: This story was updated to include comments from a VCU spokesperson and the Richmond Police.