11 'Masked Singer' Clues That Could Reveal Flamingo, Leopard, and Flower
The Masked Singer aired Wednesday night to an excited group of viewers, with more than a handful of guesses for each celebrity identity. While only one disguise would be taken off on the show, a list of clues seemed to point to the identities of multiple performers.
The singing competition has prompted many repeat questions for viewers—like is Adrienne Bailon under the Flamingo mask even though she claims she's not involved with the show? Wednesday night may have provided enough information for some internet sleuths to narrow down their final guesses.
First to perform on Wednesday night was the wildly spoken about Flamingo, who fans, and even judges, have guessed is the former Cheetah Girl Bailon. A few new clues provided possible insight into this leading theory.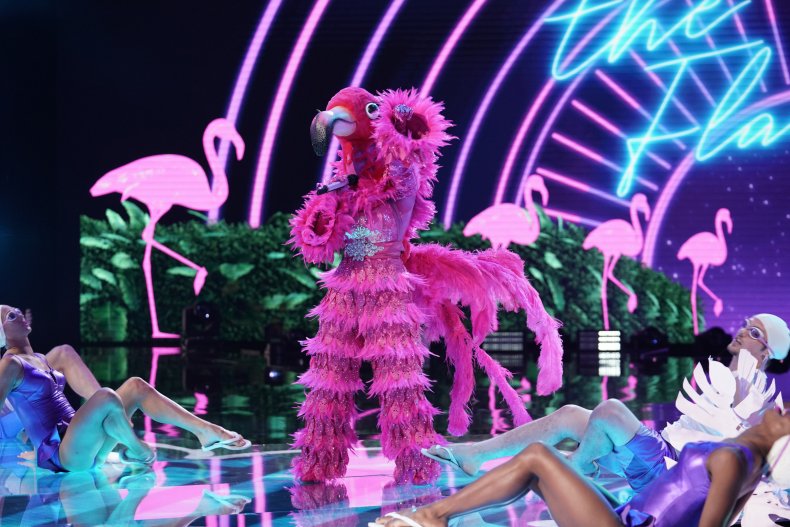 The first clue suggested Flamingo lives in a "chateau," and showed the feathered friend lounging poolside. Photos of the Eiffel Tower and Taj Mahal then made their way onto the screen.
Another said Flamingo is "loving my own voice for the first time in years." This seems to imply Flamingo has a singing background but is no longer actively performing. In Bailon's case, the former Disney Channel star is now working as a host of The Real, a talk show which does not have singing elements.
One line in the clue said "Straight up, I'm finally finding my center." Judge Nicole Scherzinger guessed this clue could have something to do with former American Idol judge Paula Abdul. After a powerful performance of "Lady Marmalade," judges guessed Flamingo could be Bailon. Other guesses included Bella Thorne, Jillian Michaels and Fantasia Barrino.
Next came Leopard who brought along a new series of clues. One said Leopard "set myself free for the first time" when they were a teenager. There was also talk of walking on a catwalk and splitting time between New York and Paris. A final clue said Leopard wanted to celebrate the moment they chose to "just be me." Leopard also revealed they have children.
Former guesses by social media viewers claimed Leopard may be RuPaul, a famed performer and drag queen. The judges had different ideas, though. The predictions included Jamie Foxx, Donald Glover, Billy Porter and Seal.
One strong fan theory suggests Flower may be singer Patti LaBelle. Flower's clues mentioned "Rolling Stone," which could point to the band, or the magazine. They also said Flower is "always changing." Perfume bottles and a "for sale" sign made an appearance in the clue package. Judge guesses narrowed in on LaBelle.