The Mega Millions 01/19/21 jackpot was the second-largest in history, and 11 people came so close to winning it. However, they only hit the first five numbers and missed the gold Mega Ball for the $865 million prize.
Now, the national jackpot has risen to $970 million—the second-largest jackpot in the game's history.
Here are the numbers from Tuesday night's drawing:
First Five: 10-19-26-28-50
Mega Ball: 16
Megaplier: 2x
There were 11 people who hit the first five numbers, and just missing out on the old Mega Ball, for the game's second prize. Nine of those second-prize winners have game tickets worth $1 million. They were sold in California, Florida, Illinois, Kansas, Mississippi, New Jersey (2), Pennsylvania and Washington. The other two tickets, both sold in Florida, are worth $2 million since they purchased the Megaplier for the extra $1.
The Mega Millions jackpot for 01/22/21 is already estimated at $970 million, which is the second-highest jackpot in the game's history. The cash option right now is worth $716.3 million. The jackpot could increase before Friday's drawing.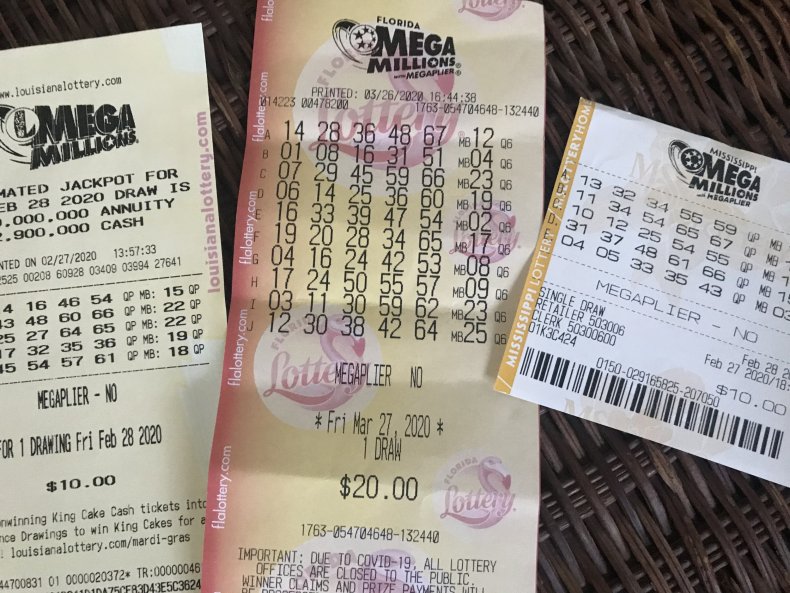 Here are the top 10 Mega Millions Jackpots to date:
Amount/Date/Winning Tickets
$1.537 billion 10/23/2018 1-SC
$970 million CURRENT JACKPOT
$656 million 3/30/2012 3-IL, 1-KS, 1-MD
$648 million 12/17/2013 2-CA, 1-GA
$543 million 7/24/2018 1-CA
$536 million 7/8/2016 1-IN
$533 million 3/30/2018 1-NJ
$522 million 6/07/2019 1-CA
$451 million 1/5/2018 1-FL
$414 million 3/18/2014 2-FL, 1-MD
There was a grand prize winner for $410 million on April 9, 2020, for a ticket that was sold in Arizona. That was the top prize in the 2020 calendar year.
This Friday's jackpot is the highest grand prize since the game hit $1.5 billion during October of 2018.
The last grand prize jackpot winner was from a ticket sold in Wisconsin on 09/15/20 for a jackpot worth $119 million. It was only the fifth, and final, Mega Millions jackpot won in the 2020 calendar year.
Here are the five Mega Millions jackpots won in 2020:
$119 million — September 15 in Wisconsin
$22 million — July 31 in California
$124 million — July 24 in New Jersey
$410 million — June 9 in Arizona
$202 million — February 11 in New Jersey
Other winners—dating back to 2019—were a $372 million ticket sold in Ohio and a $227 million ticket that was sold on 09/24/19 in the city of Cedar Park, Texas—a suburb north of Austin.
Mega Millions is a multi-state lottery every Tuesday and Friday night, and it is one of America's two biggest lottery jackpot games. Mega Millions jackpots start at $20 million, and other prizes pay from $1 million to $2 million or more with a Megaplier. Tickets are $2 per line, and odds of winning with a $2 Mega Millions ticket are one in 303 million. For more information on Mega Millions, or to check your past numbers, visit its website.
Powerball is the other multi-state lottery, and it also starts at $20 million. Its drawings take place shortly after 11 p.m. ET on Wednesday and Saturday nights. Here is the Powerball website for more information, or to check past winning numbers.