11 Members of 'Rise of the Moors' Had Pistols, AR-15s During Standoff With Police
Massachusetts State Police have apprehended and charged 11 suspects following a nine-hour-long standoff along Interstate 95 in Wakefield on Saturday, with police saying they've recovered at least eight firearms thus far.
The stand-off began early in the morning on Saturday, when police came across the group—who have been identified as connected to the Rise of the Moors movement—refueling their vehicles alongside the interstate while holding guns, MassLive reported. Although the suspects were armed and initially declined to comply with police officers, the standoff ended peacefully with the men being taken into custody.
"The group claimed that it was traveling from Rhode Island to Maine to conduct what it refers to as 'training.' None of the men—who were dressed in military fatigues and body armor and were armed with long guns and pistols—has a license to carry firearms.
Troopers have recovered eight firearms thus far: three AR-15 rifles; two pistols; a bolt-action rifle; a shotgun; and a short barrel rifle," the state police said in a press release emailed to Newsweek.
Police said the suspects referred to themselves as "militia" and that they identify with the "Moorish Sovereign Ideology." Videos posted online by members of the group show them standing in the highway holding a Moroccan flag, which is red with the outline of a green star in the middle.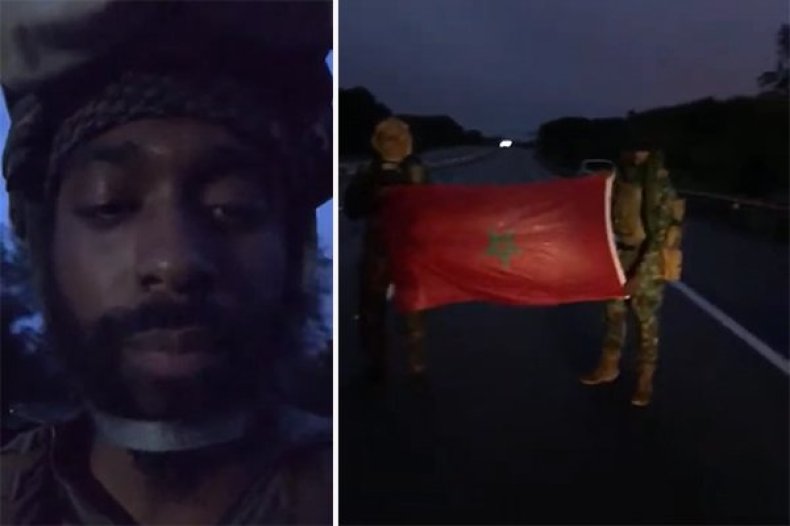 "Moorish sovereign citizens emerged in the mid-1990s on the East Coast when some people began to merge sovereign citizen ideas with some of the beliefs of the Moorish Science Temple, a religious sect dating back to 1913. As sovereign citizen notions attracted more Moorish Science Temple adherents, the Moorish sovereign movement was born," a 2016 report from the Anti-Defamation League explained.
Adherents to the ideology reportedly subscribe to "the notion that African-Americans" hold special rights "because of a 1780s treaty with Morocco, as well as the belief that African-Americans were descended from African 'Moors'—and often as well the belief that African-Americans were also a people indigenous to the Americas."
The Southern Poverty Law Center reported: "Moorish sovereigns espouse an interpretation of sovereign doctrine that African Americans constitute an elite class within American society with special rights and privileges that convey on them a sovereign immunity placing them beyond federal and state authority."
During the standoff, a man identifying as the leader of the group said in a video uploaded online that he "instructed my men to get out peacefully." He said that he "greeted your man with a handshake," referring to a police officer. He claimed that the group had a "treaty" with the U.S., which seems to be a reference to the 1780s pact between the U.S. and Morocco.
Police have identified eight of the suspects as Jamhal Tavon Sanders Latimer, 29, of Providence, Rhode Island, also known as Jamhal Talib Abdullah Bey; Robert Rodriguez, 21, of the Bronx, New York; Wilfredo Hernandez, 23, of the Bronx, New York, also known as Will Musa; Alban El Curraugh, 27, of the Bronx, New York; Aaron Lamont Johnson, 29, of Detroit, Michigan, also known as Tarrif Sharif Bey; Quinn Cumberlander, 40, of Pawtucket, Rhode Island; Lamar Dow, 34, of the Bronx, New York; and Conrad Pierre, 29, of Baldwin, New York, NBC 10 Boston reported.
Two of the men have refused to provide their identities. Another is a 17-year-old minor, and has not been identified by police publicly.
The suspects have all been charged with conspiracy to commit a crime; unlawful possession of guns and ammunition; use of body armor in a crime; possession of a high-capacity magazine; and improper storage of firearms in a vehicle.
In the videos uploaded by the group, the man identifying as the leader insisted that they merely planned to pass through Massachusetts and had no intention of committing a crime or causing problems. He said that the group had brought their own fuel with them, so they could refuel their vehicles along the highway without pulling off and stopping.