Roborock robot vacuums and mops use cutting edge technology to map and clean your home. The robot vacuums map your home using LiDAR, the same technology that self-driving cars use. Roborock vacuums are smart enough to know where to mop, where to vacuum, and where not to go once you set up no-go zones.
With easy schedules and voice control through Google Assistant and Alexa, the robot vacuums from Roborock keep your home clean automatically, and you can summon them when a mess pops up. Once you couple this with the ability to cross most thresholds, smart suction that changes based on the surface, and enough suction to pick up a AA battery, you'll understand why Roborock is an industry leader.
11 Most Entertaining Gifts for True-Blue Music Lovers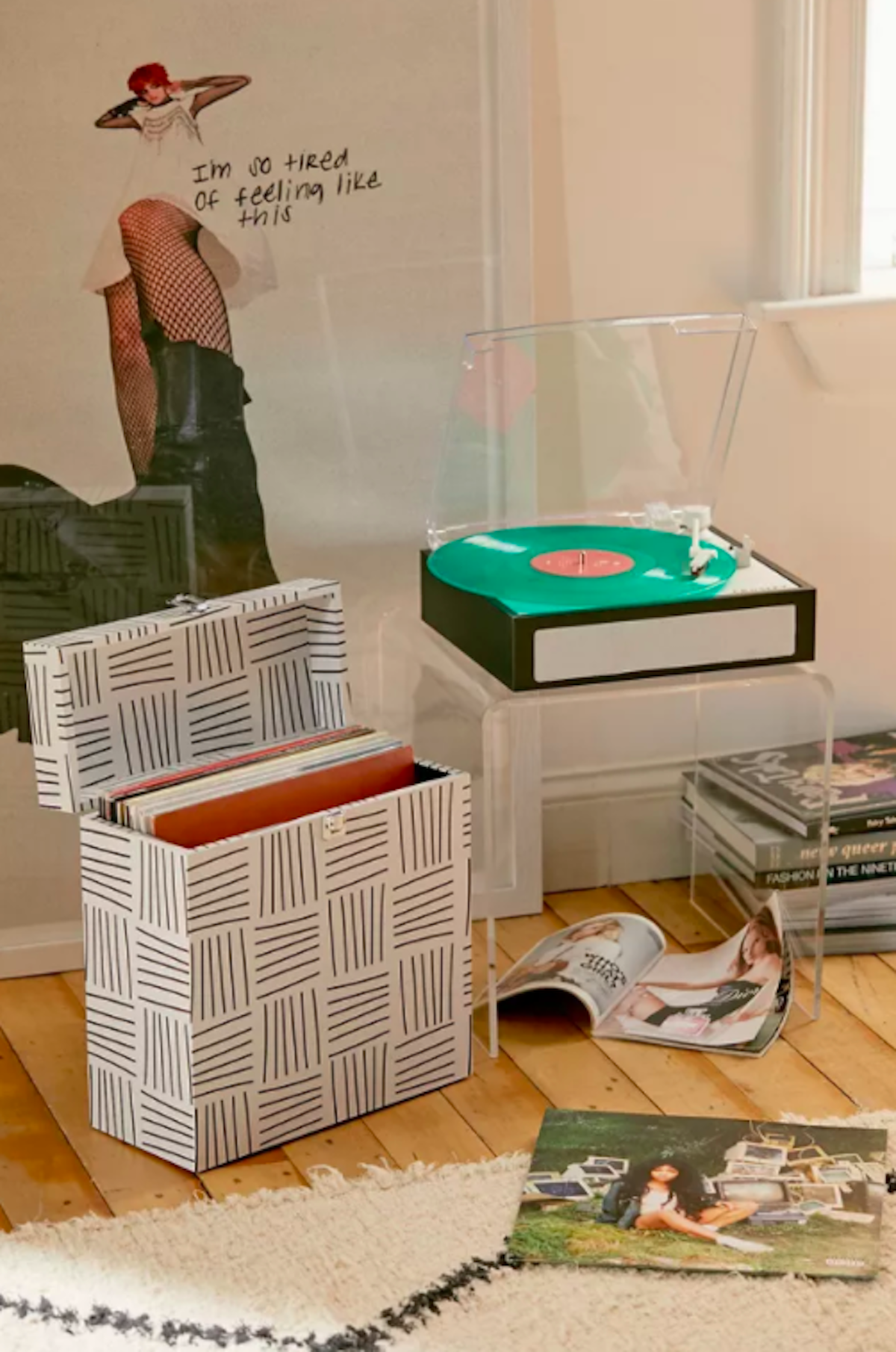 Buying gifts for others can be challenging at times, but everyone loves music, right?! It doesn't matter who your top artist on Spotify is—mine was Justin Bieber, what does that say about me?—or what your most played song of the year was. (Gotta love #WrappedUp each year!) Music has a way of uniting us all, and luckily, it also has a way of making it easier to buy presents. If you know someone who's particularly obsessed with a good diddy, then any of these gifts will really hit the right note.
11 Best Gifts for Music Lovers
From accessories for vinyl enthusiasts to top-rated speakers and headphones, there is a music-inspired gift for everyone who enjoys blasting their favorite tunes. Keep reading for 11 of the best gifts for music lovers. As always, the prices listed may fluctuate over time.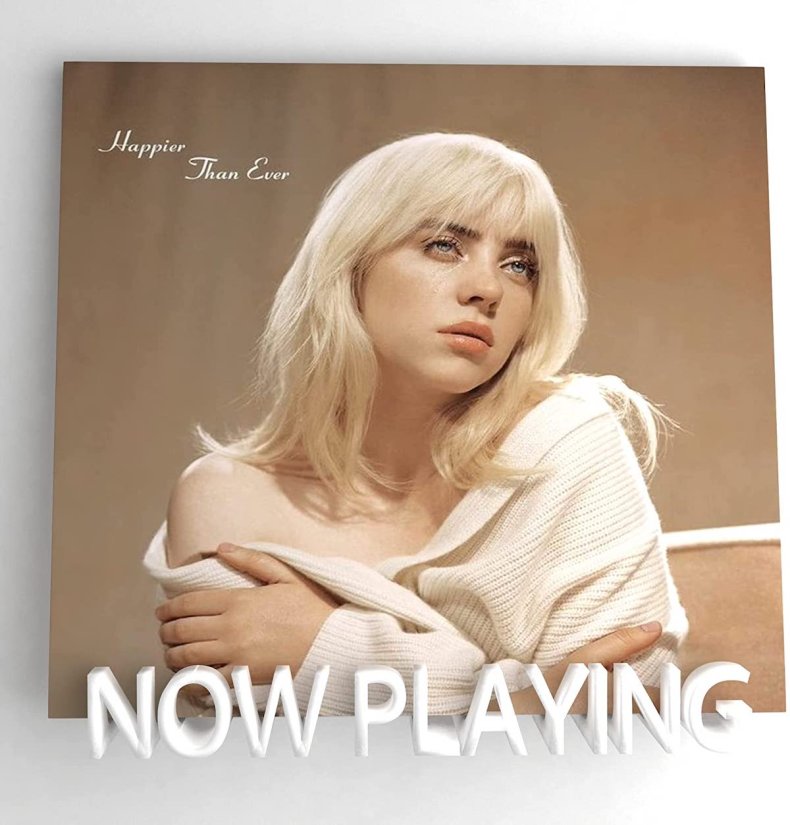 We first spotted this fantastic gift idea on TikTok, and we agree—it went viral for all the right reasons. With vinyl records experiencing another surge in popularity as of late, this Now Playing Vinyl Record Stand is a standout accessory for those known to spin their LPs all night. It showcases the album cover of the record you're currently playing, so it's functional, but it's also totally aesthetically pleasing as well. Available in either white or black, the stand comes with two-screw hardware for 1, 2, 3 installation so that you can choose to mount it to the wall or set it down on a surface.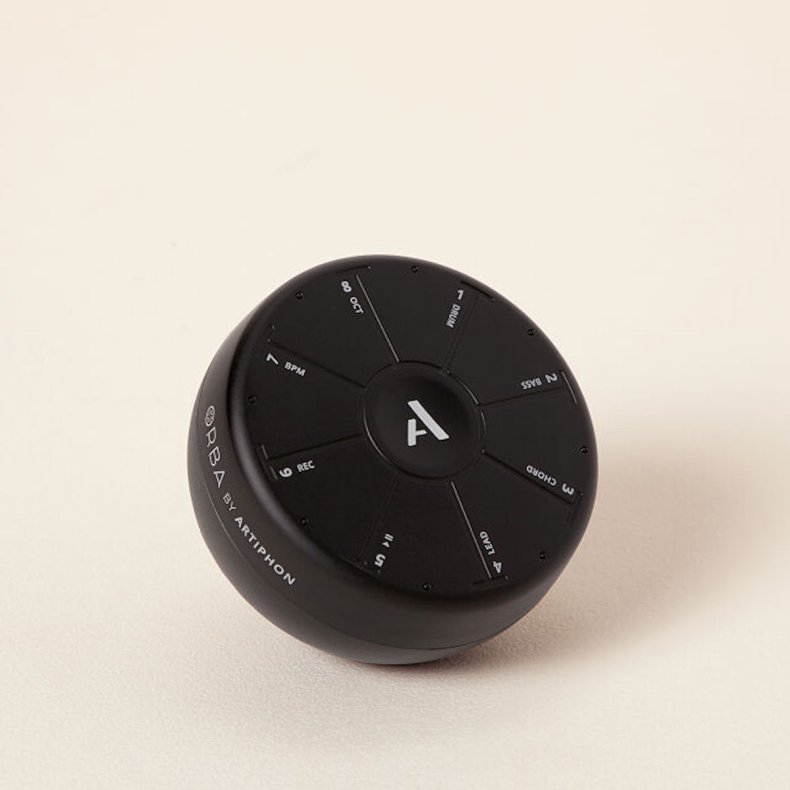 Ready, maestro. The Orba Handheld Multi-Instrument isn't just for music lovers; it's for music makers. A plethora of instruments all rolled into one tiny bandmate; anyone who's remotely musically inclined will have a blast playing around with this thing. It allows you to tap, slide and drum with digital sounds, creating music in the palm of your hand—without any traditional instruments! Also outfitted with an integrated looper that lets you layer drums and bass over chords and lead parts, create a song entirely from scratch in just a matter of minutes. One UncommonGoods.com reviewer wrote, "We are just starting to play with the Orba and are happy with its versatility."
Buy at Uncommon Goods for $100.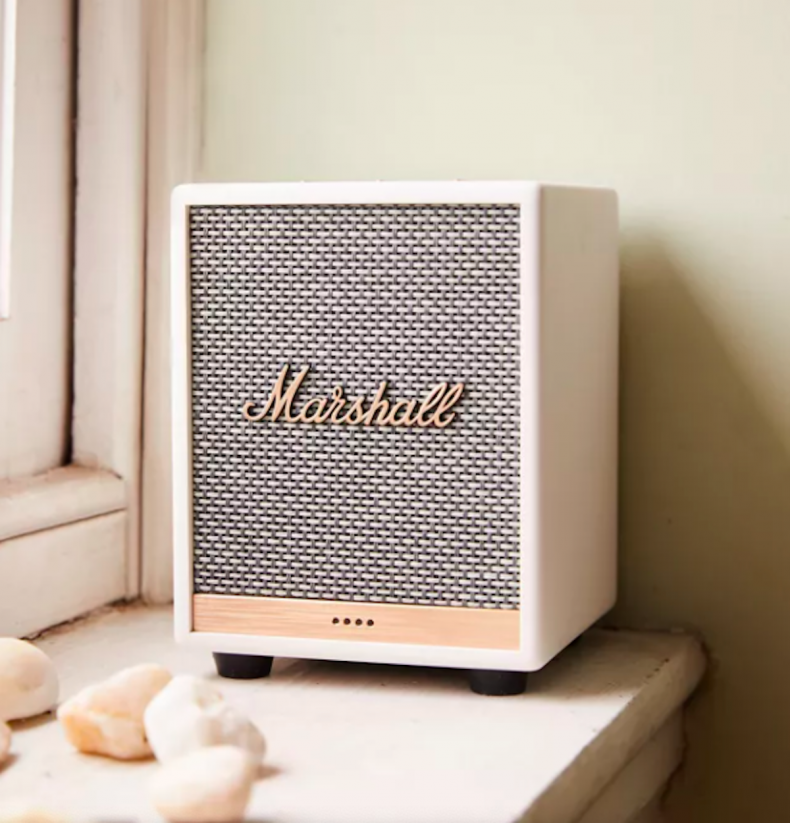 Move aside, all other boring Bluetooth speakers. There's only one that matters in our eyes, and that's one with "Marshall" stamped across it. We love the Marshall Uxbridge Voice with Amazon Alexa Bluetooth Speaker for its versatility, crisp sound and altogether chic physical appearance. With a vintage-esque vibe, compact size and Amazon Alexa voice assistant capability, the Marshall Uxbridge boats the signature sound the brand is known for—but even better. The fact that it responds to "Alexa" commands makes it all the more convenient, plus the sound itself totally adjustable with controls for volume, bass, treble, mute/unmute and play/pause/skip.
One UrbanOutfitters.com reviewer wrote, "I was hesitant to buy this given the size and cost, but honestly, the speaker sounds phenomenal. I really love how it looks as well. This is a big step up from the speaker I had before. Highly recommend."
Buy at Urban Outfitters for $200.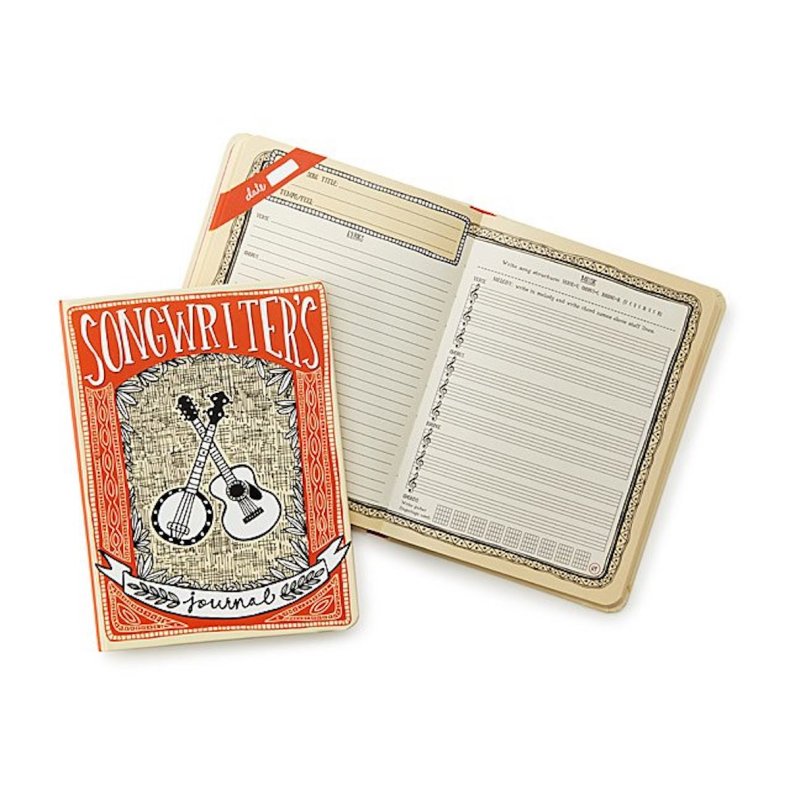 Every musician needs a space to jot down their most creative work. Or, you know, the strange, fleeting lyrics that float through their mind while in the shower. OK, not all lyrics can be stunners, but that's why it's so important to have a space to house them all—the good and the meh. (No more writing on napkins!) The Songwriter's Journal has space for lyrics, melody notes and instructions, and some musicians even use the extra space to add notes about tempo, too. When inspiration strikes, just whip out the journal.
Buy at Uncommon Goods for $12.50.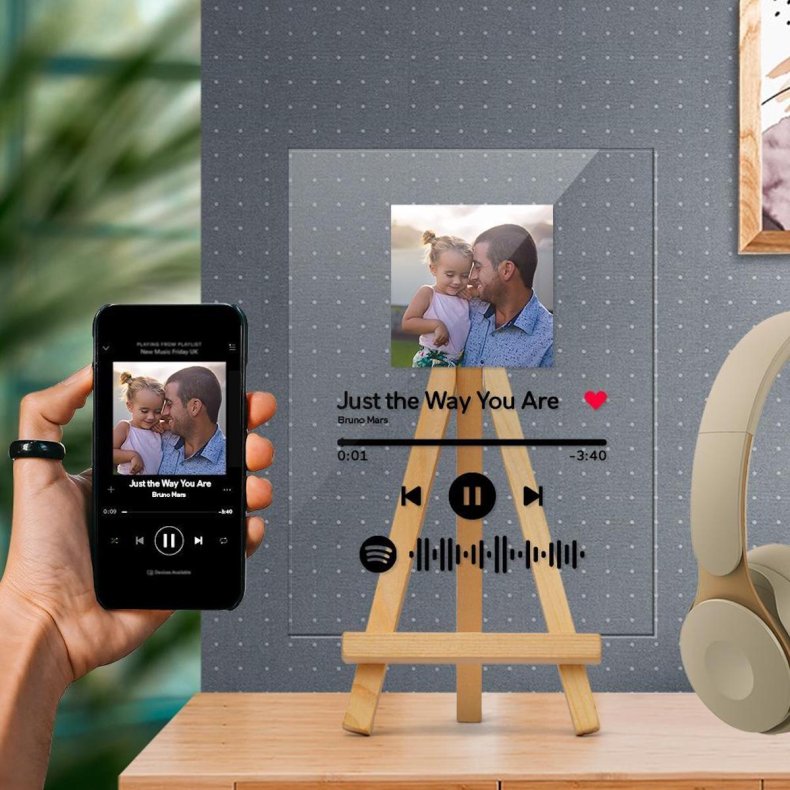 The Custom Spotify Code Acrylic Plaque and Wooden Stand make such a fun and whimsical gift for anyone with a favorite song. Choose the song you want it to play, then MySpotifyGlass.com does the rest by engraving a unique Spotify Code into the acrylic plaque. To use, open the Spotify app and scan the code; it will immediately start playing the song. You can even customize it by adding a photo of you and your loved one. How's that for special?! It's also available in other iterations as well—a keychain or plug-in night light.
Buy at MySpotifyGlass.com for $19.95.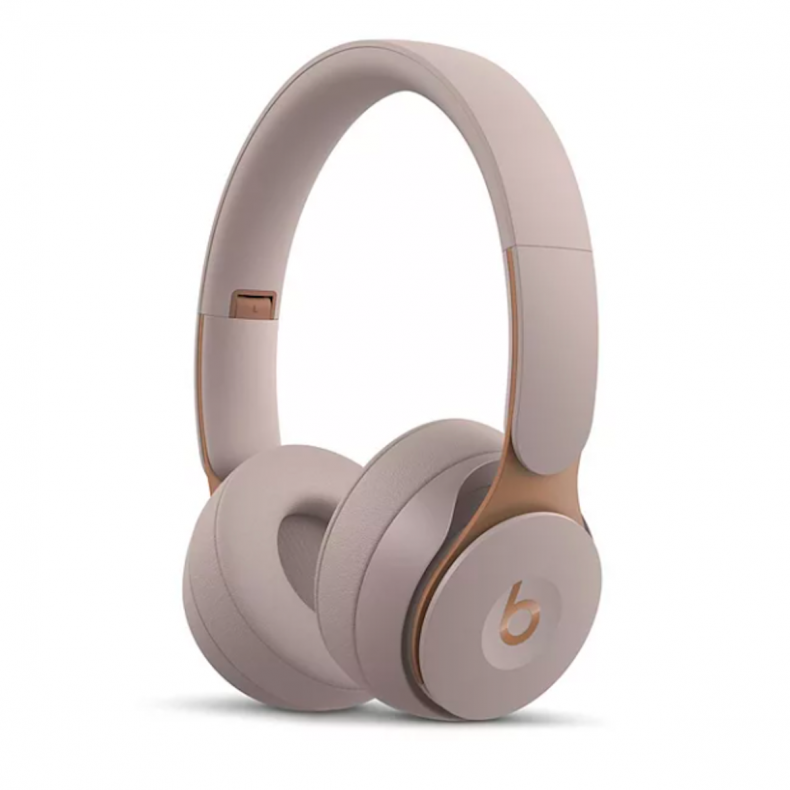 Step aside, wireless earbuds—wireless headphones are where it's at. Especially for the musicophile in need of sharp, crisp sound, the Beats Solo Pro Wireless Headphones are the premier choice. Outfitted with active noise canceling (ANC) that successfully blocks the majority of external noise and features an advanced acoustic system that delivers the most powerful sound there is, these 'phones also come with a handy-dandy carrying case, so you never misplace or lose them on the go. One Kohls.com reviewer wrote, "I love that I can control the volume, stop music or answer a call with the tap of a finger."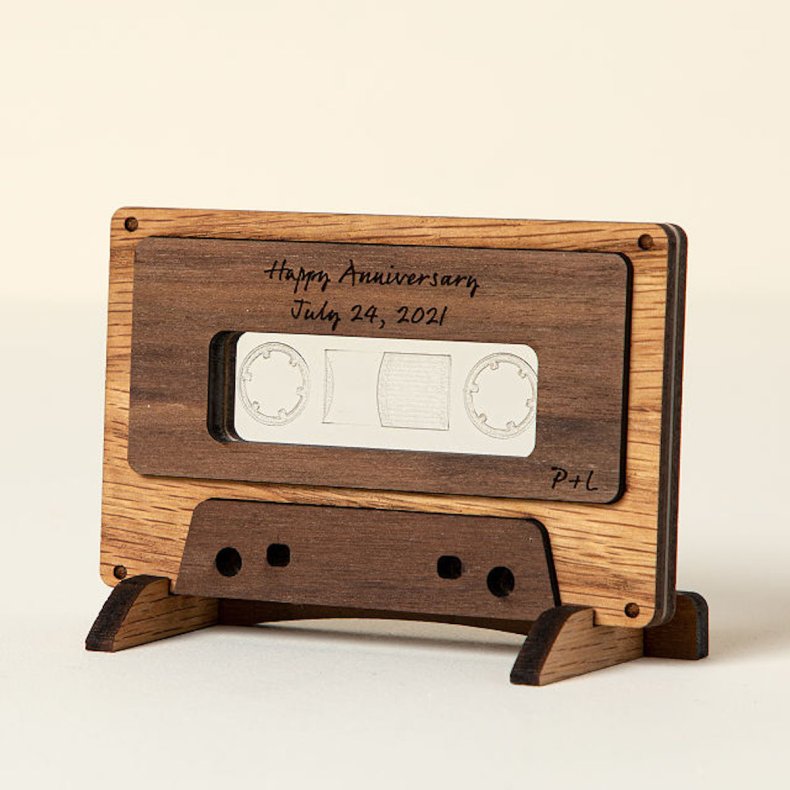 It's both analog and digital all at once! Nowadays, the beauty of the mixtape isn't really a thing any more; it's Spotify playlists all day if you want to gift someone you love with a curation of romantic songs. But the Make-a-Mixtape is the perfect, bespoke gift for anyone who appreciates the effort and thought that goes into a mixtape. Here's how it works: The gifter creates their ideal playlist on their preferred platform, then adds the link in the customization field on UncommonGoods.com. The finished wooden cassette tape—handmade in Washington—features a QR code on the back. It's as easy as scanning and listening!
One UncommonGoods.com reviewer wrote, "I purchased this from my wife on our anniversary. She absolutely loved it. The quality is excellent and it's the perfect mashup of modern and retro."
Buy at Uncommon Goods for $35.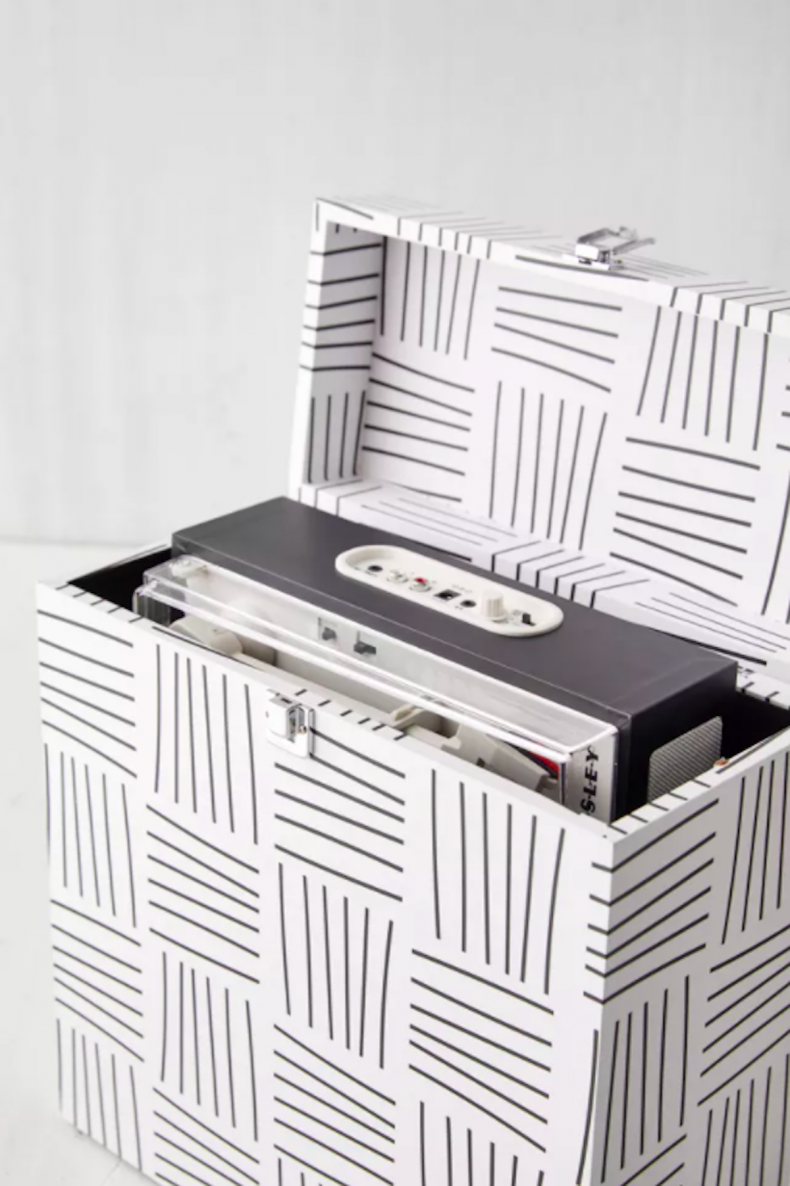 The Crosley Fusion Record Player and Carrying Case stores vinyls and the turntable all in one. A three-speed player with speakers, this gem from Urban Outfitters also comes with a travel case that holds up to 25 vinyls on its own or transports the player itself. With high-quality sound and a funky pattern, this two-in-one comes with a 45 RMP adapter and a power adaptor, too. Want to really wow the giftee? Pair this gift with a trio of their fave albums—on vinyl.
Buy at Urban Outfitters for $130.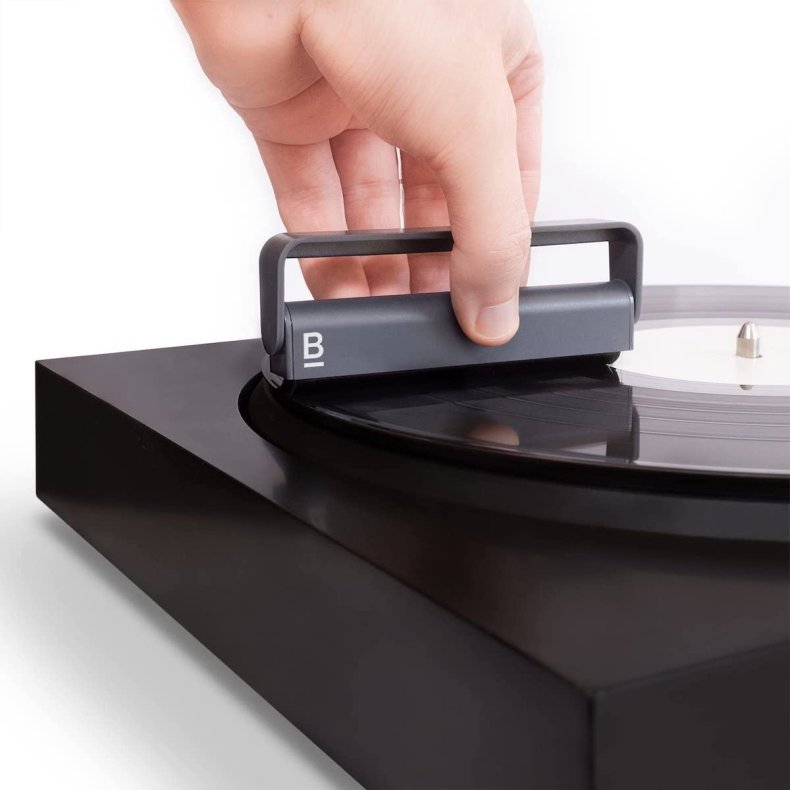 Hell hath no fury like a vinyl-lover whose albums are littered with dust and other unidentifiable specks. If you don't want your LPs to skip, frequent cleaning is key, which is exactly where the Boundless Audio Record Cleaner Brush comes into play. With a 4.6-star rating and nearly 6,500 reviews on Amazon, most turntable enthusiasts swear by this cleaning contraption. Anti-static and featuring carbon fiber bristles, this vinyl brush safely removes dust, dirt and other random debris that may collect on your most precious collection.
One Amazon.com reviewer wrote, "In terms of build quality, this brush is easily the best I've used of its kind. No strays bristles fell out during use, which has been the case with other similar brushes I've tried. All bristles were perfectly straight coming out of the box, and stay that way as they're stored inside the brush handle. The brush is the perfect size for cleaning a 12" record, and feels great in the hand."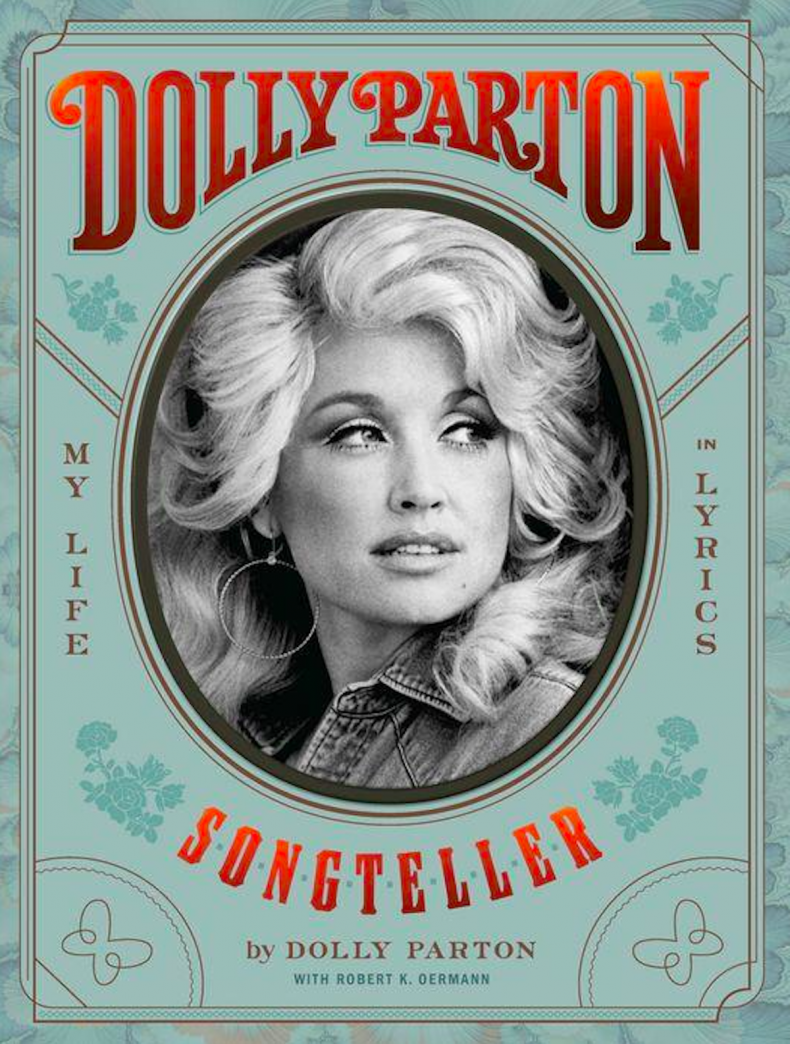 Pour yourself a cup of ambition and open up the pages of the "Jolene" songstress's new book, Dolly Parton, Storyteller: My Life in Lyrics. Parton examines and explores the songs that have defined her career and journey to a country-slash-pop-star icon in hardcover. Parton highlights 175 of her favorite, most popular songs within this book, bringing hardcore fans behind the lyrics to tell never-before-told stories and share never-before-seen photos from the height of her fame. Sure, not everyone's a Dolly superfan, but this book is one for the books; it deserves to be up there with other books about other comparable music icons—The Beatles Anthology by The Beatles, Born to Run by Bruce Springsteen and more.
Buy at Barnes and Noble for $42.49.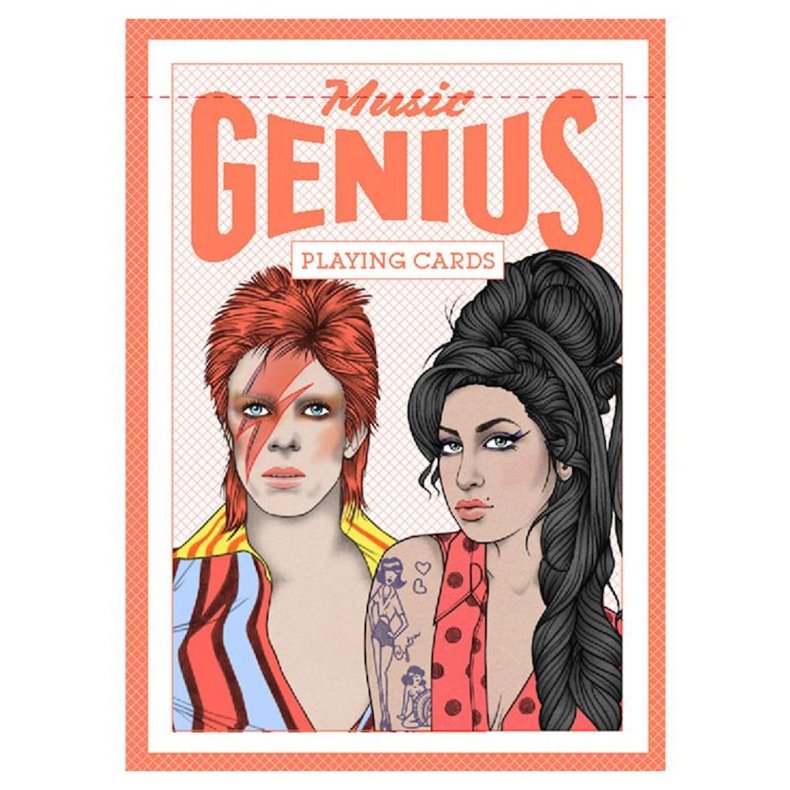 Like any old card deck, Genius Playing Cards contains 52 illustrated cards that can be used to play various games—Go Fish, War and more. But unlike other boring old decks, Genius Playing Cards come with gorgeous illustrations on each piece featuring the silhouettes of some of the most famous faces in music. From Amy Whinehouse to David Bowie, this conversation-starting deck really jazzes up poker night by adding something special for music lovers.
Buy at Lockwood Shop for $10.99.
Newsweek may earn a commission from links on this page, but we only recommend products we back. We participate in various affiliate marketing programs, which means we may get paid commissions on editorially chosen products purchased through our links to retailer sites.