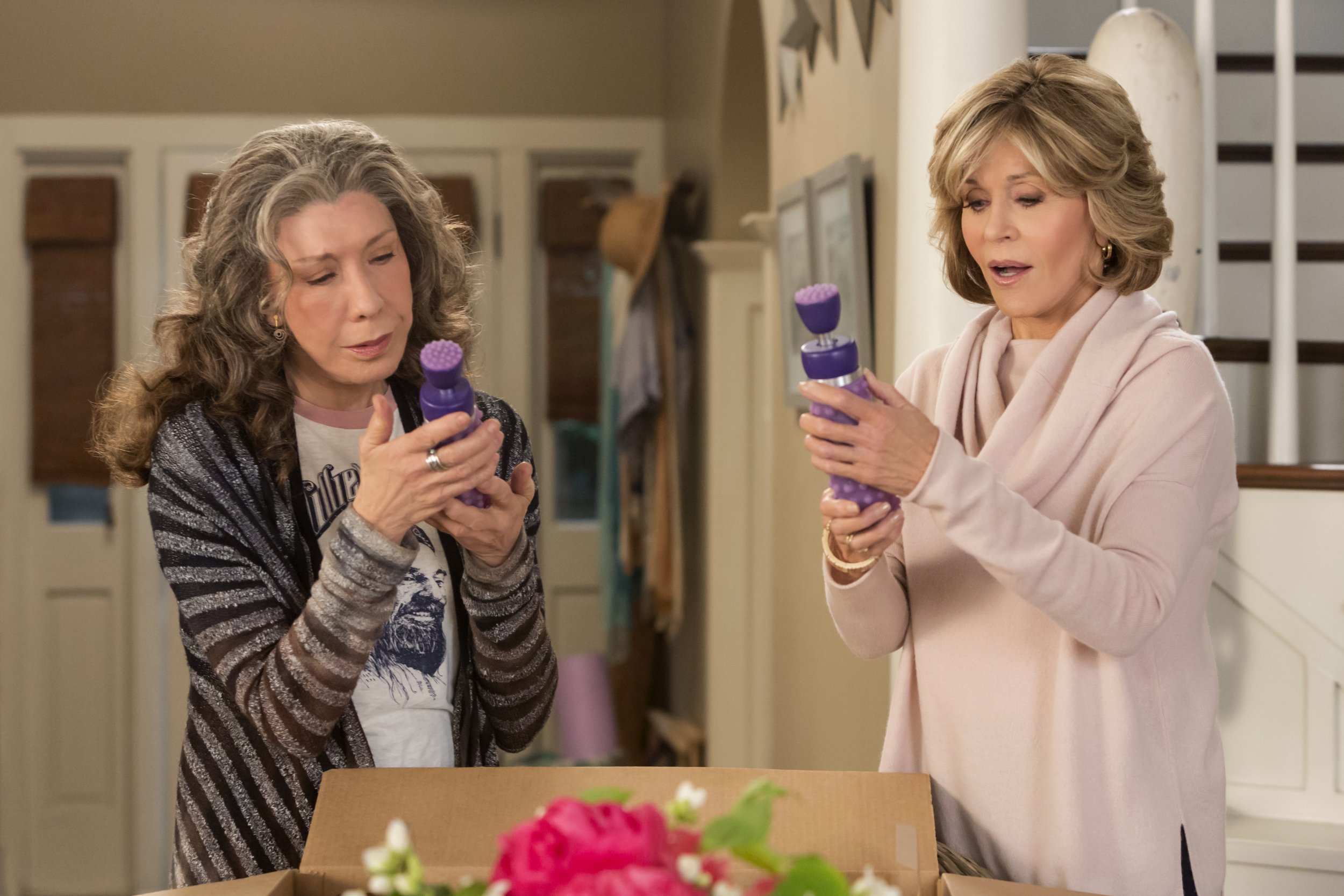 Monday marks the first day of spring. Pair your hopes for warmer weather and your spring cleaning efforts with a watch list full of new episodes, new seasons, new pilots and a recent documentary about an old favorite band. There's plenty to watch in the background as you sort and scrub that might keep your mind off the fact that you are also sorting and scrubbing.
Here are some suggestions:
Amazon's Pilot Season (Amazon, March 17)
Some of Amazon's biggest shows—including Mozart in the Jungle, Transparent, Man in the High Castle and Good Girls Revolt—were green-lit via the "pilot season" process, in which the first episode was presented to audiences, who gave their feedback on which should be made into full seasons. The most recent pilot season, launched last Friday, features five potential series.
Here's how Amazon describes the offerings: The Legend of Master Legend "is a dark comedy about the life of Frank Lafount, aka Master Legend—a homemade superhero whose mission is to protect the people of Las Vegas from evil-doers." Budding Prospects, set in 1983, is about "three hapless city boys [who] move from their comfort zone of the San Francisco counter-culture to Mendocino to grow marijuana." The New V.I.P.'s, an animated comedy for adults, "follows a group of low-level employees who seize control of a major corporation after accidentally murdering their boss."
The Marvelous Mrs. Maisel, a new series from Amy Sherman-Palladino (Gilmore Girls), focuses on Miriam "Midge" Maisel (Rachel Brosnahan, House of Cards), who in 1958 Manhattan "charts a course that takes her from her comfortable life on Riverside Drive through the basket houses and nightclubs of Greenwich Village as she storms the world of stand-up comedy." Finally, Oasis, based on the Michael Faber's novel The Book of Strange New Things, "follows a chaplain (Richard Madden, Game of Thrones) who is sent into space to help establish a colony on a distant planet."
You Are Wanted: Season 1 (Amazon, March 17)
The first German Amazon original follows Lukas Franke (Matthias Schweighöfer), a Berliner who works in the hotel business and becomes a terrorism suspect after he is hacked and his data is altered to "implicate him as having masterminded a cyberattack on Berlin resulting in a citywide blackout." American audiences can watch the series with English subtitles.
Dancing With the Stars: Season 24 premiere (ABC, March 20; Hulu, March 21)
Dancing With the Stars celebrates two dozen seasons' worth of celebrities with varying levels of coordination performing the tango, salsa, Viennese waltz and other dances with professional dancers as partners. The newest roster includes the stars Charo, Nancy Kerrigan, Simone Biles, Rashad Jennings and David Ross, along with professional dancers such as Sharna Burgess, Peta Murgatroyd and Maksim and Valentin Chmerkovskiy.
Empire (FOX, March 22)
This hit drama about a hip-hop family and its media company, Empire Entertainment, returns with a new episode on Wednesday after a three-month midseason break. The show's leading lady, Taraji P. Henson, won a Golden Globe for her portrayal of Cookie Lyon, and the show was nominated for the best drama series award. You can catch up on the season's first nine episodes on Fox's website.
How to Get Away With Murder: Season 3 (Netflix, March 23)
Viola Davis is Annalise Keating, a law professor at a top university in Philadelphia who also practices as a criminal defense attorney and, with a group of her students, becomes wrapped up in a murder plot. Davis won an Emmy in 2015 for her performance and garnered an additional Emmy nomination last year, along with Golden Globe nominations both years.
Gimme Danger (Amazon, March 23)
"The Stooges' powerful and aggressive style of rock 'n' roll blew a crater in the musical landscape of the late 1960s," reads the description for this documentary directed by Jim Jarmusch. "Assaulting audiences with a blend of rock, blues, R&B and free jazz, the band planted the seeds for what would be called punk and alternative rock in the decades that followed."
Grace and Frankie: Season 3 (Netflix, March 24)
Jane Fonda, Lily Tomlin, Martin Sheen and Sam Waterston are back for another season of this Netflix original series, which began with two husbands informing their wives they want divorces because they've fallen in love. In the newest installment, Grace (Fonda) and Frankie (Tomlin) are in business together, making vibrators targeted toward older women, and it's making their friendship more difficult. "You make all the decisions and you don't include me," Frankie tells Grace in the trailer. "I'm sick of all of it. I'm sick of you."