11 Organizational Products That Make Life with a Newborn a Little Easier for New Parents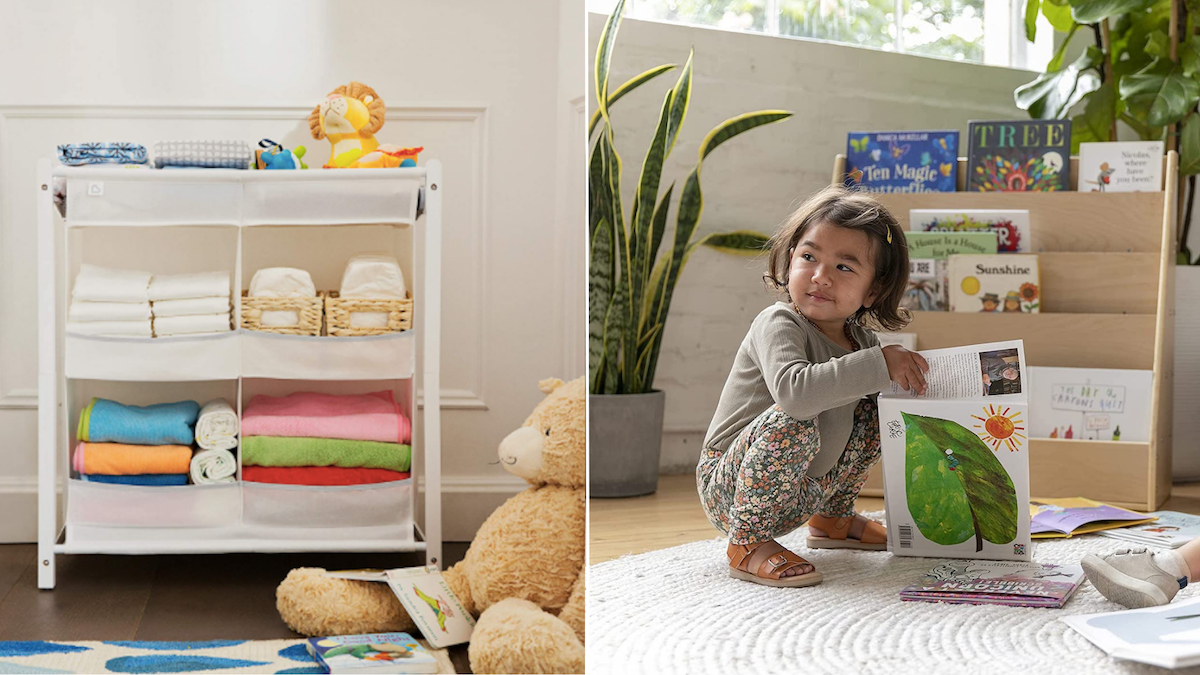 Even if you're the neatest person on the planet, there's nothing like first-time parenthood to make you feel completely disheveled and disorganized. It's not a bad thing, you know, it's just a new thing. And if you're a new parent still struggling to navigate those early days of your newborn's life, you're going to need all the organizational help you can get.
You know what they say—it takes a village, and that village includes an array of organizational products that keeps all those baby essentials in place.
11 Organization Products for New Parents
Keep reading for 11 organizational products that are must-haves for new parents. As always, the prices listed may fluctuate over time.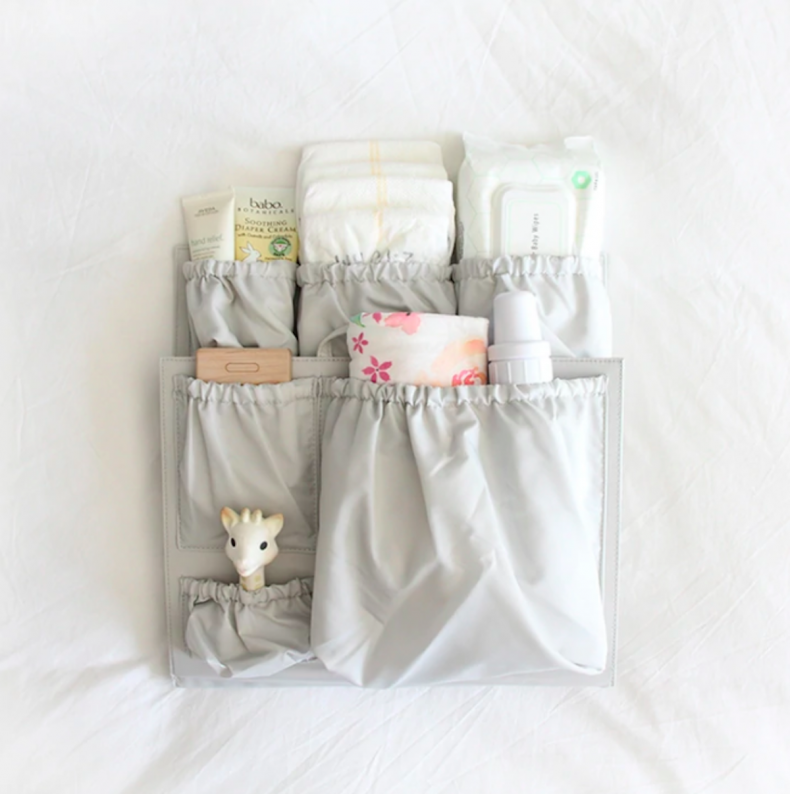 The ToteSavvy Original is every new parent's secret weapon. Available in soft grey, black and luxe red, this removable organizer insert includes 11 total pockets—one of which is insulated!—a key clasp and a washable changing mat. The insert fits conveniently into most large totes or oversized handbags and is made with an easy-to-clean, wipeable nylon material that's a must-have in case of potential bottle spills. The insulated pocket keeps beverages either warm or cool, and even while totally packed, the ToteSavvy Original provides enough visibility so parents can find what they're looking for—and quickly.
One ToteSavvy.com reviewer wrote, "I purchased this a few weeks back as I have a 5-month-old, and when we travel to see family via car or plane, our diaper bag never seems like enough space for all the needs. After traveling across country for the holidays, I am OBSESSED. It allowed for more than enough space for extra outfits, four diapers, wipes, toys, burp cloth, bib, wallet, iPad, Elvie Pump, milk bags, etc., and made it so easy to find things."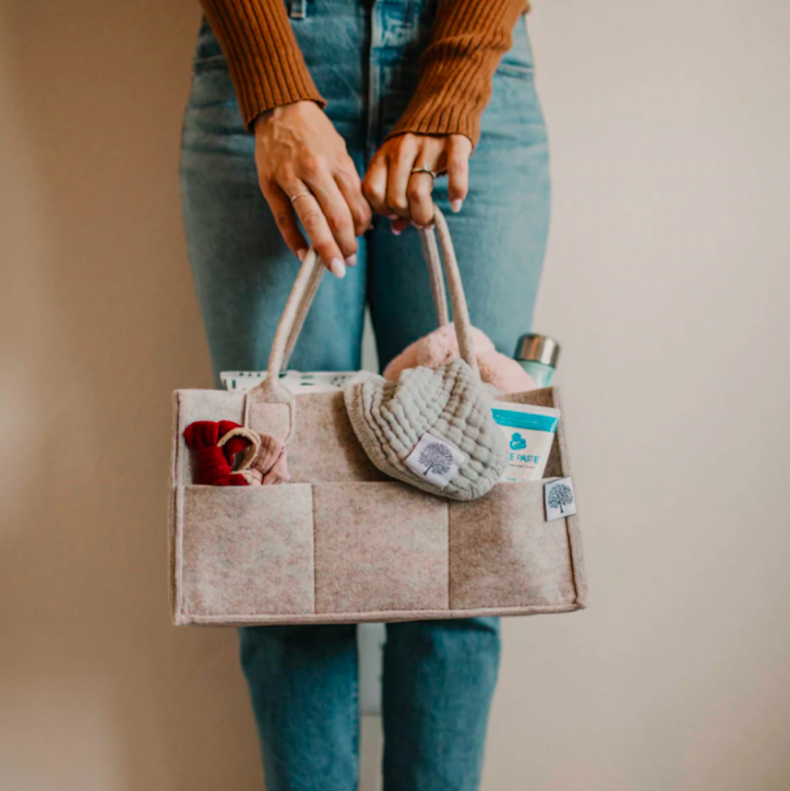 As any new parent can attest, the early days mean a lot of diapers and a lot of diaper changes. The Parker Baby Diaper Caddy features a removable insert for max versatility and eight external pockets that hold everything a parent on the go may need. Store your bottles, diapers, an extra change of clothes (or two!), various creams and powders, toys and more. Conveniently, it also comes in two sizes: regular—which is 13 inches by 9 inches by 7 inches—or large—16 inches by 10 inches by 7 inches. One ParkerBaby.com reviewer wrote, "Beautiful color, lots of storage and well constructed. Great baby gift! I've ordered two!"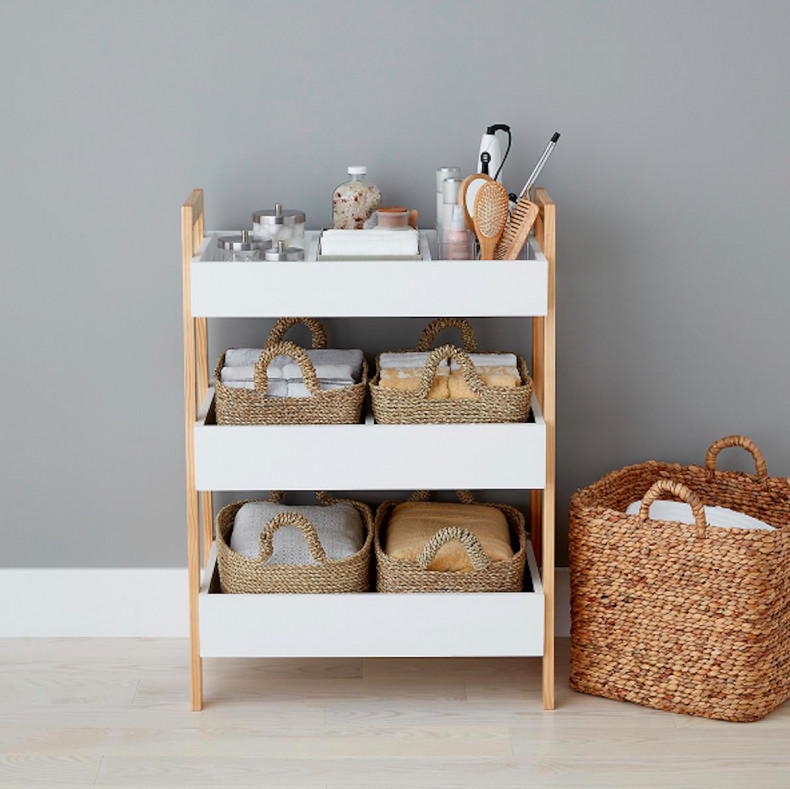 There's no doubt that the White Multi-Purpose 3-Tier Shelf exclusively from The Container Store is an organizational gem that would work in any room. But this versatile piece of furniture has become beloved amongst new parents who champion it as a nursery staple. Aesthetically pleasing in its minimalism and ideal for storing all baby-related essentials, the top shelf features three organizing sections. The middle shelf features two that are ideal for placing organizing bins inside. Make sure to keep it close to your changing table for ultimate convenience!
Buy at The Container Store for $99.99.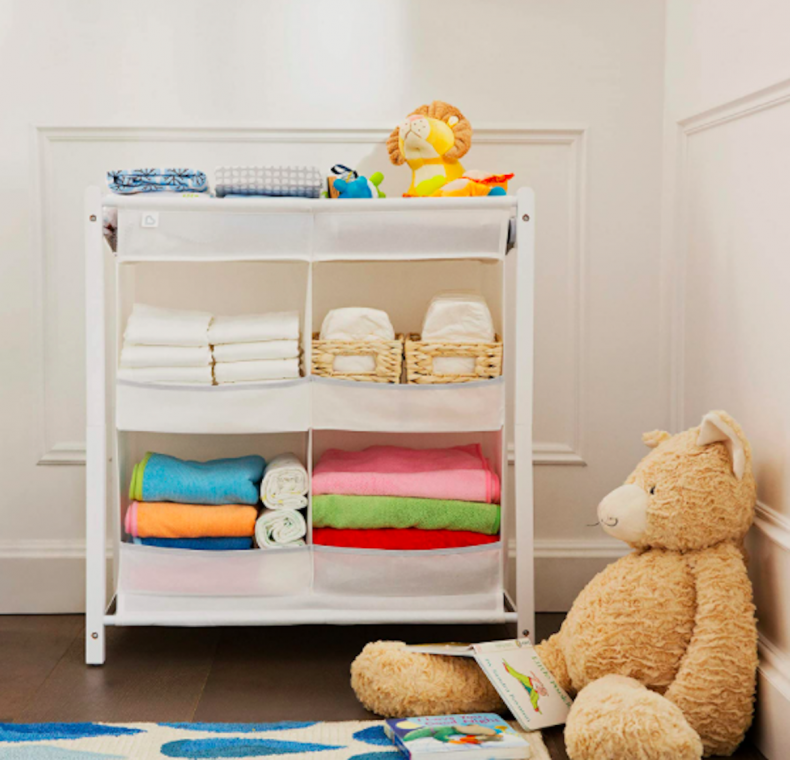 With more than 1,700 reviews on Amazon.com, the Munchkin Nursery Essentials Organizer is an all-in-one storage unit that can house everything from clothes, diapers and changing supplies to towels, blankets, burp cloths and more. Measuring 26 inches wide by 30 inches high and 14.5 inches deep, each of the organizer's compartments is durable and feature convenient inserts for accommodating storage space. One Amazon.com reviewer wrote, "We are currently expecting our second little one but are still, unfortunately, in our two-bedroom apartment until my husband graduates from school. This is the perfect organizer for our baby essentials. Couldn't be happier with this purchase!"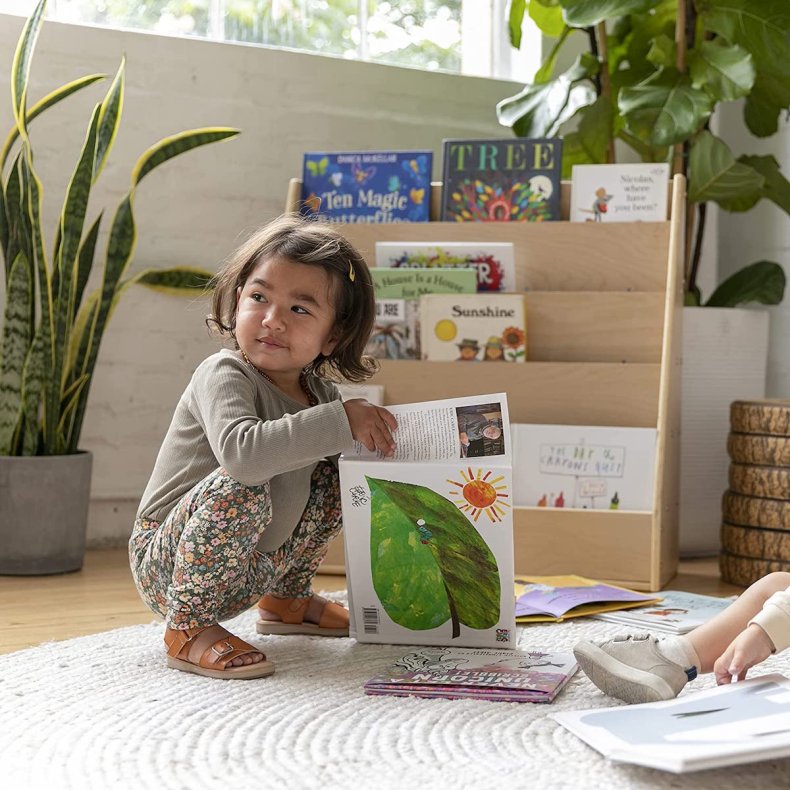 One storage necessity that new parents usually don't see coming is a spot to hold all of your baby's new books. And trust—there will be lots of books. People give them as baby shower gifts but also just for fun and those harmless little picture and block books pile up fast. So, it's important to get ahead of the game and invest in some book storage. Enter: the ECR4Kids Birch Hardwood Single-Sided Bookcase Display Stand for Kids—in other words, a Montessori-style bookshelf. With six tiers of shelving, this bookshelf specifically designed with little ones in mind comes in natural wood for that neutral aesthetic that's so "in" right now. This book organizer grows with your child. Sure, you've got a baby now but before you know it, you'll have a teetering, tottering toddler who will love the ability to reach their books off their bookshelf. It fosters confidence and independence, all while encouraging young kids to love reading.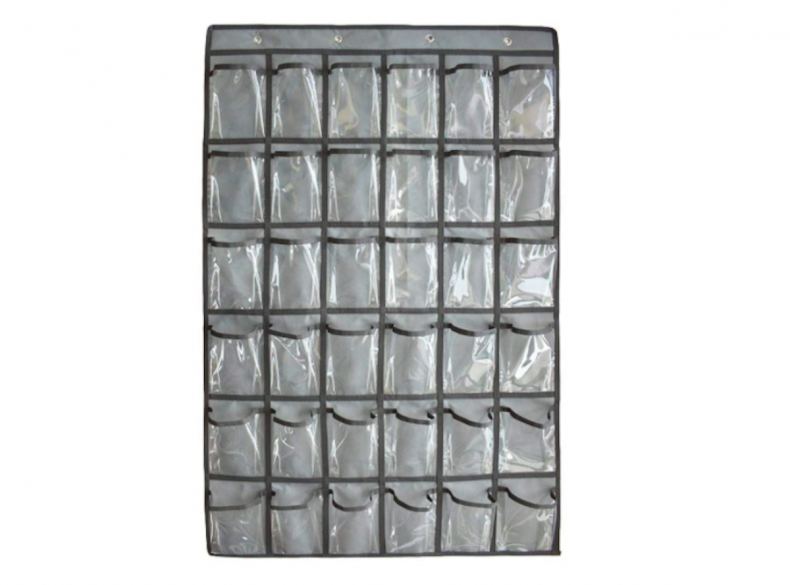 You may recognize this from the classroom, but it serves a great purpose for new parents, too. A practical hanging bag that provides loads of necessary storage, parents love that it includes four hooks and assembles in a pinch. Each Gray Clear Pocket Chart pocket is transparent, so everything stays visible and easily accessible. Convenient for storing baby socks, headbands, accessories or other essentials, the hanging design saves sacred space in your baby's room. One Amazon.com reviewer wrote, "One of my best organizational buys of the year (and I have had many)! I have mine on the wall, but you could purchase over the door hooks and place on or behind a door."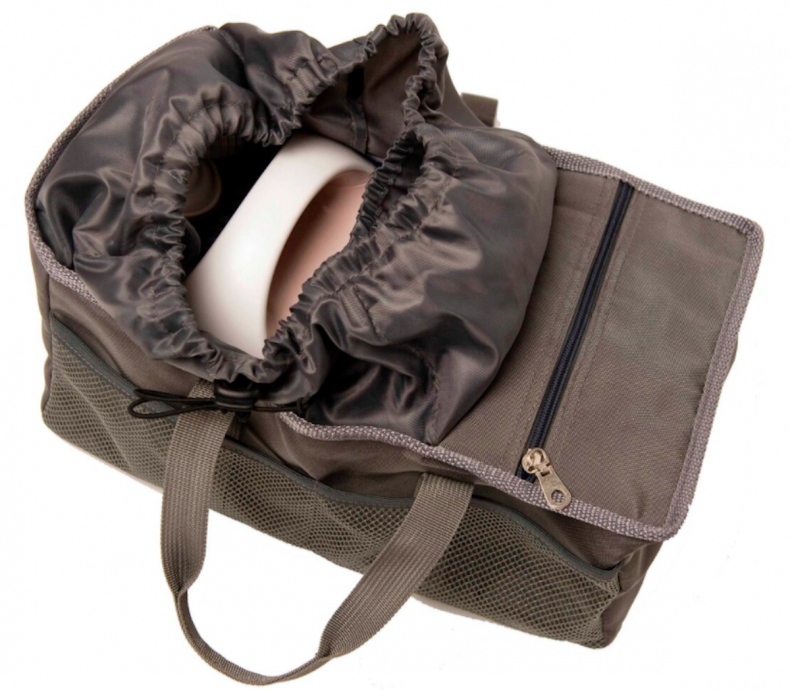 A breast pump is an absolute must-have for nursing parents, but we all know how big and bulky those things can be. It's not like it's easy—or fun—to transport that thing while you're on the go. But the Nah Nah Bag Company Breast Pump Organizer Tote is about to change all that for you, as it finally provides a solution for easier portability. The handmade bag features two sections—one for your breast pump and accessories and another insulated cooler section that fits up to four bottles of milk or several milk storage bags, plus an ice pack.
One Etsy.com reviewer wrote, "This bag will be great for pumping on the go! When it arrived, I noticed there was some strong Velcro that creates a division between the two sides of the bag. So, if you want to use the whole bag as one section you can, or you can keep it divided to store milk on the insulated side. I like how it is is big enough to hold all the pumping supplies, yet it is compact enough to fit into a larger tote bag."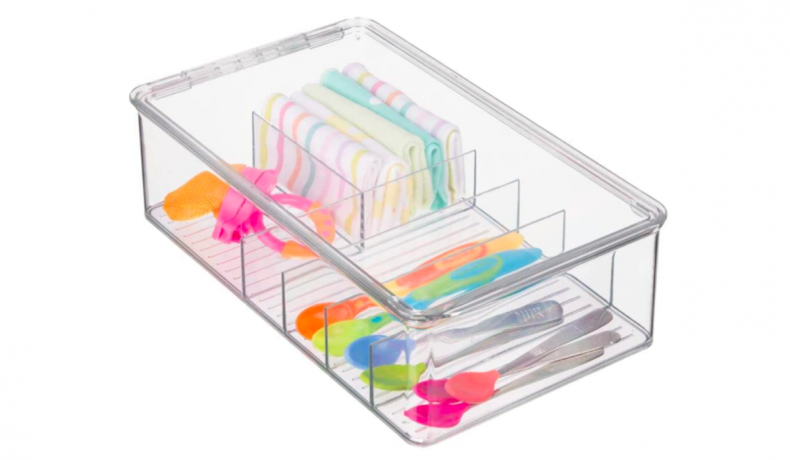 One of the critical tenets of staying organized is the manta: Everything has a home. But when your baby requires so much stuff, it can be challenging to keep track of each item's home and what goes where. The mDesign Stackable Plastic Storage Organizer Container Box is better than your average lucite storage box. Store baby utensils, medicine dispensers, droppers, syringes, pacifiers, teething rings and more. Each storage bin features six compartments so that new parents can easily store anything they may need, and because they're so compact, you can transport them easily from the table, countertop or shelves. Each individual bin is also lidded, so you never have to worry about dropping the bin and spilling everything out.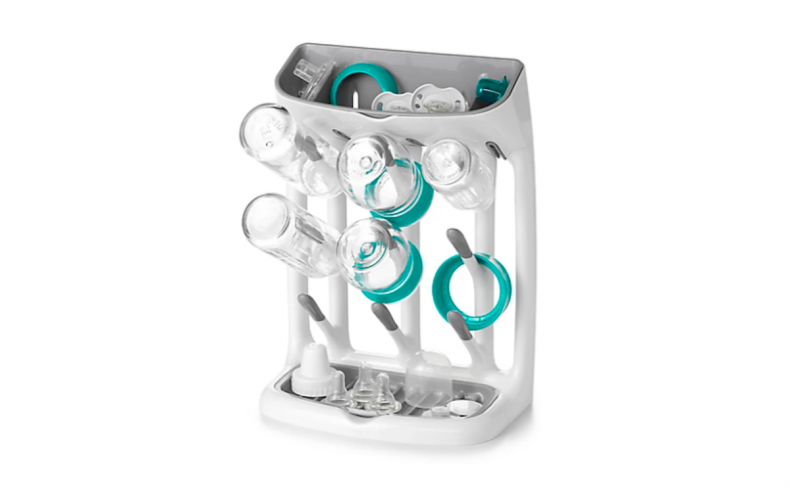 Spoiler alert: You're going to need like, 50 percent more baby bottles than you think you do—especially if you're bottle-feeding exclusively. The OXO Tot Space Saving Drying Rack stores baby bottles (and later on, sippy cups) as they dry without wreaking too much havoc on your countertops. Its compact design ensures that you save as much space as possible, and it features nine angled hooks, plus a removable top compartment for covers and nipples. One Amazon.com reviewer wrote, "Great functionality. Saves counter space. Butts up against the wall/backsplash so no wasted counter space. Holds multiple bottles, two breast pump pieces, and multiple pacifiers. Highly recommend over the 'grass' bottle dryer."
Buy at Bed Bath and Beyond for $25.99.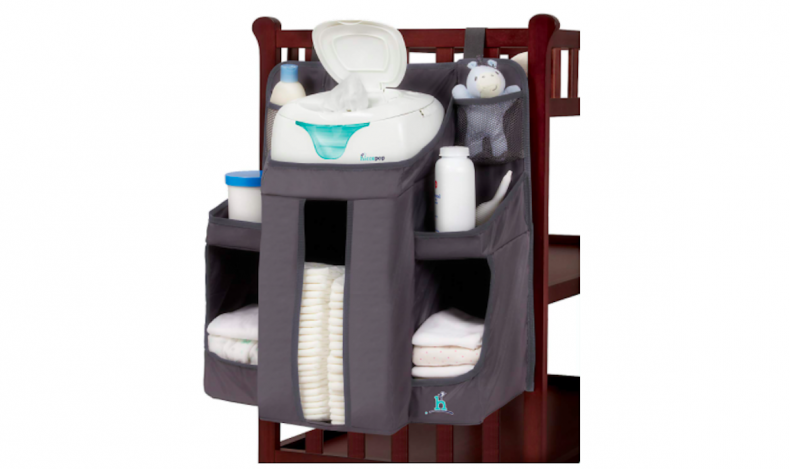 Check out those 4.7 stars and the Hiccapop Hanging Diaper Organizer for Changing Table and Crib's more than 7,700 reviews on Amazon.com! Impressive, right? This portable and lightweight organizer has six shelves and two pockets to ultimately fit as many as 72 diapers—plus wipes, powder, lotions and even an extra set of clothes or jammies! It's made of cloth, but it's sturdy, too, and can even hold the Hiccapop Wipe Warmer as well (though that is sold separately). With more than 1 million units sold, one Amazon.com reviewer wrote, "This organizer is wonderful! It doesn't collapse when you're putting things in it, it holds the wipes warmer and everything else like it is supposed to. Love the buckle to attach it to the changing table too, much more secure. I have already recommended it to other friends."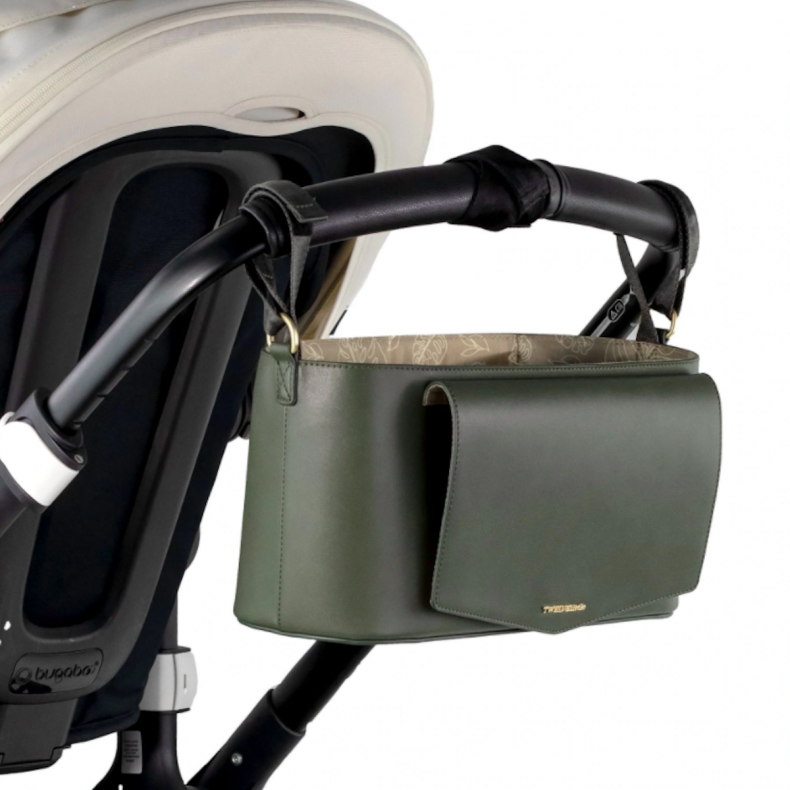 The stroller deserves a dollop of organization, too! The Peek-a-Boo Stroller Caddy is available in mauve, toffee, black, leopard print and olive and conveniently latches onto the handle of your stroller. Parents love the easy access the peek-a-boo flap offers (so you can quickly get to your phone or you know, sanitizing wipes) as well as the adjustable strap and bottle pocket for adult drinks on the go. One TwelveLittle.com reviewer wrote, "It is the perfect size for on-the-go families. We love to travel, and I learned very quickly with my first child that packing more isn't always best. The essentials are good enough... The size and versatility of the diaper bag is everything!"
Newsweek may earn a commission from links on this page, but we only recommend products we back. We participate in various affiliate marketing programs, which means we may get paid commissions on editorially chosen products purchased through our links to retailer sites.