11 Products Professional Organizers Can't Live Without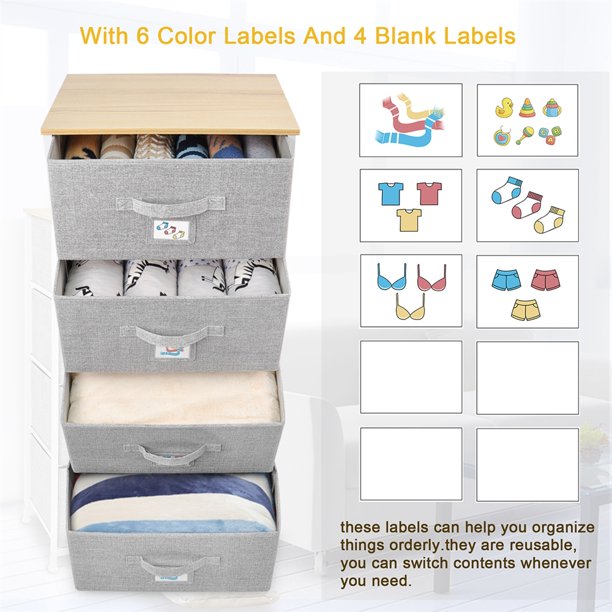 You want to stay organized. Honest. It's just in the everyday whirl of kids, work, cooking, cleaning, yard work and socializing you tend to look for the fastest, easiest way to stash your items and move on. The problem, of course, is that when you need to find something you––think keys, vital paperwork, even kids' favorite toys––you end up wasting time hunting for it. Plus, disorganized items are often broken or ruined if they aren't stored properly.
Now's the time to use the products professional organizers can't live without. We've chosen 11 highly-rated organizational items for you to start stashing and stowing your items just like a pro.
11 Organizational Products to Save You Time, Money
Take a few minutes and consider your kitchen, garage, home office and other rooms where clutter invariably gathers. Then take a look at these 11 top-rated products that help you conveniently store items and begin bringing order to your life.
As always, the prices listed may fluctuate over time.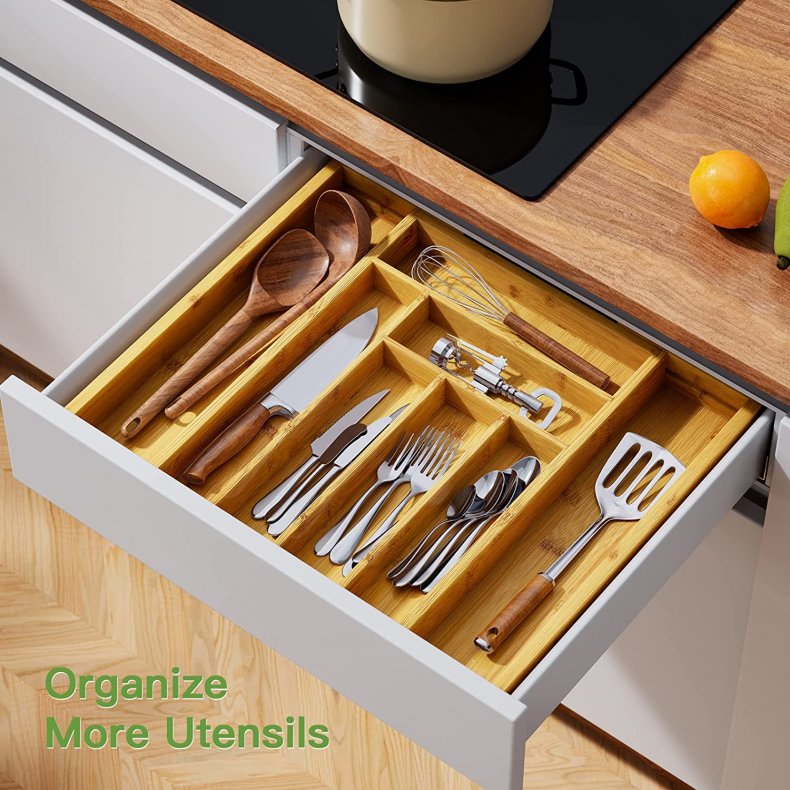 Even when you measure the size of your kitchen drawers, the plastic organizers usually seem too narrow or wide. And let's be honest, most of us eyeball the size, so miscalculations are expected. Pipishell Bamboo Expandable Drawer Organizer is built so you can change it to conform to the size you need. Widen it from 13 inches (about six compartments) to 19.68 inches (eight compartments). The 16.92 length and 1.92 depth remain static. That gives you the flexibility to store serving utensils, silverware, spices and more. Don't stop there. Buy an extra one for your bedroom to organize your jewelry, medicines, socks, scarves and more. This organizer is made of natural bamboo. You clean it with a soft cloth and warm water.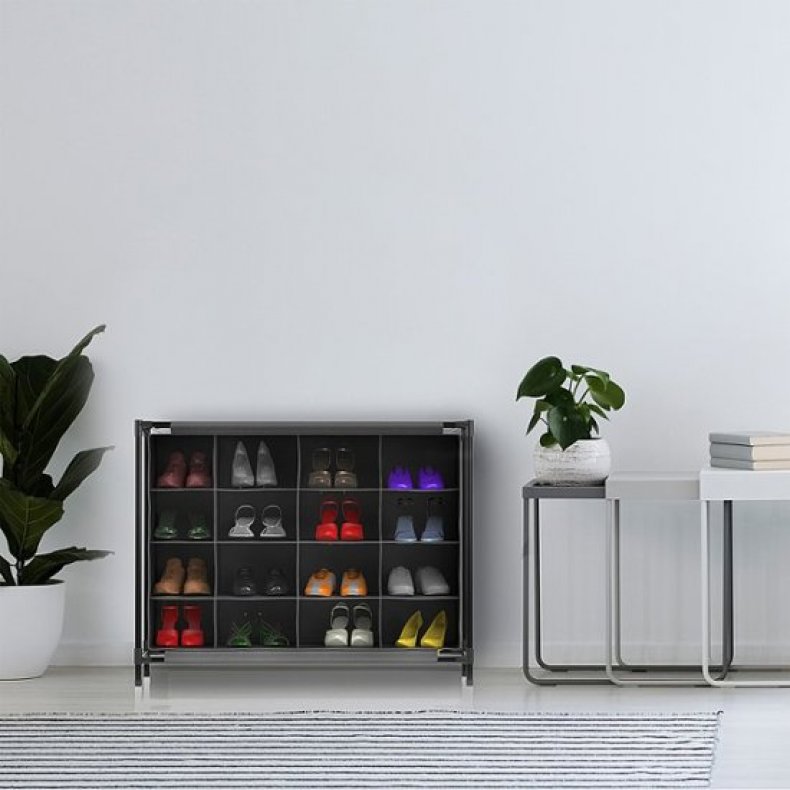 Expect professional organizers to tell you that almost nothing looks messier than a pile of shoes. And you know that searching for the right shoes in a pile of heels, sneakers, flats and boots is a major headache. Use the Hastings Home Shoe Organizer–16 Cubby Storage. It's crafted from non-woven fabric, plastic tubes and paper inserts and measures 33 inches by 14 inches by 26 inches. This black organizer won't take up a lot of space, but it is sturdy enough to keep your shoes safe. Buy some extra organizers and use them to organize DVDs, toys, books, and other items.
Buy it at Best Buy for $29.99.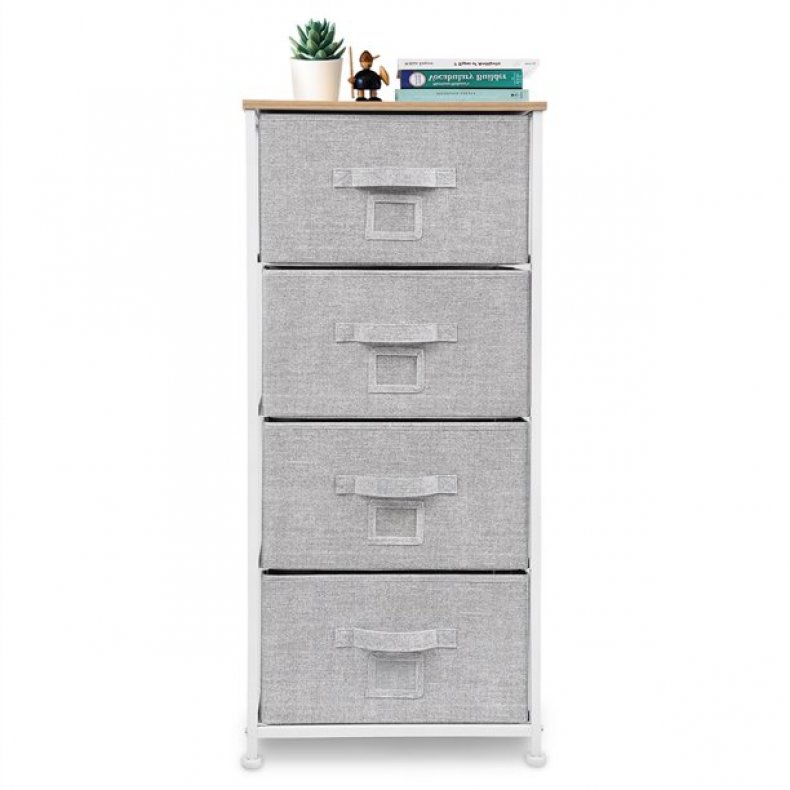 You can keep your guest room, laundry room, and even nursery better organized when you use the four-drawer Bigroof Dresser Storage Organizer. It's a budget-friendly option to store towels, sheets, toys, diapers, toys and more. It measures a roomy 1.8 inches by 17.7 inches by 37.4 inches but only weighs 13 pounds, so it's easy to move it wherever it's needed.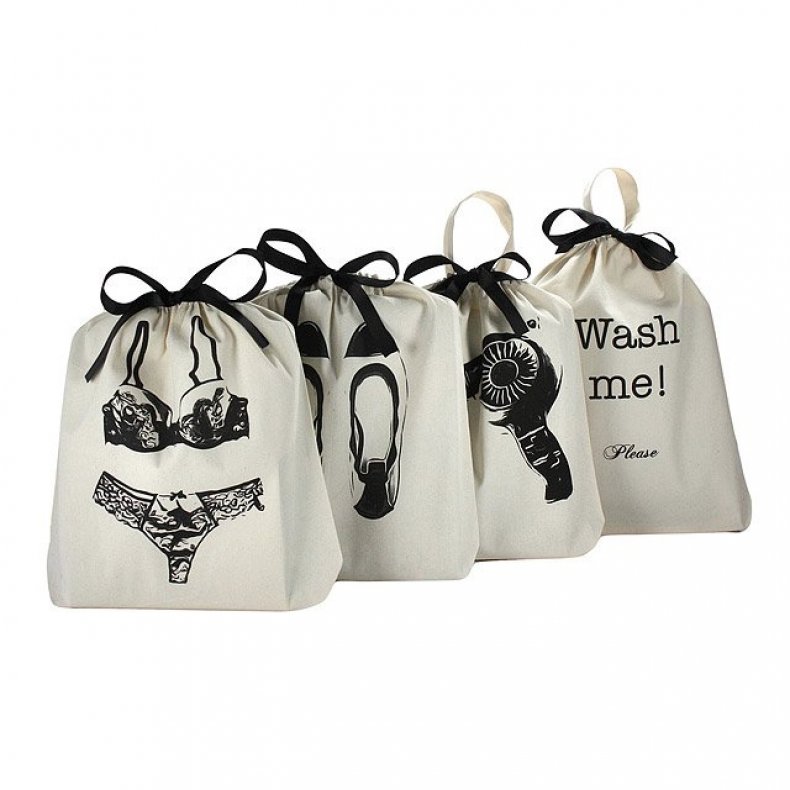 Ok, you caught us. Maybe a professional organizer wouldn't say you need Jennifer Jansch's Women's Organizing Travel 4-pack. But we bet the organizers would love it as much as we do. Rather than watching your neatly packed clothes turn into a tangle of clean, dirty and who knows what, sort your travel must-haves by type and then pack them in the designated 13 inches by 14.5 inches by .2 inch cotton pouches. When you return home, hand wash the bags in cold water and iron them on low heat to keep them looking like new.
Buy it at Uncommon Goods for $48.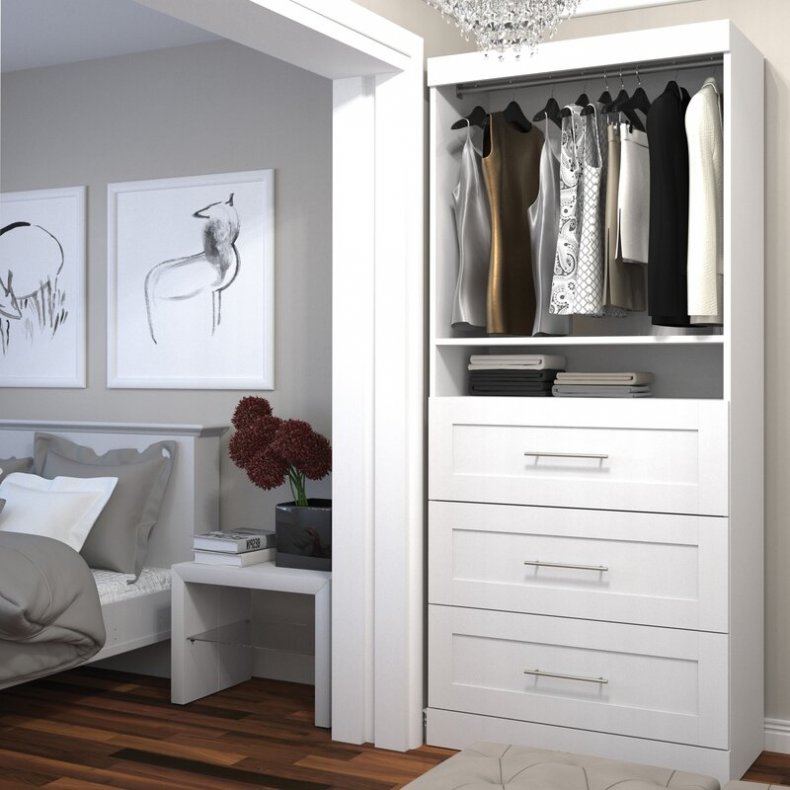 Why pay thousands of dollars for closet organization systems when there is a quality, budget-friendly alternative? That's just what you'll have with the Navarra Closet System Walk-in Tower. This 36-inch wide tower created from manufacturer wood has two adjustable shelves, three drawers and two closet rods. It measures 83.7 inches by 35.8 inches by 18.2 inches, so it fits almost anywhere. The 265-pound weight ensures it will remain sturdy and stable once you attach it to the wall. Professional organizers, we know, always focus on tidy closets. Don't miss this dual-purpose one.
Buy it at Wayfair for $670.94.

You know cable cords are terribly unsightly, but what can you do to hide them? The Khente Large Cable Management Box hides and protects your cables. It's made of ABS high-density plastic that absorbs heat to protect your family, pets and home from fire and electrical shocks. It's compatible with long and wide surge protectors inside its 15.7 inches by 6.3 by 5.3 inches.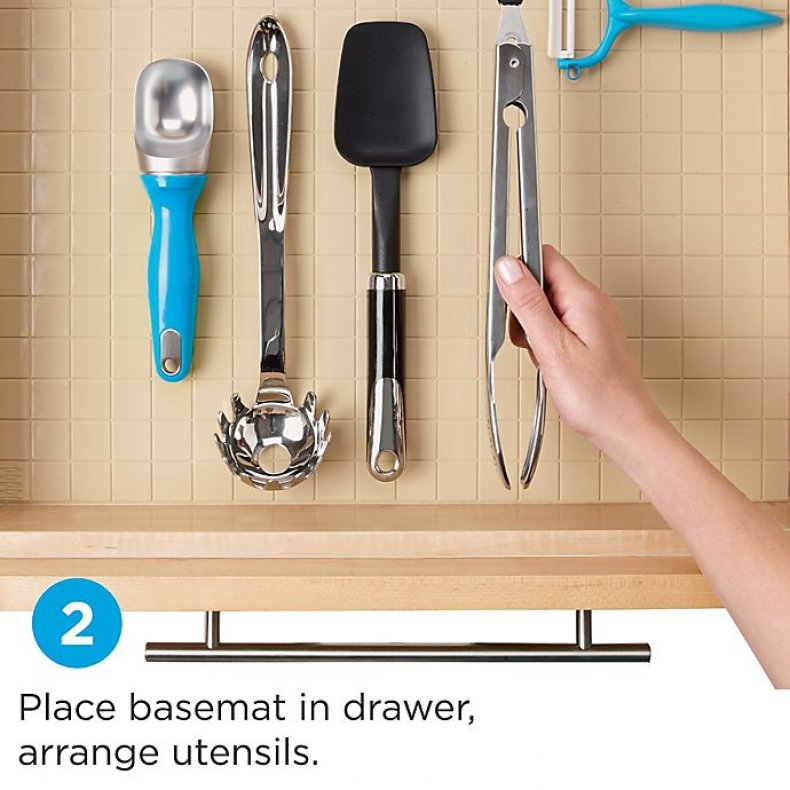 If you think we're talking a lot about drawer organization, it's because we've tried, often unsuccessfully, to tame the tangle of utensils. KMN Home DrawerDecor 16-Piece Customizable Drawer Organizer features repositionable pieces so you can mix, match, and change the organization as needed. Plus, the organizer is dishwasher safe, so you can keep the silicone organizer clean. The organizer measures 20 inches by 14 inches by 1 inch. It includes one 20-inch by 14-inch silicone base mat that you can cut to fit, ten short divitz that each measure 1.5 inches by 1 inch and five triangles measuring 72 inches per side. Stop the clutter with this customizable find.
Buy it at Bed Bath & Beyond for $29.99.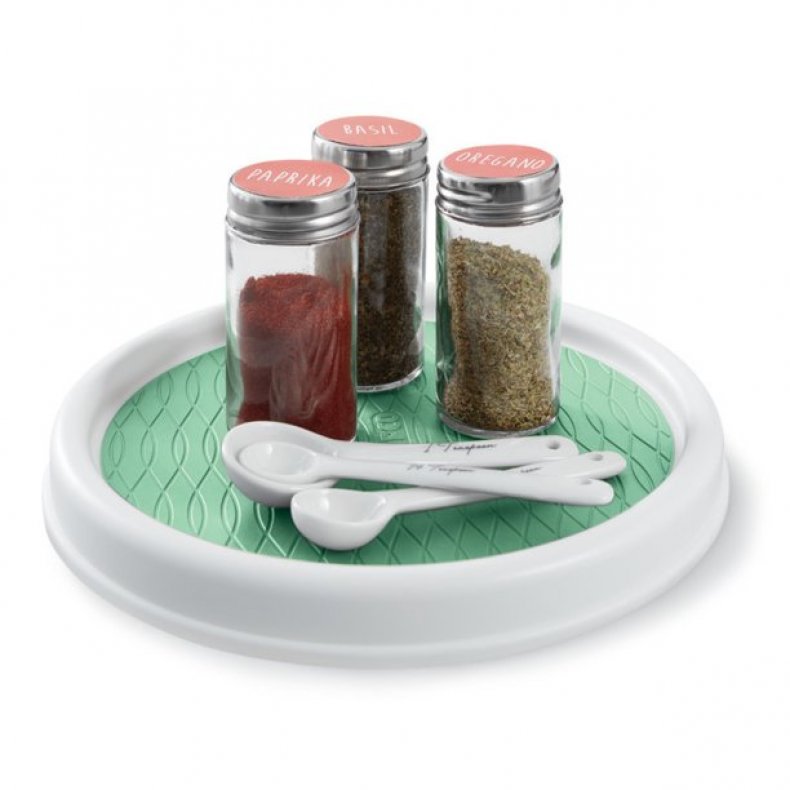 You'll find professional organizers recommend you keep your often-used kitchen spices close at hand. But if you cook a lot of different cuisines, that isn't easy. That's why you need the Copco Non-Skid Pantry Cabinet Lazy Susan Turntable. Load the spices you need for a specific meal on the 9-inches-in-diameter turntable. Then enjoy the ease of choosing spices as it glides smoothly around. Plus, its raised 3/8 inch rim ensures your spices don't fall off as you spin it. You just wipe it with a damp cloth to keep it clean. You choose from among eight colors.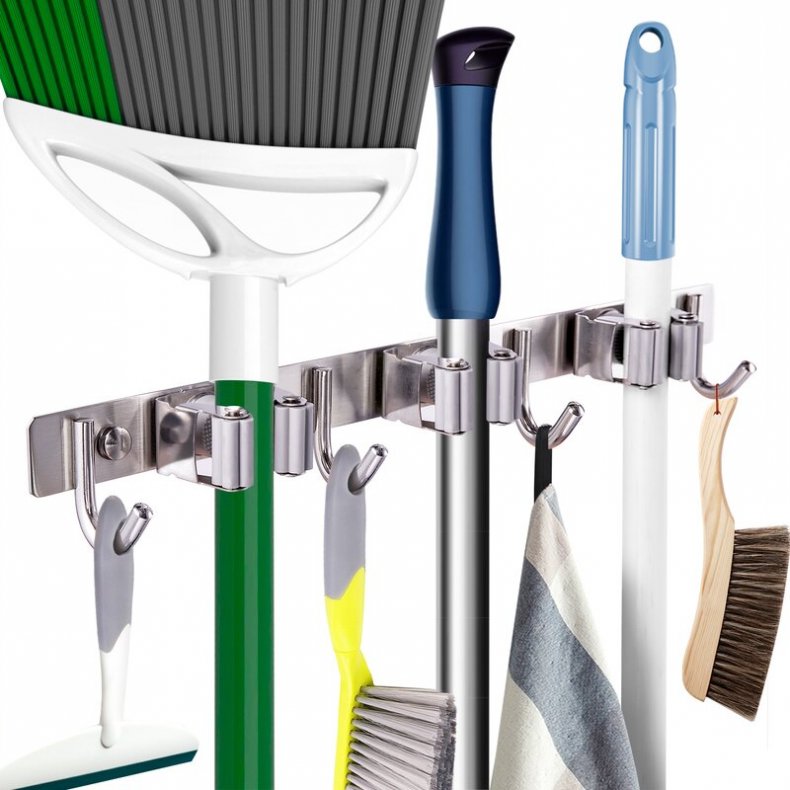 Snow shovels, brooms, vacuums and mops are just some of the unwieldy items that tend to junk up your garage and closets. The WFX Parnassus Tool Organizer has space for seven such things that we bet professional organizers would advise you to store efficiently. Although it only measures 2 inches by 17.5 inches by 2 inches, it holds up to 30 pounds of items with handle sizes that range from 3/4 inches to 1 1/2 inches. Mount it on the wall, slip the tool's handle between the metal brackets or over the hooks. It's available in matte black or brushed steel.
Buy it at Wayfair from $17.90.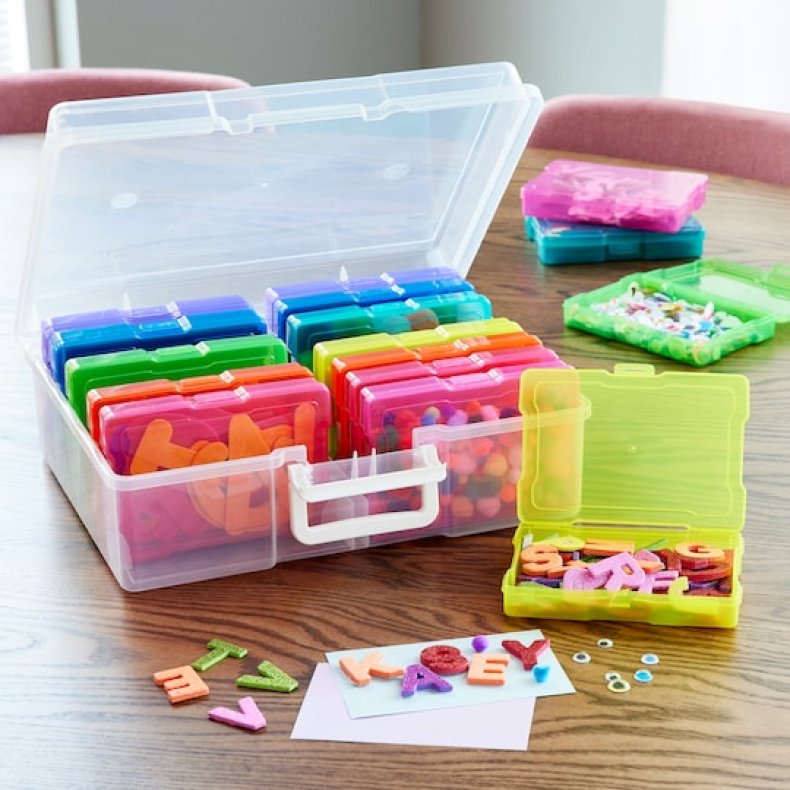 Sure, you want to keep your photos and memorabilia fresh, but every time you pull it out of storage, it looks a bit more shopworn. That's why it's time to use Simply Tidy Rainbow Photo and Craft Keeper. It has 16 cases that measure 7 inches by 5 inches by 1.2 inches and fit into a large storage case designed for stacking. You can also use these handy storage cases for puzzle pieces, card games, art supplies and more.
Buy it at Michaels for $41.99.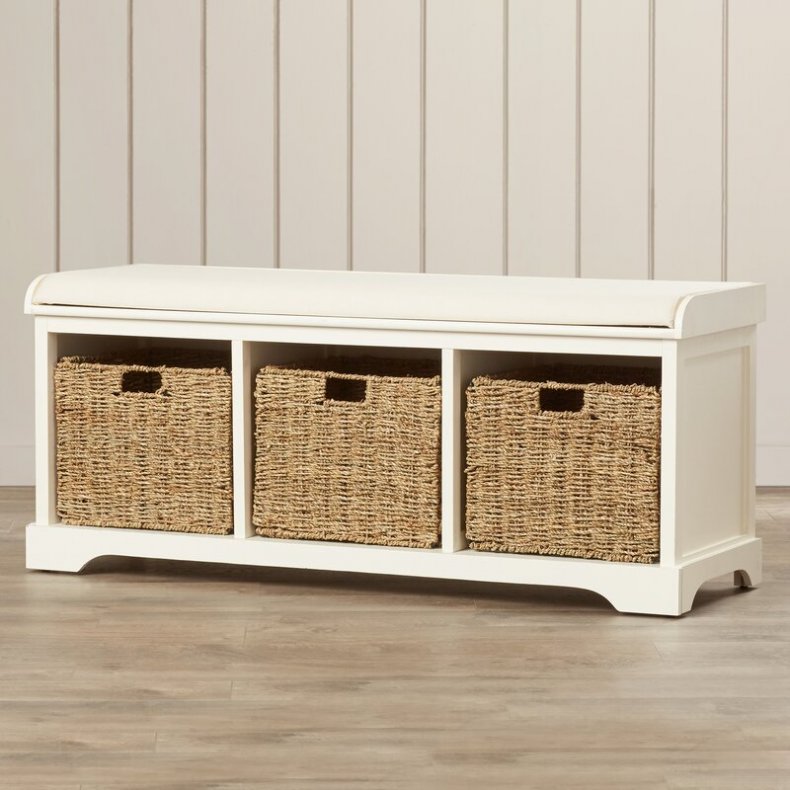 Shoes, bags, keys and umbrellas are just some of the many items that seem to gather in an entryway mysteriously. The Beachcrest Home Santa Cruz Cubby Storage Bench allows you to organize and keep everyday things handy in the three wicker baskets that measure 13 inches by 14.5 inches by 14 inches. Plus, the upholstered top provides extra seating for you and your guests. The entire bench is made of solid and manufactured wood and measures 20 inches by 47 inches by 16 inches. Organization and comfort never looked so good.
Buy it at Wayfair for $279.99.
Newsweek may earn a commission from links on this page, but we only recommend products we back. We participate in various affiliate marketing programs, which means we may get paid commissions on editorially chosen products purchased through our links to retailer sites.