11 Things You Didn't Know About Phil Jackson, From His Net Worth To His Championship Rings
Phil Jackson has become known as the "Zen Master" after implementing a series of tactics called "Zen leadership" to help craft his basketball players and teams. Jackson was a central figure in episode 4 of The Last Dance aired Sunday night on ESPN.
Not only was Jackson the coach of Michael Jordan and the Bulls, who won six NBA titles in eight seasons, he was the one who ultimately told the NBA he wanted the documentary to be called The Last Dance. A film crew followed every step of the 1997-98 Chicago Bulls during their rather turbulent season that ended with a sixth championship ring.
Jackson went on to win five more titles as coach of the Los Angeles Lakers with Kobe Bryant leading the way. But he made his name more famous leading the Bulls.
As the episode airs Sunday night, here are 11 things to know about Phil Jackson—one for each NBA championship ring as a coach.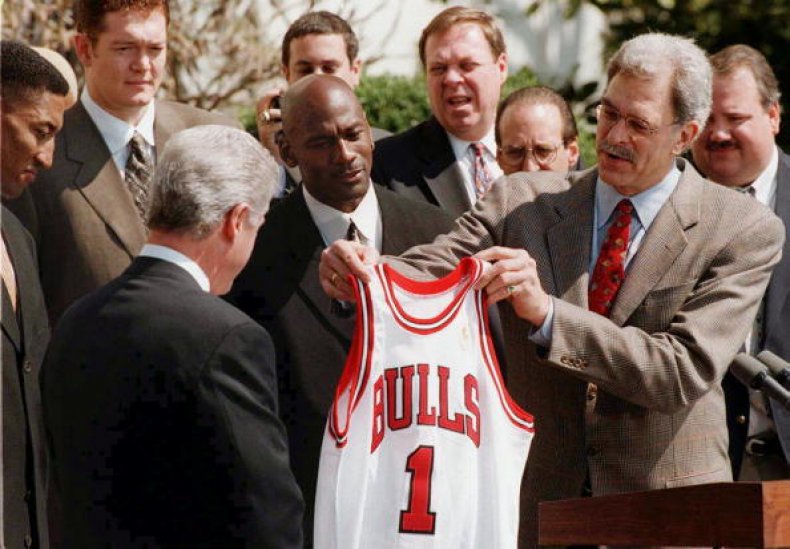 Jackson played high school sports in North Dakota, where he won two state championships in basketball. He also played baseball and football, and he was on the track team.
Jackson won two championships as a player with the New York Knicks (1970 and 1973). He was also on the 1968 NBA All-Rookie Team.
Despite winning 11 NBA titles, Jackson was only named NBA Coach of the Year once, which is the 1995-96 season when the Bulls won 72 games.
He wrote in his 2013 book, "Eleven Rings" that his victory with the Lakers over the Boston Celtics in Game 7 of the 2010 NBA Finals was the most satisfying win during his coaching career.
Even while coaching in Chicago, Jackson never missed a chance at filling out the crossword puzzle of the Sunday edition of The New York Times, according to a 2015 ESPN report.
While coaching in the Continental Basketball Association, Jackson won the 1984 league title with the Albany Patroons, that team's first championship.
He coached Gallitos de Isabela in Puerto Rico from 1984-86 while hoping to land an NBA job. The Bulls ultimately gave him a job as an assistant coach in 1987. He was promoted to head coach in 1989.
Jackson is the only coach to win 10 championships or more in any of North America's major sports.
By the end of the 2010 season, he was one of only six coaches to have more than 1,000 wins.
Phil Jackson has a net worth of $70 million
Jackson has admitted to LSD and marijuana use, and he ultimately shamed California laws as "poorly written," saying he did not believe the state's prisons should be filled with inmates because of marijuana laws.