Parkland Father Says Grandfather of 11-Year-Old Girl Who Carried a Loaded AR-15 to Gun Hearing 'Should Be in Jail'
An 11-year-old girl carried a loaded assault weapon into a hearing held by lawmakers in Idaho who were debating a new gun law for the state.
The Associated Press reported how those in the committee hearing in Boise did not react when they saw Bailey Nielsen stand in silence with an AR-15 slung over her shoulder while her grandfather, Charles Nielsen, argued why the law should allow those visiting the state to carry concealed handguns within the city limits.
Charles Nielsen said she had been using weapons since she was five and so was an example of someone who knew how to handle firearms responsibly.
"Bailey is carrying a loaded AR-15. People live in fear, terrified of that which they do not understand… she got her first deer with this weapon at nine. She carries it responsibly. She knows how not to put her finger on the trigger. We live in fear in a society that is fed fear on a daily basis," Charles Nielsen said.
He argued those from other states "should be able to carry concealed, because they carry responsibly," he said. "They're law-abiding citizens. It's the criminal we have to worry about."
Anti-gun activist Fred Guttenberg, whose 14-year-old daughter Jaime was killed in the Parkland school shooting in Florida in 2018 expressed his outrage at Charles Nielsen's move.
"How is it possible that this grandfather was not arrested for allowing his 11 year old to carry a loaded AR 15? Sorry Grandpa, we do not know if Bailey is a killer? My daughter died because of a teen with an AR 15. You should be in jail," he tweeted.
The National Rifle Association NRA says the AR-15 is the country's most popular gun. It has been used by mass shooters both in the U.S. and overseas. It was used in recent deadly mass killings in Aurora, Las Vegas, Texas and San Bernadino, according to CNN.
In Idaho, no state permit is needed for the purchase of any rifle, shotgun or handgun for those over 18 who reside in the state, according to the state government's website.
Lawmakers are debating whether to extend that to any U.S. resident or member of the armed services. The committee voted to send the legislation to the full house.
This was proposed by Republican representative Christy Zito, who recounted how she once had to display a weapon on her to deter a perceived threat when two men approached her car with her daughter inside.
"Even though I didn't have to pull the trigger, just the fact that they could see it, and they knew that I had it, was the determining factor," Zito said.
In a statement to Newsweek, Zito said: "Idahoans believe that we have a natural right to self-defense and the Second Amendment was intended to protect that right.
"Forcing Americans to get government permission through a permitting process negates that right and makes it a privilege to exercise a right. This bill eliminates the final restriction in Idaho to require a permit."
Diana David from the group Moms Demand Action, which campaigns against gun violence, and which Newsweek has contacted for comment, said according to Fox News: "The vast majority of states require that a person get a permit before carrying a concealed gun in public. That's a common-sense policy."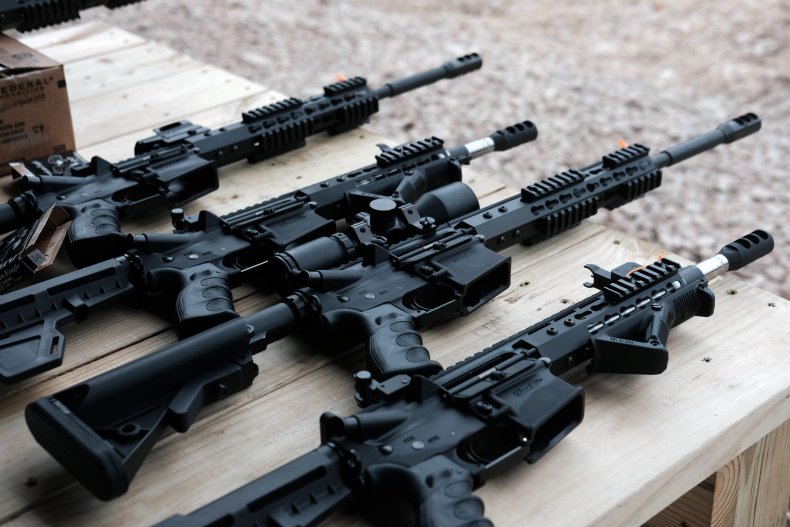 This story has been updated to include a statement to Newsweek from Idaho Republican representative Christy Zito.
Parkland Father Says Grandfather of 11-Year-Old Girl Who Carried a Loaded AR-15 to Gun Hearing 'Should Be in Jail' | U.S.