113-Year-Old Woman Who Had Spanish Flu As a Child Becomes World's Oldest Person to Survive Coronavirus
A 113-year-old woman in Spain has overcome the novel coronavirus, becoming what is believed the oldest person in the world to have recovered from it.
Maria Branyas is believed to be the oldest person in Spain and local reports state she was battling COVID-19 for several weeks.
Branyas was born in Mexico on March 4, 1907, and now lives in a residential care home in Olot, Girona.
She tested positive for the virus in April and is said to have now overcome the infection.
One of her daughters told La Vanguardia: "Now that she is well, she is wonderful, she wants to speak, to explain, to make her reflections, it is her again."
Branyas has three children, 11 grandchildren and 13 great-grandchildren.
Newsweek has contacted Branyas's family through a Twitter account run under her name.
As well as having beaten coronavirus, she also survived Spanish flu, which afflicted people across the globe between 1918 and 1920. According to the Centers for Disease Control and Prevention (CDC), that pandemic saw around 500 million infected worldwide, with at least 50 million estimated to have died.
The Gerontology Research Group reports that, according to the available information, Branyas is the oldest-known coronavirus survivor.
Newsweek has contacted the group for comment.
After reaching the age of 110, Branyas is part of a small group of people branded supercentenarians.
According to the CDC, people over the age of 65 are at higher risk of "severe illness and death" from coronavirus, while the highest risk of death is among those aged 85 or older.
Spain has suffered more than 227,000 cases of coronavirus since the outbreak began, according to Johns Hopkins University figures, and more than 26,000 of those infected have died.
This gives it the third-highest toll of any country for infections, behind the U.S. and Russia, and the fourth-highest death toll among any nation.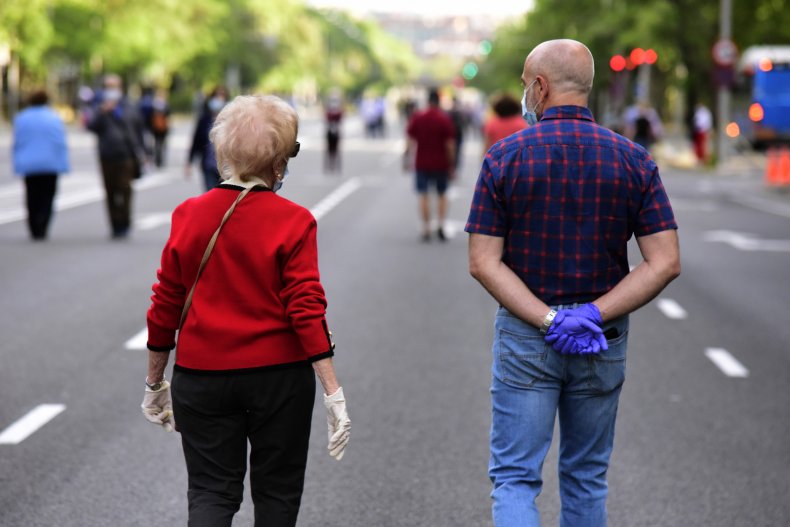 More than 137,000 people in Spain have recovered from the virus, the data shows.
There are signs of decline across the nation, with its health ministry reporting its lowest number of daily cases in more than two months, with a rise of 594 on Tuesday.
The country has implemented a raft of lockdown measures in a bid to stem the outbreak, though areas are looking to loosen these.
Globally there have been more than 4 million cases, with more than 286,000 deaths. More than 1.4 million are said to have recovered worldwide.
As the U.S grapples with highest number of confirmed cases of any nation, the graphic below, provided by Statista, shows the worst-hit states.