119 Democrats Join Republicans as House Rejects Letting Incarcerated People Vote
During debate on a sweeping election reform bill known as H.R. 1, more than 100 Democratic members joined Republicans in striking down an amendment that would have allowed incarcerated people to vote.
In a 328 to 97 vote, the House of Representatives on Tuesday rejected an amendment by Representative Cori Bush (D-Mo.) that would have clarified that felony convictions do not bar individuals from voting in federal elections. All 209 conservative members voted against it, and they were joined by 119 Democrats.
"For the first time ever, the House took a vote on whether or not to end the cruelty of denying incarcerated people their right to vote. Our amendment didn't pass, but 97 Democrats voted with us," Bush wrote on Twitter. "We will not stop fighting until we dismantle white supremacy in all of its forms.
Representative Rashida Tlaib (D-Mich.), who supported Bush's amendment, tweeted that "the stripping of the right to vote of incarcerated people, especially Black folks, is directly connected to our country's racist past, from slavery and Jim Crow laws, to mass incarceration."
She added, "It was done with intent - to disenfranchise them from their most sacred right: to choose the people and policies that govern them. We cannot deny the humanity of the incarcerated. We cannot strip communities of their voice, their power and their humanity."
Udi Ofer, the director of the American Civil Liberties Justice Division, wrote on Twitter that Bush's "own party failed her" after the House rejected the amendment. Ofer also said, "We still have so much to teach Democrats."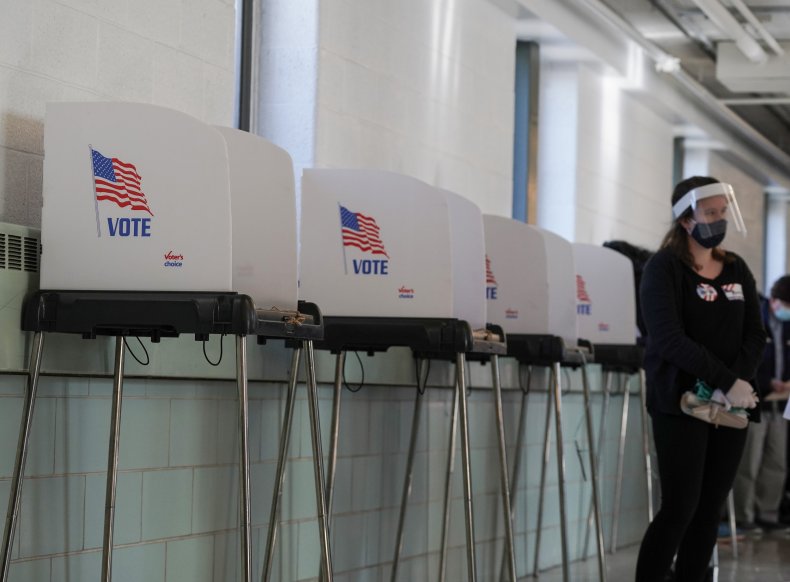 H.R. 1—also known as the For the People Act—would work to expand voter access, improve election integrity and security, revise rules for political spending and create provisions related to ethics for all three branches of the federal government, according to a summary of the legislation.
Every single House Democrat has signed on to the For the People Act, but it faces significant Republican opposition.
Senate Minority Leader Mitch McConnell (R-Ky.) has deemed the election reform bill a "federal takeover" and said it would allow Democrats to "grab unprecedented power over how America conducts its elections and how American citizens can engage in political speech."
But polling shows the bill has broad public support. A Data for Progress survey last week found more than two-thirds of likely voters (68 percent) said they would back the proposal. Just 16 percent said they opposed it.
Newsweek has reached out to Representative Bush's office for further comment on Tuesday's vote.