11ft Alligator Breaks Into Florida Home, Gets Into Woman's Wine Stash Before Waking Her Up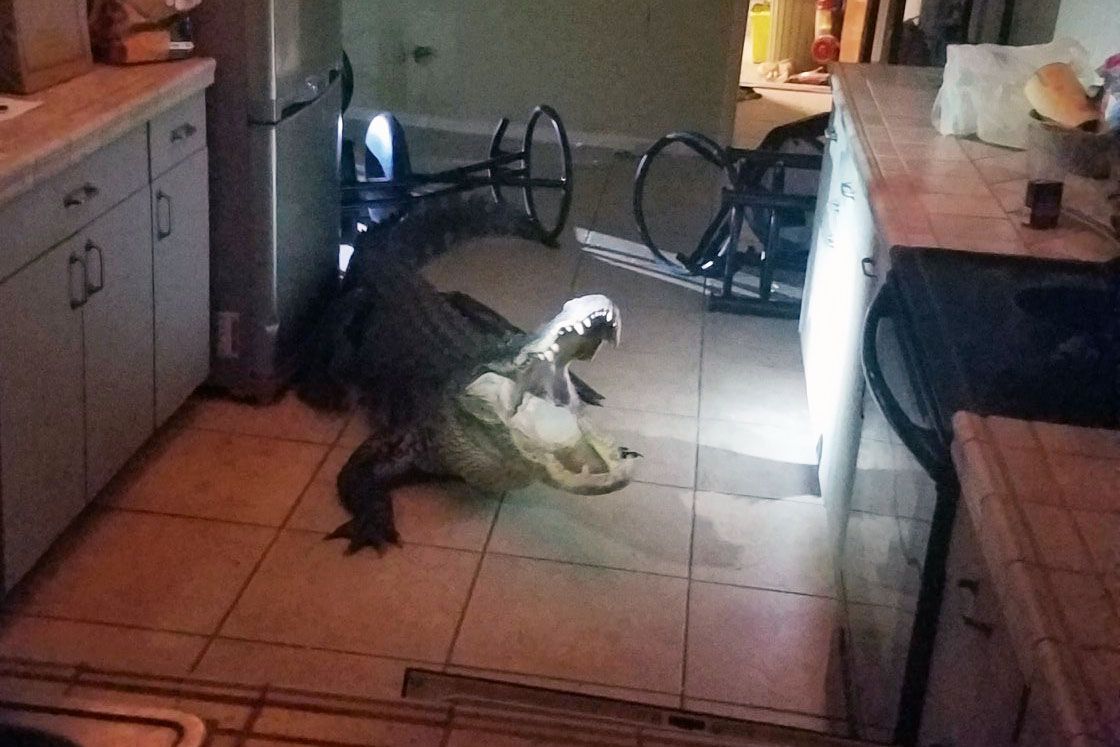 An alligator was removed from a home in Florida in the early hours of Friday morning, after a woman was woken up by the sound of the 11-foot animal.
A homeowner in Eagles Landing Circle West in Clearwater, a city to the west of the Tampa Bay area, called police after she found the animal on her kitchen floor.
According to the Clearwater Police Department, the alligator is thought to have entered the property through some low windows in the kitchen. The animal measured 11ft, the department said in a Facebook post.
Police arrived at the house, accompanied by a trapper who caught the alligator. No one was harmed during the rescue.
Images from the scene show a torch spotlight shining on the reptile. In one, it is seen baring its teeth and appearing to bellow. Another shows the creature being lured out of the kitchen through some low windows, and a final picture shows its mouth taped after it was retrieved.
The homeowner, who was unnamed, told Fox 13 she was woken up at around 3 a.m. by noises in her kitchen. She found her dining table had been broken and her walls damaged. The animal also broke into her stash of wine, she said.
Just three hours after the police department shared the post, it had received over 1,600 likes, was shared more than 4,700 times and garnered over 1,200 comments.
"Oh good lord have mercy!!" wrote one Facebook user beside some shocked face emoji.
"OMG, I would've had a heart attack on the spot," said another.
"One of the joys of living in Florida," a user joked.
Florida has the world's biggest population of American alligators, according to the Smithsonian's National Zoo and Conservation Biology Institute.
Jack Hanna, director emeritus of Columbus Zoo and Aquarium, told CBS News anyone who encounters an alligator should try to keep a distance of between 40ft to 50ft. An alligator has the ability to outrun any human from 20ft, he said.
The animals, characterized by their cone-shaped teeth and armored skin, pose a "mild threat" to humans, according to the Smithsonian's National Zoo and Conservation Biology Institute. "Alligators can become large and will feed on almost anything," the organization states.
"In Florida, where there is the greatest alligator population, there have been several reported deaths due to alligator attacks in recent years and human-alligator conflicts are common. Dogs and other pets are also sometimes killed," the institution's website explained.
Anyone in the state who needs a nuisance alligator removed can call Florida Fish and Wildlife Conservation Commission's Nuisance Alligator Hotline on 866-FWC-GATOR (866-392-4286).