12 Children in Arkansas Hospital with Delta Variant, Many with COVID Pneumonia
A dozen children in Arkansas are in the hospital with the Delta variant of COVID-19.
Dr. Rick Barr, the chief clinical officer at Arkansas Children's Hospital, warned of critically sick kids with the virus during an interview with CNN on Tuesday.
"The Delta variant is different than what we were seeing," Barr said. "We have 12 children admitted to the hospital now with COVID, that's triple our usual numbers we saw during the previous months of the pandemic, and they seem to be much sicker."
"Most of them are teenagers, and a number of them are in the ICU and have COVID pneumonia and a few respiratory failure," Barr continued.
Arkansas is one of four states experiencing a major spike in COVID-19 cases, according to data from John Hopkins University.
The Arkansas Department of Health reported 1,875 new cases of the virus on Tuesday, and 970 new active cases, pushing the total case count to 367,007 and the active case count to 11,475.
Hospitalizations rose by 49 from Monday, the health department reported, with 815 Arkansans now hospitalized from the virus. But there were no additional deaths reported, leaving the total at 6,007.
Dr. Jose Romero, the state's secretary of health, told CNN one of his "major fears" is the virus spreading in schools this fall as children return to in-person instruction.
"We're seeing outbreaks in sites that we didn't see last year," Romero said. "So we're seeing closures in daycares, we're seeing closures in summer camps, and all that leads me to believe that in a setting where you don't have strict mitigation that it will spread very, very quickly in our schools."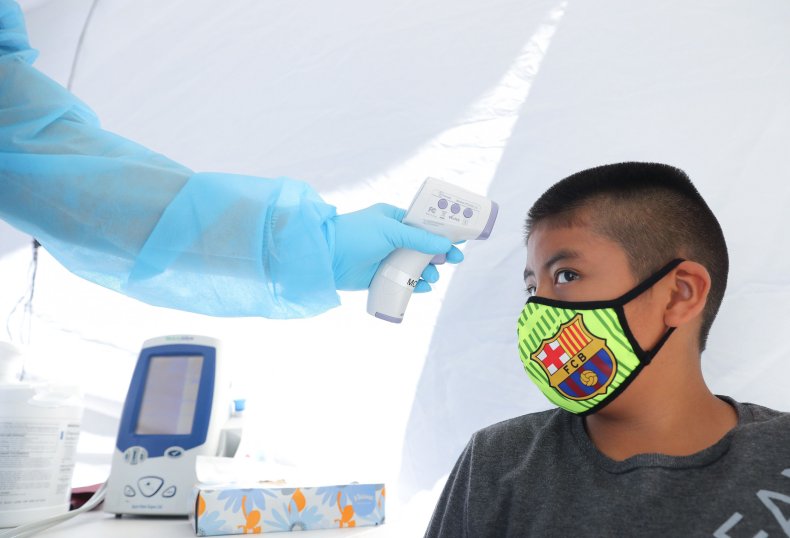 Romero said 99.5 percent of people currently in the hospital with COVID-19 are not vaccinated. There are 1,031,367 Arkansans who are fully immunized against the virus, according to the latest health department data.
Only children 12 and over are eligible to receive COVID-19 vaccinations in the United States. Barr from the Arkansas Children's Hospital said the teenagers being admitted to the hospital haven't been vaccinated.
One Arkansas mom recently pleaded for teenagers to get their COVID-19 vaccines after her 13-year-old daughter was admitted to Arkansas Children's Hospital.
"It's heartbreaking. I wish I would've made better choices for her," Angela Morris told KTHV last week.
Barr is urging children over the age of 2 to wear masks in schools—a recommendation recently made by the American Academy of Pediatrics (AAP).
"It's probably one of the most important things you can do to prevent transmission of the virus," Barr told CNN.
The Arkansas Department of Health told Newsweek it strongly recommends vaccination for all children 12 and older, and vaccination for everyone in the household and everyone that regularly interacts with children younger than 12.
"We are working very closely with the Arkansas Department of Education to provide recommendations to schools and school districts about how to minimize the spread of COVID-19 in the school setting and to prepare for handling outbreaks in schools when they occur," added Danyelle McNeill, the department's public information officer.
Update (7/21/2021, 4:30 p.m. Eastern): This story has been updated with additional comments from the Arkansas Department of Health.