12 Christmas Instagram Captions To Celebrate the Holidays
With the holiday season upon us, the pressure is on to shop for gifts, cook up treats, entertain guests—and to post it all on social media.
A few well-crafted posts about your holiday adventures (or misadventures) are all it takes to create a social media winter wonderland or provide some festive chuckles. Read on for caption ideas to top off your December social media posts.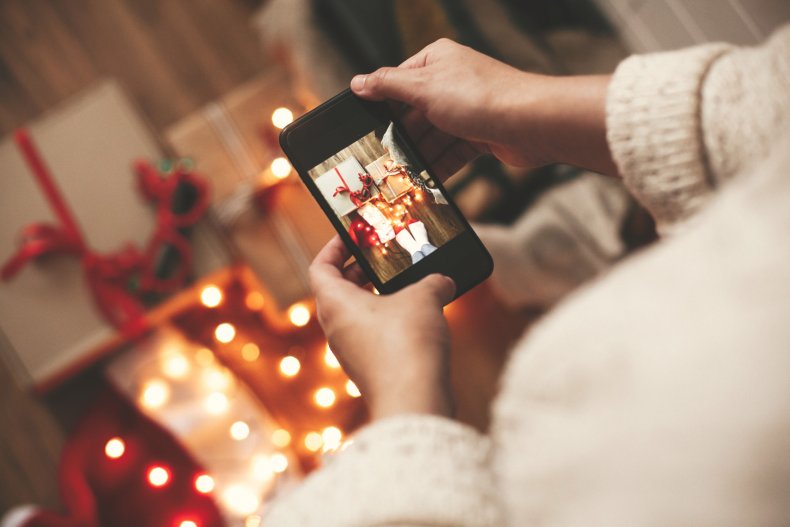 Festival of Lights
It's sparkle season! Use hashtags like #MerryAndBright, #ChristmasLights and #FestivalOfLights to brighten up your posts.
"May the light illuminate your hearts and shine in your life every day of the year. May everlasting peace be yours and upon our Earth." ―Eileen Anglin
Yuletide Yums
"The children were nestled all snug in their beds while visions of sugar plums danced in their heads." —from A Visit from St. Nicholas by Clement Clark Moore
"He took the Whos' feast, he took the Who pudding, he took the roast beast. He cleaned out that ice box as quick as a flash. Why, the Grinch even took their last can of Who hash."― from How the Grinch stole Christmas! by Dr. Seuss
Be sure to include hashtags such as #HolidayEats #JollyFoodie #HolidayMenu to highlight seasonal treats.
Not Just Your Ugly Christmas Sweater...
Hashtags such as #HolidayStyle #HolidaySpirit and #HolidaySwag #HolidayFashionTips can grab the attention of others seeking help with their winter wardrobes.
Sleigh, Queen!
Oh Christmas Tree!
"Deck the halls with boughs of holly, fa la la la la la la la! 'Tis the season to be jolly!" — from "Deck the Halls"
The Perfect Holiday Party
Use hashtags such as #HolidayParty #HappyHolidays and #HolidaySparkle to draw the attention of your remote party "guests."
"Christmas is a day of meaning and traditions, a special day spent in the warm circle of family and friends." —Margaret Thatcher
The Gift of the Magi
Trying wrapping your present posts with tags such as #ChristmasGifts #Giving #HolidaySpirit #JoyToTheWorld #GiftGiving #HolidayGiftGuide.
"Last Christmas, I gave you my heart, but the very next day, you gave it away." —"Last Christmas" by Wham!
"Hanukkah is / The Festival of Lights / Instead of one day of presents / We have eight crazy nights!" — from "The Hanukkah Song" by Adam Sandler
Season of Giving
Many charitable organizations take center stage around this time of year, though they could always use a little more help. Help inspire generosity to your favorite cause using #HolidayGiving, #Donations, #GoodCause or #HolidaySpirit.
"I will honor Christmas in my heart, and try to keep it all the year." —from A Christmas Carol by Charles Dickens
"Christmas is a tonic for our souls. It moves us to think of others rather than of ourselves. It directs our thoughts to giving." —B.C. Forbes
Christmas Crafting
Caption your handiwork with the hashtags #ChristmasCrafts #DIY #HolidaySpirit and #HolidaySwag to share the homespun magic!
It's ho-ho-homemade!
Read Any Good Books Lately?
If your stocking is bulging with books, be sure to use the hashtags #HolidayTBR #HolidayReading #BookBlogger and #HolidayReadAThon to engage with your fellow bookworms between outings this winter.
"T'was the night before Christmas, when all through the house, not a creature was stirring, not even a mouse." —Clement Clark Moore
The Holiday Vacay
Spending your Christmas away from home? Use the hashtags #HolidayVacay #HolidayTravels and #WinterWonderland to share the trip.
"The two most joyous times of the year are Christmas morning and the end of school." —Alice Cooper
"Mele Kalikimaka is the thing to say / On a bright Hawai'ian Christmas Day / That's the island greeting that we send to you / From the land where palm trees sway" —"Mele Kalikimaka" by Robert Alex Anderson
The Year in Review
Whether its feelings of gratitude or lessons learned, the winter holidays are always a popular time to reflect on the past year. Be sure to include the hashtags #WrapUp #NewYears #Reflections and #YearInReview to gain traction on wrap up.
"Should auld acquaintance be forgot, and never brought to mind? Should auld acquaintance be forgot, and auld lang syne?" —Dougie MacLean
Looking Ahead to 2020
Share your goals for 2020, and see if you met them when the holidays roll around next year by filing them under #NewYearsResolution, #2020 and the ever-popular #Goals.
"The thing about Christmas is that it almost doesn't matter what mood you're in or what kind of a year you've had—it's a fresh start." —Kelly Clarkson