12 Easy and Delicious Christmas Recipes To Satisfy Every Tastebud
With less than 24 hours to go until Christmas, you probably already have the presents for your loved ones wrapped and placed securely under the tree, and your groceries sitting firmly in the fridge. However, there's nothing wrong with getting a little last minute inspiration for your culinary creations, right?
Newsweek has put together a collection of 12 delightful Christmas recipes sure to satisfy the tastebuds of both you and your loved ones as you gather around the table this year.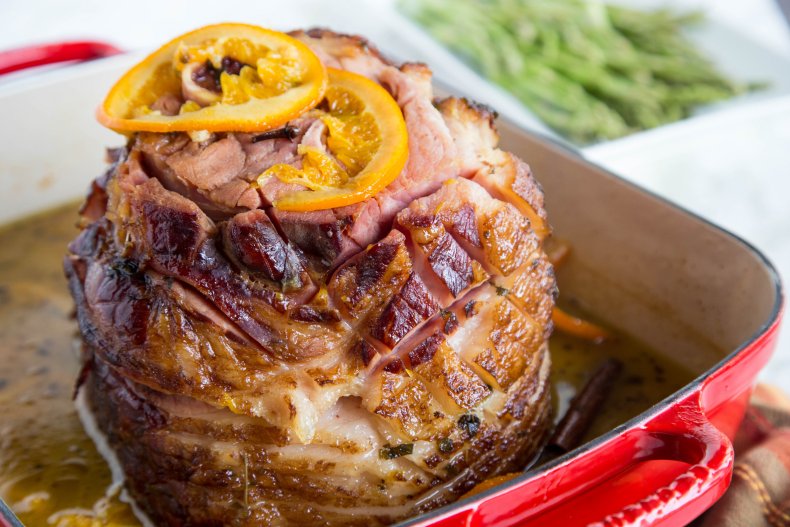 This out-of-the-box breakfast dish is a casserole of sorts that incorporates an unlikely combination of ingredients: ham, cheese, and cornflakes. Stay with us here. According to the recipe from foodie blog Jo Cooks, it can easily be prepared the night before and will require no more than a few minutes of baking on the morning of. Enjoy!
Baked Ham with a Tangerine Glaze
Along with turkey, ham is a traditional holiday meat that will be found on many dinner tables come Christmas day. This Food Network recipe puts a twist on the classic dish, offering step-by-step instructions on how to create a flavorful tangerine glaze to set atop a fresh-from-the-oven ham. For added inspiration, check out Erin Sellin's take on this recipe for her blog, Dinner, Dishes & Desserts!
Roasted Garlic Parmesan Shrimp
As a fun appetizer for any party, this shrimp recipe has been called a "classy appetizer that would be quick to make, yet very flavorful," by lifestyle blogger Michael Wurm Jr., the force behind Inspired by Charm. The pre-dinner snack will be a crowd-pleaser for those who enjoy shrimp, garlic and parmesan.
Parsnip Mash with Fried 
Brussels Sprout Leaves 

Brussels sprouts often get a bad rap in the vegetable world, but this recipe from Food & Wine contributor Jocelyn Guest shows that sprouts are not entirely bad...especially when served with a generous helping of mashed potatoes.
Speaking of potatoes, the food blogger behind the site Tastes of Lizzy T offers a delectable combination of potatoes and cheese to perfectly compliment that ham or other Christmas centerpiece. Just be sure to choose the right potatoes for your creation, she cautions.
Christmas Salad with Citrus-Champagne Vinaigrette
OK, a salad may be the last thing you're thinking of eating this Christmas, but a few extra greens never hurt anyone. The foodies at Two Healthy Kitchens describe their take on a Christmas salad as a "vibrantly beautiful"dish that doubles up as a "show-stopping, edible centerpiece." If you aren't intrigued yet, the site goes on to say the salad is "pretty greens are studded with crunchy pistachios, sweet and tangy pomegranate arils, and juicy oranges. Topped off with a sprinkling of creamy goat cheese and a refreshingly light champagne vinaigrette."
For those who craving bread options outside of the sphere of traditional rolls, Southern cuisine expert Diana Rattray offers maple and bacon cornbread as an exciting alternative. Writing for The Spruce Eats, Rattray said that "bacon pieces and maple syrup give this cornbread amazing flavor, and the maple and butter glaze is the perfect finishing touch."
With meatless lifestyles occupying a bigger part of mainstream consciousness, the holidays no longer need to be a stressful time for vegetarians or even vegans. Spouses Sonja and Alex Overhise offer instructions for creating a vegetarian meatloaf (including mushrooms, toasted nuts and two types of cheese) that would make the perfect main dish for any Christmas dinner table.
Baked Parmesan Crusted Salmon with Lemon Cream Sauce
Suppose you would rather have fish as the main meal on dinner table this holiday season. Creator of the Recipe Tin Eats blog Nagi Maehashi offers an easy-to-follow recipe for this stunner of a dish she will be serving at her Christmas dinner this year.
Olive Magazine calls this recipe "a great way to jazz-up carrots for Christmas Day." A citrus-kissed compliment to the tangerine-glazed ham recipe listed above, with these roasted carrots contain "clementines [that] add a festive touch, and lemon lifts the whole dish."
There is nothing quite as comforting as a piping hot plate of pasta during the holidays. Martha Stewart-inspired food expert Parrish Ritchie likes to jazz up her lasagna at Christmas by tossing in Italian sausage and creating a decorative tree pattern with bell peppers. She offers step-by-step instructions on her blog, Life with the Crust Cut Off.
Dinner is done and it's time for dessert, but everyone is getting a little tired of Christmas cookies at this point. What do you do? Break out the cake, of course! Taste of Home editor Lisa Kaminski has put together a recipe for a Yule log cake (or Buche de Noël) that will have you rolling the dessert into the traditional shape like an expert.