12-Foot Great White Shark Grabbed Boy From Fishing Boat and Dragged Him Into Water
A shark that dragged a 10-year-old boy out of a fishing boat in Australian waters earlier this month was likely a 12-foot-long great white, according to scientists.
The incident occurred on July 17 when the boy was in a fishing boat with his father and two other men off the northwest coast of Tasmania—an island state in Australia—ABC News reported.
After the shark grabbed the boy and pulled him into the water, his father jumped in after him. Fortunately, the animal quickly released the boy, although the 10-year-old suffered lacerations to his arms, chest and head.
While the shark responsible for the attack was not officially identified following the incident, eyewitnesses reported that it was a "big" specimen—likely a great white. Shortly after the attack, Tasmanian police issued a warning saying that a "large shark" had been spotted in waters close to where the incident occurred, ABC reported.
Now, marine scientists from The Commonwealth Scientific and Industrial Research Organisation (CSIRO)—an Australian federal government agency—have concluded the shark was likely a great white, measuring approximately 3.6 to 3.7 meters (11.8 to 12.1 feet) in length.
At the time of the attack, the boy was wearing a life jacket, which was damaged by the shark's bite. By analyzing the damage, the CSIRO scientists were able to determine what type and size of shark likely caused it.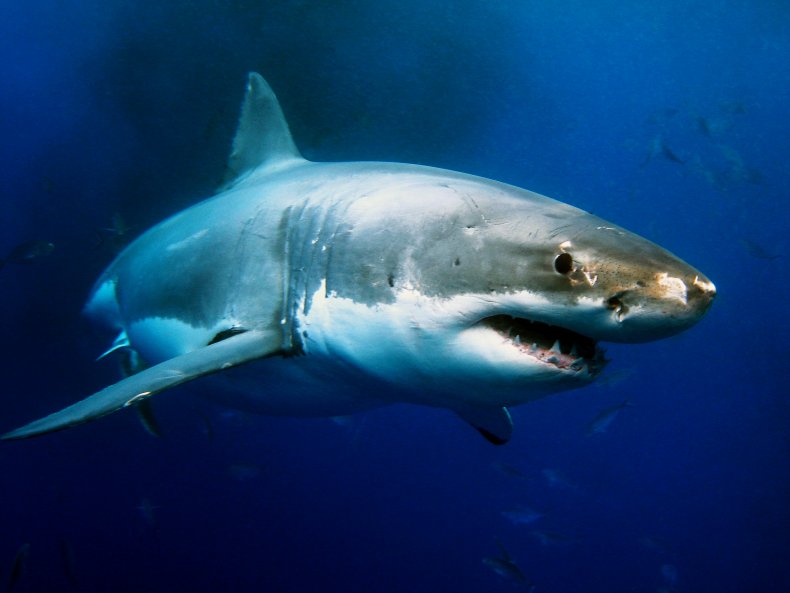 Tasmanian police said in a statement, according to ABC: "Whilst this has been an extraordinary event, it highlights the importance of wearing a well maintained and correctly fitted lifejacket as that, combined with the bravery of his father, helped save the boy's life.
"This has been a traumatic event for the boy and his family, and they are thankful for the continued privacy they are being afforded to enable their son to fully recover."
Chris Black, an Australian shark expert, told ABC the attack was a "freak incident," which may have occurred because the animal was curious about the boy.
"A shark is an opportunistic feeder, so it will investigate odor trails in the water or any silhouettes that it believes may be prey and once that happens, its natural hunting instinct will kick in," he said. "Sharks do not want to eat people. They do not intentionally eat people. We're not part of their normal diet."
Shark attacks on humans are extremely rare. In fact, there were only 64 confirmed unprovoked attacks around the world in 2019, five of which resulted in the death of the person involved, according to the International Shark Attack File (ISAF) operated by the Florida Museum of Natural History.
In fact, your odds of dying due to a shark attack are tiny—about one in 3.7 million. That means you have more chance of being killed by lightning, according to ISAF.