12-Foot Python Gets Loose Inside Louisiana Mall, Forces Closures
A 12-foot-long python escaped from an aquarium zoo located inside the Mall of Louisiana on Tuesday, forcing down closures as authorities scrambled to locate the large snake.
A spokesperson from the St. George Fire Department in Baton Rouge, Louisiana, confirmed to Newsweek that the Blue Zoo located inside the mall was closed after the female python escaped her closure on Tuesday morning.
Firefighters were dispatched to the mall around 10:20 a.m. to assist officials with Baton Rouge animal control in locating the animal.
Officials say the snake, a Burmese python named Cara, was likely still located within the zoo and may have climbed into the ceiling, WBRZ reported. By Tuesday afternoon it was not immediately clear how the snake managed to escape, or whether or not the animal had been found.
Managers at the Blue Zoo said they voluntarily closed the store on Tuesday out of caution for the snake's safety. The zoo said that Cara is a "very friendly," non-venomous snake that often enjoys interacting with zoo visitors.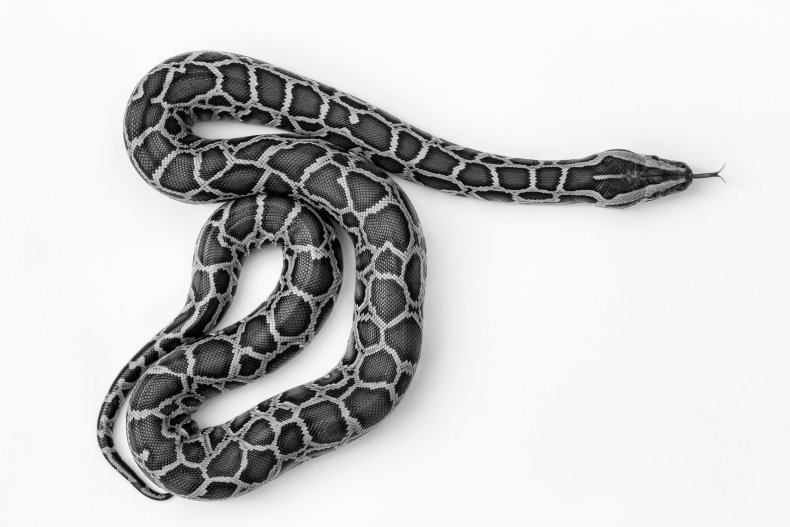 "While we've created a very secure home for Cara, our Burmese python, she has slithered out of her exhibit. Cara is a non-poisonous, friendly snake that enjoys her time interacting with guests during our Snake Education Shows," the Blue Zoo said in a statement.
"Cara is an adored member of our Blue Zoo family. The safety of our animals is of utmost importance to us, so to ensure Cara's safety, we will be closed for the day. Please check back for updates and opening times," the zoo added.
Newsweek contacted the Blue Zoo for additional information and will update this story as it becomes available.
Elsewhere, homeowners in Queensland state, Australia, were shocked on Monday when they found a huge carpet python eating a bird while hanging upside down from their gutter. Video footage of the incident shows the snake attempting to swallow the bird whole, with several loose feathers strewn across its body.
"It is crazy how big a food item they can eat—usually four or five times bigger than their head," Stuart McKenzie, a snake removal specialist, said of the 10-foot-long python.
That same day, a 65-year-old man in Austria found a five-foot-long albino python slithering up his toilet. The man was treated for minor injuries after he felt "a 'tweak' in the area of genitals," and was bit by the snake while going to the bathroom, according to local police.
The snake belonged to his 24-year-old neighbor, a reptile enthusiast whose nearby apartment also contained 10 other snakes and a gecko. Police said that it was not clear how the snake had escaped from its terrarium, but that it "possibly entered the toilet via the sewer system."