Two Families Missing in Texas After Vacation Home Is Swept Away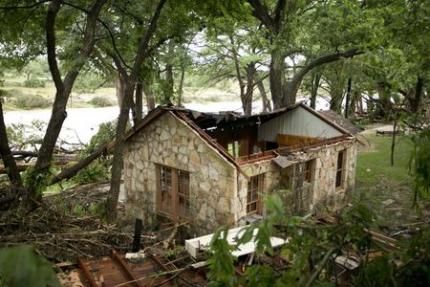 Texas officials on Tuesday morning continued their search for 12 members of two different families who went missing more than 48 hours ago after flooding swept their vacation home from its foundation in the popular tourist town of Wimberley.
Severe weather conditions that began over the weekend and continued into the week in Texas destroyed more than 1,000 homes and displaced thousands of residents, according to the Associated Press. Governor Greg Abbott declared disaster in 37 counties. Flooding continued Tuesday morning throughout the Lone Star State, according to the Weather Channel.
At least eight people have died in the past three days in Texas and Oklahoma. Officials believe tornadoes killed one person in each state on Monday. A tornado across the Texas-Mexico border on Monday killed 13 people in Ciudad Acuña, according to the AP. Five individuals are missing.
In Austin, emergency crews responded to more than 20 high-water rescues on Monday, according to The Dallas Morning News.
Nearly a foot of rain fell in 24 hours in the Houston metro area, an event the Weather Channel deemed as "historic." City authorities are urging residents not to leave their homes because of flooding on the roads. Between 6 and 10 inches of rain fell in the area the previous night, which caused an announcer at the Houston Rockets to advise fans to stay inside the Toyota Center.