12 Ways to Project Authenticity in a Virtual World
The ramifications of the pandemic forced many leaders to collaborate virtually with their team and clients. Here's how to project authenticity online.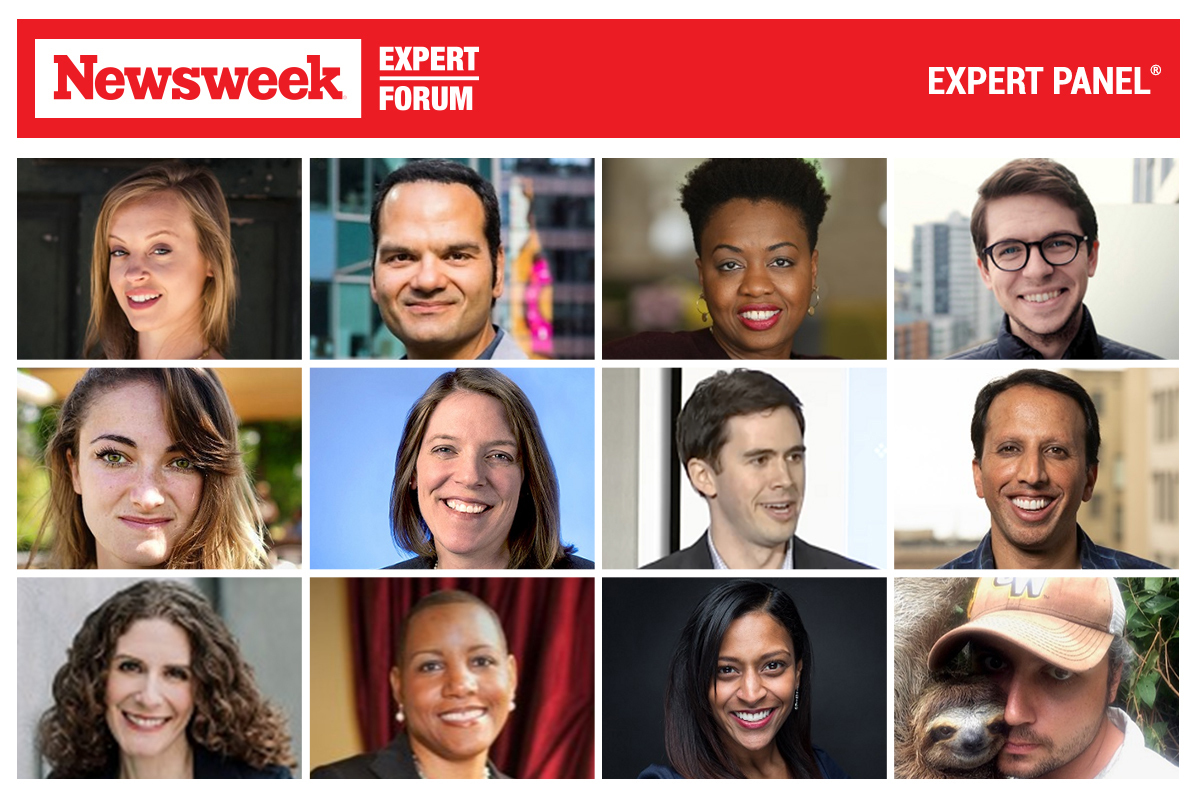 The ramifications of the pandemic unexpectedly forced many organizations to a remote workforce and left leaders having to try alternative approaches to collaboration, including connecting virtually with their team and clients.
Those who had experience leading a remote team long before COVID-19, however, can attest that authenticity and vulnerability go a long way into driving engagement in a primarily virtual world. Here, experts from Newsweek Expert Forum share 12 things leaders and professionals can do to foster connection and project authenticity in a remote environment.
1. Remember That You're Human
The virtual world provides so many amazing opportunities, such as the ability to break boundaries of geography and the ability to streamline with automations. However, there's a balance to be struck between using these benefits to our advantage and still being a real human being behind the technology. To maintain your "special sauce" of authenticity and engage responsibly in the virtual world, never forget that you're a human selling to humans. Keep your actions rooted in the intentional values that make you you and the balance of using the power of the internet responsibly will more easily be struck. - Emily Thompson, Being Boss
2. Acknowledge Vulnerabilities
COVID-19 showed the vulnerability of our societies. As such, it provides an amazing opportunity for leaders to acknowledge organizational and personal vulnerabilities when communicating both internally and externally. This is a time to acknowledge our mutual need for support and interdependency, cherishing our shared humanity in an otherwise impersonal corporate structure. - Ali Mostashari, LifeNome
3. Be Responsive
Thought leaders and professionals can project authenticity and engagement by being responsive to their networks. Although it can be tempting to automate many of our processes, it is still necessary to have direct contact with your community. People want to feel connected to those they follow. - LaKesha Womack, Womack Consulting Group
The Newsweek Expert Forum
is a private, vetted community where pioneering thinkers and industry leaders go to share their insights on business, culture & arts, health, money, science, sports, travel & lifestyle, and technology.
Do I qualify?
4. Be Open and Honest
Leaders and professionals must be open and honest about the difficulties they are facing. The standard, especially in Silicon Valley startups, is always to project that your startup is doing well or "killing it" constantly. This is not a true reality that anyone faces, especially for those who have worked at a startup before, and this hurts authenticity. - Evan Ehrenberg, Clara Health
5. Recreate Spontaneous Connections
As a business leader, I like to have one-on-one Zoom calls regularly with everyone in my company. Since we're not in the office, we lose the spontaneity of running into a coworker in the hallway and connecting over a quick coffee. Making the extra effort now to create those opportunities to connect with your employees will go a long way toward making sure your team feels seen, heard and valued. - Rebecca Krauthamer, Quantum Thought
6. Focus on the Person You're Communicating With
Maintaining communication in a style that is appreciated by the person you are communicating with and striving to understand their needs first are the keys to successful engagement. While you should have a clear picture of your goals for any engagement, you should also have a clear picture of the goals of the person on the other side, taking into account their preferences. You may have great success using video calls to connect with certain individuals, but others will be more receptive to your message if it is delivered by phone or email. Taking the time to consider the perspective of the person on the other side can pay great dividends. - Lori McGee, Jetstream Aviation Law, P.A.
7. Share Successes and Challenges
It's okay to be human. Share both successes and challenges (e.g. vulnerability) with others. Take frequent breaks to recharge and ensure that your productivity is moving you closer to worthwhile goals. - Ethan Hawkes, PlacePass
8. Empathize With the Challenges of Others
Honesty and transparency are critical to the success of a leader. With people working remotely and largely siloed, thought leaders need to empathize with the challenges that everyone is facing. Leaders need to spend more time with customers and their teams to drive greater credibility and buy-in. Finally, it is critical to slow down, communicate simply and focus on big rocks that will drive the greatest impact for the business. - Nikesh Parekh, Suplari, Inc.
9. Build From the Inside Out
Leaders have to build their brands from the inside out. They can't simply make empty marketing promises if their internal processes don't align to external gestures, or they don't hire for, reward and model the behaviors they seek. That means hiring the right people with high EQ to serve customers and ensuring everyone has the latitude they need to solve problems on the spot without a lot of red tape. It also means crafting more conversational and caring customer and marketing messages (even if automated) and ensuring humans can and will go off script when needed to meet customer needs. It's not about projection; it's about actually walking the walk with the customers, even if that online interaction only lasts five minutes. If you do that, authentic and engaging will be how customers see you, whether that's in-person or virtually. - Maria Ross, Red Slice, LLC
10. Have Clarity of Vision
Clarity of vision helps when it comes to authenticity. Knowing your purpose keeps you true to who you are and your life's journey. Therefore, authenticity comes across virtually or in-person. - Zaneilia Harris, Harris & Harris Wealth Management Group, LLC
11. Stick With Natural Communication Channels
Leaders and professionals can project authenticity and enhance engagement in our virtual world by sticking with communication channels that feel more natural to the leader versus forcing the use of new channels or technology for these needs. It's important to communicate with stakeholders (employees, customers, investors, etc.) in a natural manner, which may not be a "Tik Tok-type" video. It might be a quick video via from the leader's phone or LinkedIn, or an audio recording in a podcast-like manner. - Natasha Bansgopaul, VegaX Holdings
12. Let Others Hear Your Authenticity
Scripts can contribute to the death of authenticity. There are performers who are masters of reading scripts or reciting something that's been rehearsed but still sounds off the cuff. That ability is both a talent and a developed skill, which isn't always feasible for professionals from other fields, especially with the added stressors of operating in a virtual world. When it comes to our podcast, the simplest way to authenticity is letting our listeners hear us being authentic with each other, which fortunately comes naturally, and thus they feel like friends and part of the conversation themselves. - Ryan Haupt, Science... sort of