12-Year-Old Boy Shot Dead While Celebrating Thanksgiving With His Family
A boy in San Diego was fatally struck by a stray bullet while he was outside during a Thanksgiving gathering, his family said.
Angel Domingo Gaspar Gallegos, 12, was in the backyard of a home Thursday evening with about a dozen of his cousins when the incident occurred, the San Diego Union-Tribune reported.
"We thought my backyard was the safest place in the world for the kids to play," said Maria Gaspar, the boy's aunt, according to the paper.
After the boy was shot, his mother reportedly tried to stop the bleeding from his back as first responders arrived.
Angel was later taken to a hospital, where he died.
Gaspar said that there were 40 members at the home for the holiday gathering. According to the Union-Tribune, she said the bullet seemed to come from the home of a neighbor.
Police investigating the incident said Friday that they didn't have a "suspect description" to release yet, reported local news station Fox 5.
"Detectives are attempting to locate evidence and any possible witnesses," San Diego Police Lt. Adam Sharki said Friday, per the station.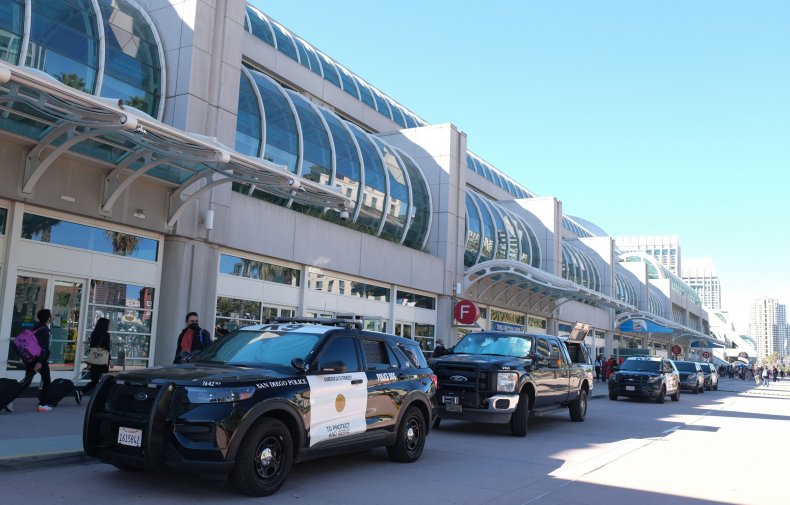 Police said Saturday that they could not release any details about the ongoing investigation, and added that they didn't know whether the case would be a homicide or if it was an accidental gun discharge.
Newsweek reached out to police in San Diego for additional details and updates about their investigation but did not hear back in time for publication on Sunday afternoon.
A GoFundMe page set up for Angel's family stated that he was "born happy, joyful and full of life."
"He was taken from us too early at age 12. He was a wonderful older brother to Gabriel and sister Brianna and was loved by all that knew him," the page read.
"While we celebrated our family gathering together in our backyard, a stray bullet came through our fence and struck him in the back. Family members came to his aid in an attempt to stabilize him until paramedics arrived. He was rushed to UCSD Hospital and sadly he succumbed to his injuries and passed early Friday Morning," it continued.
In another tragic incident on Thanksgiving, a man in Pennsylvania was fatally shot by a stray bullet while eating dinner with his family. Edilberto Miguel Palaez Moctezuma, 25 had been celebrating the holiday at home in Norristown when a bullet fired from the street broke through a window and struck his torso. Authorities said they were looking for Kevon Clarke, 19, who they believe fired the shot.