12-Year-Old Boy Who Spray-Painted Pro-Hong Kong Slogans Youngest Person Convicted in Protests
The youngest person to be convicted in the Hong Kong protests cannot be legally named because he's only 12 years old.
The boy spray-painted "damn rogue cops" and "divine annihilation, free HK" on the walls of Mong Kok Police Station and Prince Edward MTR station on October 3. He freely admitted his wrongdoing.
During the court hearing, prosecutors painted the picture of a plain-clothes police officer tracking the child with great zeal—from watching him vandalize the walls of the police station and metro station to following the child home and staking out the place all night.
The following morning when the child left for school, the officer-in-hiding ambushed him, searched his home and found black paint. He was then arrested and held overnight at a police station, though it hasn't been confirmed if it was the station the child had personally spray-painted.
Jacqueline Lam, the boy's lawyer, said staying at the police station was an "important lesson" for him and asked for leniency.
"I ask the court to give him a chance," said Lam. "After all, he's just 12 years of age."
More than 5,000 arrests have been made since the protests began in June. Hong Kong officials said a third of 2,379 protesters arrested during the first four months were under 18.
A large number of children between the ages of 12 and 15 have been arrested, sparking outrage in the community, though the first one to be convicted was Lam's client.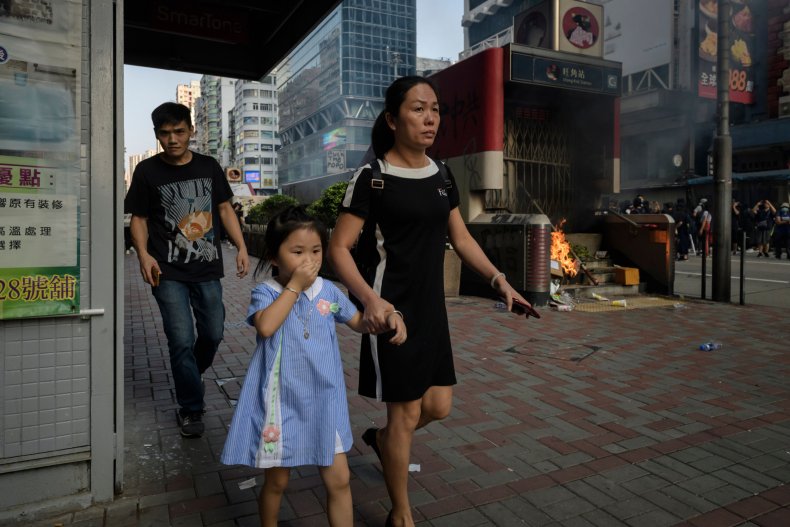 "[The government] says this is 'heartbreaking' but doesn't ask why. Youth is rising up. They know they're fighting for their future against a dictatorial regime," tweeted Kong Tsung-gan, author of a book of essays about the Hong Kong freedom struggle.
Recent weeks have also seen a growing number of injured children in the increasingly violent protests.
An 18-year-old high school student was shot in the chest by a Hong Kong policeman on China's National Day on October 1, and a 14-year-old was shot in the leg by a police officer during protests against the anti-mask ban. And in a recent protest, an 11-year-old sustained an injury and was sent to the hospital.
Protesters inside Polytechnic University on the Kowloon peninsula were also comprised of students, where the sprawling campus was occupied by demonstrators for over a week.
Hundreds of students, including secondary school students, were trapped inside for more than 24 hours, but the siege appears to be nearing the end, after some of the worst violence since the demonstrations began.
The graphic below, provided by Statista, illustrates the demographics of Hong Kong protesters.