12-Year-Old Girl Who Accidentally Shot Classmate In The Head Thought Gun Was A 'Fake' Weapon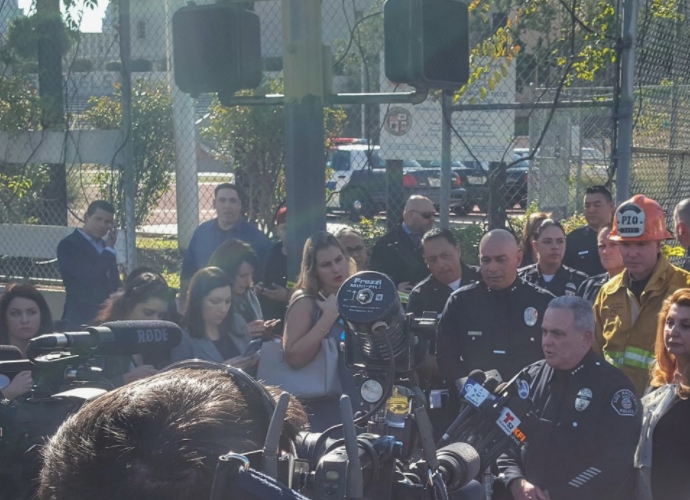 A 12-year-old girl who was arrested after accidentally shooting a classmate in the head and injuring three others thought the weapon was "fake," one of her peers alleged.
Los Angeles police booked the child on suspicion of negligent discharge of a firearm on Thursday after a gun was fired at Sal Castro Middle School.
Police said a 15-year-old boy was shot in the temple and was reported to be in stable, but critical condition. A 15-year-old girl was also shot in the wrist, but was said to be in "fair condition." Three other people sustained minor injuries in the incident.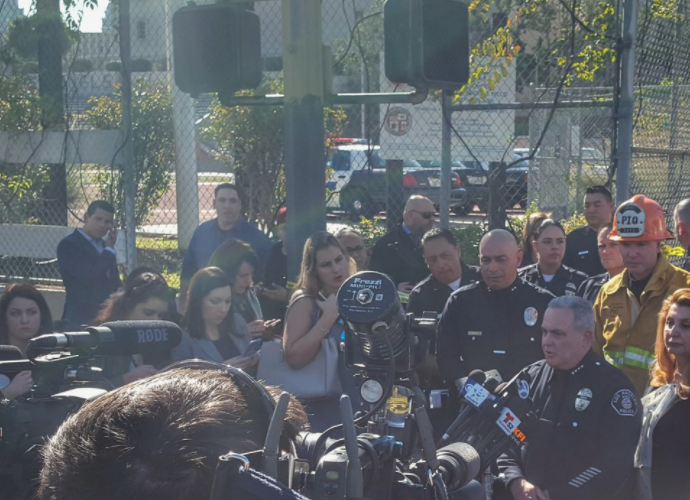 Spokesman Josh Rubenstein said police do not believe the shooting was intentional.
"At this time, the information suggests that this was an isolated incident, involving the negligent discharge of a firearm, where innocent children and a staff member were unfortunately injured," the LAPD said in a statement Thursday.
At least one student who was in the classroom when shots were fired told a reporter he thought the gunfire had been unintentional.
"Someone decided to bring a gun, I guess someone was accidentally playing around with it," the 12-year-old seventh-grader, whose guardian asked that he not be identified, told the Los Angeles times. "They thought it was a fake gun," he said.
The U.S. Gun Violence Archive, an organization that tracks shootings in the U.S., said there were more than 2,000 documented unintentional shootings in the country in 2017 alone.
Both Sal Castro MS and Belmont High School, which is on the same grounds, were put under lockdown while police responded to the incident.
Officers could be seen leading a handcuffed girl to a waiting squad car in news footage shot from a helicopter.
In a press conference, Los Angeles School Police Chief Steve Zipperman questioned how a young person could have gotten access to a gun and brought it onto school property.
He warned that gun owners must be vigilant in keeping their weapons secure and out of reach from children.
Read more: Days After School Shooting, Police Prevent Another Potential Rampage
Commanding officer of operations central Robert Arcos said officers are still investigating the circumstances surrounding the incident.
"As a parent, this is everyone's worst case nightmare, worst case scenario and a nightmare for all of us," he told reporters and parents outside the school on Thursday.
"There is a lot of work to be done as you can imagine. There's a number of students and teachers and administrators that we will need to interview and there will be a number of follow-ups that will come from that investigation," he said.
12-Year-Old Girl Who Accidentally Shot Classmate In The Head Thought Gun Was A 'Fake' Weapon | U.S.