12-Year-Old Highlands Ranch Student Says He Was 'Ready To Go Down Fighting' By Using A Baseball Bat To Defend Against Shooters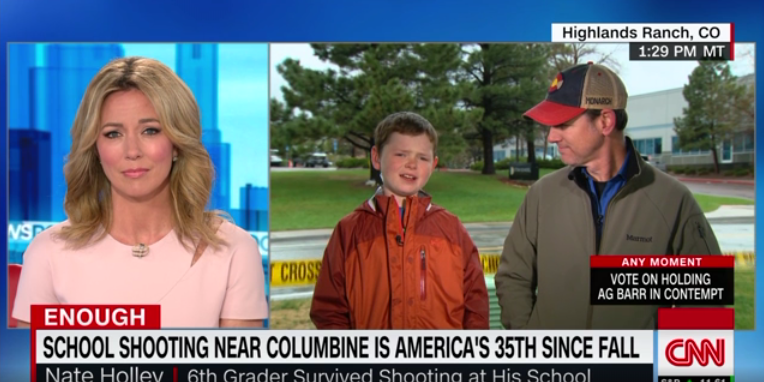 During an appearance on CNN Wednesday, a sixth-grade student at STEM Highlands Ranch recounted his experience during the shooting that occurred at his school in Colorado on Tuesday.
Nate Holley appeared with his father, Steve Holley, on CNN Newsroom With Brooke Baldwin and offered a sobering account of his experience as two gunmen walked into the school and began firing, ultimately killing one student and injured eight others.
"It was incredibly scary during it, and at least half the kids in my class broke into tears when it started happening. It was incredibly scary, and our teacher had us hide in the closet," Holley told Baldwin when she asked how he was doing, to which Holley said he was "doing okay."
Baldwin then asked Holley to describe what happened when the shooting began, and Holley explained that due to "sensitive ears" he heard the shots and froze at the sound.
"Then the siren came on, and our teacher, and somebody started cracking a joke, and the teacher told them to shut up, and then she had us hide behind her desk," Holley said before adding that when the shooters moved closer to his classroom, his teacher instructed the class to hide in a closet.
"I was hiding in the corner, and they were right outside the door. I had my hand on a metal baseball bat just in case. Cuz I was going to go down fighting if I was going to go down," Holley said.
The Highlands Park shooting is the 12th shooting that has occurred on a school campus since January 2019, and the 42nd shooting to occur since August 2018, according to the K-12 Shooter Database. On Wednesday's show, Baldwin shared statistics as she sat silently next to a television monitor that displayed the numbers of school shootings and deaths due to gun violence, along with clips of parents and others in Highlands Park reacting to Tuesday's shooting. Newsweek could not verify the source for the number of school shootings used in the segment, though CNN uses their own tracking parameters to monitor school shootings.
Later in the interview, Baldwin asked Nate's father, Steve, about his emotions following the shooting and hearing his son describe what he went through.
"I don't think you can process that," Steve Holley said. "I think this community, and here in Colorado, we've been through so much recently. And as I mentioned in one of my first tweets that I sent out, this is the third time I've had to pick up my kids from a lockdown after school due to a school shooting or the threat of a school shooting," Holley added that his family lives in the Littleton School District, the location of the Arapahoe school shooting in 2013.
"We don't live in this district, we choiced in," Holley said. "It feels like this, for whatever reason, continues to happen out here. Enough is enough, we need to make a change and we need to do something or else we're just going to continue failing our kids. The fact that my 12-year-old has to tell you that and everyone else that, you know, the situation that he went through I certainly couldn't have done it when I was his age and my wife and I, we've been on the verge of tears since. So we're still trying to process this."
The victim of Tuesday's shooting, 18-year-old Kendrick Castillo, and two other students reportedly disarmed one of the suspects, an act which police said likely kept the shooting from being significantly worse.
The two suspects, 18-year-old Devon Erickson and 16-year-old Alec McKinney, appeared in court on Wednesday and are each being held on suspicion of first-degree murder and attempted murder. Official charges will be presented during a court hearing on Friday.
It is unknown if McKinney will be tried as an adult.
12-Year-Old Highlands Ranch Student Says He Was 'Ready To Go Down Fighting' By Using A Baseball Bat To Defend Against Shooters | U.S.