In the latest tragic instance of an internet-hack-gone-wrong, a young girl in Lancashire, England, was seriously injured after a microwaved poached egg exploded in her face.
According to Lancs Live, the horrifying incident occurred last fall, but 12-year-old Kadie Law and her mom, Kirsty Brown, have only recently taken the story public, in hopes of raising awareness regarding the potentially-dangerous trend.
Law was reportedly cooking up an egg to eat as a snack, using a method that's popular online: cracking the egg in boiling water and then microwaving it for 90 seconds. But as she reached into a cabinet, after cooking and removing the egg from the microwave, the egg exploded and sprayed her face with its scalding interior.
Brown's fiancé Michael Sale immediately put Law in a cool shower while Brown packed Law's belongings, preparing to take her to the hospital.
Luckily, Law managed to close her eyes in time, meaning her eyesight was not affected by the accident. However, the skin on her face was severely burned. Now, Law must wear 50 SPF sunscreen and a hat at all times, and she's not allowed to wear makeup. Additionally, and perhaps most alarmingly, Law is reportedly prohibited from going outside between the hours of 11 a.m. and 4 p.m.—a practice she must maintain for the next two years.
"It went straight on my eyes," Law told Lancs Live. "I'm lucky not to be blind. It's the most painful thing I've ever experienced."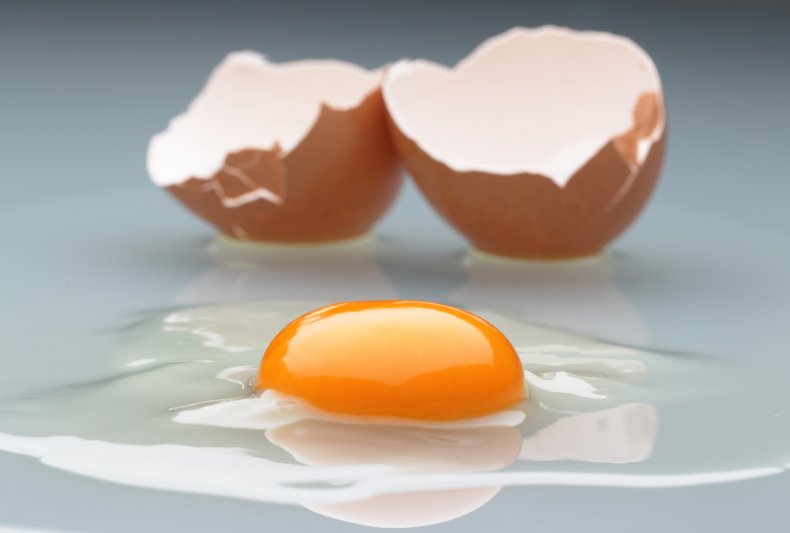 Variations of this particular egg-cooking hack have circulated online for years, particularly on lifestyle and cooking sites, in addition to social media. However, Law is not the first person to be injured while attempting it. Several others have reported the hack resulted in explosions, sometimes causing serious harm.
Wrote one Twitter user just last week: "Anna sent me a TikTok this morning of a man making a poached egg in the microwave and apparently it's my fault that every inch of our microwave is now covered in exploded egg..."
Another, from last year, reads: "Mum's spending the afternoon with a wet towel wrapped round her chops after a poached egg exploded in her face coming out of the microwave."
As recently as April, a woman in Northern Ireland made headlines after seeing the hack demonstrated on a TV talk show—just as it did with Law, the egg exploded onto the woman's face and caused serious burns.
Brown wants to use her daughter's experience to educate others on the popular and seemingly-harmless cooking method. "At that age you want to teach them independence," she explained to Lancs Live. "You think the microwave would be safer because pans sometimes spit and the oven can get so hot, you think a microwave would be fine but it gets so hot so quickly."
Recounting that night, Brown said she "heard an ear-piercing scream." When she realized Law had been burned, the mom-of-three said she initially "thought it wouldn't be too bad as kids tend to be dramatic."
However, as Law was in the shower, Brown soon realized that she would need to take her daughter to the hospital.
"I left her under there for 40 minutes while I packed her a bag and wet a load of towels and blankets to take in the car where she lay with them on her face," recalled Brown. "It was a 30-minute drive to hospital. I was surprised by how calm Kadie was, she wasn't complaining of pain, while I was frantic."
At the hospital, doctors reportedly scraped off the top layer of burned skin, then applied olive oil and bandages.
If one plans to attempt the egg-poaching hack, Brown "[advises] people to use a lower heat [setting] and not use boiling water." She added, "It was shocking to see something as simple as cooking an egg cause all that, you don't expect it at all."