As Florida continues to battle rising coronavirus cases driven by the Delta variant, a 12-year-old girl met with a campaigning candidate preparing to run against Governor Ron DeSantis to explain why the state's schools need mask mandates.
Lila Hartley met with Florida Agriculture Commissioner Nicole "Nikki" Fried during a video chat Monday to discuss DeSantis' recent decision to ban schools from mandating masks.
Lila had previously sent a letter to Duval County School District officials, asking them to consider the children who aren't old enough to receive a COVID-19 vaccine, including her 10-year-old brother.
"I am so worried...I don't know what I would do if he died.... Masks save lives that's a fact," she wrote. "Many others would feel so much safer if masks were required."
She continued, "Masks are important so we can continue to enjoy in-person school and not have to hurt families and staff by this terrible virus."
Fried, the Democratic gubernatorial hopeful, has been openly pushing for Florida residents to wear masks and get vaccinated.
In the virtual meeting with Hartley, Fried stated, "This has got to be local control, local school boards, local county and city commissions, because they know what's right for their own communities. But of course, we also need to be listening to the science."
She mentioned the Center for Disease Control and Prevention's (CDC) newest recommendation that anyone, vaccinated or unvaccinated, wear a mask when going in public places.
Fried said in a press conference last week, "We are left completely in the dark—that is exactly what's happening right now. Which is why, daily, I am trying to get as much information to the public."
After speaking with Hartley on Monday, Lila tweeted, "Florida's Capital City and County just mandated masks grades K-8th grade," tagging the Leon County School District. She then thanked the superintendent, Rocky Hanna.
To ban school districts from imposing mask mandates, DeSantis signed an executive order on July 30 to protect "parents' freedom to choose" what is right for their children.
The Florida Department of Education said it would be withholding "state funds, discretionary grant funds, discretionary lottery funds or any other funds" from school districts that try to mandate face masks in their schools.
Still, schools and school boards are worried as Florida continues to see surging coronavirus cases. Multiple county school districts in the state have found a way around DeSantis' order and implemented mask mandates.
Interim Palm Beach County Superintendent Mike Burke said in a statement, "Parents and guardians, I have heard your passionate pleas on both sides of this debate during school board meetings. I have also read your messages via email. I have considered all of your input. However, I must make decisions that safeguard the health and well-being of our students and staff."
Parents are allowed to exclude their children from the mandate.
Florida has the highest number of children hospitalized from COVID-19 of any state, with 172 currently being treated in medical facilities, according to data released by the U.S. Department of Health and Human Services on Sunday.
"Our pediatricians, the nursing, the staff are exhausted, and the children are suffering," said Dr. Aileen Marty, an infectious disease expert at Florida International University. "And it is absolutely devastating.... Our children are very much affected. We've never seen numbers like this before."
Newsweek reached out to an officer of communications for the Department of Agriculture, who had provided the full video of the conference with Commissioner Fried.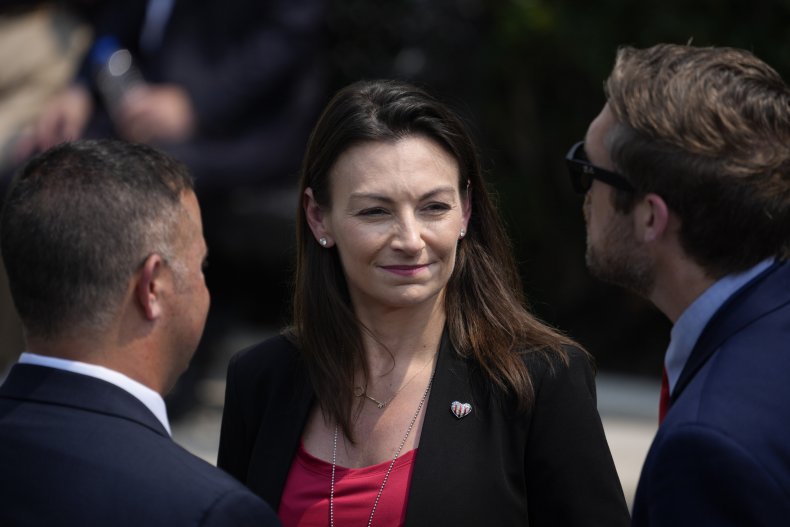 Updated 8/9/2021, 5:41 p.m. ET: This story has been updated with statements from Florida Agriculture Commissioner Nicole "Nikki" Fried.