'$1,200 Later': Officer Arrests Diners at Waffle House for Playing Music in Viral Video
A viral video circulating social media showed the moment a cop in Tennessee arrested two diners at a Waffle House for allegedly disrupting his coffee break.
Carlos Gaena, who goes by @jarochito51 on TikTok, uploaded the video on Saturday and has so far received more than 531,800 views and 4,300 comments.
"Funny how they can just accuse you without proof of anything" the caption of the video read. "I respect the law but not this kind. 1,200 dollars later."
In the three-minute video, the officer told Gaena and his friend that they could not "cause a scene inside the store." The incident occurred on October 10 at approximately 3:40 a.m., The Advocate & Democrat reported, but the video was posted over the weekend.
"After a fun night with my homie we got arrested for playing some laberinto music at the Waffle House," the on-screen text read. "I guess he doesn't like our music."
The officer from the video was identified as Wes Martin, an officer with the Madisonville Police Department in Tennessee. Martin is also running for Monroe County Commissioner.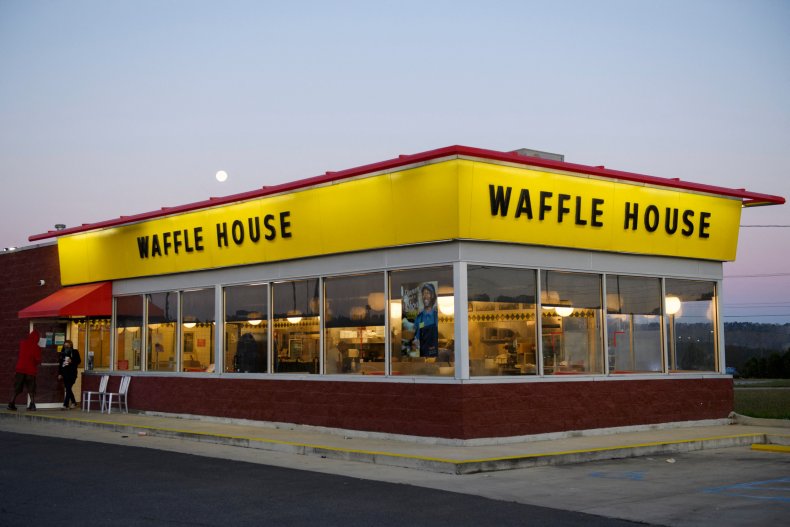 Martin told The Advocate and Democratthat he was at the Waffle House eating his breakfast when the two men allegedly began yelling and whistling inside the restaurant. He said he announced his presence and asked the men to quiet down, but when they didn't he approached them.
Martin began arguing with Gaena and the officer claimed Gaena's eyes were red and he smelled like alcohol, the newspaper reported.
"When I can hear you all the way over there, there's a problem," Martin said to the men in the video. "What I'm telling you is, you can eat in peace, or you can go to jail."
After some back and forth, Martin asked Gaena to stand up.
"You're going to jail, stand up," Martin said in the video. "Stand up or I'm gonna yank you up."
Gaena was then handcuffed and escorted out of the Waffle House and asked his friend, who has been identified as Rodriguez Escobar, to record the entire incident. Escobar then talked to Martin outside of the cop car and said there was no need for the exchange. Martin then asked how much the men had to drink.
"You've had something, I can smell it," Martin said.
Escobar replied that he did not have anything to drink.
In part two, Martin accused the men of "hootin' and hollerin'" and "causing a scene" inside the restaurant. He said he was just trying to enjoy his coffee in "peace" but was unable to.
"This is not right," the on-screen text from the video read. "Nobody was arguing with him."
Eventually, Martin asked Escobar to place the phone on top of the car because he was also under arrest.
"You're going to jail, put the phone down," Martin said.
Both men were charged with public intoxication and disorderly conduct.
Many users swarmed to the comments and mentioned that they believed the arrest was racially motivated.
"Bet if it were a white family singing some Taylor Swift they wouldn't have a problem," one user commented.
"Take it to court," another wrote. "Show this video to the judge, cop will be laughed at and judge will drop this."
Gaena replied in the comments saying that although the charges were dropped, he had to pay $1,200.
"This is not right," Gaena replied.
Another user commented that both men were cordial with the cop and should get a lawyer.
"He can't arrest you if the restaurant didn't even ask you to leave, that was discrimination," the user commented.
In a follow-up video, Gaena thanked everybody for the support he received on his first video. He explained that he was not drunk and that he asked the waitress if she could play a song and she said she would play it through the loudspeaker.
Gaena said nobody complained about the music and that he and his friend were just "happy and having fun." He said he assumed Martin just didn't enjoy their music or the fact they were enjoying themselves.
"I always obey the law and respect the police but what happened to us was wrong," he wrote.
In July, Martin arrested another diner at the same Waffle House for public intoxication. Michael Ray Harmon, 36, was arrested by Martin after allegedly "running in circles" in the restaurant parking lot.
Harmon told Martin he was doing a "rain dance" and was suspected of being intoxicated from synthetic cathinones, also known as bath salts.
Martin reported that Harmon gave a fake name and became combative.
Newsweek reached out to the Madisonville Police Department for comment.