Is 121-Year-Old Chilean Man the Real Oldest Person in the World?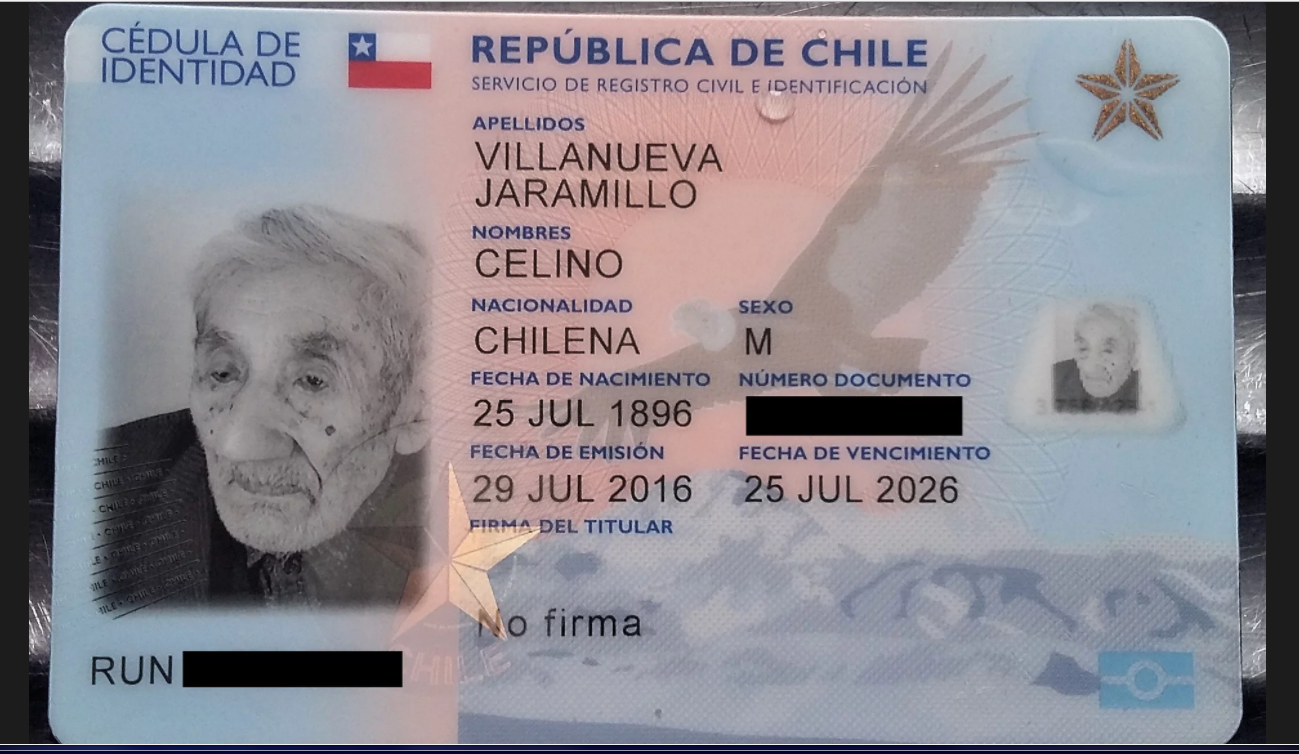 The world's oldest person may have been discovered in Chile—beating the current Guinness World Record holder by four years if his identity card rings true.
Celino Villanueva Jaramillo, known as Don Celino, is 121 years old. His I.D. card states he was born in 1896, likely making him the oldest man alive.
He was born in Río Bueno, south of the city of Valdivia, and spent more than 30 years working as a farm hand, before moving to Mehuin on the Pacific Coast and growing and selling vegetables after he was sacked from his farm job on his 80th birthday.
The former farm laborer, who never married, lost all of his possessions—including his passport—in a house fire when he was 99 years old. But the Chilean Office of Statistics has confirmed his date of birth.
"Checking our records, Celino Villanueva Jaramillo was effectively born on 25 July 1896—and he's still alive," Demographic Department head Jacqueline Salinas told The Guardian.
Jaramillo's place as Chile's oldest citizen has been recognized for several years. On his 115th birthday, then Chilean president Sebastian Piñera and minister of social development Joaquin Lavin flew to Valdivia to present Jaramillo with gifts, including the presentation of a government-recognized certificate verifying his age.
In addition to the certificate, Jaramillo was given a wood-burning stove, two sets of crutches and some earphones during the president's visit, and was praised for his health and vitality.
The Chilean supercentenarian has been living with his friend Marta Ramírez, 85, since she was 63 and he reached 99. Ramírez took him in after the devastating fire that left him without any home or worldly possessions.
"He was 99, I didn't think he'd be around that much longer," Ramírez told The Guardian of Jaramillo, who has been left almost completely blind by inoperable cataracts and is around 85 percent deaf as well as toothless.
At 121 years old, Jaramillo is four years older than the current Guinness World Record holder Nabi Tajima from Japan, who has held the official title of the world's oldest person since last September, when the previous world record holder, Jamaica's Violet Moss Brown, died.