125 Plane Passengers Test Positive for COVID As Ambulances Swarm Airport
More than 100 people who were on a flight to India from Italy have reportedly tested positive for COVID-19.
A total of 125 travelers who arrived in Amritsar, a city in the northern Indian state of Punjab, on a flight from Milan tested positive at the airport, according to local media outlets.
There were 179 passengers on the chartered flight, operated by Portuguese company EuroAtlantic Airways, which landed in Amritsar at around 1:30 p.m. on Wednesday, the Times of India reported.
According to the Times report, 160 adult passengers were tested on arrival at Amritsar. The remaining 19 children and infants on the flight were exempt from screening.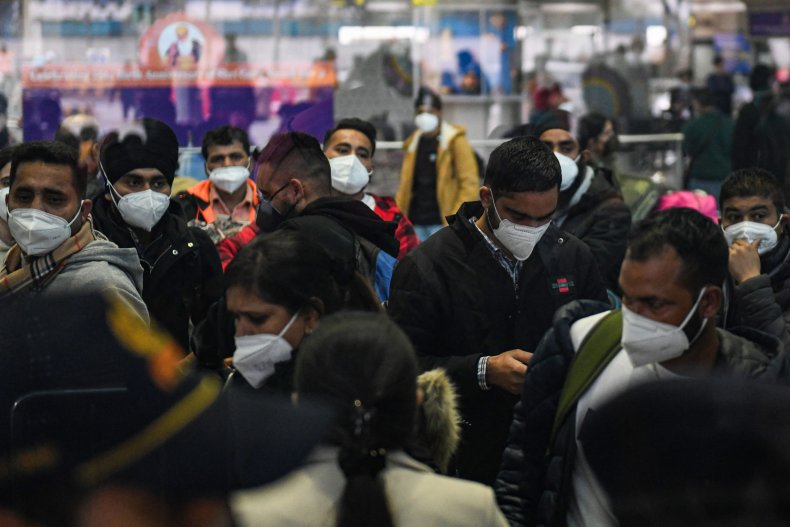 Last month, India classified several countries as "at risk" in response to the rapid spread of the Omicron variant. Travelers from those countries, which include Italy, are being tested when they arrive in India.
Pictures shared by local media showed ambulances lined up outside the airport to transport the infected passengers.
Air India was forced to issue a statement on social media after initial reports suggested that the affected flight was one operated by the national carrier.
"Several Media houses has reported that Passengers of Air India flight from Rome to Amritsar have been tested covid positive. This is wrong and baseless. Air India doesn't operate any flight from Rome currently," Air India wrote on Twitter.
India, one of the nations hardest hit by the coronavirus pandemic, has so far recorded more than 35 million COVID-19 infections and at least 482,000 deaths, according to Johns Hopkins University.
Close to 618 million people in India—44 percent of its population—have been fully vaccinated, according to Our World in Data.
The country is bracing for a third wave of coronavirus, just months after the Delta variant overwhelmed its hospitals.
The highly contagious Omicron variant is fueling a spike in infections, mostly concentrated in big cities.
India reported more than 58,000 cases on Wednesday, with nearly a third in Delhi and Mumbai. Both cities have brought back curfews and other restrictions to curb the spread of the virus.
But authorities have said hospitalizations have not risen even as infections spike. "There is no need to panic," Arvind Kejriwal, the chief minister of Delhi, said on Sunday.
Later in the week, Kejriwal confirmed on Twitter that he had tested positive for COVID-19 himself.
"I have tested positive for Covid. Mild symptoms. Have isolated myself at home. Those who came in touch wid me in last few days, kindly isolate urself and get urself tested," he wrote.