Officers from the U.S. Customs and Border Protection (CPB) confiscated a shipment from China containing more than 10,000 assault rifle components at the UPS Worldport Express Consignment Operations hub in Louisville, Kentucky in May.
According to the manifest, the cargo originated in Shenzhen, China and was headed to a private residence in Melbourne, Florida. The shipment was described as steel pin samples. When CPB officers examined the package, they discovered the weapon parts. A machinery team at the CBP Center of Excellence valued the parts at $129,600.
"The importing of any type of munitions is regulated by the ATF [Bureau of Alcohol, Tobacco, Firearms and Explosives]," said Louisville Port Director Thomas Mahn in a statement released Friday. "This smuggler was knowingly trying to avoid detection, however, our officers remain vigilant, ensuring our community is safe."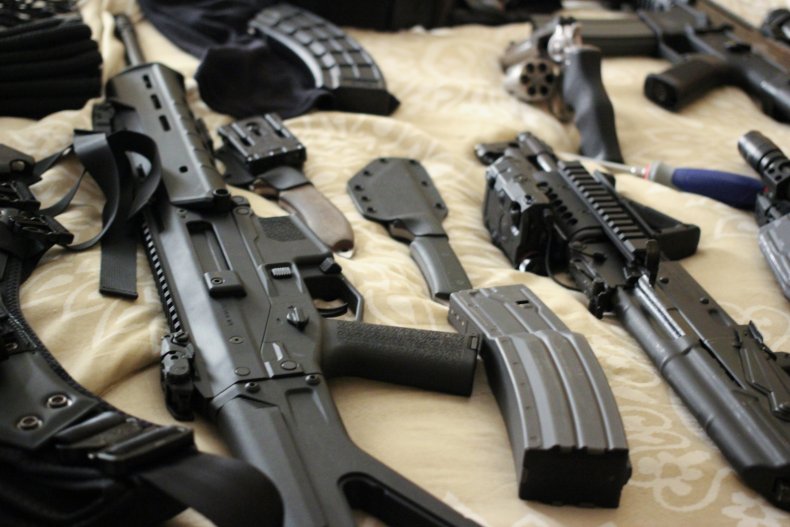 Smugglers often try to disguise the true contents of packages they send by falsifying information on shipment manifests. Drugs and weaponry are often the subjects of smuggling attempts, although other counterfeit items have been discovered in cargo hubs.
In a statement sent to Newsweek on Saturday, UPS Airlines Public Relations Manager Jim Mayer said UPS works with law enforcement agencies worldwide. "Our network features extensive security measures designed to stop those who would misuse our services. We don't discuss the specifics of our security program since its success depends on confidentiality," Mayer said.
In March, the CBP announced they had confiscated over 5,000 fake drivers' licenses that had come from China at the Louisville Worldport. Over a six month period, CBP also seized counterfeit birth certificates and passports.
At the time, Chief CBP Officer Brian Lick said in a statement that keeping fake IDs off the streets "significantly reduces" the chances for underage alcohol consumption.
"But alcohol is not the only risk; procurement of fake ID plays a role in identity theft, immigration and public benefit fraud and terrorist motives," Lick added.
From July through September 2019, CBP officials confiscated a mass quantity of counterfeit jewelry at the Louisville hub. Had the items been genuine, they would have been worth over $90 million dollars.
After a shipment of fake Cartier bracelets was discovered in July 2019, investigators were led to Chapel Hill, North Carolina paster JianGang "Frank" Lan. At the time of his arrest in August 2019, Lan was found to be in possession of over 3,200 counterfeit Cartier bracelets. The same number of non-counterfeit bracelets would have an estimated value of $24.4 million.
In a news release, North Carolina Secretary of State Elaine Marshall said it was "the largest counterfeit seizure we have seen in terms of estimated retail value."
Other things, some of them strange, have been discovered by CBP officers. In October 2018, a passenger at Atlanta's Hartsfield-Jackson International Airport was stopped after a CBP dog found a roasted pig head in an Ecuadorian passenger's luggage. The head was destroyed to prevent diseases from being spread to U.S. animals.
Updated 10:54 p.m. EST 6/29/2020: This story has been updated with a statement from UPS Airlines.