13-Foot Golden Erdogan Statue in German City Annoys Locals
A shining effigy of controversial Turkish President Recep Tayyip Erdogan has suddenly appeared in southwestern Germany—to the surprise and chagrin of locals.
The 13-foot statue, painted gold, depicts Erdogan with his hand, outstretched and pointing at the horizon. Erdogan is a divisive figure in Germany—which has a diaspora of around 3 million people of Turkish nationality or descent—and when residents of Wiesbaden, 20 miles west of Frankfurt, woke up to a monument honoring the man, they had questions for city officials.
"We have received calls from a string of irritated citizens—it is not clear to people that it is part of the Biennale," a spokesperson for the city said of the statue, according to German news agency DPA, referring to the ongoing art festival in town.
The golden Erdogan figure is an installation that is part of the festival, known as the Wiesbaden Biennale for Contemporary Art, though city officials also had no specific knowledge that the statue would pop up in town. The festival's theme this year is "bad news" and besides having already inflamed public opinion in Germany with strong remarks and accusations, Erdogan is set to make headlines again when he visits Berlin next month.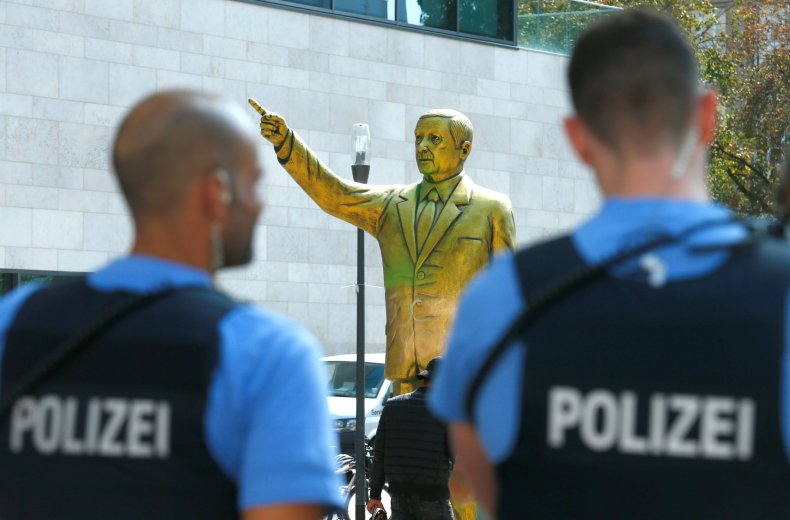 The growing rift between Berlin and Ankara stems from several disagreements, including the underlying dynamic of Erdogan turning his country away from its stated long-term goal to join Germany, France and others in the EU, moving closer to undemocratic regimes.
Over 1 million Turkish voters live in Germany and the identity of many locals with dual nationality or heritage has become an increasingly political topic, as the two countries have moved apart ideologically.
Erdogan sparked widespread outrage when he said the German government's "practices are not different from the Nazi practices of the past," last year, after two German regions blocked political rallies for an upcoming Turkish referendum. Erdogan's decision to jail a Turkish-German journalist, as part of a wider crackdown on dissent and freedom of speech in Turkey, motivated the ban on the rallies.
The majority of Turkish nationals in Germany voted in Erdogan's favor during June's elections, as Cem Özdemir, one of Germany's most prominent politicians of Turkish descent, called him a "dictator" and compared him to Germany's own far-right party, the AfD.
The president's statue has already been covered with graffiti of expletive phrases, German public broadcaster Deutsche Welle reported, without giving examples of the words used.