13 Former White House Press Secretaries, Foreign Service and Military Officials Call for the Return of Regular Press Briefings
On Friday, 13 former military, foreign service officials and press secretaries wrote a joint open letter calling on President Donald Trump and his administration to bring back regular White House press briefings.
"We believed that regular briefings were good for the American people, important for the administrations we served, and critical for the governing of our great country," the letter reads.
The officials added that, "For the president and the administration this is a matter of both self-interest and national interest."
A well-informed public would, the letter says, be "better equipped" to understand the difficulties of running the country.
"An informed press corps strengthens our ability to govern," the letter says. While the writers mention the importance of social media—President Trump, has a well-known and very active Twitter account—the media, the letter argues, are still a very important source of information to the American public.
The letter goes on to say that the variety of voices the press corps offer are valuable to the spread of information.
Press briefings, the letter argues, also improve the way the government itself operates. "Knowing there are briefings scheduled is a powerful incentive for administration officials to complete a policy process on time."
The letter went on to point out that in times of military conflict and crisis, press briefings become "more important" to Americans "seeking the truth."
"We respectfully urge the resumption of regular press briefings across our government, especially in the places where Americans want the truth, our allies in the world want information, and where all of us, hopefully, want to see American values reflected," it concluded.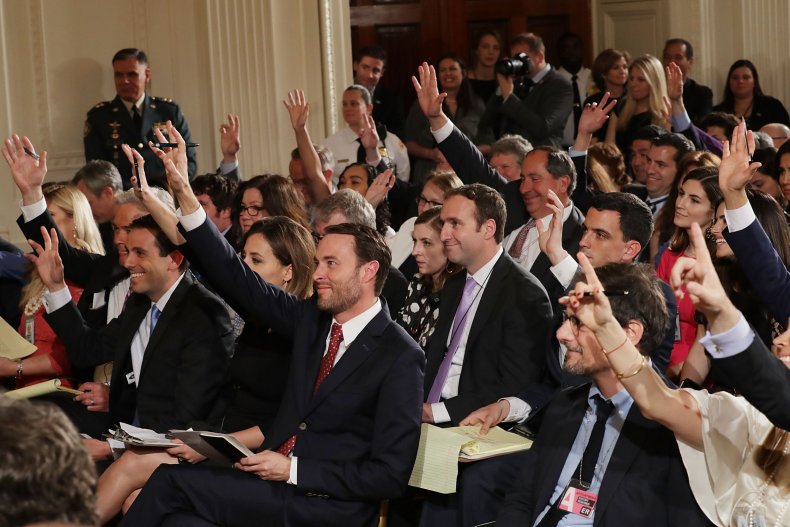 The entirety of the open letter may be read on CNN's website. Among the signatory parties are Dee Dee Myers, former press secretary under Bill Clinton, Ambassador Nicholas Burns, a former state department spokesperson under both Bill Clinton and George H.W. Bush, and Joe Lockhart, a former White House Secretary under Bill Clinton.
The White House stopped holding daily press briefings in the late summer of 2019 because, according to White House Press Secretary Stephanie Grisham, "To be honest, the briefings have become a lot of theater. And I think that a lot of reporters were doing it to get famous. I mean, yeah, they're writing books now. I mean, they're all getting famous off of this presidency. And so, I think it's great what we're doing now."
Newsweek reached out to the White House for comment but did not hear back at press time.