13 Last-Minute Halloween Costumes for Your Zoom Parties
Chances are, you don't have any huge plans for Halloween this year. As COVID numbers increase throughout America, many scary celebrations may have to take place digitally. If the only way you can see your friends is by logging onto Zoom, there are still lots of ways to make your Halloween night entertaining.
Enter the best Halloween costumes you could possibly think up based on what you already have laying around at home.
You probably won't have time to stock up on professional costumes, but there are some easy looks you can recreate with things you've already got laying around the house. No, put down your white bedsheet. We're not going to let you wear a toga or be a "ghost." Try a little harder. It will be fun that way!
Relocate your attention to your wardrobe, think of your favorite characters, or, just browse this list of last-minute Halloween looks that are certain to *slay* if you know what we mean.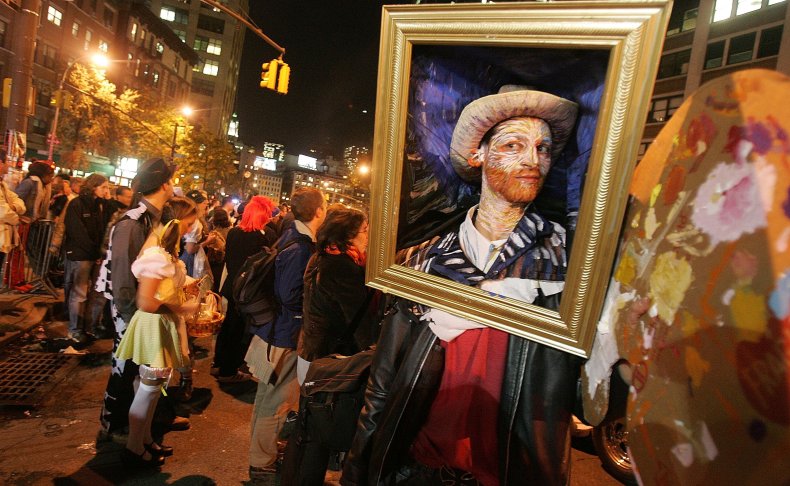 Among Us Characters
To start with the most obvious this year, embrace the cultural phenomenon of Among Us by becoming your favorite character. Chances are, you don't have an astronaut costume laying around (if you do, go for that.) You can still embrace the concept by dressing as your favorite color and choosing a hat, like our personal favorites the toilet paper roll or "dum" post-it note, to complete your look.
Men (or women) in Black
Want an excuse to wear the suit that's been hanging in your closet all year? Throw it on with some black sunglasses and you're sure to creep out everyone in your Zoom room.
The Bachelorette
With the same inspiration, you can throw on the ballgown in your closet and dress up to go absolutely nowhere. Hold a rose and call yourself the Bachelorette. Bonus points if you make it relevant to this season and pin an "I Heart Dale" sign to your dress.
Monochrome Pantone
Put on an outfit that matches perfectly in color and create your own Pantone shade. To really drive it home, use a white piece of paper to copy the "Pantone" typeface, then name the color whatever you'd like.
Kermit Meme
Ready for some gossip? If your Zoom call is going to be particularly juicy, be tea-drinking Kermit. Wear all green, and don't forget to take a prolonged sip every time things get spicy.
Stressed Carpool Parent
Roll into your Zoom call from naptime with this look. Put on your favorite pajamas, or loungewear, grab a coffee and don't even both to fix your hair.
Plant Lover
Bring your favorite Instagram feed to life by committing to be a plant person. All you have to do is line your Zoom screen with your houseplants and comfortably sit in the middle. Bonus points if you match your outfit with the scene, or wear a graphic tee that announces your love of plants.
Disney Adult
It's time to put those Mickey Mouse ears in your closet to use. If you've got Disney memorabilia anywhere in your home, collect it all and embody the Disney Adult. Maybe you don't go to Disney World every few months, but you can fool your friends by dedicating time from the Zoom call to talk about the creepy behind-the-scenes rumors about the parks.
Sandy and Danny
This Grease costume may seem like a lot of work, but on a Zoom call, it will be easy to pull off. Just put on as much black and leather as you can. For Danny, slick your hair back. For Sandy, throw your hair up in curlers a few hours before the party.
Ariana Grande
The best thing about identifiable celebrities is they have iconic signature looks. For Grande, just put your hair in the highest ponytail possible. Dress in an oversized sweater, and add a cat-eye eyeliner look if you feel like getting fancy.
Carole Baskin
Grab a flower crown and some cheetah print. That's it. You're done.
Taylor Swift
For this celebrity, you can cozy up. Swift's Folklore album is the perfect excuse to throw on a cardigan or anything plaid and stare silently out the window as your friends lead the Zoom conversation.