'13 Reasons Why' Returns to Netflix For Third Season: Who Murdered Bryce?
Hit show 13 Reasons Why returned to Netflix on Friday for a third season.
The series has, until now, followed the story of Hannah Baker (played by Katherine Langford), a high school student who died by suicide after months of brutal treatment from her classmates. This latest installment, however, chronicles life at the school after the murder of Bryce Walker (played by Justin Prentice) — a convicted rapist responsible for sexually assaulting both Hannah and her classmate Jessica Davis (Alisha Boe).
The third season picks up eight months after the events of season two with a thwarted school shooting attempt. One of the show's good guys, Clay (Dylan Minnette), takes the would-be gunman away in his car after talking him out of it. Though it stands separately from the news of Bryce's death, it is just another tale of bullying and mental anguish for the show to highlight.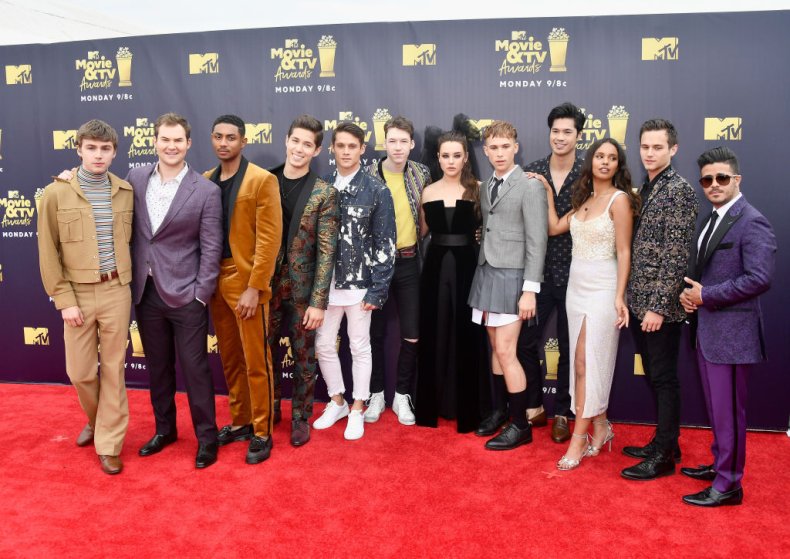 Newsweek subscription offers >
With the third season looking like a bonafide murder-mystery, the students of the Liberty High are left to pick up the pieces and come to terms with the glaring mental health crisis at their school. A new character comes the form of Ani (Grace Saif), another person to take on the role of amateur sleuth, trying to find out whodunit. Last month, Netflix received backlash from fans after eliminating Hannah's graphic suicide scene from the season one finale, citing advice from experts in the medical field as the reason.
The streaming service issued a statement amid the fallout, saying "As we prepare to launch season three later this summer, we've been mindful about the ongoing debate around the show. So on the advice of medical experts, including Dr. Christine Moutier, chief medical officer at the American Foundation for Suicide Prevention, we've decided with creator Brian Yorkey and the producers to edit the scene in which Hannah takes her own life from season one."
The show has been renewed for a fourth and final season.
If you have thoughts of suicide, confidential help is available for free at the National Suicide Prevention Lifeline. Call 1-800-273-8255. The line is available 24 hours every day.
'13 Reasons Why' Returns to Netflix For Third Season: Who Murdered Bryce? | Culture