13 Sofas Under $2,000 That Are Crazy Comfortable
Finding a big, comfy couch is easier said than done—especially if you want said sofa also to be affordable. Well, then a sofa that's big, comfortable and affordable is the living room trifecta. If you're on a budget but don't want to sacrifice comfort (and you shouldn't!), the good news is that there are plenty of contenders for just a few thousand dollars—if not less.
Don't let your butt, back, neck and shoulders suffer by choosing a crappy couch. Here are the best comfortable sofas from Amazon, Arhaus, Article and more for under $2,000. As always, the prices listed may fluctuate over time as products go on sale.
13 Comfortable Sofas Under $2,000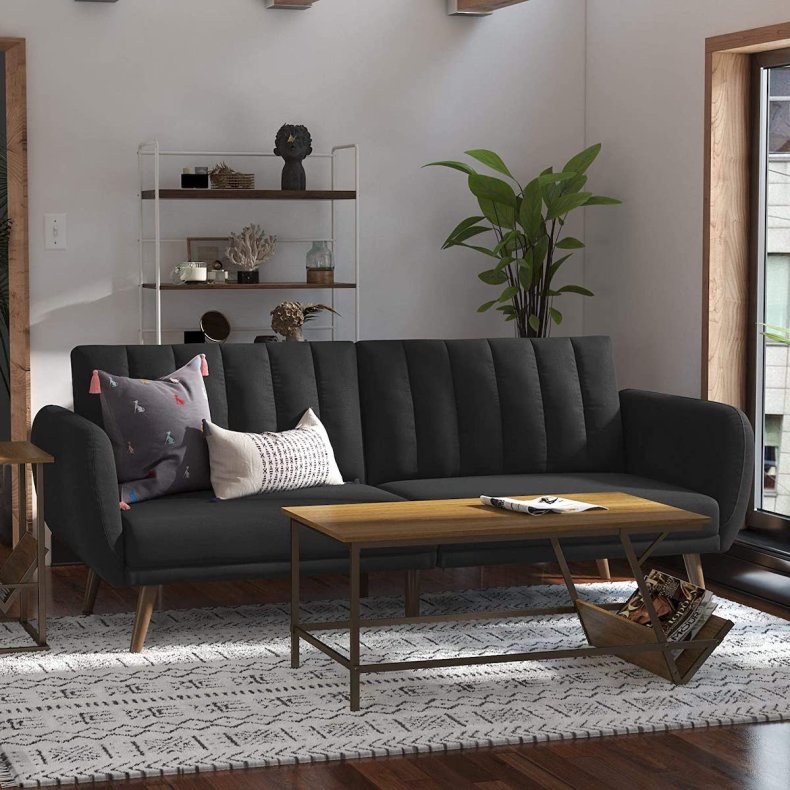 The Novagratz Brittany Sofa Futon—available for $295.80—is one of the best-selling sofas on Amazon, where it has more than 6,000 reviews. The Novagratz Brittany line comes in myriad sizes, as well, including an accent chair, sectional, sleepers sofas and more. But here's what we specifically love about the futon version: its ribbed, tufted, cushioned back, and linen upholstery that wipes clean. Of the many standout reviews, one customer wrote, "For the price, I'm happy. I wanted a solid, child and pet resistant sofa that could serve as a bed for guests. Pros: Nice clean style and comfortable for sitting and laying down. Cons: This is neither gray nor white which makes it look a bit like unintentionally dingy cream. But just a bit... If this had cost more, I'd return it or take off a star, but it's pretty much what I expected for less than $300. That said, I expect this will stand up to years of abuse, so I'm happy. I'll update if that's not the case!"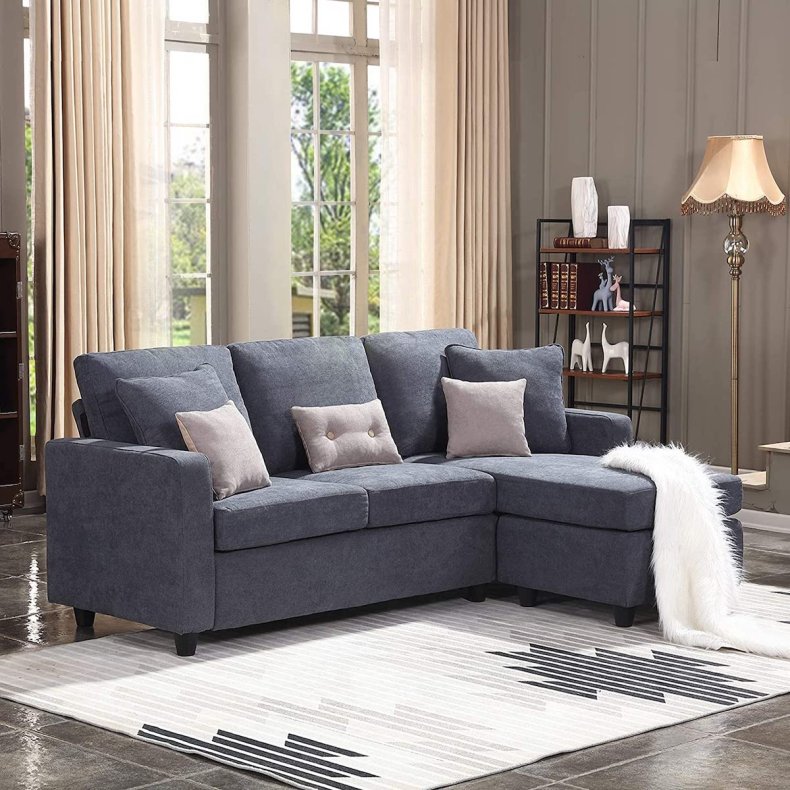 Another fan-favorite best-seller on Amazon is the Honbay Convertible Sectional Sofa Couch. For a bit more money, you get a three-seater plus a convertible, movable chaise that can either extend the couch or act as an ottoman. It's easy to convert and adjust to your specific home's needs, and it's also designed with small rooms in mind so you never feel like it's too big or crowding your space. Of the more than 6,000 reviews on Amazon.com, one standout review says, "I was nervous buying a couch online without having tested it, but this couch has really exceeded my expectations. Frame is sturdy and the seat cushions are firm but quite comfortable. As advertised in the product description, I trust that they will get even better with use. The fabric is great for a household with pets: thick, doesn't look like it will snag easily or pill, easy to clean. Overall, I would highly recommend!"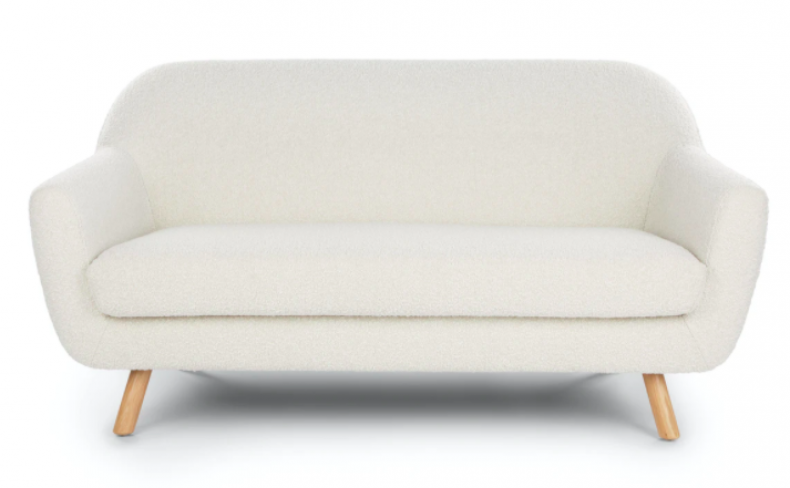 Bouclé is the must-have fabric of the season that has transcended into the home decor space. Instagram is full of bouclé chairs and bouclé loveseats—even bouclé couches! As chic and comfortable as it is, this fuzzy, nap-friendly material usually comes with a hefty price tag and can run you upward of a $1,000—just for a chair! The Gabriola Ivory Bouclé Loveseat from Article is perfectly on trend for significantly less moola, and with 146 reviews and a 4.9-star rating, it's well-rated to boot. It's got a solid wood frame, features a tight back cushion and sinuous spring suspension, and it only takes about 15 minutes to assemble. As one customer review put it, "So comfy and perfect size for my studio apartment! Super easy to assemble—not a big bulky piece of furniture—thank you, Article!"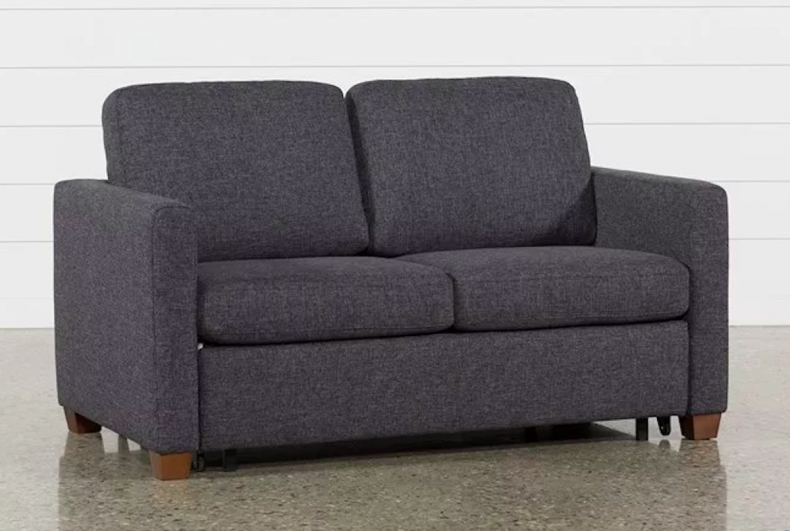 A sofa that's also a sleeper? Sure, there are plenty of them out there, but we all know how difficult it can be to find one that's quality. The Cliff 65-Inch Full Sleeper is the sleeper sofa you've been looking for—cozy loveseat for two by day, full-size bed by night. With 4.6 stars out of a possible five, as well as 231 reviews on LivingSpaces.com, customers love that it requires little to no assembly. One reviewer wrote, "Out of every sleeper sofa I've researched online, this was by far the best quality for the best price and it came in two days, fully assembled. It doesn't get better than that. You may want to add a mattress pad on top when you pull it out to sleep but that doesn't bother me. It's a great option for guests in a small guest room!"
Buy at Living Spaces for $850.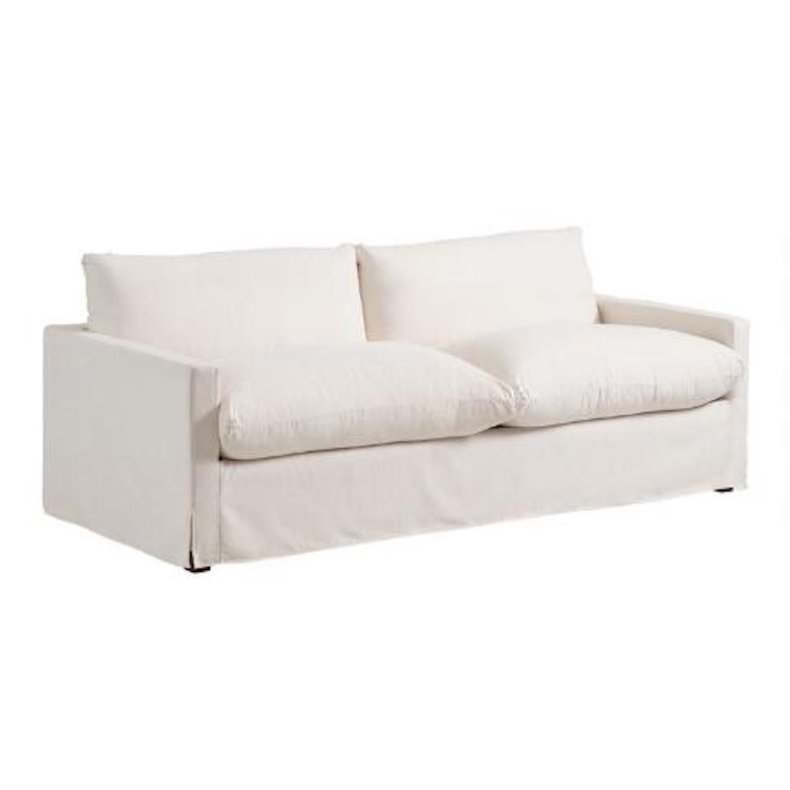 One of the most beloved loungers among Instagram influencers, the Ivory Feather Filled Brynn Sofa from World Market is inexpensive and incredibly fluffy. The best-selling Brynn model features removable and reversible cushions, a solid pine frame, a polyester-nylon performance upholstery and a feather filling.
Buy at World Market for $899.99.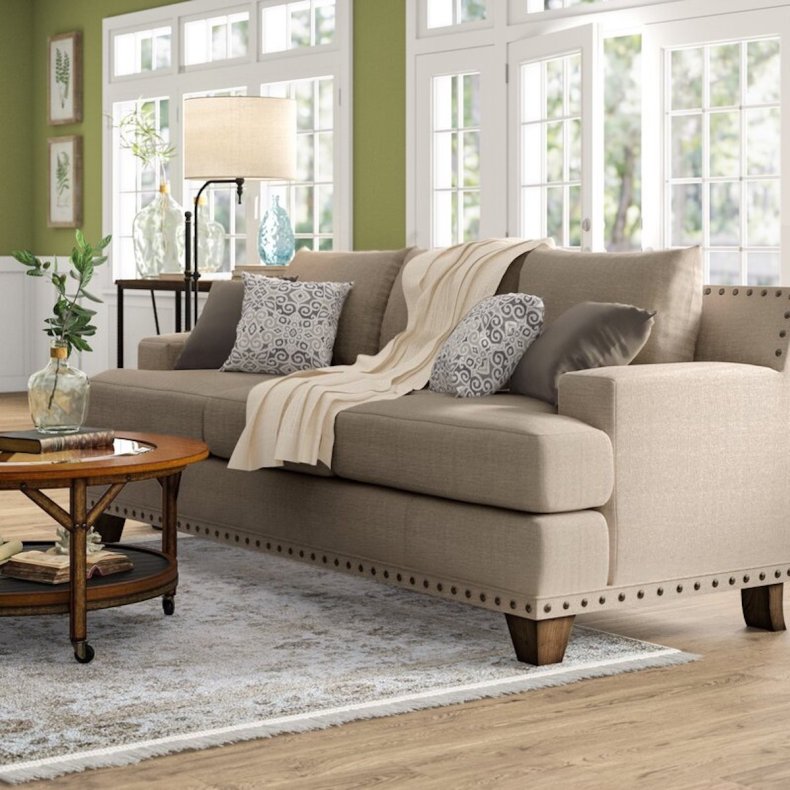 More than 1,400 reviews and a 4.65-star rating on Wayfair.com make the Edisto 94-Inch Round Arm Sofa with Reversible Cushions a bang-up choice. Made in the U.S. and featuring reversible and removable cushions, this sofa from the Sand and Stable collection gives an updated look to a classic and clean sofa style. Like many other reviewers, you'll love the lifetime warranty and trendy nailhead trim that adds a touch of class to an otherwise budget-friendly davenport.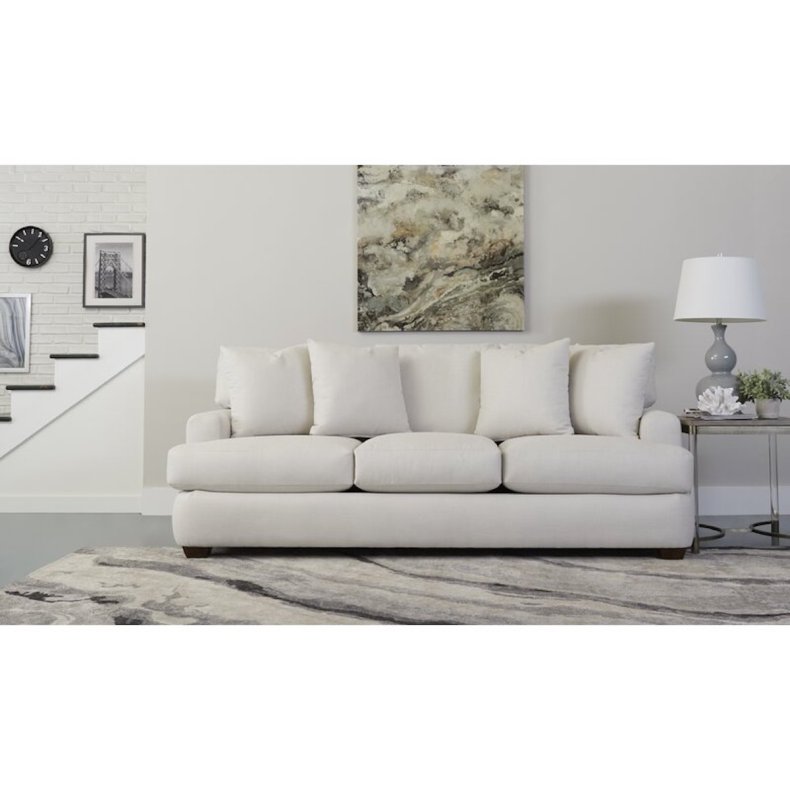 The Elisa 90-Inch Recessed Arm Sofa with Reversible Cushions is the dream edition to any decor enthusiast who subscribes to the hashtag #AllWhiteEverything (although it's also available in Sustain Dursky Ivory, Classic Beach, Conversation Ivory, Max Buff and more). Beyond the color and style, though, it's those fluffy T-shaped seat cushions that are the real game changer. They stay firmly in place no matter which position you lounge in but also provide the max amount of comfort. One reviewer wrote, "I honestly couldn't be more impressed. Not only did this ship within a month despite it saying three, it's perfect. It's deep seated and all of us want to snuggle up in It for the rest of our days. The Sustain Ivory is durable and such a beautiful tone. I am highly impressed by Wayfair these days. Buy this NOW!"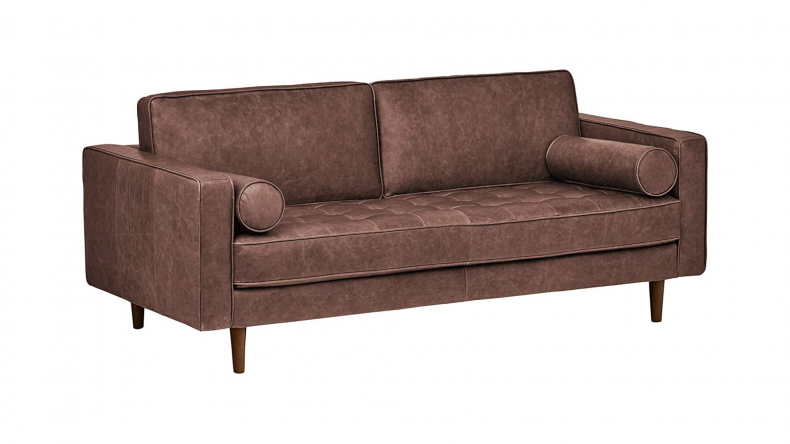 Rivet is an Amazon brand that's quickly becoming a fan favorite among shoppers—the Rivet Aiden Mid-Century Modern Tufted Loveseat's 1,000-plus reviews and 4.5-star rating are proof of that. This dark brown leather loveseat is both a comfortable staple and a contemporary conversation starter. It adds just a bit of edge to any room thanks to its top grain leather and mid-century style. In fact, one Amazon reviewer wrote, "I was a little hesitant to purchase a couch from Amazon without seeing it in person or sitting on it first, but I was pleasantly surprised when it came.... Is it the most comfortable? No, but it feels sturdy and it really looks more expensive than it is. You won't sink into it, but you'll definitely be comfortable hanging out and watching a little TV.... Overall, I am pleased with the purchase."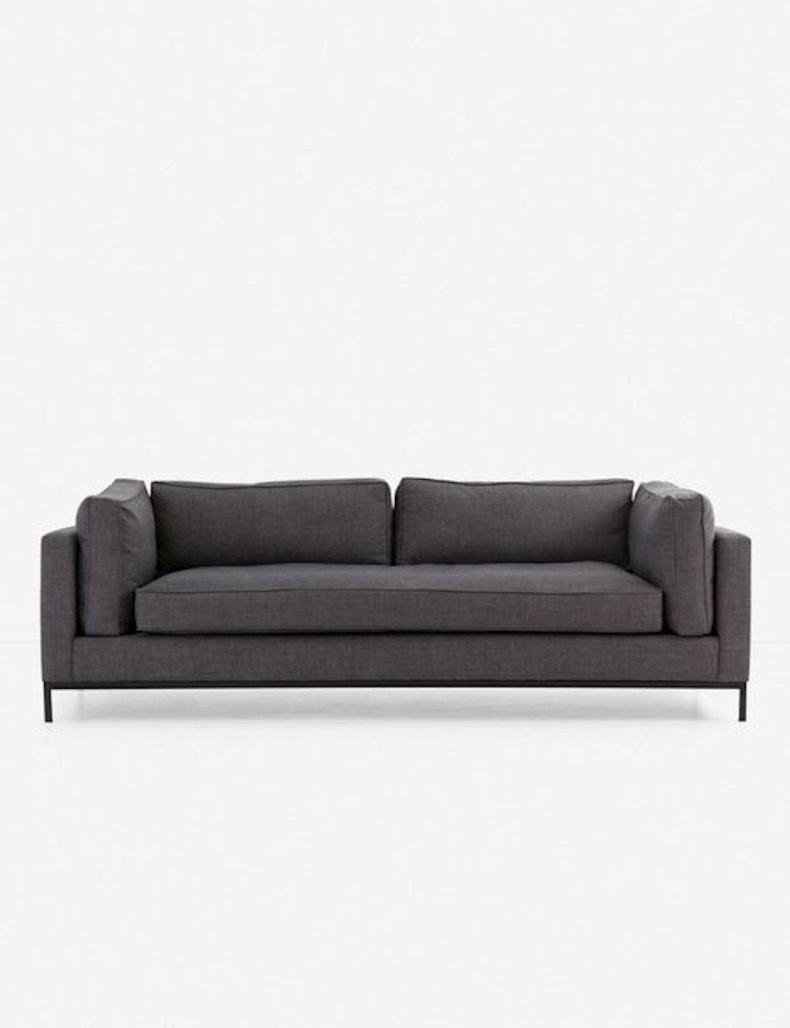 When it comes to a luxe look, the Cami Sofa from Lulu and Georgia is it. With all the physical aesthetic of a $5,000 couch but for about half the price, the Cami Sofa is a real looker in all three of its hues—natural, sand and charcoal. But its sleek style is only elevated by this high-quality sofa's comfort. It's covered with 100 percent polyester fabric, and its cushions are made of high density foam to provide the ultimate support.
Preorder at Lulu and Georgia for $1,699.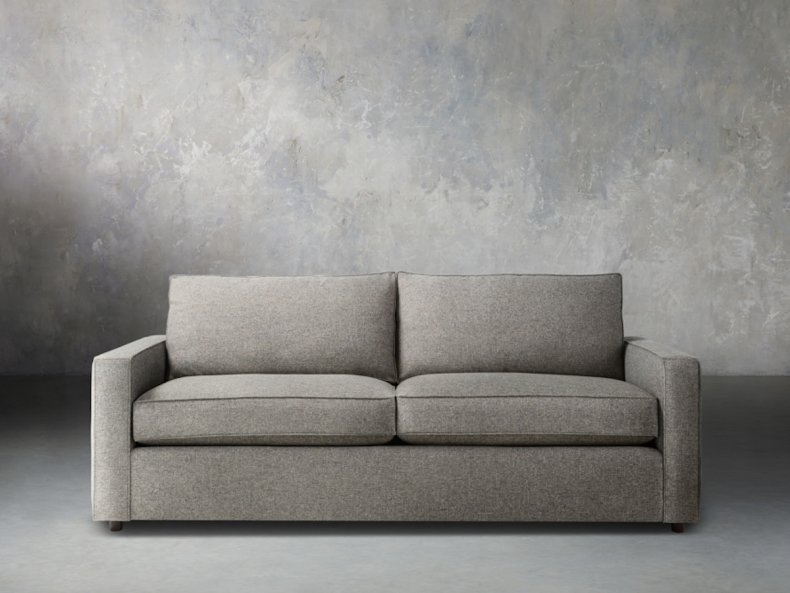 Luxury furniture brand Arhaus is known for its timeless, contemporary—but often costly—pieces that elevate any room. The Filmore Sofa is no different; however, it's significantly cheaper than some of Arhaus' other sofa options. Marked down from its original price of $2,449, the Filmore Sofa has minimalist leanings and a durable upholstery that can withstand all the trappings of normal life—kids, pets and even those hectic weekday nights when everyone eats dinner on the couch. Padded with feather and poly fiber, what makes the Filmore most noteworthy is that natural sink-in that happens whenever you sit down. It's even better than a mattress!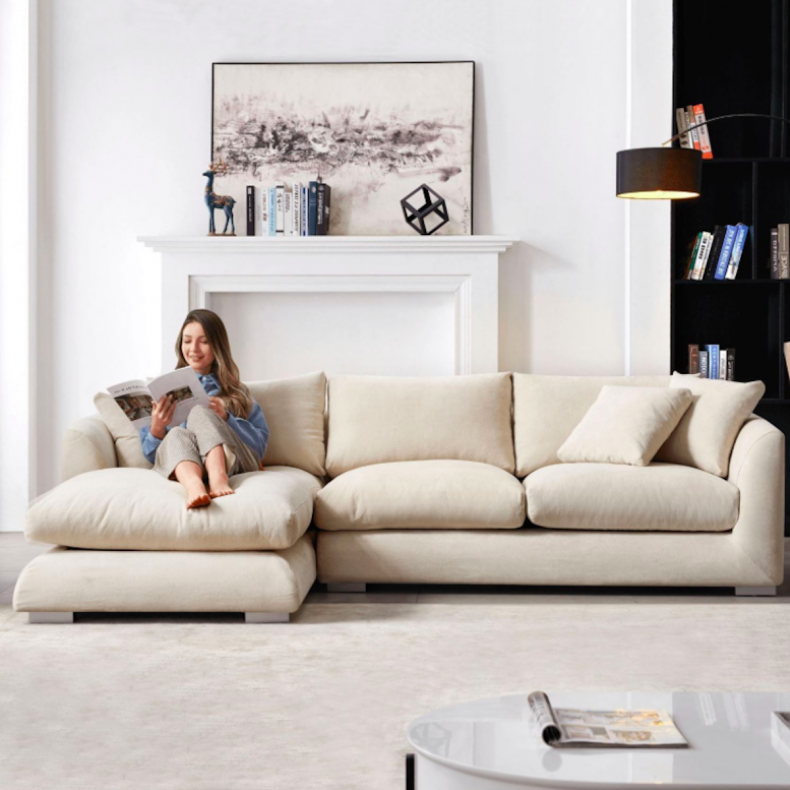 If you're even remotely considering the Mario Capasa Feathers Sectional for your next sofa, get it now! Usually $4,900, this 170-inch beige feather sofa is now available for preorder for less than $2,000. With stain-proof and water-resistant removable covers and super plush cushions made of memory foam and goose feathers, you won't sacrifice any style or comfort. After all, it's the brainchild of acclaimed Italian designer Mario Capasa, and customers agree that it's well worth the price. One Valyou.com reviewer wrote, "Every person who walks into my house asks about the sectional. It's definitely worth the money and more. The customer service is also amazing. I highly recommend it."
Preorder at Valyou for $1,799.99.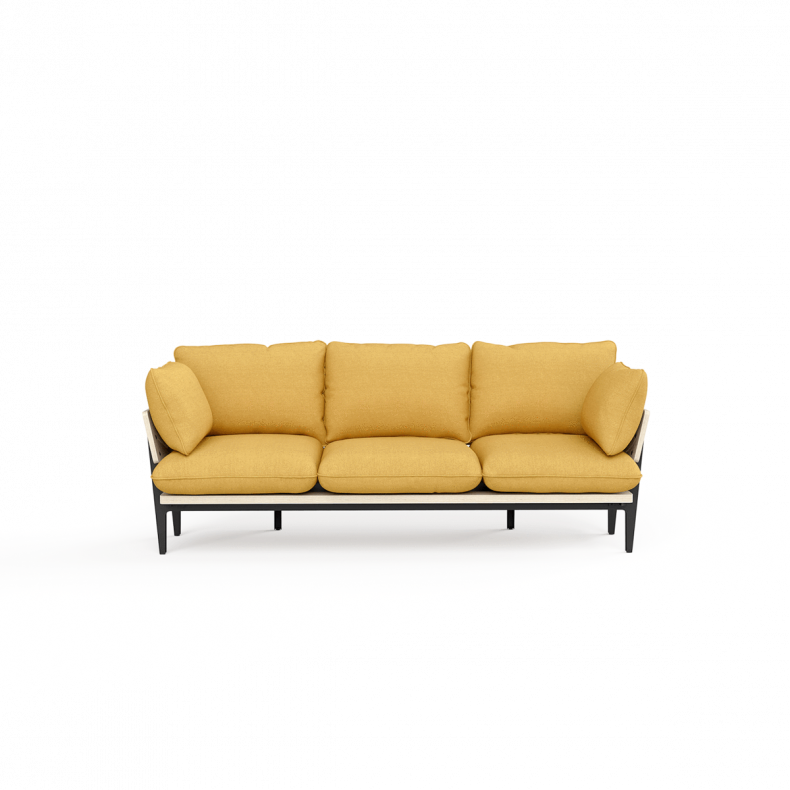 Let us introduce you to The Sofa, a take-apart-able three-seat sofa (with an optional chaise add-on) that's quick to assemble and disassemble and can be transported just about anywhere. You can think of it as a high-class upgrade to your college futon. With 4.7-star rating on FloydHome.com and over 582 reviews, it's not hard to see why so many people—especially families with young children and animals!—love The Sofa. One reviewer even wrote, "We have dogs, kids, and cats! We've spent more on "throw-away" couches and really needed a more durable option. Not only is this furniture super solid, but the material is like magic! I simply use a warm wash rag with a bit of dish soap to clean up stains like dog drool or chocolate milk, and it wipes right off!"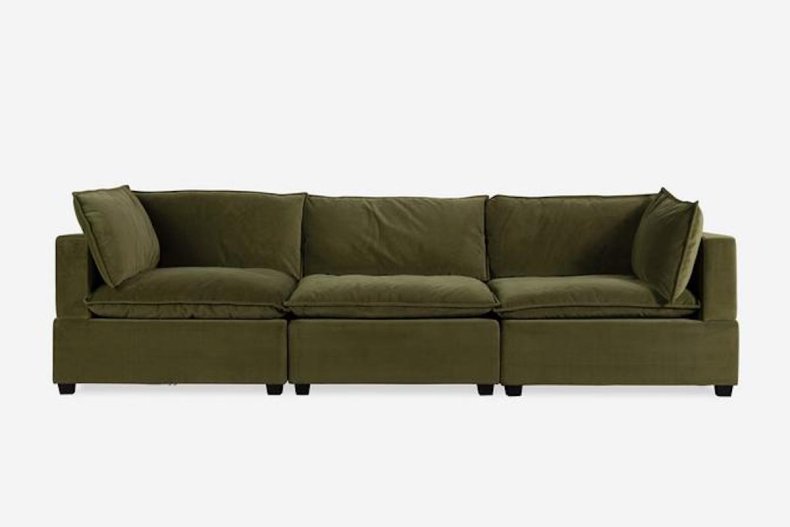 Available in a variety of colors and marked down from its original price of $2,835, the Kova Sofa 121-Inch from Albany Park is self-described as "the world's most comfortable sofa." Sitting tests confirm that, heck, yes, the Kova is exceptionally luxurious and cozy, thanks to its foam-topped webbing and spring suspension system as well as the removable seat cushions' cloud-soft blend of feathers and fibers. With 30 inches of seat depth, a lifetime warranty and a 30-day in-home trial offer, the Kova has amassed a near-perfect five-star rating on AlbanyPark.com and 188 reviews. One reviewer mentioned, "This couch is just perfect. It's super deep and the cloud-like cushions are beyond comfortable, ideal couch for naps! The fabric is beautiful, looks great in our space."
Buy at Albany Park for $1,935.
Newsweek may earn a commission from links on this page, but we only recommend products we back. We participate in various affiliate marketing programs, which means we may get paid commissions on editorially chosen products purchased through our links to retailer sites.