The number of confirmed cases of the new coronavirus has increased in many of the states that were among the first to reopen their economies, according to The New York Times.
California and 12 other states reported big increases in COVID-19 cases in a number of urban areas. In Los Angeles County, where there have been nearly 60,000 confirmed cases since the start of the pandemic, there was an average of 14 new cases per 100,000 people reported over a two-week time span, which is up from the previous average of 9.6 per 100,000 reported cases.
After reopening, North Carolina also noted a spike in new coronavirus cases. As of June 5, state health officials say report total of 33,255 confirmed cases, up from 31,966 cases from its June 4 report.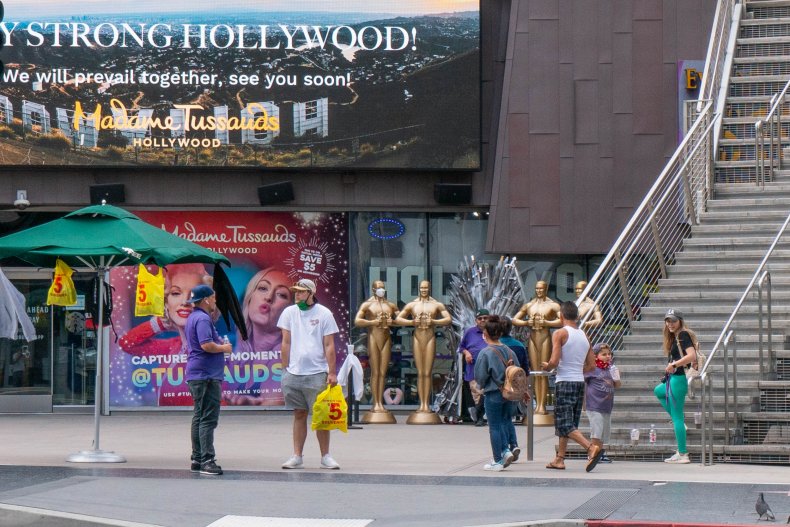 Between March 1 and June 4, Texas, which was the first state to announce its reopening in April, recorded 71,330 cases of the new coronavirus. The state recorded spikes in new coronavirus cases in counties north of Houston, such as Grimes County that saw an increase from 14.5 reported cases two weeks ago, to a high of 58.4, while Walker County cases jumped from 41.7 to 186.1 cases.
Georgia, which announced its reopening at about the same time, recorded 47,528 cases over the same period and remained steady as COVID-19 cases declined in areas around Atlanta.
Meanwhile, 16 states, some of which have been among the hardest hit by the pandemic, have seen significant decreases in confirmed cases of the virus.
Those states include New York, which had 379,977 cases between March 1 and June 4. New York City, which saw a large number of COVID-19 cases during the pandemic, has seen a decrease of nearly 10 new cases per 100,000 to 7.4 cases per 100,000 over a 14-day period.
In New Jersey, which recorded 162,530 confirmed COVID-19 cases, noted decreases in Somerset County where cases decreased from 10.2 to 4.5 per 100,000, and also dropped in Camden County, where cases of COVID-19 dropped from 18.8 two weeks ago, to 10.4 per 100,000 on June 4.
More than 1.8 million people in the U.S. have been diagnosed with the new coronavirus, according to the Johns Hopkins University tracker. So far, 485,002 people have recovered from the virus, while 108,211 have died.
In March, most governors issued statewide stay-at-home and lockdown orders, which closed businesses deemed nonessential for 30 days.
Many of those state-mandated orders expired on April 30, and slowly began a reopening of businesses and allowing for limited capacity while monitoring data and relying on the advice of health care professionals.
Texas, which announced curbside services and home delivery of retailers and grocery stores in March, allowed its stay-at-home order to lapse on April 30 and opened the door to limited-capacity reopenings of restaurants, movie theaters, shopping malls and retail stores on May 1.
Alabama and Colorado transitioned from a stay-at-home order to a safer-at-home model in April, which allowed a phased reopening of restaurants, retail stores, gyms and hair salons.
However, in some states, stay-at-home orders remain at least partially in place.
Michigan Governor Gretchen Whitmer extended the stay-at-home order from June 1 to June 12, despite widespread criticism and protests at the state capitol demanding a reopening of the state. Whitmer has allowed some state industries to reopen.
On May 28, New York Governor Andrew Cuomo announced a limited reopening of some industries. On June 1, New Jersey Governor Phil Murphy announced that the state's nonessential businesses can reopen June 15, along with outdoor dining at restaurants, as part of the state's Stage 2 reopening.
On March 27, New Hampshire Governor Christ Sununu extended the state's stay-at-home order until June 15 but also allowed some businesses, such as hair salons and restaurants, to reopen in a limited capacity in May.
On Friday, the Department of Labor announced that the country's jobless rate, which had reached 14.7 percent in April, dropped to 13.3 percent for May.
The Labor Department credited the decrease with the limited resumption of economic activity that had been curtailed in March and April to curb the spread of COVID-19.