13 Technology Leaders Sign Letter Supporting Mike Bloomberg for President
A group of 13 self-described technology leaders have signed an open letter supporting the Democratic presidential candidacy of billionaire former New York City Mayor Mike Bloomberg, including a petition in hopes of garnering at least 100 supporters.
The letter, published on Change.org on Saturday, included a list of names that included current and former Bloomberg advisers along with financial investors and individuals from the tech startup community. Touting Bloomberg's accomplishments as mayor, they argued that the former Republican would be "the most qualified candidate running for the White House" to make America a leader in "tomorrow's economy."
"President Trump has done everything—some that most of us could never have imagined—to cripple the innovation economy across America," the authors wrote. They criticized the president's controversial immigration policies and pointed to the negative consequences of the trade disputes he has launched against allies and foes alike.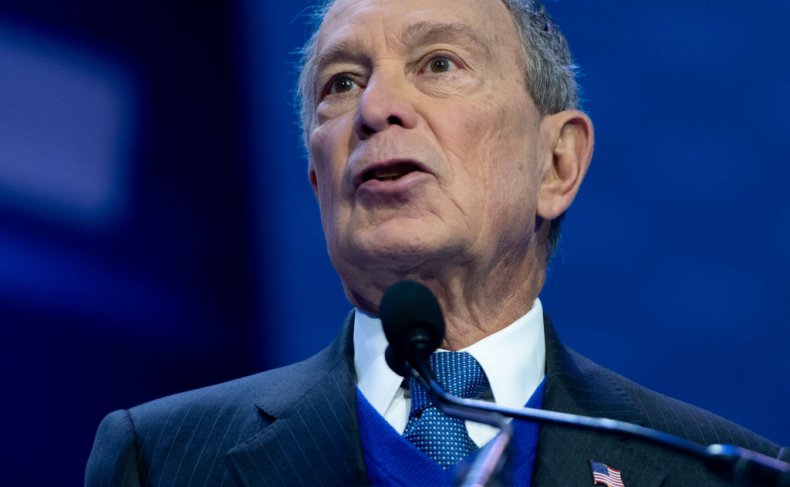 "As Mayor of New York, [Bloomberg] led one of the most innovative, diverse and sophisticated economies in the world," they argued, contrasting the wealthy businessman's achievements with their criticism of Trump. "He created 450,000 new jobs, added three years to the life expectancy of New York residents, cut carbon pollution by 14 percent, and grew the economy faster than the nation."
Among the signatories were Carl Pope, a former executive director of the Sierra Club, Ron Conway, an angel investor in Silicon Valley, Roy Bahat, a venture capitalist who invests in the future of work, Byron Deeter, a leading investor in SaaS and Cloud, and Parveen Kaur Dhillon, who worked in the startup world in marketing and business development.
At the time of writing, only 44 people had signed the petition attached to the endorsement, including at least one of the open letter's original signatories—Bahat. "Mike has done more on issues we care about, like climate and guns, than almost anyone in the world—let alone any other candidate," he wrote.
Bloomberg, who has an estimated net worth of about $60 billion, launched his unorthodox presidential campaign in late November. He chose to forgo campaigning or appearing on the ballot in the first four primary and caucus states altogether, choosing instead to focus on Super Tuesday states and beyond. He has not accepted any campaign contributions, choosing to self-fund his presidential campaign with hundreds of millions from his own fortune.
He has faced substantial criticism from fellow candidates, some of whom have accused him of attempting to buy the Democratic presidential nomination. Bloomberg's record has also come under intense scrutiny, with his previous support for stop and frisk, the controversial policing policy, which has been widely criticized as racist by activists and critics. Although he apologized for the policy just before launching his campaign, Bloomberg had defended the program for years after leaving office.
Additionally, Bloomberg's record of inappropriate comments to female employees and his company's policy of making women sign nondisclosure agreements about sexual harassment claims took center stage during the Nevada debate in February. The presidential contender has also been forced to address the controversial surveillance program his New York administration launched targeting Muslim Americans in the wake of the September 11, 2001 attacks.
While the letter's signatories argue that Bloomberg is the best candidate to lead the economy, Trump has also repeatedly suggested that he views the billionaire as a weak opponent. "The only people in favor of Mini Mike continuing with his hapless campaign are me and his political consultants, who are getting richer and richer by the day!" he tweeted on Monday.
An average of recent national polls compiled by Real Clear Politics shows Bloomberg polling in third place, trailing Senator Bernie Sanders of Vermont by double digits for the Democratic nomination. Sanders has an average of 28.5 percent support, followed by former Vice President Joe Biden with 20 percent. Bloomberg has an average of 15 percent support.