$1.3 Trillion Spending Bill Highlights: What You Need to Know About the 2,232-Page Congress Draft Bill
Congress has cobbled together a massive spending bill to fund the U.S. government for the rest of 2018. President Donald Trump expressed his dissatisfation with the bill on Twitter, but lawmakers are set to begin voting on it Thursday.
The bill is 2,232 pages long and provides $1.3 trillion in government spending, surpassing the $1.15 trillion and $1.1 trillion spent in similar bills in 2016 and 2017.
"Had to waste money on Dem giveaways in order to take care of military pay increase and new equipment," Trump wrote on Twitter late Wednesday, complaining about concessions that were made to reach a bipartisan agreement on the bill.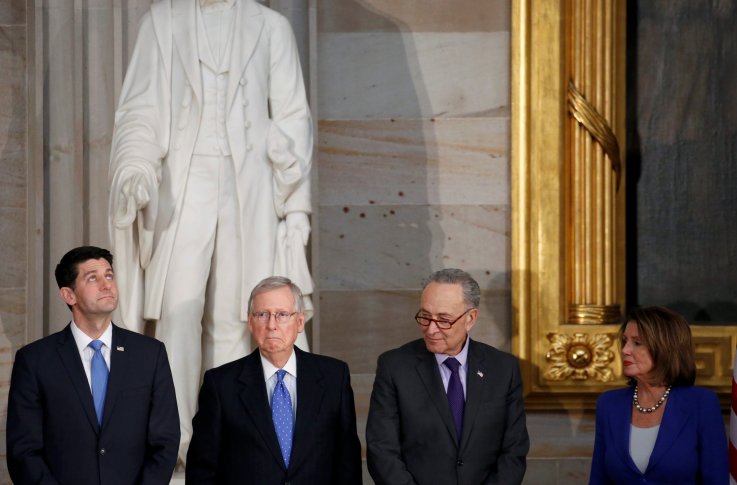 "Got $1.6 Billion to start Wall on Southern Border, rest will be forthcoming," the president wrote, indicating he lost a battle to get $18 billion he had requested to start building a physical barrier on the U.S.-Mexico border.
None of the money will go to new wall prototypes the administration has tested in California. Much of the money will go to repairs of existing barriers—with less than half going to new sections of wall.
"Most importantly, got $700 Billion to rebuild our Military, $716 Billion next year...most ever," Trump wrote. The military spending increase is $61 billion more than was spent last year. Troops in the military will see a 2.4 percent pay raise, and money will go to buying new equipment, ships and planes.
Read more: Trump State Department accused of abandoning global democracy in new budget
"I had to fight for Military and start of Wall," Trump wrote in another tweet, noting that lawmakers were not able to reach a deal to preserve DACA, a program that allows people who were brought to the U.S. illegally by their parents to continue living and working there.
At the last minute, the White House tried to use preservation of the program, which was set to end early this month, in exchange for more funding for Trump's border wall.
The bill will also create a $20 billion wildfire disaster fund to fight the increasingly serious wildfires breaking out in the western U.S. and stop the Forest Service from dipping into its other funds to fight them over the next 10 years.
Gun control measures are also included in the bill. One will allow the U.S. Centers for Disease Control and Prevention to conduct gun violence research. Other measures increase money for school safety and offer more government grants to federal agencies and states so they comply with the U.S. background check system.
"No bill of this size is perfect," said Republican House Speaker Paul Ryan. "But this legislation addresses important priorities and makes us stronger at home and abroad."
$1.3 Trillion Spending Bill Highlights: What You Need to Know About the 2,232-Page Congress Draft Bill | U.S.